How All Elite Wrestling Plans To Win Over WWE Fans
Cody and Brandi Rhodes, the executives and wrestlers behind All Elite Wrestling, explain what they can give wrestling fans that WWE can't.
WWE has been a monolith in the professional wrestling industry. They've even absorbed rivals like WCW. There is a new gladiator in the squared circle this fall though. TNT will start airing All Elite Wrestling October 2. Today they introduced some of their athletes and executives to the Television Critics Association.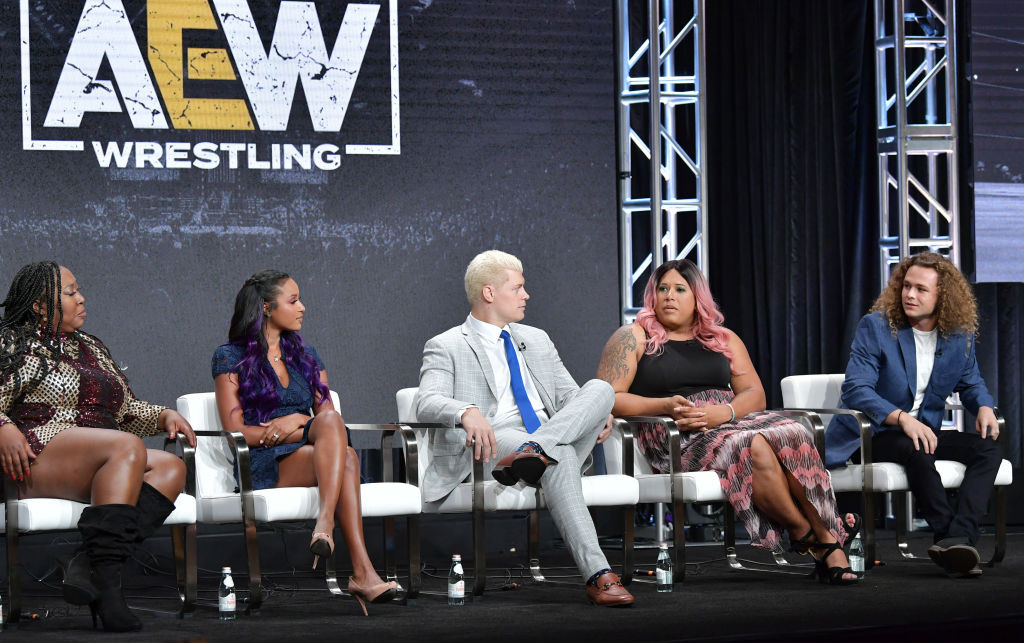 EVP Cody Rhodes is a wrestling legacy. His father was Dusty Rhodes, who wrestled for WWE back when it was called WWF. His wife Brandi Rhodes is the Chief Brand Officer and both also get in the ring. Here's how they plan to make All Elite Wrestling as big a name in the sport as WWE.
Entertainment is not in the name All Elite Wrestling for a reason
When the World Wrestling Federation had to change their name because the World Wildlife Federation won the WWF acronym, they chose World Wrestling Entertainment. They brand themselves as sports entertainment. AEW focuses on the sport.
"WWE has often coined themselves 'sports entertainment,'" Cody Rhodes said. "We're coining ourselves 'pro wrestling.' We want pro wrestling to be what entertains you. It's a sports-centric broadcast that we'd like to present with AEW on TNT.  And we just want to be our best selves."
All Elite Wrestling is more brutal than WWE
If you've seen a live AEW show, you may have seen more blood spill in the ring. WWE sometimes draws blood, but AEW has some bloody faces. 
"I think the violence that just goes hand-in-hand with professional wrestling is there," Cody Rhodes said. "It's on the surface. You know what you're getting."
Well, AEW has more bloody surfaces than the other wrestling show.
"However, these blood feuds and some of the more graphic content, I mean I'm sitting up here with a black eye," Cody Rhodes continued. "My brother, I'm beating him up."
You might have to pay extra to see the blood. The average weekly match may not go that far.
"That content, be it our live and our streaming services and the pay-per-views, traditionally in pro wrestling you would build to those big blood feuds or rivalries or hyper-violent type matches," Cody Rhodes said. "You won't see that necessarily on the weekly broadcasts on TNT."
There are more wrestlers of color in All Elite Wrestling
WWE has made great strides in diversity, elevating female wrestlers from divas to a full-blown women's division. Brandi Rhodes is especially proud of AEW's diversity out of the gate.
"You can look at this panel and see a whole lot that's different about this in that there's three women up here," Brandi Rhodes said. "You haven't seen that in professional wrestling in a long time. We've got a really diverse group, and that's very representative of what you're going to see: different size, shapes, colors, genders, nationalities, sexualities, religions."
Perhaps throwing a little shade on WWE, there is a bit of homogeny across their female wrestlers. AEW won't discriminate.
"We go for the best talent," Brandi Rhodes said. "We aren't looking for a cookie-cutter.  We're not looking for a blonde that's 5'4″ because we need a blonde that's 5'4″.  We're looking for Kia Stevens because we need Awesome Kong."
All Elite Wrestling Is Wrestling By Wrestlers
WWE CEO Vince McMahon gets in the ring and his daughter Stephanie is now an executive with her husband Triple H. WWE is a company though. While Cody Rhodes straddles both worlds himself, he prefers to emphasize the athletes.
"The industry has been controlled not by wrestlers, by more corporate entities," Cody Rhodes said. "I'm not speaking negatively to them, but I can tell you this is run by wrestling. This is a wrestling show brought to you by wrestlers for wrestling fans. That in itself is a revolution for our industry and for the performers in it."
Less is more at All Elite Wrestling
WWE does a live show televised show practically every day and even more in arenas. That's great for fans, but exhausting for the wrestlers. AEW aims to put wrestlers in the ring only once a week, and make it count.
"Our wrestlers are wrestling one show a week," Brandi Rhodes said. "This isn't something where people are on the road five days a week.  We're not worried about driving five hours a night after having put your body through the most stress it could possibly go through. Well-being is very important to us."
Well-being extends not just to avoiding injuries in the ring or exhaustion, but just having a personal life.
"Our wrestlers having good well-being, being able to be home, being able to enjoy some of their time with their families because many of us do have families or want to have families," Brandi Rhodes said. "It's possible now so that's paramount. That, paired with having some of the best medical staff possible on our team, some of the best physical therapists, we really do have a really winning combination."