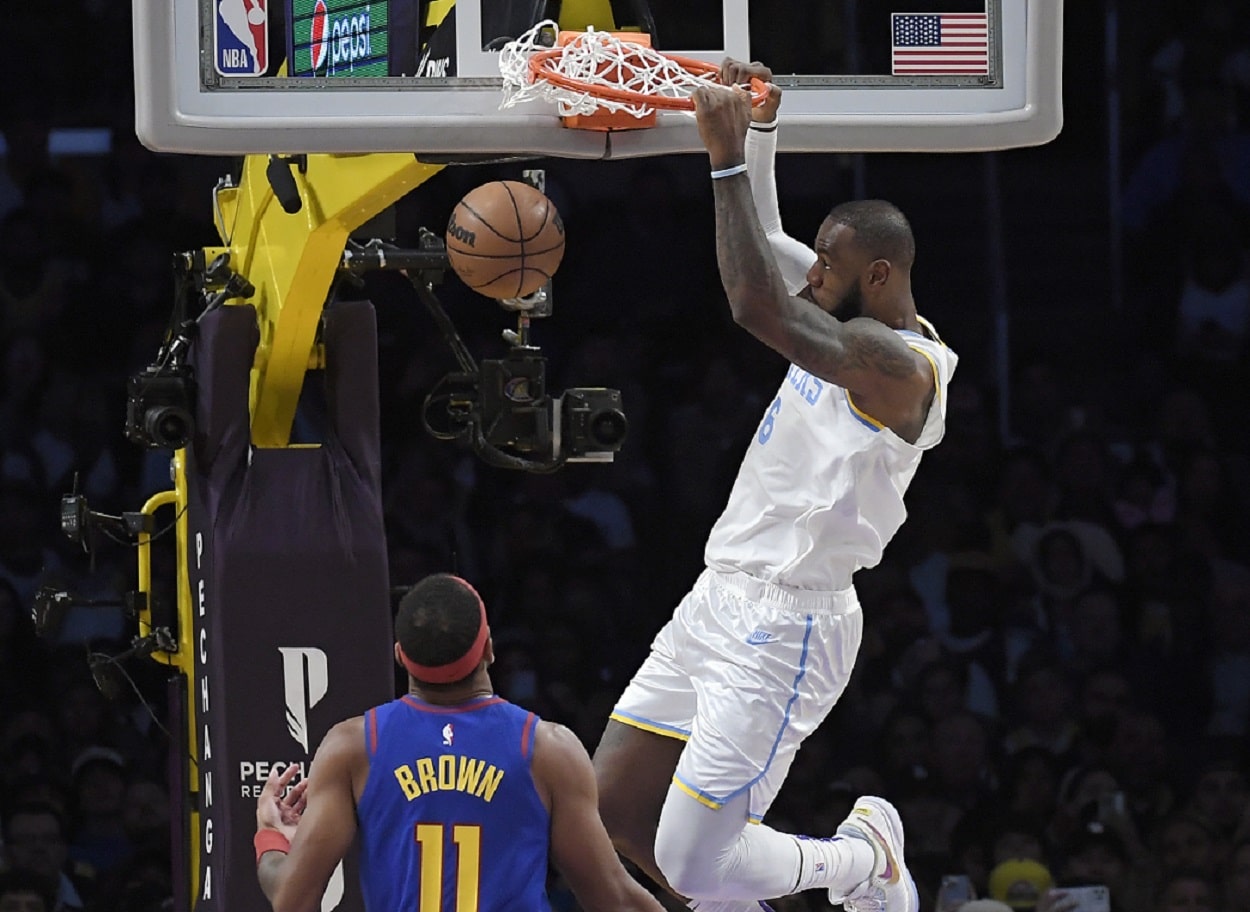 How Close Is LeBron James to Kareem Abdul-Jabbar's NBA Scoring Record Following the Lakers' Win Over the Nuggets?
A look at how close LeBron James is to Kareem Abdul-Jabbar's NBA scoring record after the Lakers' matchup against the Nuggets.
Well, it's official. The Los Angeles Lakers will not go 0-82 as LeBron James & Co. finally got Darvin Ham in the win column with a 121-110 victory over the Denver Nuggets.
Shooting struggles had plagued the Lakers during their winless start to this 2022-23 NBA season, but they were much better on Sunday night, making 47.9% of their shots from the floor, including 13 of 30 from the three-point line, easily their best clip of the year in that department.
LeBron was one of five Lakers in double figures, leading the way with 26 points while adding eight assists and six rebounds. Returning from a one-game absence due to back soreness, Anthony Davis put forth another solid outing with 23 points and 15 rebounds.
And Russell Westbrook had his best game of the year, making six of 12 shots off the bench for 18 points and adding eight dimes and eight boards. Lonnie Walker IV had 18 points of his own, while Austin Reaves chipped in with 10.
Two-time reigning NBA MVP Nikola Jokic led the way for Denver with 23 points, 14 rebounds, and six assists.
How close is LeBron James to Kareem Abdul-Jabbar's scoring record following the Lakers' first win of the season?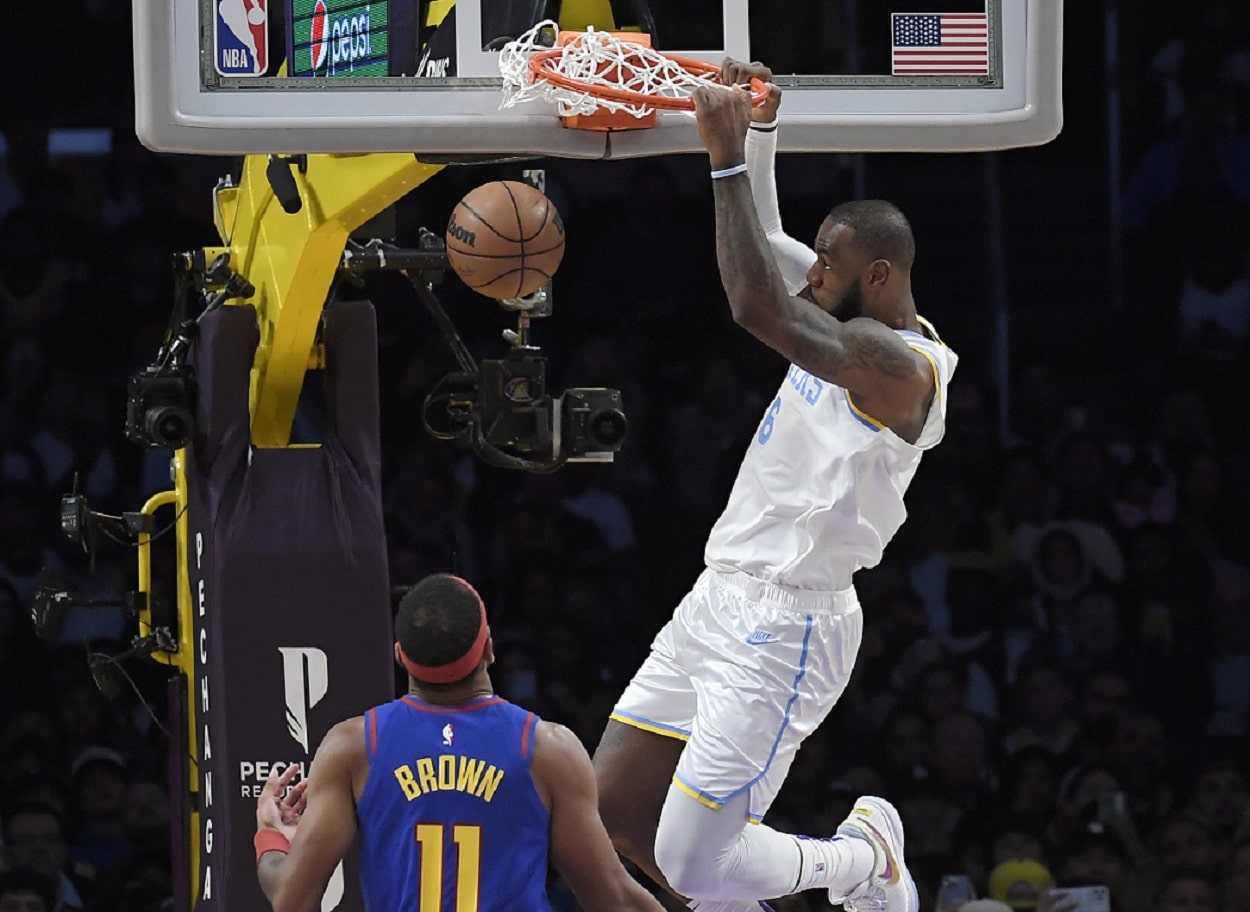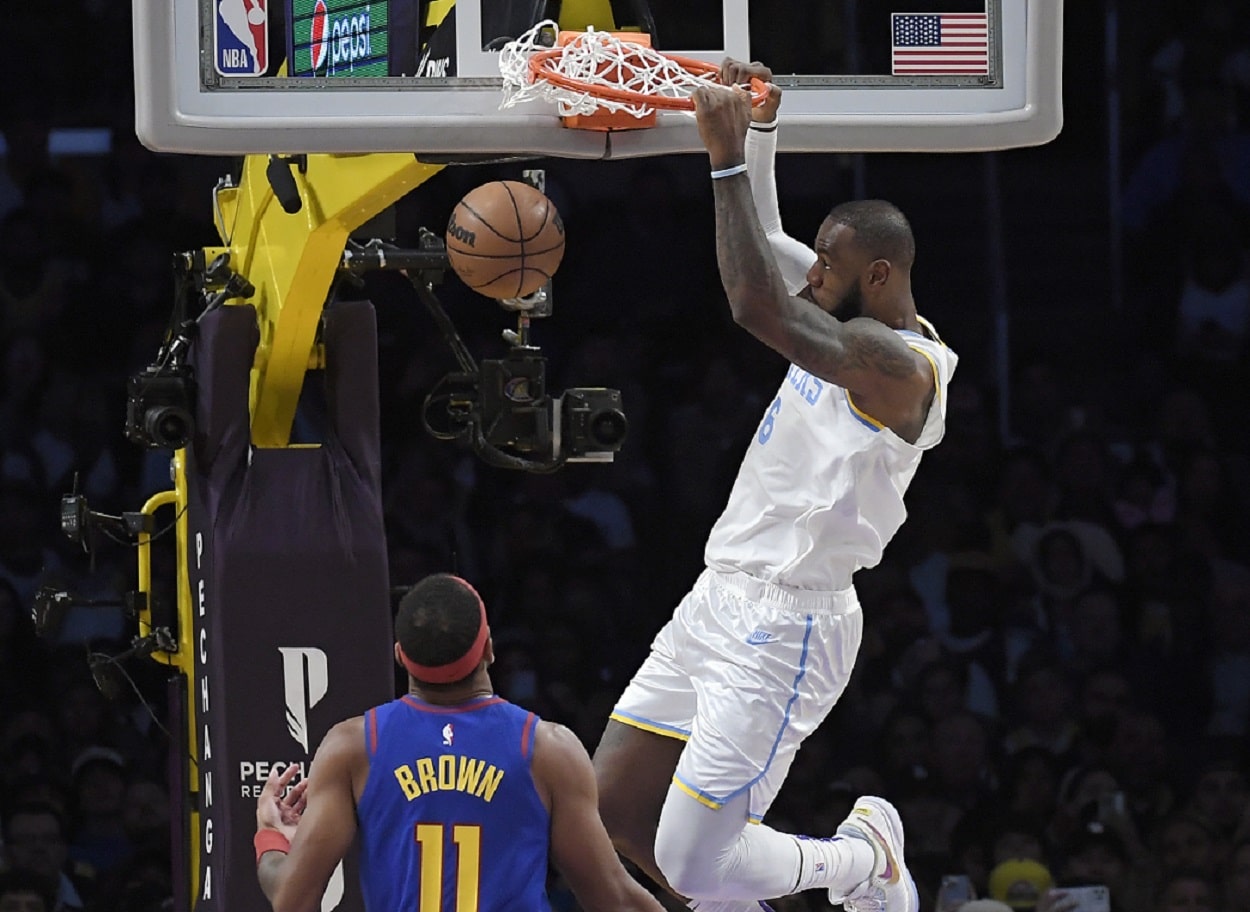 With his 26-point effort in the Lakers' first win of the year, LeBron James now has 37,217 regular-season points for his career, putting him just 1,170 behind Kareem Abdul-Jabbar's all-time record of 38,387.
Assuming the four-time NBA champion doesn't miss any time and continues on this season's pace of 25.8 points per game, he'll surpass Kareem on Tuesday, January 31, when the Lakers square off with the New York Knicks at Madison Square Garden on TNT.
If LeBron ups his production and hits his career average of 27.1 points per game moving forward, he'll pass Abdul-Jabbar three nights earlier on Saturday, January 28, when LA visits Boston for a primetime showdown with the rival Celtics.
Have thoughts on this topic? Keep the conversation rolling in our comments section below.