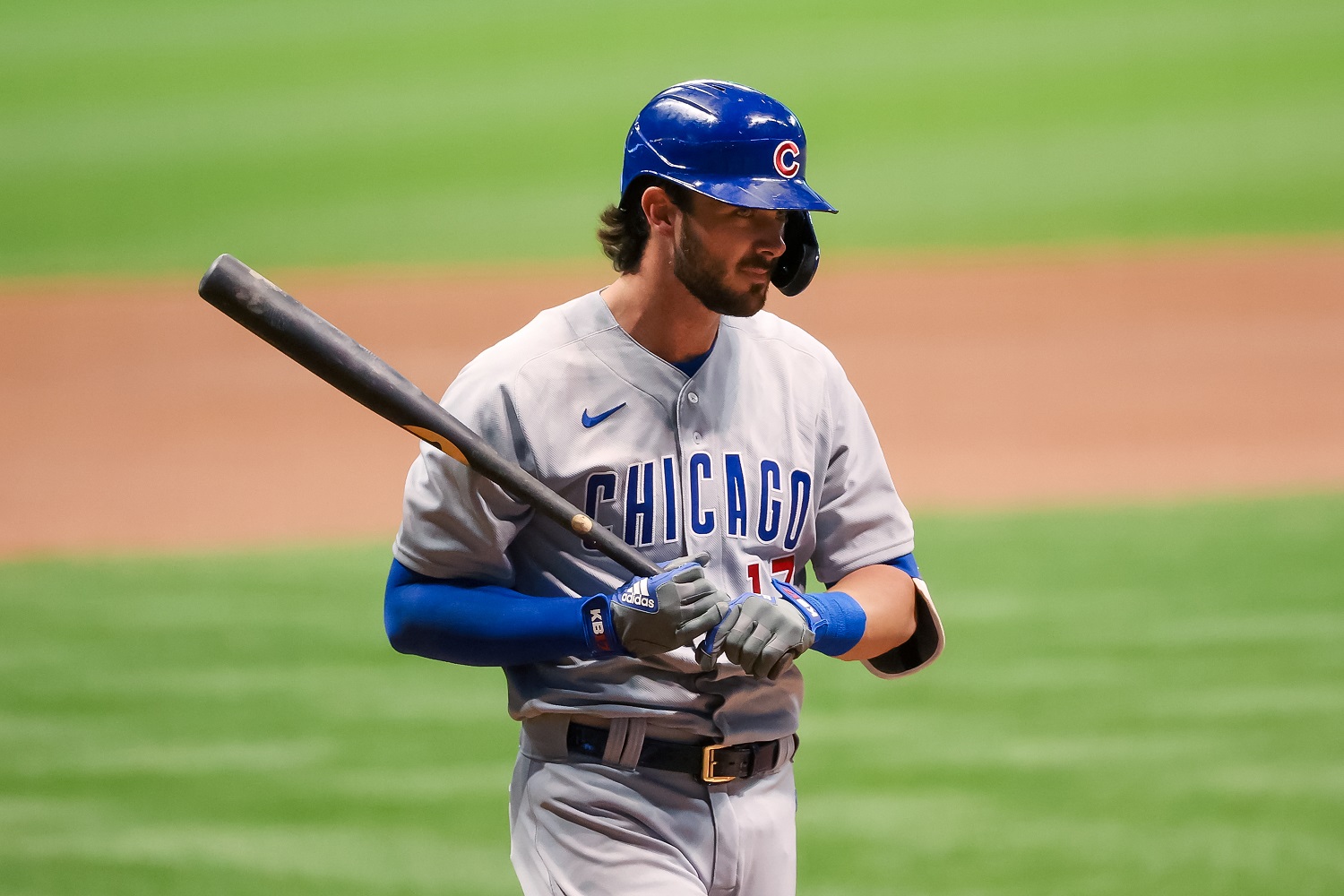 How Concerned Should the Chicago Cubs Be About Kris Bryant?
How concerned should the Chicago Cubs and their fans be about the injuries and productivity of former National League MVP Kris Bryant?
At one point in time, Kris Bryant was looked at as one of the best young players in baseball, which made perfect sense. After all, his first few years in the big leagues with the Chicago Cubs were nothing short of spectacular. He won award after award, made All-Star teams, and helped the North Siders to their first World Series title in 108 years. The sky was the limit and he seemed destined to become one of the greatest players in franchise history.
But things are different these days.
For one, it's hard to know when he'll even be on the field. Injuries have plagued Bryant's 2020 campaign, including another that forced him out of Monday night's game against the Pirates, but even when he is on the field, he's not contributing. This has easily been the worst season of Kris Bryant's young career and manager David Ross has to be concerned.
After missing the postseason last year for the first time since 2014, the Cubs, barring a monumental collapse this week, are set to head back to the MLB playoffs as one of the top seeds and Ross has to be wondering what he'll get from Bryant come the postseason, assuming he plays anyway.
So with just a week before the postseason begins, how concerned should the Chicago Cubs and their fans be about Kris Bryant?
The first three years of Kris Bryant's career were incredible
Taken with the second overall pick in the 2013 MLB draft, Kris Bryant made his big-league debut with the Cubs on April 17, 2015. Many thought he would start the season in the majors but by keeping Bryant in Triple-A to begin the year, the Cubs were able to receive another year of club control, which led to a lengthy legal battle over service-time rules.
Nevertheless, Bryant was an instant sensation in the Windy City. Given his pedigree, there was a lot of pressure on him to perform and he did just that. He won 2015 NL Rookie of the Year with a .275 average, 26 home runs, and 99 runs batted in and helped Chicago to the NLCS. The following season, he won NL MVP by hitting .292 with 39 home runs and 102 runs batted in as the Cubs won the World Series. In 2017, he hit a career-high .295 with 29 home runs and 73 runs batted in and finished seventh in the NL MVP vote.
Injuries and inconsistency plagued his 2018 season
The 2018 season was the first in which Kris Bryant faced adversity. He was inconsistent at the plate and had to deal with a number of injuries. He had a strong start to the year but was hit in the head early in the year in a game against the Rockies and then hit the disabled list for the first time in his career in July with shoulder inflammation, an injury that caused him to miss the entire month of August. In total, he played in just 102 games.
When he returned, there was a dramatic dip in his power and he finished the season with his highest strikeout percentage since his rookie year. He slugged a career-low .460 and his overall contact percentage was down while his swinging strike rate went up, which isn't a great combination, and had a career-low (at the time) .272 batting average.
Kris Bryant bounced back with an All-Star season in 2019 with a .282 average, 31 home runs, and 77 runs batted in but he struggled defensively and ended the year with the worst fielding percentage of all MLB third basemen at .947.
Kris Bryant has had a rough 2020
Ahead of the 2020 season, rumors swirled that Kris Bryant was on the trading block. That obviously didn't happen but just the rumors alone may have gotten to the three-time All-Star. No longer the best player on his own team, Bryant began the abbreviated 60-game campaign as the Cubs' leadoff hitter, which David Ross said he planned to do before COVID-19 shut down the sports world. But that didn't go as planned, which essentially sums up Bryant's season as a whole.
A string of injuries has kept him from finding any kind of rhythm on the diamond this year. He's missed time due to a finger injury, a wrist injury, an elbow injury, back pain, a gastrointestinal issue (thankfully not due to COVID-19), and he left Monday night's game with an oblique injury and is listed as day-to-day. He's played in only 32 of the Cubs' 54 games thus far and is hitting a dismal .195 with just two home runs and five runs batted in, certainly not numbers Cubs fans are used to seeing. He had the leadoff spot taken from him last month by Ian Happ, who is having the best season of his career, and had dropped to fifth in the batting order on Monday after spending the last month in the second or third slot.
As the postseason inches closer, David Ross admitted to MLB.com that he's "worried" about Kris Bryant moving forward, although he also said that having him in the lineup is always a good thing. But with this year's postseason being the way it is with no off-days, will he be able to count on his former teammate to stay healthy and contribute? And will he want someone who's hitting .195 at the plate in an elimination situation when has other options at his disposal? We'll just have to wait and see.
All stats courtesy of Baseball Reference