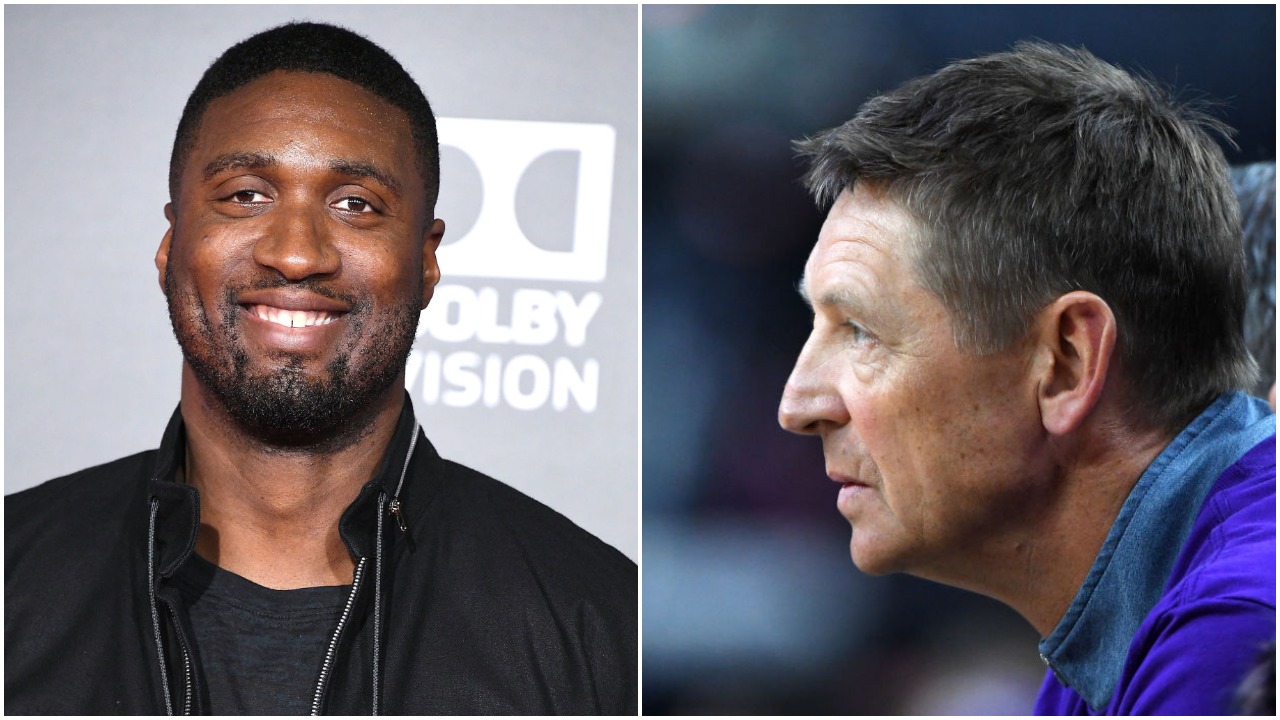 How Detlef Schrempf and Roy Hibbert Got Their Roles on 'Parks and Recreation'
The story behind how former Indiana Pacers stars Detlef Schrempf and Roy Hibbert got their roles on the hit NBC show, "Parks and Recreation."
More than five years after the final episode aired, "Parks and Recreation" made a triumphant return on Thursday night with a 30-minute reunion special that saw the cast dealing with the COVID-19 pandemic and social distancing.
Throughout its seven-season run, "Parks and Recreation" has had numerous cameos from professional athletes. Set in the fictional town of Pawnee, Indiana, the show has used many athletes that played in the Hoosier State, including former Indianapolis Colts Andrew Luck, Reggie Wayne, as well as team owner Jim Irsay. While he never played for a team in Indiana, there was a random Chris Bosh sighting in there as well.
My favorite scenes involving ex-Indiana athletes, however, came from former Pacers Detlef Schrempf and Roy Hibbert. The two appeared together and separately and provided some great moments during their time on the show. So as I was watching the reunion special last night, it got me to thinking. How did these guys end up on the show?
Detlef Schrempf and Roy Hibbert were both NBA All-Stars with the Indiana Pacers
Before hitting the set of "Parks and Recreation," Detlef Schrempf played parts of five seasons with the Indiana Pacers. As Aziz Ansari's Tom Haverford character told us in Season Two, Schrempf was traded to Indiana from the Dallas Mavericks in February 1989 for veteran center Herb Williams. Schrempf enjoyed some of the best seasons of his 16-year NBA career with the Pacers, averaging 17 points per game from 1989-1993. Detlef Schrempf earned his first All-Star selection in 1993 but was traded to the Seattle Supersonics that summer, where he later became the first German-born player to appear in the NBA Finals.
Roy Hibbert was drafted by the Indiana Pacers in 2008 and spent seven seasons with the team, averaging 11.1 points, 6.8 rebounds, and 1.9 blocks. Hibbert earned All-Star nods in 2012 and 2014.
The creators of "Parks and Recreation" wanted Larry Bird before deciding to bring in Detlef Schrempf
Detlef Schrempf first appeared on "Parks and Recreation" in the aforementioned Season 2 episode, "Telethon," in which Amy Poehler's Leslie Knope character is hosting a four-hour block of an all-night telethon to raise money for diabetes. Schrempf was to be picked up by Tom and brought to the studio as a surprise guest but gets sidetracked. As it turns out, Detlef was not the original choice for the episode. The show's co-creator, Michael Schur, actually wanted to bring in Larry Bird but didn't think that he would do a cameo on a new show that was still looking to find an audience. Brainstorming sessions ensued and they decided on Schrempf.
Detlef Schrempf had done some acting in commercials and had made appearances in other shows like "Married with Children." While it was used as a joke in his first appearance on "Parks and Recreation,", he actually did appear in two episodes of the German soap opera, "Gute Zeiten, schlechte Zeiten." As it turns out, Detlef's son, Alex, had actually walked on at UCLA so Schrempf was constantly coming to Los Angeles for the games and it worked out beautifully. Schrempf appeared in two more episodes, "Li'l Sebastian" in Season 3 and "Ron and Tammys" in Season 4, the latter of which also featured Roy Hibbert.
Roy Hibbert himself came up with the idea of making a cameo on "Parks and Recreation"
After hearing a rumor that Derrick Rose was going to be making an appearance on "The Good Wife,", Roy Hibbert decided he wanted to test out his acting skills as well. He figured out that being on a show set in Indiana made perfect sense and had his agent, David Falk, get in touch with the folks at "Parks and Recreation." They loved the idea and flew Hibbert out to the set in the summer of 2011 to shoot his scene with Detlef Schrempf, which also featured Aziz Ansari, Ben Schwartz, and Adam Scott, whose characters were discussing the business aspects of Entertainment 720 in the episode.
Schrempf actually helped coach Hibbert during their scene and Hibbert was very impressed with his co-star.
"He just told me to relax and let it happen. I had like one-or two-sentence lines … and he literally had like a damn-near paragraph and he was spot on and I was very, very much impressed … He was definitely a professional in that aspect. He came prepared and he just told me to relax."

Roy HIbbert on Detlef Schrempf giving him tips on the set of "Parks and Recreation"
Hibbert appeared in two more episodes following his debut alongside Detlef Schrempf. He passed out shrimp in "End of the World" in Season 4 and ran into the group bachelor party in "Two Parties" in Season 5.