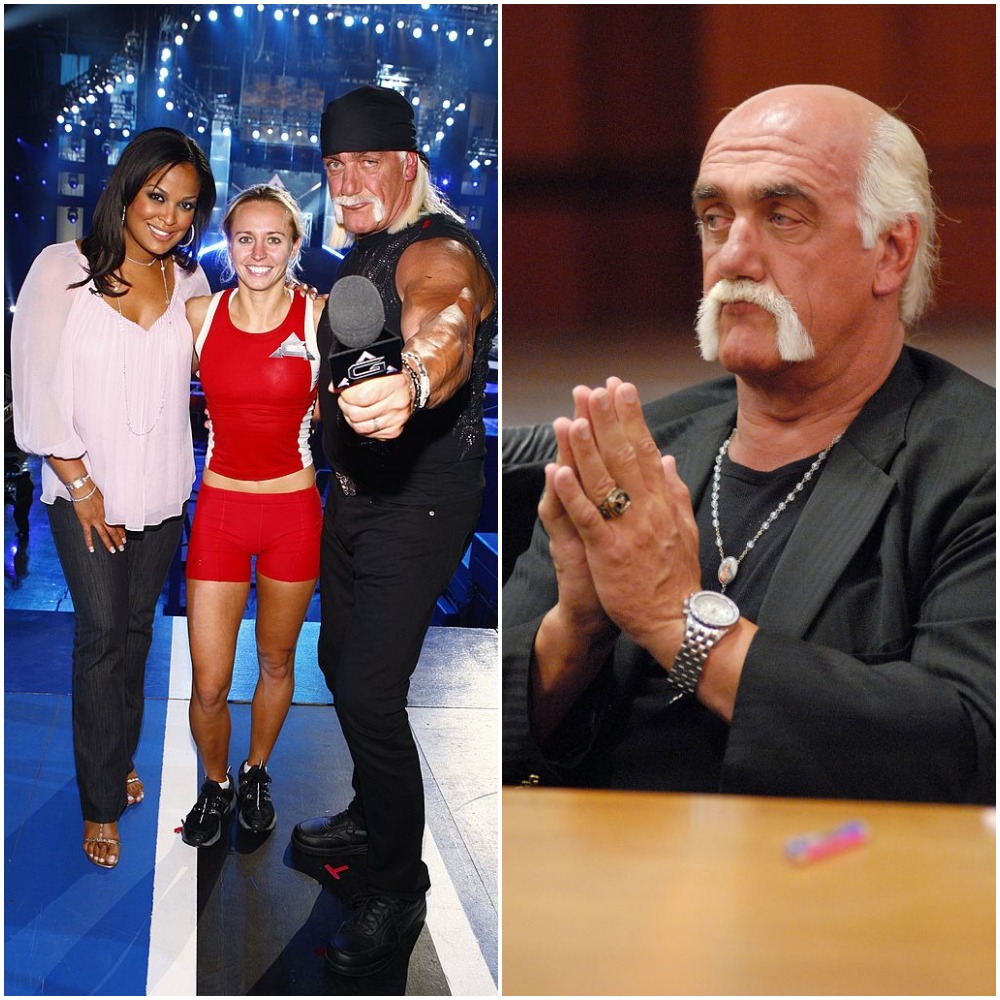 How Laila Ali Stopped Hulk Hogan From Committing Suicide and Didn't Even Know It
After being on top of the world, Hulk Hogan endured divorce and a tragic car accident involving his son. He was about to kill himself when Laila Ali called. It saved his life.
The summer of 2007 was the darkest time in professional wrestling legend Hulk Hogan's life. He was rapidly spiraling downward with a pending divorce from his wife Linda. Then, his son Nick was involved in an auto accident that severely injured his son's friend. With both traumatizing life-changing events consuming him, Hogan planned to end his own life. One call from boxing star Laila Ali changed everything.
Hulk Hogan and Laila Ali join forces on 'American Gladiators'
Hulk Hogan and Laila Ali were a natural pairing as hosts of the popular television game show "American Gladiators," which features amateur athletes competing against each other and the show's "gladiators" in contests of strength, agility, and endurance. 
In 2007 when production of the show started, the legendary Hogan was wrapping up years of filming the reality TV series "Hogan Knows Best," a show that detailed his family life. In February of that year, Laila Ali had won her most recent fight and had a perfect 24-0 record.   
When producers hired the two athletes for the show, they had a clear plan in mind—Ali would keep the show moving while Hulk Hogan would be Hulk Hogan.
"We've both been in the combat zone, in one form or another. I think Laila is a constant. She's a professional," Hogan told movieweb.com. "I think she's very grounded and always on track and she knows right where she wants to be, in the groove. That gives me the artistic liberty to be Hulk Hogan, or not be Hulk Hogan or bounce all over the place."
Stressful time in Hulk Hogan's family
While Hulk Hogan was enjoying his time filming the competition show with Ali, things back at home were rapidly falling apart. His wife Linda, who he married in 1983 and who had supported him throughout his meteoric rise in fame, had seen enough. After numerous claims of affairs through the years, she wanted out.
Hogan pleaded with his wife, with whom they had two children, to stay. He had always proudly proclaimed he was the one world champion who hadn't been divorced. Hogan wanted to do everything he could to save his marriage. Linda filed for divorce.
The pending divorce was bad enough, then their son, Nick, was involved in a serious car accident. He wasn't injured seriously, but his son's friend and passenger in the car suffered severe brain damage. 
Laila Ali calls Hogan and learns years later she saved his life
After a period of filming the competition with Ali, Hulk Hogan returned to his home. It was empty. No pets. No clothes in the closets. The only thing remaining were family pictures all over the house. It was a painful reminder of what had been. Hogan couldn't continue. He was going to kill himself.
For days Hogan sat alone in his vast lonely mansion, mixing a potent cocktail of Xanax and rum. Numerous times he put the gun up to his head, one trigger pull away from ending it all. Then, out of the blue one day, he got a call from Ali. 
"All of a sudden the phone rang, and it was Laila, and she said, 'Hey, what's going on? You're on the set. You're all depressed. We're worried about you. You going to be OK?'" Hogan recounted his co-host asking him in an interview with Meredith Vieira on TODAY. 
"She called with no agenda, just to say hi and check on me," Hulk Hogan said. "It snapped me out of it. At that moment I switched gears. I got sick and tired of being sick and tired. Her voice saved my life, it really did."
Ten years later, Ali said in an interview with "The Tomorrow Show," she had no idea she had saved Hulk Hogan's life.
"I haven't talked to him since that whole story broke. We didn't have a big relationship, but I'm saying if you're going to say it publicly you should've maybe said something to me because I had no idea he was about to say anything. But it's not a big deal, what can I say? I can't say much, I'm glad I saved his life. Love you Hulk!"
Ali's unintentional intervention is one that shows a little kindness, even just a simple phone call, can go a long way. And that simple act might just be the one thing that changes someone's life forever.
How to get help: In the U.S., call the National Suicide Prevention Lifeline at 1-800-273-8255. Or text HOME to 741-741 to connect with a trained crisis counselor at the free Crisis Text Line.