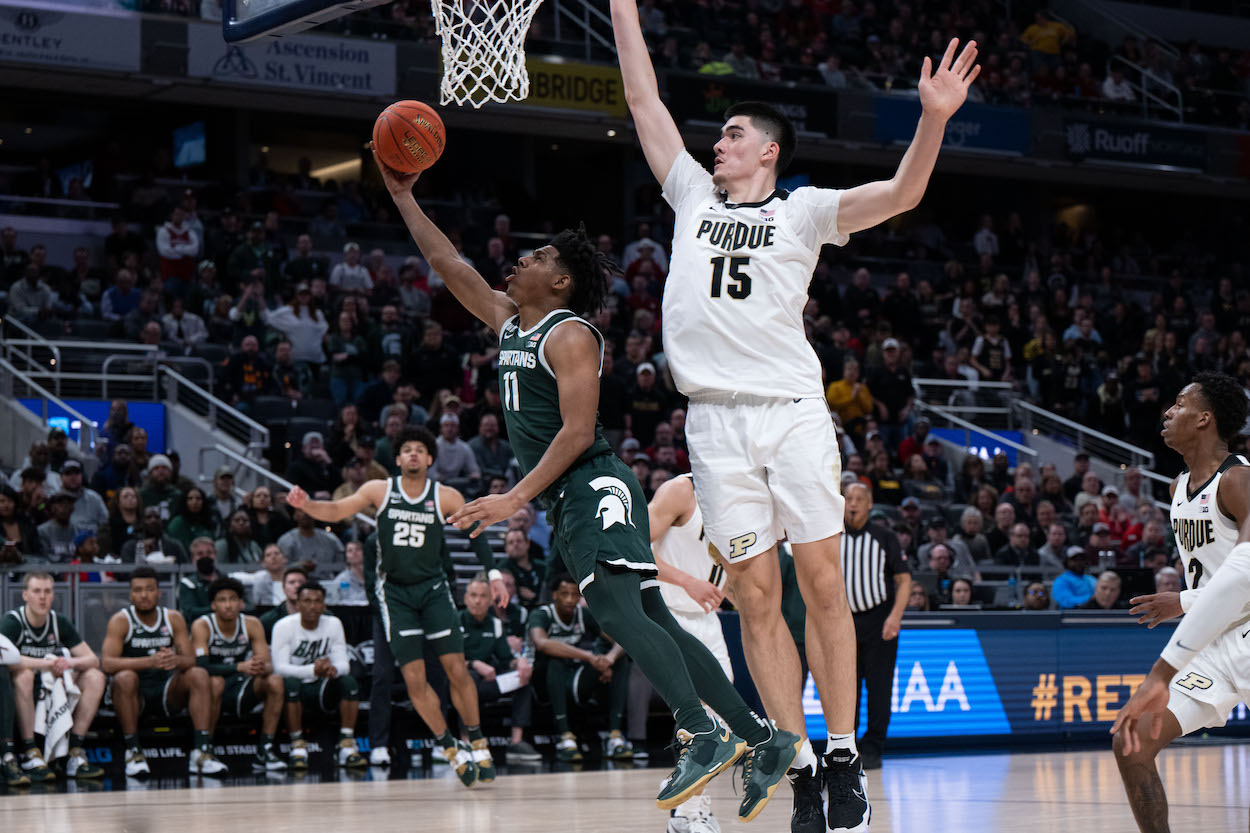 How Tall Is Purdue Center Zach Edey and How Much Does He Weigh?
Zach Edey is the biggest player left in the NCAA Tournament, but how big is he really?
When you watch the Purdue Boilermakers play basketball, it's impossible not to notice the colossal force inside the paint swallowing up every rebound, swatting every attempted layup, and dunking while barely lifting his feet off the court. That force's name is Zach Edey, and he's one of the most unstoppable players dancing in the 2023 NCAA Men's Basketball Tournament.
So, how tall is Edey and how much does he weigh? Plus, is he good enough to find himself on an NBA roster in the near future?
Purdue's Zach Edey is a force to be reckoned with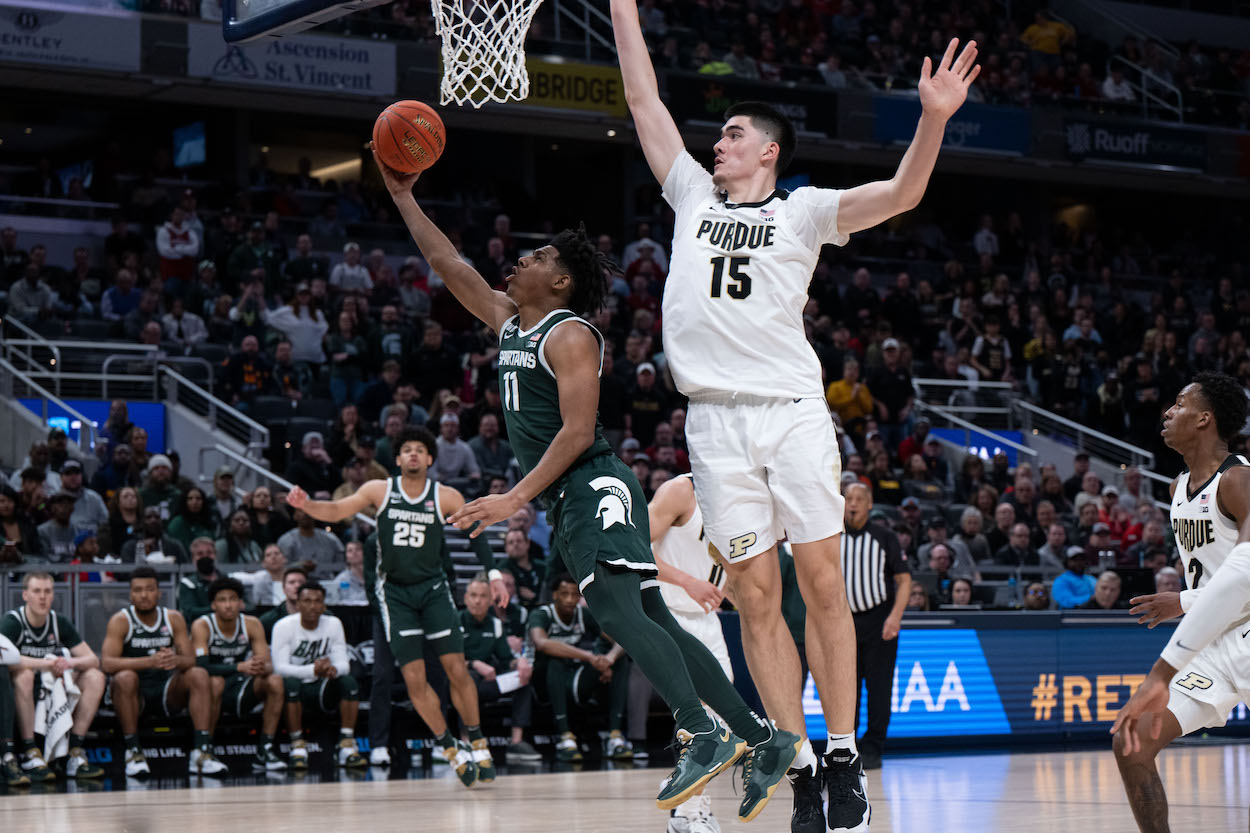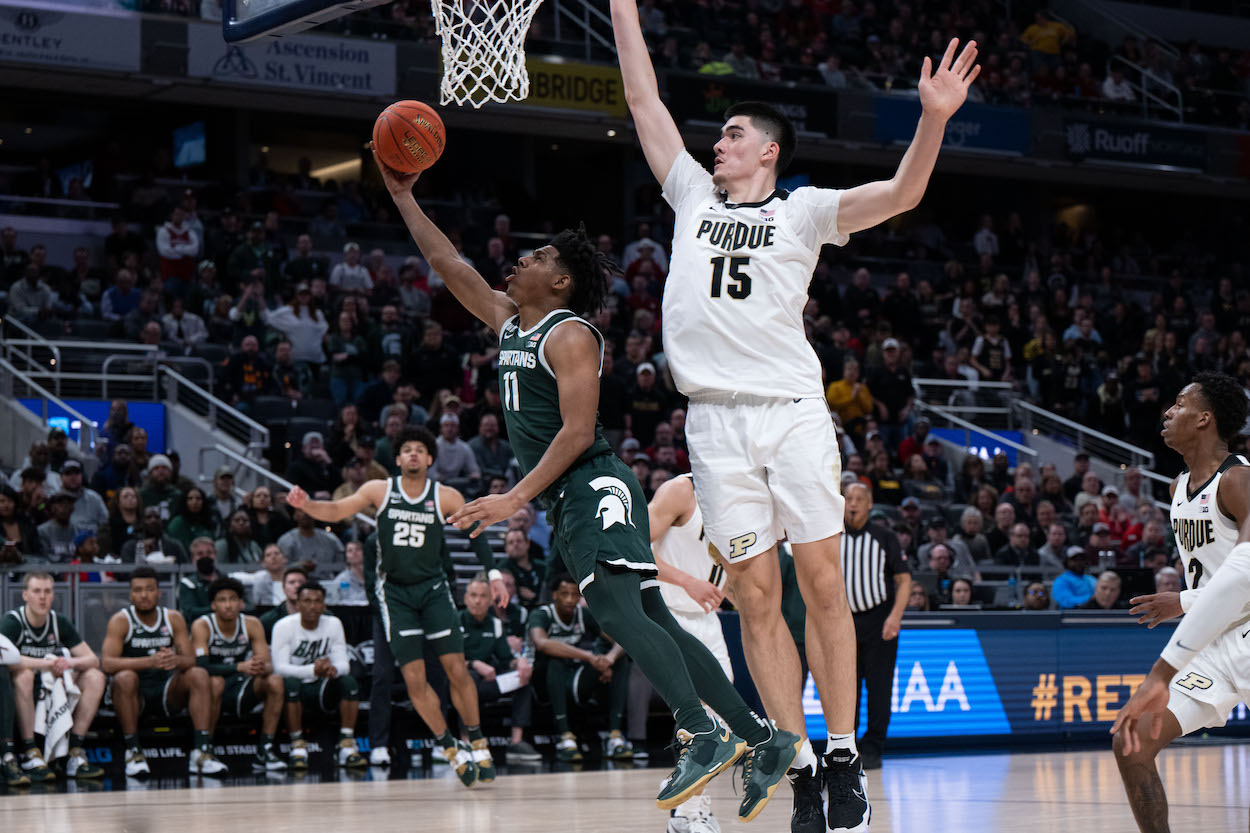 When Edey first arrived at Purdue as a freshman in 2020, he was just a big body without much fine-tuned skill. He came off the bench and averaged 8.7 points, 4.4 rebounds, and 1.1 blocks per game for the Boilermakers, but most of his points came simply from being bigger than everyone else on the court.
After one full offseason in Lafayette, Edey returned as a much more polished player. The center averaged 14.5 points, 7.9 rebounds, and 1.3 blocks per game as a sophomore in just 19.1 minutes per game. His improved efficiency as a scorer, rebounder, and shot-blocker helped Purdue snag a 3 seed in the NCAA Tournament and make a run to the Sweet 16.
A year later, Edey improved even more by raising his PPG to 22.3, which ranks No. 1 among Power 5 conference players. He also ranks second in the country in rebounds per game with 12.3. Edey won the Big Ten Player of the Year award and is the overwhelming favorite to be named the AP National Player of the Year.
But can he lead Purdue to a national championship?
How tall is Zach Edey and how much does he weigh?
If you tune in to watch Purdue for the first time this year in the Sweet 16, you'll immediately notice Edey on the court without much effort. He towers over everyone else on the court, and he takes up nearly the entire paint on both ends with his massive wingspan. But just how big is he?
According to Purdue's official athletics website, Edey measures 7-foot-4 in height and weighs in at 305 pounds. For reference, Yao Ming stood 7-foot-6 and weighed 310 pounds during his NBA career, so Edey isn't very far off from one of the most physically imposing centers the NBA has ever seen.
So, is Edey's impressive size enough to get him a job in the NBA?
Does Edey have an NBA future ahead of him?
Edey is an intriguing NBA draft prospect because of his unique size and strength, but he also has some deficiencies teams might want to stay away from.
For one, he's not a threat to score on the perimeter. He hasn't attempted a single three-pointer in three years with Purdue, and he makes just 70.2% of his free throws. Especially in today's NBA, scouts are looking for big men who can protect the paint and step out to hit open shots when left open. The three-pointer is king in 2023, and Edey simply doesn't have it in his game.
Edey is also slow-footed (understandably so for a man of his size), so teams can slice him up with pick-and-roll action on the perimeter. He's a fine defender inside the paint, but once he's forced to switch onto guards on the outside, he's done for.
Still, Edey's massive frame will be enough for a team to take a chance on him in an upcoming draft. The center is about to finish up his junior year, so he could enter the draft this summer if he pleases. But he might want to stick around at least one more season and try to add a jumper to his game.
If Edey leaves Purdue this year, he'd most likely be a late first-round pick for a team that's looking to develop a center.