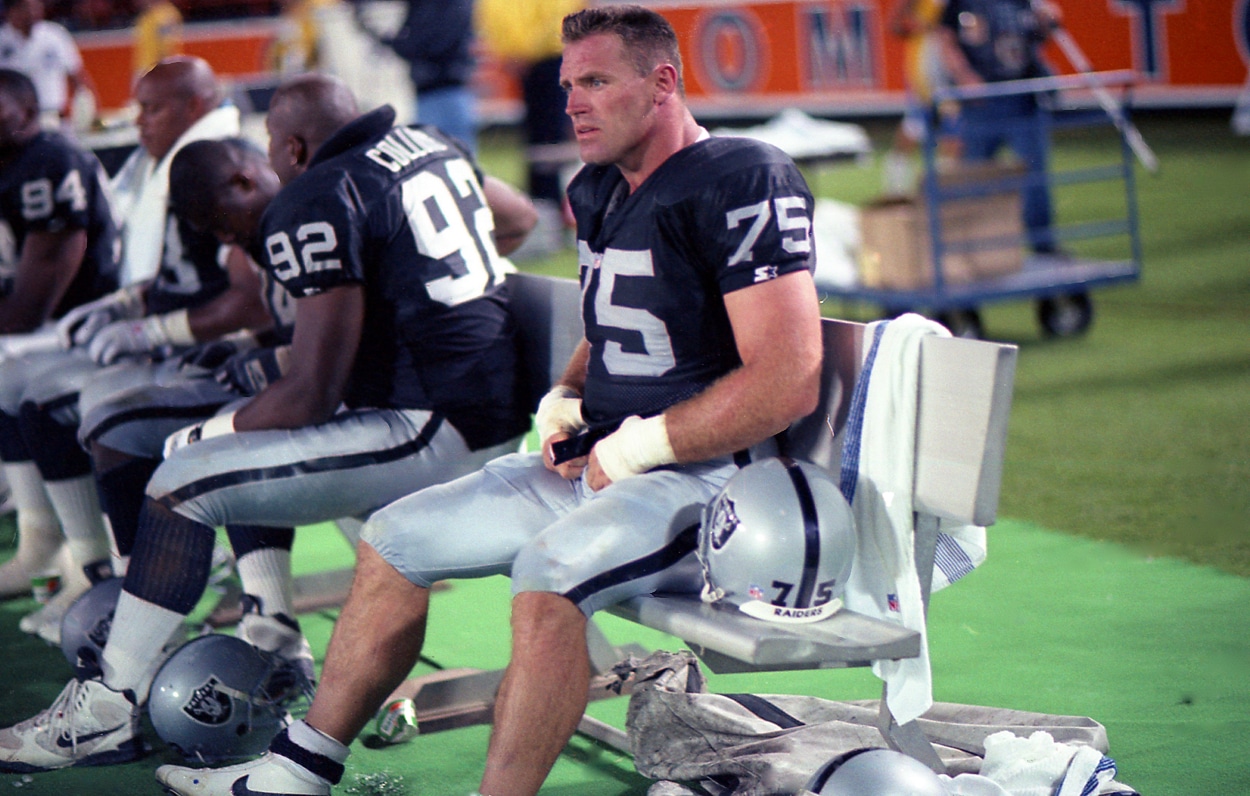 Howie Long's Most Important Sack Was Overcoming Fear and a Lack of Confidence
Hall of Famer Howie Long battled through a lack of confidence throughout his football career.
Hall of Famer Howie Long has excelled in whatever he's done in his professional life. Whether playing football for the Oakland Raiders or providing analysis from the studio, Long made things look easy, although it was never that way for the former All-Pro defensive lineman.
Long excelled on the field. His transition to media was flawless. Growing up to get to where he is today was anything but easy for Long, who was overcome with a lack of confidence and fear of failure.
Howie Long enjoyed a Hall of Fame career and a Super Bowl title with the Raiders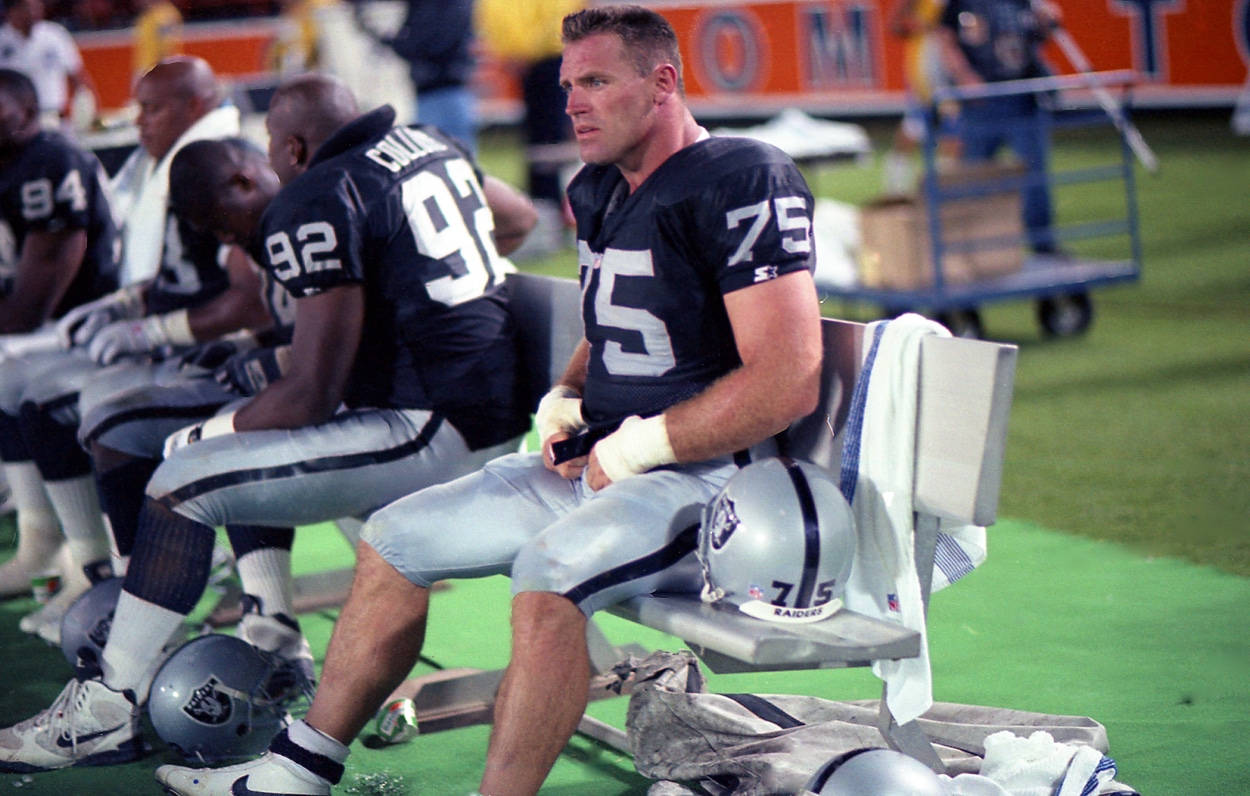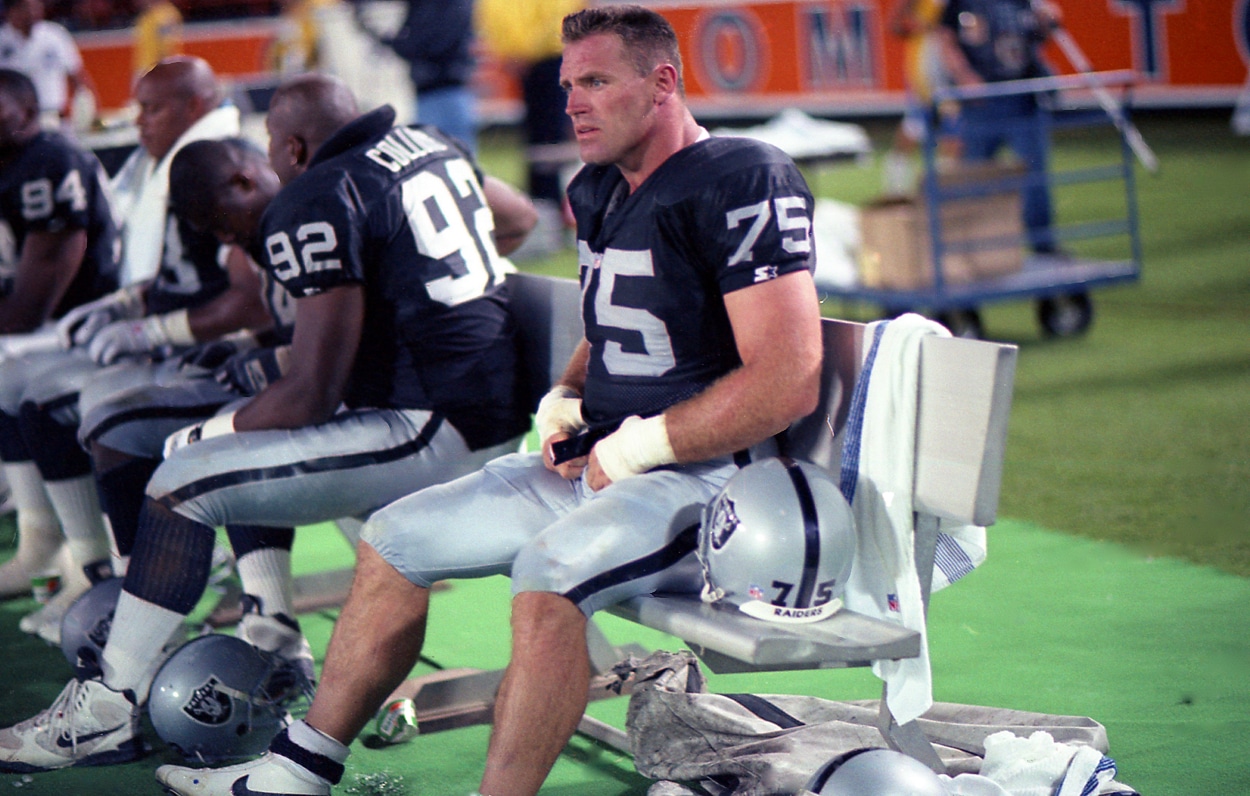 Long played 13 seasons in the NFL, all with the Oakland/Los Angeles Raiders. Officially, he finished his career with 84 sacks. Pro Football Reference lists his sack total at 91.5, giving him 7.5 in his rookie season in 1981. Sacks weren't an official statistic until the 1982 season.
From 1983 to 1987, Long had five straight Pro Bowl seasons. He finished with a career-high 13 sacks in 1983, when the Raiders won the Super Bowl. In '84, he finished with 12 sacks and the first of his two straight All-Pro seasons.
Long played collegiately at Villanova. The Raiders selected him in the second round (No. 48 overall) of the 1981 NFL Draft. After a 1988 season that saw him limited to seven games, he returned to Pro Bowl form in 1989 with five sacks and a fumble recovery in 14 games.
He closed out his career with his final Pro Bowl seasons in 1992 and 1993, finishing with a combined 15 sacks. Long also had a pair of interceptions and 10 fumble recoveries in his career.
He was inducted into the Pro Football Hall of Fame in 2000.
Long always had a lack of confidence and a fear of failure
Football never appealed to Long as a youngster. He finally joined a Pop Warner team, and he stood out, but that was mainly because of his size. He weighed 120 pounds when he was 9. At 11, he was bigger than some of the players two or three years older. His Pop Warner career didn't last long.
"I was C-team age and A-team weight," Long said in a 1985 Sports Illustrated article. "I didn't feel like going out there and taking a daily beating from kids two and three years older."
He played in high school and did well. Deep inside, though, was a lack of confidence. He always had the fear of failure and the fear of being embarrassed in front of everyone. That stuck with him during his Villanova days, especially when he was selected to play in the Blue-Gray all-star contest as a late addition. He admitted to being miserable the entire week.
"I roomed with Colin McCarty, the middle guard from Temple who'd driven trucks with Joe Klecko," Long said. "No one talked to us. No one offered to take us out to dinner. It was the worst week of my life."
When he put the pads on, the fear went away. He finished as the game's defensive MVP. The fear and doubt kicked back in when he became a member of the Raiders. His confidence was lost again.
"I thought I stunk. I had no confidence — none. I couldn't understand why they'd drafted me in the second round."

Howie Long in 1985
When he got to the Super Bowl during the 1983 season, there were more doubts.
"Do you know what I was thinking the first day they had those press interviews?" he asked. "I was thinking, Every player has his own table. What if nobody's at mine? How will I handle the embarrassment?"
No pun intended, but he's come a long way. Long took down that fear and lack of confidence to become a Hall of Famer, making that one of the most important sacks of his career.