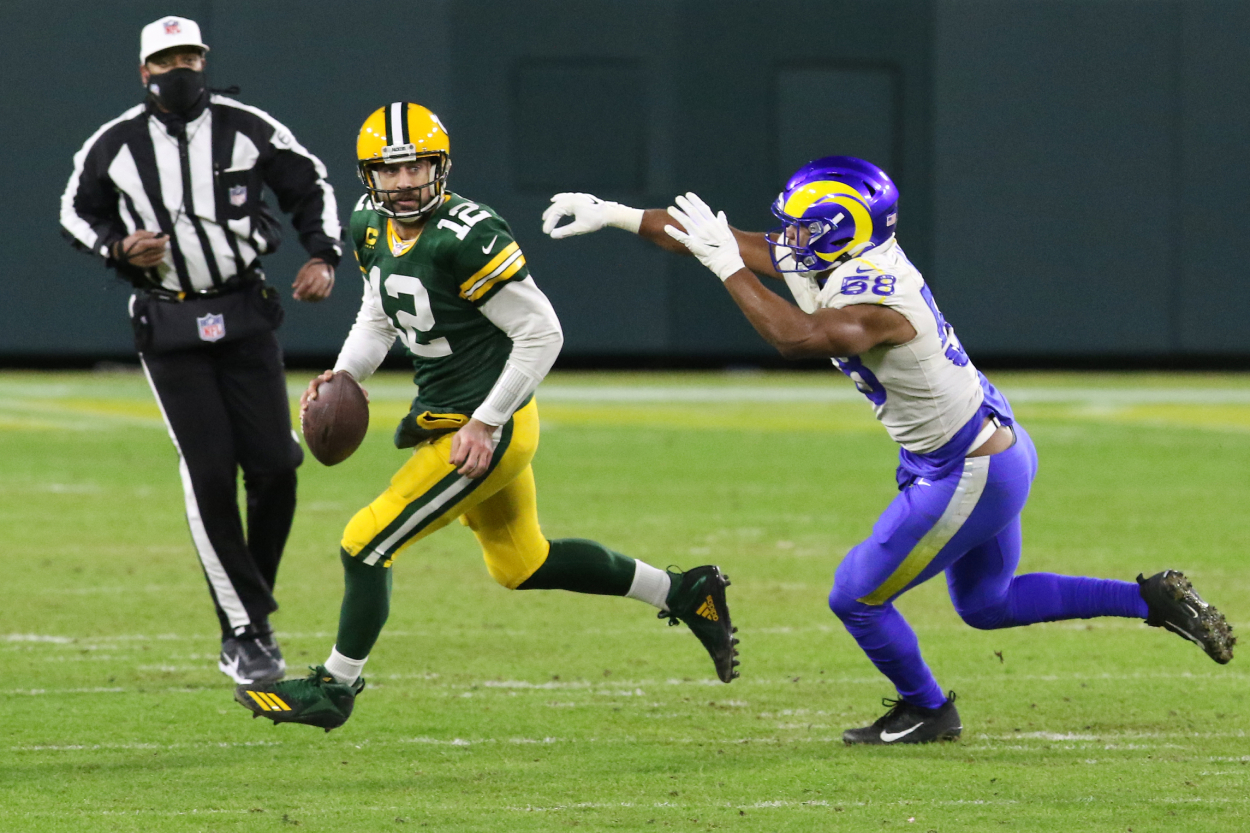 If the Green Bay Packers Are Looking for Extra Motivation, They Already Have It
If the Green Bay Packers are in need of some extra motivation against the Tampa Bay Buccaneers, they already have it.
The Green Bay Packers have everything right in front of them. They are one game away from reaching the Super Bowl. They'll be playing at home in what should be a frigid day at Lambeau Field. The Packers will also be facing the team that handed them their worst loss of the season. If the Packers need any extra motivation for Sunday's game against the Tampa Bay Buccaneers, they already have it.
The Green Bay Packers were crushed by the Buccaneers
It might've been the game that knocked some sense of reality into the Green Bay Packers and their fans. The Packers were rolling at 4-0 and were coming off a bye week to face Tom Brady and the Tampa Bay Buccaneers. The Packers were rolling offensively, putting up at least 30 points in each game.
In Week 6 against the Bucs, the Packers jumped out to a 10-0 lead and appeared to be on their way to another high-scoring victory. Instead, everything fell apart. Tampa Bay rattled off 38 unanswered points en route to a 38-10 victory. The Packers suffered their first loss and it wasn't pretty.
Aaron Rodgers completed 16 of 35 passes in the only game this year where his completion percentage was under 60%. The Tampa Bay defense was dominant. "I think they definitely got to us, got us a little off rhythm," Packers coach Matt LaFleur said, according to Packers.com. "Certainly, that is a damn good defense. They've got star-studded players across the board. They play a really fast, aggressive type scheme. They can bring multiple different pressures."
The Packers are rolling now
The Green Bay Packers have won their last seven games, including last week's playoff win over the Los Angeles Rams. Green Bay hasn't tasted defeat since Nov. 22 when they lost to the Indianapolis Colts in overtime. Not only have they won seven straight and nine of their last 10, they've looked good doing so.
Aaron Rodgers, in line for his third MVP, has been the catalyst for Green Bay's potent offense. Rodgers tossed a career-high and NFL-leading 48 touchdown passes this season. He was only intercepted five times.
Last week against a very stingy Rams defense, the Packers put up 32 points in a 32-18 victory. Rodgers threw for 296 yards and two touchdowns. He ran for another score. Running back Aaron Jones rushed for 99 yards and a touchdown.
The Packers have some bulletin-board material in their back pocket
How much motivation does a team need when it's playing for a berth in the Super Bowl? Probably not a whole lot, but if the Green Bay Packers need a little extra incentive for their upcoming matchup with the Tampa Bay Buccanneers, they have it. It goes back to their Week 6 meeting against the Bucs, but it doesn't have anything to do with the outcome of the game. It has everything to do with what was said.
After Tampa Bay's 38-10 win, Buccaneers linebacker Devin White provided the future billboard material. "Them guys didn't deserve to be on the field with us," White said after the game. Packers head coach Matt LaFleur said he didn't think that quote would play a big role this weekend.
"We're talking about the NFC Championship Game with an opportunity to go to the Super Bowl," LaFleur said, according to Packers.com. "I think that's enough motivation right there. You know, hey, he was right. They whipped us. There's no sense in talking about it. The only thing you can do is you've got to prepare the best you can and then go prove it." You have to believe somewhere in the back of some Packers players' minds, White's quote will be lingering.