NBA: Did His leg Injury Cost DeMarcus Cousins More than a Playoff Run with the Warriors?
A recent quad injury for DeMarcus Cousins might cost him more than his playoff run with the Golden State Warriors. Here's why.
Before DeMarcus Cousins tore his Achilles near the end of the 2017-18 season, he was in line for a max contract in free agency. After being traded from Sacramento, he was an excellent fit with Anthony Davis, and New Orleans looked like a contender to push Golden State and Houston in the Western Conference playoffs.

That all changed after the injury. The Pelicans had the option to resign him to a long-term deal, but the front office opted not to. That put Cousins in a sticky situation as no one wanted to invest in a big contract on a player coming back from a torn Achilles.

When Cousins joined the Golden State Warriors on a mid-level exception deal worth roughly $5 million, fans of all other 29 teams were outraged that a player of his caliber would sign a deal well below his value.

Cousins' latest injury
Cousins tore his quad muscle on the same leg he tore his Achilles in game 2 of the Warriors' first-round playoff series against the Los Angeles Clippers. The injury has him out for the rest of the postseason, and it could impact his start next season. It's another bad break for Cousins. It was his first time in the playoffs after several dismal years in Sacramento.

It also impacts Golden State's bid for a championship three-peat. The Warriors lose overall depth with Cousins out, especially in the paint. Post players might decide who wins the title, and several of them potentially stand in their way.
What it means for the Warriors
The Warriors lost one of the game's best offensive big men. While his numbers were slightly down compared to his career averages, Cousins was still an important part of the Warriors offense. He averaged 16 points and eight rebounds per game this season and was having an excellent start to the series against the Clippers.

Without Cousins in the middle, Golden State has relied on a smaller lineup, with Andre Iguodala getting more minutes in the death lineup. Andrew Bogut was signed at the end of the Australian Basketball season in March and has put up big minutes since rejoining the team. Kevon Looney has also seen his minutes increase and the Warriors will need more help from their bench front line to secure their fourth title in five years.

What it means for Cousins' next contract
This is where things can get tricky for Cousins. He didn't have any major suitors heading into free agency last offseason, but will the same thing happen this year? A lot of teams will have cap space this year, so he could receive something higher than the mid-level minimum that isn't a max deal.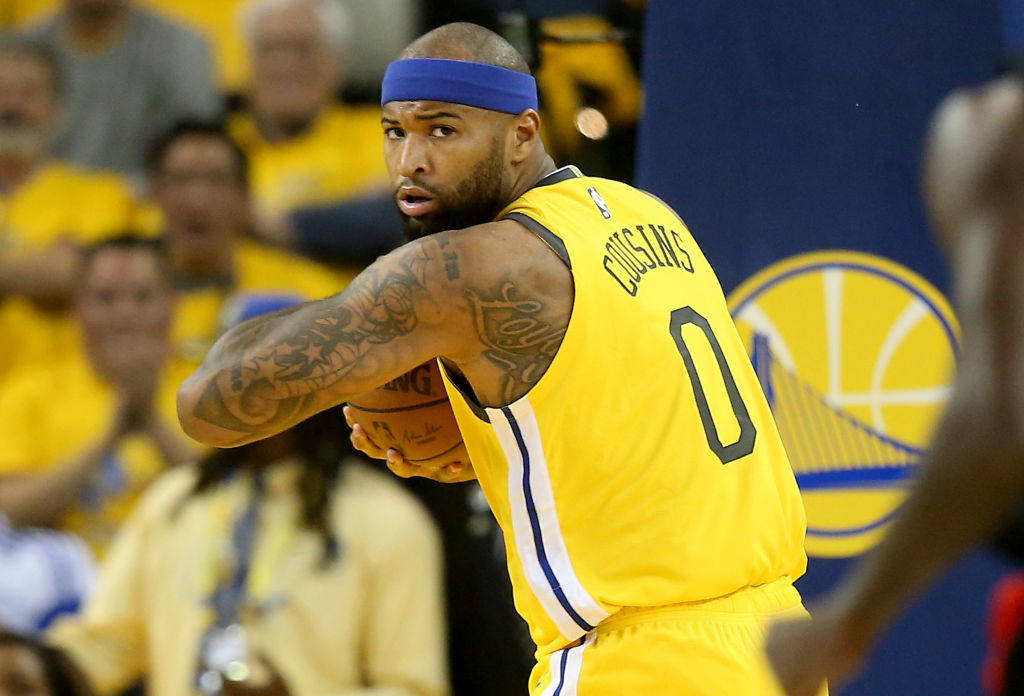 The Brooklyn Nets will have enough cap space to sign Cousins to a max contract, and he would fit well with budding star D'Angelo Russell. He would clearly be one of the top big men in the Eastern Conference, and he should be a candidate to average 20 points and 10 rebounds per game.

Another destination where he can earn a nice payday is with either the Los Angeles Lakers or Clippers. The Lakers will have room to pair someone with LeBron James. If they can't make a deal for Anthony Davis, then Cousins would be an excellent fall-back option.

The Clippers will probably pursue Kawhi Leonard in free agency, but pairing him with another max talent could turn the Clippers into one of the best teams in the West next season.

Our best guess is that DeMarcus Cousins will resign with the Warriors on a one-year deal, and then enter the 2020 free agency class. A torn quad isn't as severe as a torn Achilles, so Cousins should be able to have a productive 2019-20 season.
No matter where he signs, DeMarcus Cousins won't come close to making the kind of money he would have made before his injuries. One NBA executive estimates the difference between his actual and potential earnings at $150 million, according to Bleacher Report.