Isiah Thomas' Basketball Dream Began With a Pair of Different Size Powder-Blue Converse All-Stars
Isiah Thomas saw his basketball dream begin with a pair of powder-blue Converse All-Stars and the Harlem Globetrotters.
Isiah Thomas was the little guy with a big heart. Former Detroit Pistons coach Chuck Daly said had Thomas been five inches taller, he might be the best NBA player ever. When Thomas was inducted into the Naismith Memorial Basketball Hall of Fame in 2000, he was emotional thinking about the path that took him to the NBA. Thomas remembers the Harlem Globetrotters, a pair of powder-blue Converse All-Stars sneakers, and a milk crate helped him become a Hall of Famer.
For Isiah Thomas, size didn't matter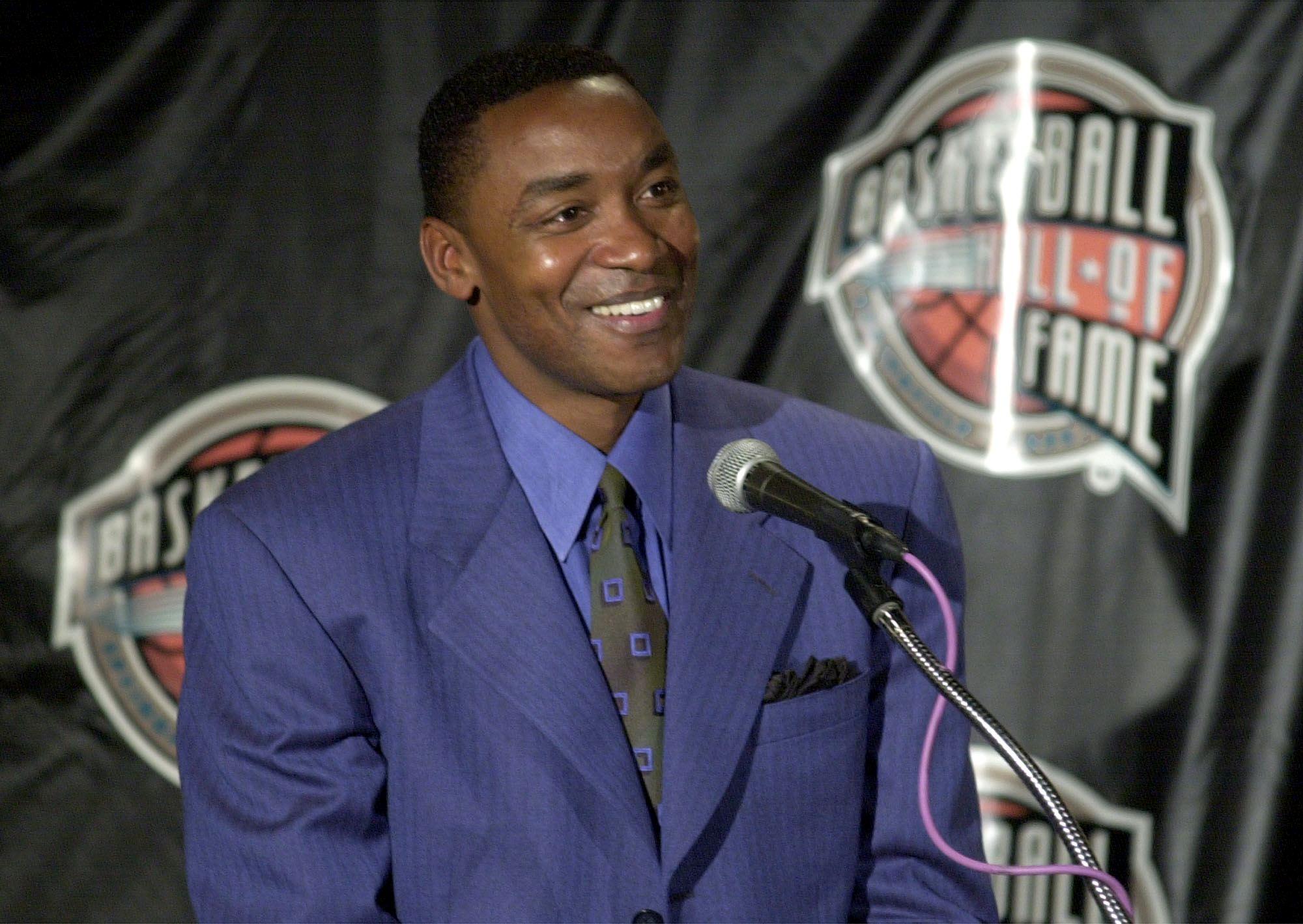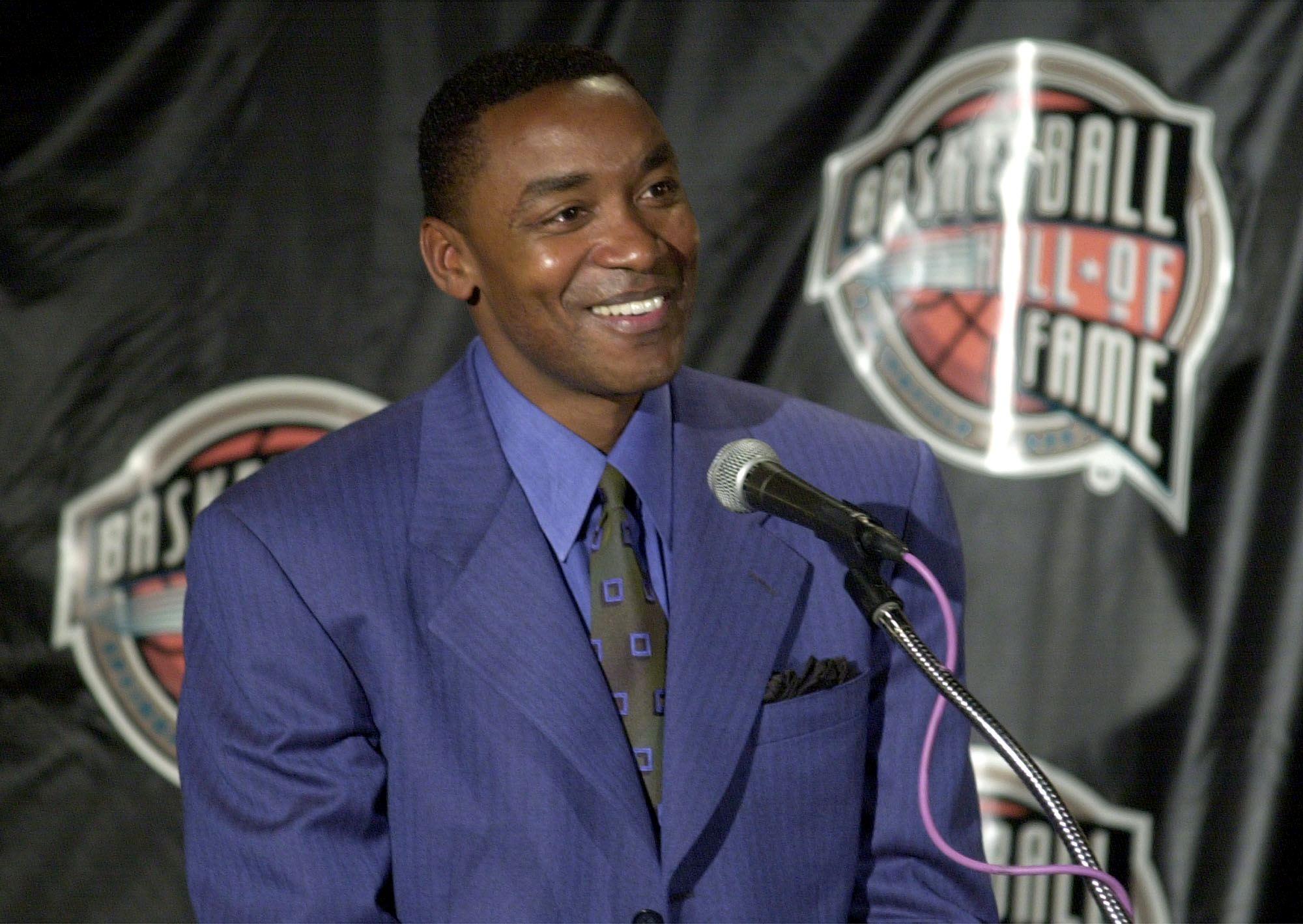 He was listed as 6-foot-1, 180 pounds, but Isiah Thomas played a lot bigger. Thomas was the leader on a team of Bad Boys. He was the go-to player on a team full of stars. Thomas ran the show as the point guard and led the Detroit Pistons to a pair of NBA titles in his 13 years in the NBA.
Thomas played his college ball at Indiana under legendary coach Bobby Knight. He was a first-round pick in the 1981 NBA draft. The Pistons selected him right behind Mark Aguirre with the second overall pick.
Thomas played all 13 seasons with the Pistons. He was a 12-time NBA All-Star who led the league in assists during the 1984-85 season with 13.9 per game. For his career, Thomas averaged 19.2 points and 9.3 assists per game. He was inducted into the Naismith Memorial Basketball Hall of Fame in 2000.
Emotional Isiah Thomas recalled how it all began
It didn't matter that the powder-blue Converse All-Stars sneakers weren't even the same size. They were cool. They were also the starting point for Isiah Thomas' leap into basketball as a 10-year-old at the Martin Luther King Boys Club. There, he was introduced to a man named John McClendon.
"John McClendon brought the rejects from Converse, the gym shoes," Thomas recalled during his Hall-of-Fame speech. "He would pull up and open up his trunk and he would let us go in the back of his trunk to get gym shoes. They were never the same size. I remember that day. I had a pair of power-blue Converse. One was an eight-and-a-half and the other was an eight."
Thomas said that day they were headed to watch the Harlem Globetrotters play at the Daley Center. "I had on my powder-blue gym shoes," he said, "and my dirty socks and my dirty uniform. I remember the Harlem Globetrotters put on a show. I'll never forget Curly Neal and Marques Haynes dribbling that basketball."
The Globetrotters and Converse All-Stars inspired Thomas
Isiah Thomas recalled the inspiration the Harlem Globetrotters and those powder-blue Converse sneakers gave him. "They were dribbling like they were playing the piano," Thomas said during his HOF speech in 2000. "I said to myself that day, 'I'm gonna learn how to do that.'
"Went home and got a milk crate, and I set it in front of the house. I wasn't tall enough to hang it on anything, and I got my basketball, and I went to dribbling and shooting it in the milk crate. I was even dunking then. But that inspired me. That day gave me the power to dream, the power to hope, and the power to be."
Isiah Thomas went on to play basketball at the highest level. He reached the pinnacle of his career with an induction ceremony in the Hall of Fame. It may never have happened without those powder-blue sneakers and the Harlem Globetrotters.
All stats courtesy of Basketball Reference.