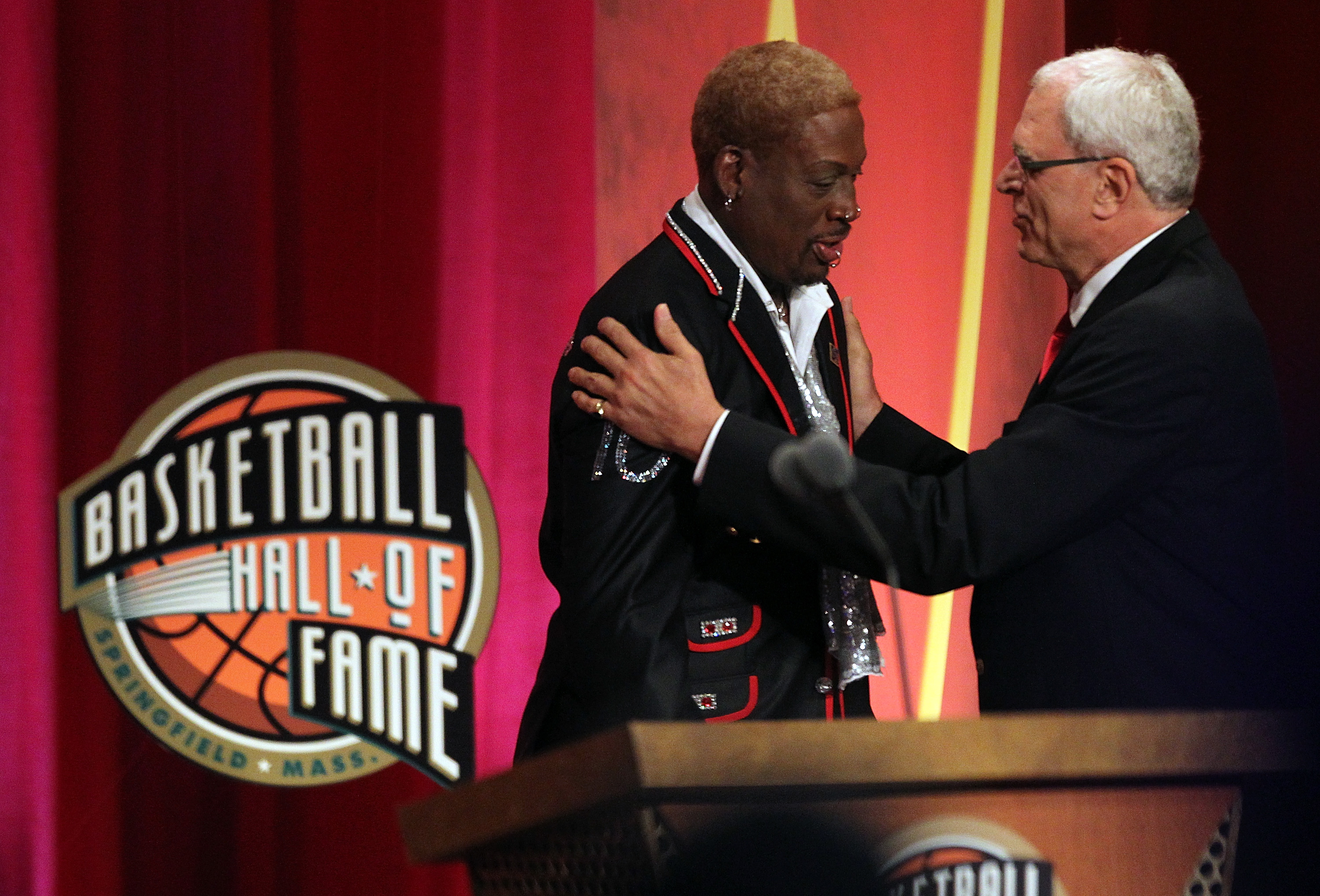 Dennis Rodman Emotionally Addressed His Mother, Father, Kids in Powerful Hall of Fame Speech
Dennis Rodman wore his heart on his sleeve during a powerful speech for his Hall of Fame induction in 2011.
As we prepare for what is sure to be an emotional Naismith Memorial Basketball Hall of Fame ceremony that will feature the late Kobe Bryant, one previous HOF speech stands out from the rest in the emotional department. When Dennis Rodman was inducted into the Hall in 2011, he wore his heart on his sleeve. For 12 minutes, Rodman spoke from the heart. There wasn't a dry eye in the building when one of the gutsiest NBA players of all time was finished speaking.
Dennis Rodman was inducted into the Hall in 2011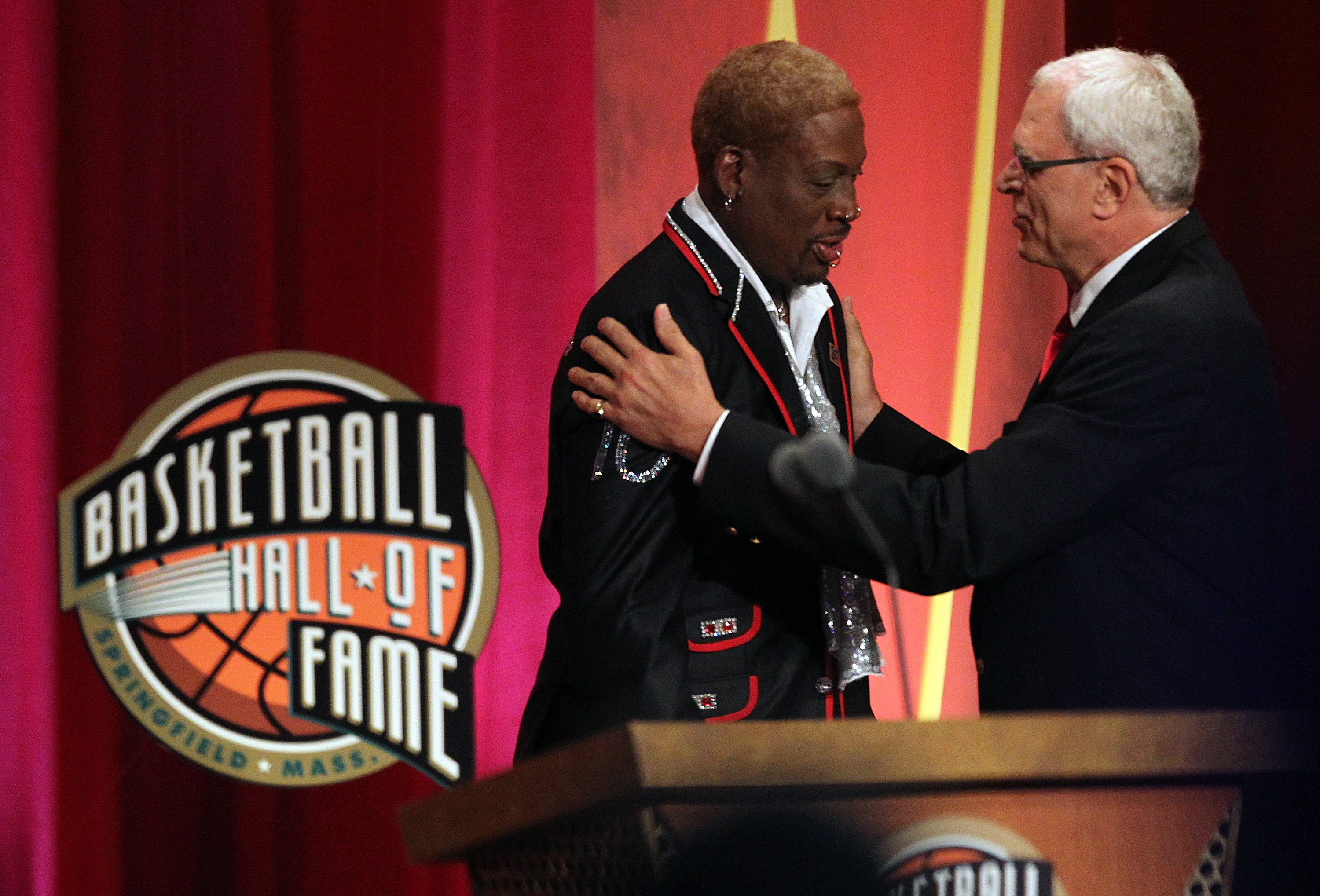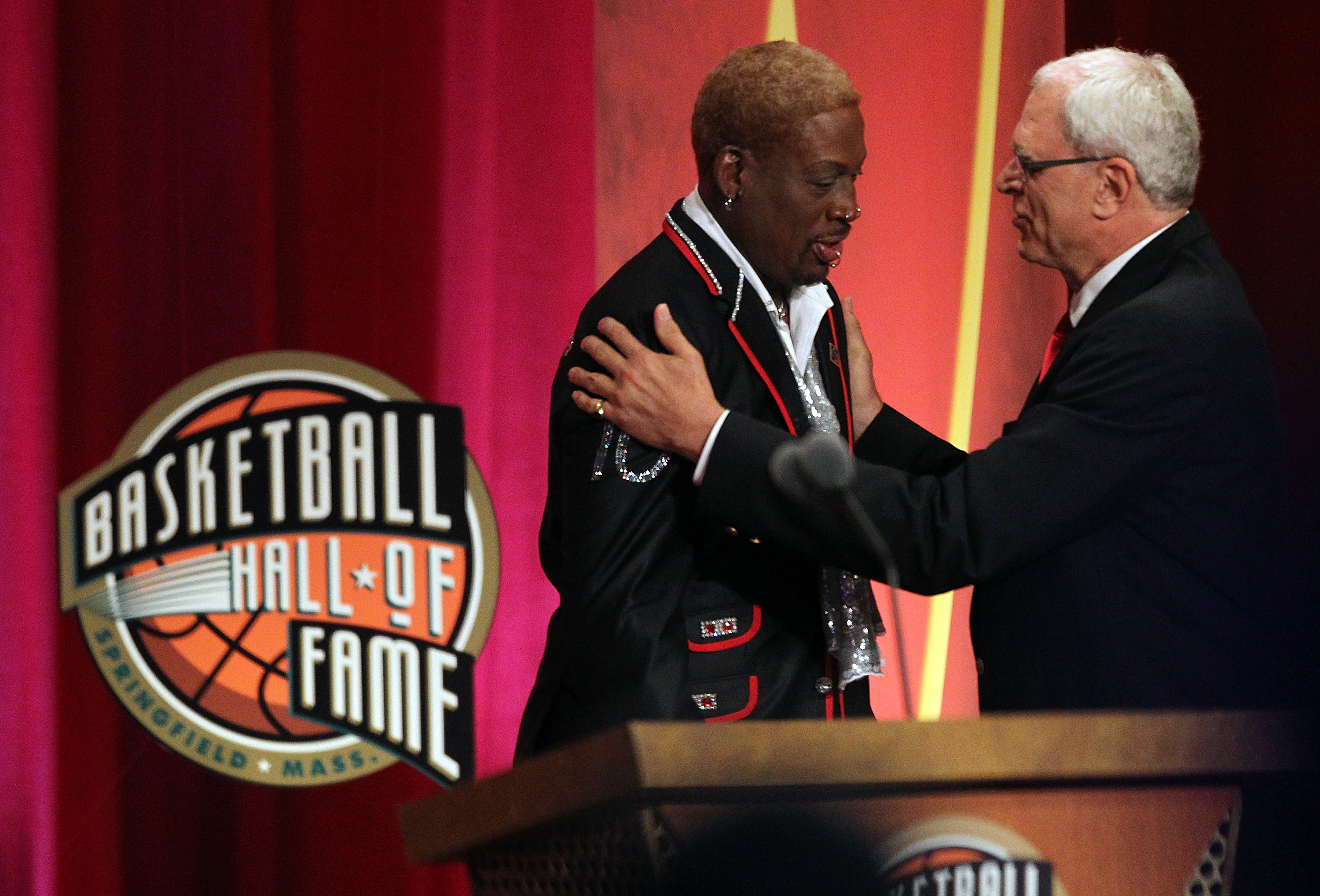 RELATED: Dennis Rodman's Secret to Rebounding Success Revealed
For seven straight seasons, Dennis Rodman led the NBA in rebounding as a skinny 6-foot-7 forward. He wanted it. Rodman's desire to play basketball was as strong as anyone's. That desire guided him to a pair of NBA All-Star appearances and five NBA championships.
Rodman was a second-round pick out of Southeastern Oklahoma State University. While every team passed on him in Round 1, the Detroit Pistons selected Rodman with the 27th overall pick in the 1986 NBA draft. He spent his first seven seasons with the Pistons, helping create Detroit's famed Bad Boy image.
After spending two seasons with the San Antonio Spurs, where he led the league in rebounding, Rodman joined Michael Jordan and Scottie Pippen with the Chicago Bulls. There, he played a major role as Chicago strung together its second three-peat. Rodman is a two-time Defensive Player of the Year and was inducted into the Naismith Memorial Basketball Hall of Fame in 2011.
Dennis Rodman let it all out during his HOF speech
Dennis Rodman had a tough time getting himself together from the time he stepped up to the podium in 2011. "Hold on," he said as he backed away from the microphone to gain his composure. When he was finally able to speak, he didn't talk much basketball. He spoke of four men — Phil Jackson, Jerry Buss, James Rich, and Chuck Daly — who were father figures and impacted his life the most. He addressed his parents and children, saying he was never a good son or father.
Rodman thanked several people, including former actress/director Penny Marshall. Rodman said she was "doing my documentary, and I hope I be living by then. I'm just being honest."
Three minutes into the speech, he broke down. "It wasn't Dennis Rodman…" he said as he backed away, unable to speak. "I didn't play for the money. I didn't play the game to be famous. What you see here is just an illusion that I love to just be an individual that's colorful."
Rodman dug deep into his life
Rodman got very personal during his 12-minute speech. "I never had a father," he said. "My father left me when I was five years old. He has 47 kids in the Philippines, and I'm the oldest one. He wrote a book about me and made a lot of money, but he never came and said hello to me. That didn't stop me from persevering."
He thanked his then-wife Michelle, who "has put up with a lot of crap. I haven't been a great father and haven't been a great husband. I can't lie about that. She's tolerated everything from me for 11 years. She's been a mother and a father. I have one regret. … I wish I was a better father."
He then broke down again.
"Last but not least, my mother, Shirley Rodman [who was at the ceremony]. Me and my mother have never gotten along. I was a very good kid when I was young. Once I got to the age of 16 to 18, 19, 20, I couldn't care less what I did to my mother. My mother worked three jobs and kicked me out of the house. I resented her for a long time. My mother rarely ever hugged me or my siblings. I haven't been a great son to you." He then pointed to his presenter, Phil Jackson. "This man here," Rodman said, "I can hug him because he's the only man who ever cried for me."
Rodman then turned back to his mother. "Hopefully, I can love you like I used to when I was born."
All stats courtesy of Basketball Reference.