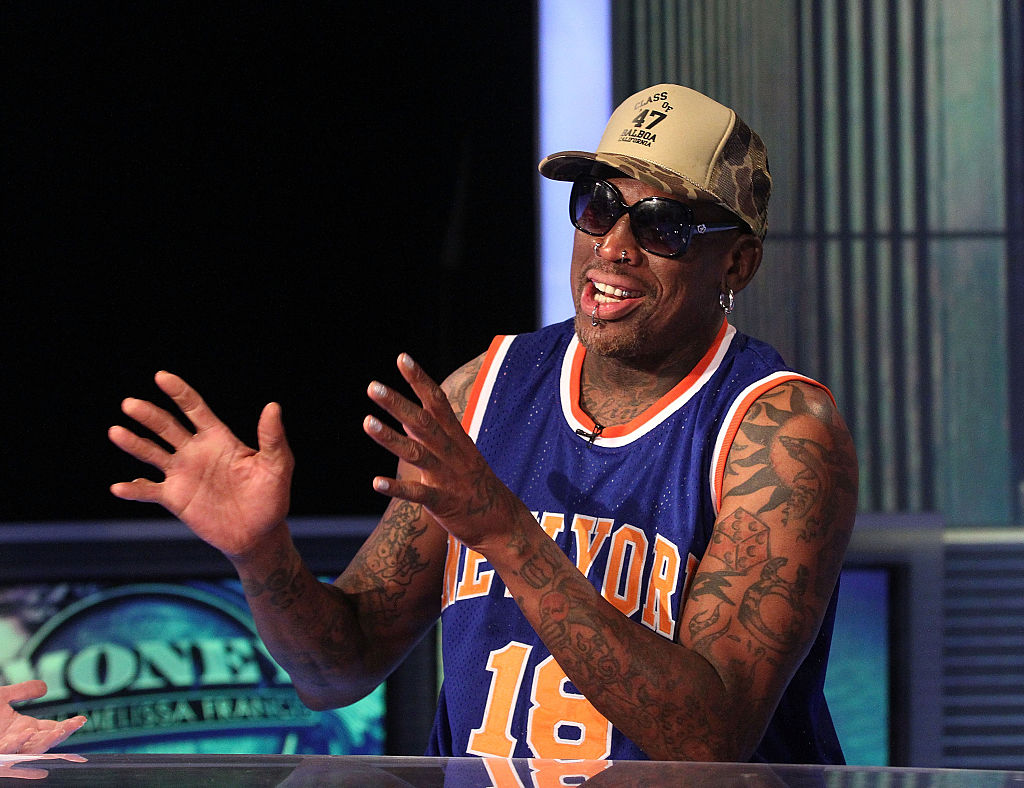 Dennis Rodman Got His Rebounds on the Court and Some Steals off It
Former Chicago Bulls and Detroit Pistons star Dennis Rodman got his rebounds on the court and got some steals off it.
Former Chicago Bulls and Detroit Pistons (and Spurs, Lakers, and Mavericks if you want to get technical) player Dennis Rodman made himself quite a career in the NBA out of pure grit and hustle. Rodman was far from a physical specimen at 6-foot-7, 210 pounds, but he certainly made the most of his ability on the court despite the big body. Rodman, however, played with the big boys and wound up being one of the best, if not the best, rebounders of his time.
Dennis Rodman patiently waited for his time to shine in the NBA
Dennis Rodman was a second-round pick in the 1986 NBA draft. The Detroit Pistons selected Rodman out of little-known Southeastern Oklahoma State University. Rodman has gone on to become the lone player from that college to play in the NBA.
Rodman averaged 15 minutes per game in his rookie season with the team while averaging 6.5 points and 4.3 rebounds per game. Never known for his scoring, his second season in the league was the last time Rodman averaged more points (11.6) per season than rebounds (8.7).
In the 1988-89 season, Rodman's minutes increased to 26.9 per game, and his production also increased. Although he wasn't known for his offense, he averaged 9.0 points per game and also led the league in field-goal percentage at .595 percent. He averaged 9.4 rebounds per season. The next season he made his first NBA All-Star game, averaging 8.8 points and 9.7 rebounds per game in his fourth season.
Rodman turned into a rebounding machine
It was in his fifth year in the NBA when Dennis Rodman became a big-time rebounder. During that 1990-91 season, Rodman averaged 12.5 rebounds per contest, beginning a string of 10 straight seasons where he averaged double figures in that department.
The following season is when the rebounding monster that Dennis Rodman became began. Despite his skinny 6-foot-7 frame, Rodman found a way to haul down a league-leading 18.7 rebounds per game and that was just the beginning. That 1991-92 season, Rodman made his second NBA All-Star appearance.
Starting from that 1991-92 season, Rodman led the NBA in rebounding average for seven straight seasons. Twice, he averaged better than 18 rebounds per game. In his career, Rodman pulled down 11,954 rebounds. "I want to do for rebounds what Michael Jordan did for dunks," Rodman once said.
Rodman's life off the court
Dennis Rodman can be classified as a little different when it came to life outside basketball. He's a guy who once wore a wedding dress, proclaiming he married himself in an attempt to promote his book. In his book Bad As I Wanna Be, Rodman told about being deserted by his father, who is the father of 27 children with four wives. "I haven't seen my father in more than 30 years, so what's there to miss," Rodman wrote. "I just look at it like this: Some man brought me into this world. That doesn't mean I have a father."
When Rodman was younger, he was working as a janitor at the Dallas-Fort Worth Airport airport, broke into a store at the airport, and stole a bunch of watches. He was arrested but avoided further trouble when he returned the watches after he gave them to his friends.
In 2019, Rodman and some friends were accused by a California yoga studio of stealing more than $3,500 worth of merchandise, including a 400-pound crystal. Rodman denied the charge, telling TMZ "As the good person that I am, I said, 'OK, guys, let's go over here and do one thing.' And they call it a heist," Rodman said. "They call it a heist, because guess what? That (expletive) company, I guess you call it yoga or something? They're broke. … I don't need to steal (expletive)."