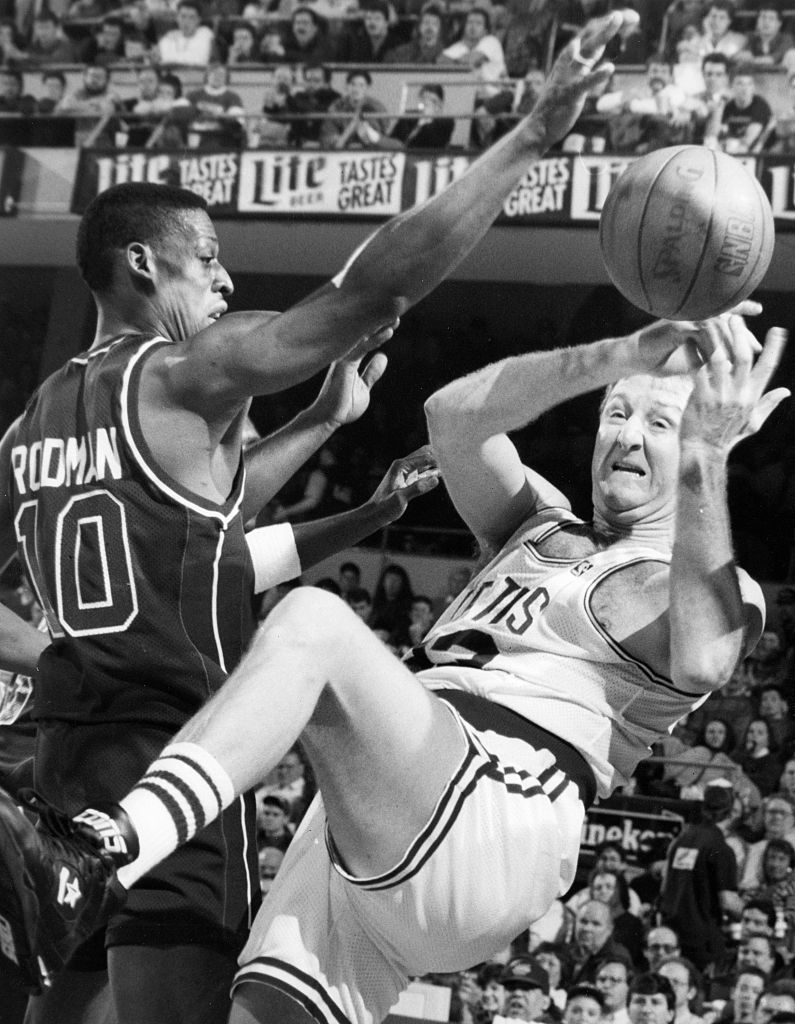 Dennis Rodman Was Forced to Apologize to Larry Bird for Racist Comments
Former Detroit Pistons rookie Dennis Rodman was once forced to apologize to Larry Bird for making racist comments aimed at him.
Those Boston Celtics vs. Detroit Pistons in the 1980s always got heated. There were always fights, ejections, and dirty play when those teams clashed, especially during their postseason runs. Things got so ugly in 1987 that Dennis Rodman of the Pistons was forced to apologize to Boston's Larry Bird for racist remarks he made toward the Boston forward.
Boston Celtics vs. Detroit Pistons rivalry
There was no love lost between the Boston Celtics and the Detroit Pistons when the teams met in the 1980s. Things really heated up during the 1987 Eastern Conference Finals when the Pistons, known as the Bad Boys with Bill Laimbeer, Dennis Rodman, and Isiah Thomas, used a physical style of play. Many have said that physicality bordered on dirty.
During that 1987 series, Laimbeer and Boston star Larry Bird were ejected during Game 3 after Laimbeer's hard foul on Bird. Bird retaliated by throwing the ball at Laimbeer. The Pistons were so close to taking a 3-2 series lead in Game 5 in Boston when Bird stole an inbounds pass by Thomas with the Pistons ahead by one. Bird then hit a cutting Dennis Johnson, whose layup gave the Celtics the win. Boston won the series in seven games.
From 1985-1991, the Celtics and Pistons met five times in the postseason. Boston won in 1985 and again in 1987. The Pistons won three straight series beginning in 1988, leading to three straight NBA Finals appearances.
Dennis Rodman's racist comment about Larry Bird
After the Boston Celtics defeated the Detroit Pistons in 1987 to reach the NBA Finals, Dennis Rodman, a rookie, ripped Bird. Bird had been named the league's MVP for the last three seasons. "He's not God," Rodman was quoted in The Orlando Sentinel. "He ain't the best player in the NBA, not to me. . . . He's white. That's the reason he gets it the MVP award. Nobody gives Magic Johnson credit. He deserved it last year, too. I don't care. Go ahead and tell him. You'll put it in the paper anyway."
Rodman's teammate Isiah Thomas joined Rodman with a racist comment, saying, "I think Larry is a very, very good basketball player. He's an exceptional talent. But I have to agree with Rodman. If he were black, he'd be just another good guy."
Thomas later said he was joking and that he and Bird are friends. "I'm shocked and I'm really hurt that people would believe this," Thomas said in The Chicago Tribune in 1987. "I have a great relationship with Larry. Hell, no, I don't agree with Dennis. Without a doubt, whether he's black or white, Larry deserves all the recognition he gets. To win the MVP award three times, you've got to be great."
Rodman was forced to apologize by his former agent
Larry Bird was satisfied with Isiah Thomas' explanation. "I think Rodman is the one that someone should talk to before he destroys that whole team," Bird said in The Chicago Tribune. He was asked if he wanted to speak with Rodman. "Nah," Bird said, "I'd probably bust him upside the head."
After Rodman's comment, his former agent Billy Diamond told Rodman he needed to apologize to Bird. First, he asked Rodman if he said it. Rodman admitted he did. "Are you f***ing crazy?" Diamond said, according to Forbes. "The guy is one of the top five players in the league and is going to go down as one of the top players ever to play in the league."
"Well, Isiah said it, too," Rodman said.
"Who gives a sh** what he thinks," Diamond said. "Nobody cares about his opinion. He sounds just as dumb as you."
Diamond said Rodman was going to apologize and Rodman said he wouldn't.
"Yes, you are," Diamond recalled saying. "I'm not asking you, I'm telling you. I'm going to write it up now and I'll read it to you when I'm done. Then it's going out."
Diamond faxed over an apology which was read before Game 1 of the Celtics vs. Lakers NBA Finals game.