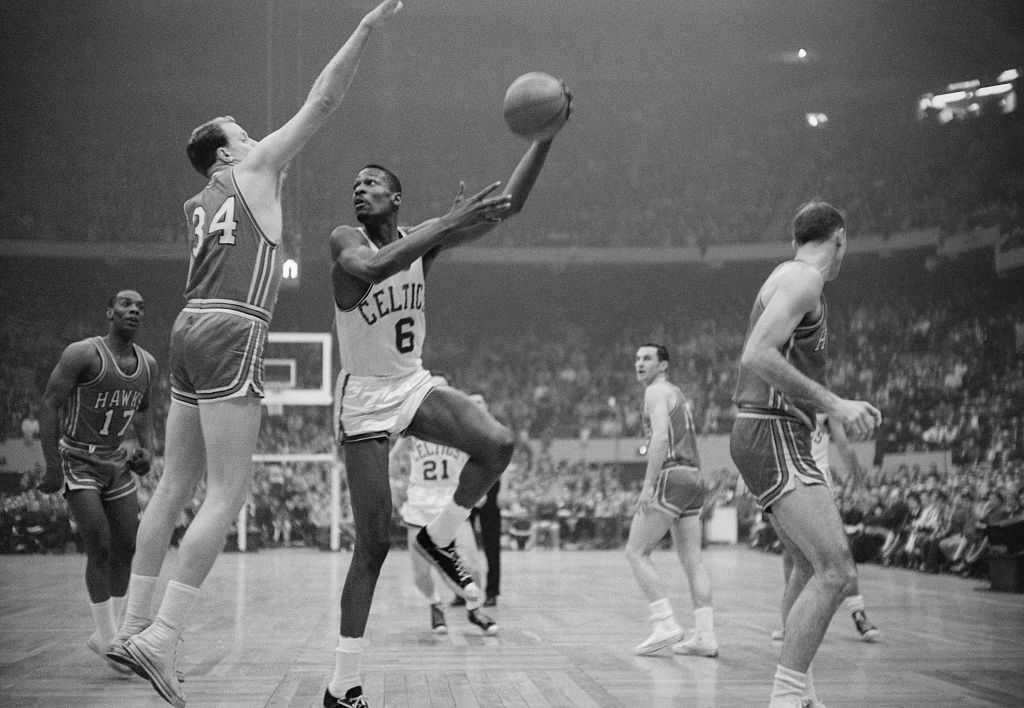 Bill Russell Still Fighting for Racial Equality Well After His Boston Celtics Days
Former Boston Celtics Hall-of-Fame center Bill Russell still finds himself fighting for racial equality well after his playing days.
Bill Russell doesn't give up. He's been that way for 86 years. The former Boston Celtics center is all too familiar with the racial tension that's escalated since the death of George Floyd. Floyd, a black man, was mercilessly killed at the hands of a white police officer in Minneapolis on May 25. Russell endured racism his whole life and it was highlighted during his time with the Boston Celtics. On Thursday, in a Twitter post, Russell said nothing has changed.
Bill Russell's NBA career
Bill Russell might be the biggest winner in the NBA, possibly in all of sports. He ran out of fingers for his 11 NBA championships with the Boston Celtics. He was a 12-time NBA All-Star and was named the league's Most Valuable Player five times.
For 10 seasons, the 6-foot-10 Russell averaged better than 20 rebounds. In five of those seasons, he led the league in rebounds per game. Russell was the second overall pick in the 1956 NBA draft by the St. Louis Hawks. He played his college basketball at the University of San Francisco.
Russell wasn't just a rebounder. He averaged 15.1 points per game during his 13-year career. He was a workhorse for the Celtics, averaging better than 40 minutes per game in 10 seasons. For his career, he averaged 22.5 rebounds per game. Russell was inducted into the Naismith Memorial Basketball Hall of Fame in 1975.
Bill Russell the activist
Bill Russell was a basketball player and a high-profiled one. He used his platform to do what he could to help make the world better by standing up for racial equality. While in Lexington, Kentucky for an exhibition game in 1961, Russell and his black teammates were refused service at a restaurant. They made a statement by boycotting the game.
In an email to The Undefeated, Kareem Abdul-Jabbar praised Russell for the way he handled attacking racism, by never using anger. "The thing that most affected me was that he approached injustice with passion, but he expressed himself rationally rather than with anger," Abdul-Jabbar wrote. "Anger never persuaded anyone to your side, but logic did. That was an approach I tried to adopt."
Current NBA player Andre Iguodala said he feels the impact Russell has made on his life. Iguodala echoed Abdul-Jabbar's statement about Russell's poise while making a point. "He had to really deal with that, not being able to eat at certain places or stay at certain places, not being able to react or defend himself," Iguodala said in The Undefeated. "So just that mindset alone says a lot about a person, and I don't think any of us would be able to keep ourselves poised and mild-mannered in that type of climate."
Russell's reaction to today's events
After the brutal murder of George Floyd, Russell took to Twitter to express his condolences to the family. He also said that the senseless murder of black men and women has been a pandemic for decades. Russell then pinned a tweet that included a quote from when he was fighting for racial equality during his playing days. He had gone down to Jackson, Mississippi after civil rights activist Medgar Evers was killed by a white supremacist in the early 1960s. Russell helped open the first integrated basketball camp in the area.
"I'm a man," the quote read. "If I have to be a boy to be popular, then I don't want it. If my popularity depends on a thing like this, I don't give a damn. This is a time of crisis and we're closer to the crossroads. Now is the time to observe whether the moderates and liberals are going to stand by and let the extremists run wild. It doesn't matter whether Johnson or Goldwater is president one year hence. At that time, we'll know for sure what fate lies in store for Negroes."
In the pinned tweet, Russell said his wife took him to see some of the protests. She asked him if he could believe that he would see this again in his lifetime. He said yes, nothing had changed. He said there will be some change, but likely not enough.