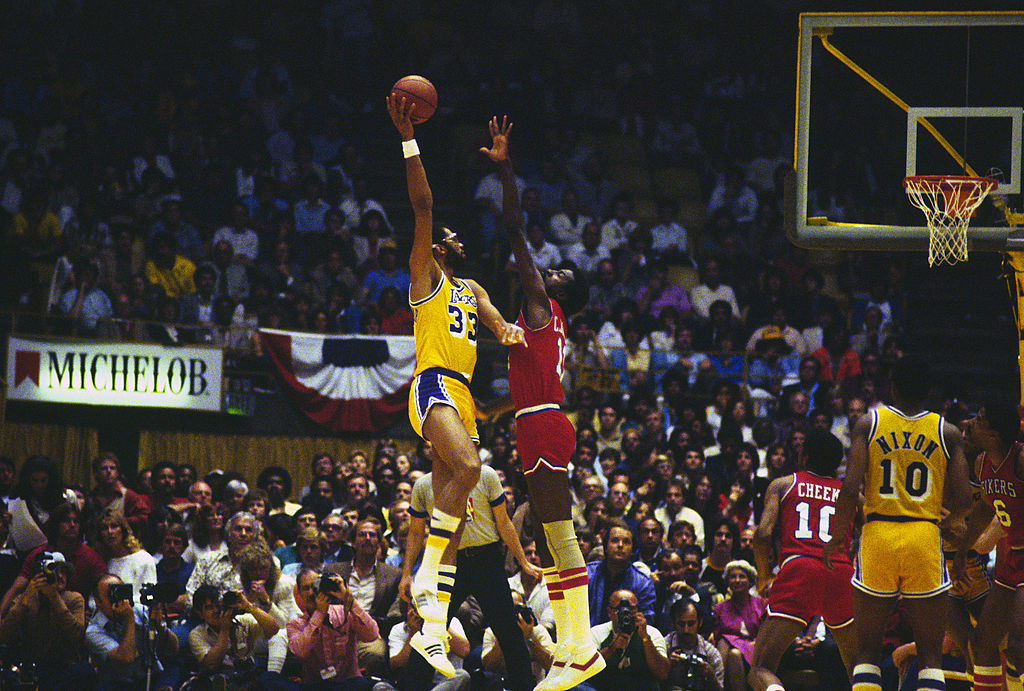 Kareem Abdul-Jabbar Knows Why No NBA Player Uses the Skyhook Shot
The Hall of Famer said he believes he knows why current NBA players don't elect to use the skyhook shot.
Hall of Famer Kareem Abdul-Jabbar put together arguably the most successful basketball career in NBA history. In many respects, he's overlooked in the GOAT conversation since that's a subject primarily dominated by Michael Jordan and, to a lesser extent, LeBron James.
However, Abdul-Jabbar has a long list of accolades and a resume that speaks for itself. Throughout his career, he had so much offensive success with his famed skyhook shot that he became the league's all-time leading scorer until James topped his mark during the 2022-23 NBA season.
That skyhook hasn't carried on, though. No other player has adopted the use of his signature shot. And Abdul-Jabbar believes he knows why.
Kareem Abdul-Jabbar's illustrious NBA career
During his playing days, Kareem Abdul-Jabbar, talented as he was off the floor, was one of the NBA's most unstoppable players.
He was an extremely gifted player on both ends of the court, and that translated to success at every level.
Abdul-Jabbar was the definition of a winner, collecting three NCAA titles along with three National College Player of the Year awards before stepping into the NBA.
That success then followed him into the league as he racked up six NBA titles, six regular-season MVP awards, 19 All-Star Game selections, 10 All-NBA First Team nods, five All-NBA Second nominations, five All-Defensive First Team nods, and six All-Defensive Second Team selections. He also finished his career as the all-time leading scorer with 38,387 career points — a record that stood for decades until LeBron James topped it in 2022-23.
His offensive success was due largely to his use of the skyhook, which has arguably been the most challenging type of shot to defend throughout the Assocation's history. He was highly productive throughout his career, using that signature delivery all the while.
However, it's a style of scoring that hasn't translated to the modern game. No player uses the skyhook with any semblance of frequency, and Abdul-Jabbar believes he knows why.
Kareem Abdul-Jabbar on why players don't use the skyhook
Over the years, Kareem Abdul-Jabbar has been quite vocal about his support of the skyhook shot. But since no one has adopted it, he's also continued to face questions about why it has largely been neglected as time has passed.
In May 2017, the Hall of Famer said he believes fascination with the three-point shot, due to the success of star players such as Stephen Curry, has been a big reason for that neglect.
"The reason that young kids today learn how to shoot hook shots is because everybody is so enamored with the three-point shot. So the kids don't want two points. They don't want to work with their back to the basket. That's not cool. They want to go out there in the stratosphere and shoot three-pointers."

"Now that you have a guy like Stephen Curry shoot the ball like that. I have never seen anyone shoot like that. Anybody that can shoot like that is on a different plane from all the guys I played against. They are not teaching the young guys to score with their back to the basket. Therefore a lot of them don't get to learn the hook shot. They don't get to realize if you get closer to the basket a lot more of your shots go in."

Kareem Abdul-Jabbar
Curry has indeed helped lead a revolution, and today's game is significantly more dependent on the three-point shot. As a result, younger generations of players do want to make beyond-the-arc shooting a significant part of their skill set, often at the expense of a back-to-the-basket game.
The impact on the NBA has been significant, with many teams adopting the mentality promoted by the dynastic Golden State Warriors. That has increasingly diminished the presence of go-to big men in the low post.
Will an NBA player adopt the skyhook shot?
The skyhood is one of the most legendary shots in the game and has drawn a great deal of admiration over the years. However, no player has embraced the move to even a sliver of the extent Kareem Abdul-Jabbar once did.
Given the way the game is currently structured — see: value of the three-point shot— that might not change for a long time. If ever.
Talented big men such as Joel Embiid, Karl-Anthony Towns, Anthony Davis, and Giannis Antetokounmpoo could all use the skyhook as part of their game. But until someone does, that will remain purely hypothetical.