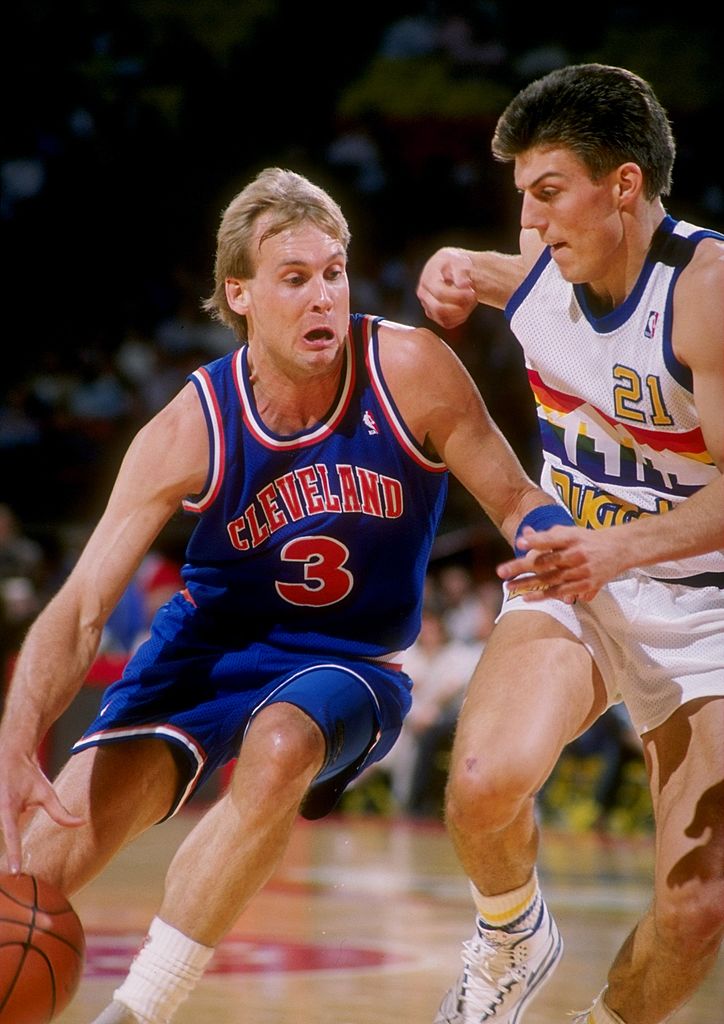 If You Think Michael Jordan Burned Craig Ehlo, Here's What Larry Bird Did to Him
If you think Michael Jordan embarrassed Craig Ehlo when he hit 'The Shot,' here is what Larry Bird did to him.
Embarrassing is a tough word to use when describing what Michael Jordan did to Craig Ehlo on 'The Shot' back in 1989. Jordan hit a jump shot over the former Cleveland Cavaliers guard in Game 5 of the first round of the NBA playoffs. It just happened to come at the buzzer and was the game-winner. Ehlo shouldn't be embarrassed about what happened that game, but he is always seemed to be portrayed as failing on that play. He defended well, but Jordan hit the shot. What Larry Bird did to Ehlo, however, is embarrassing.
Craig Ehlo's raw deal
Craig Ehlo's name hasn't been mentioned for years. When ESPN came out with its docuseries, "The Last Dance," featuring the final run of Michael Jordan and the Chicago Bulls, Ehlo's name popped back into the news. He was in the news for all the wrong reasons.
Ehlo was a very good NBA basketball player who played 14 seasons, seven of them with the Cleveland Cavaliers. He wasn't a superstar by any imagination, but he did have his best year during the 1989-90 season when he averaged 13.6 points, 5.4 rebounds, and 4.6 assists per game. His name, however, has always been associated with 'The Shot.'
Google Ehlo's name and it's never about the 7,492 points he scored during his career. His 3,139 rebounds as a guard are never mentioned. When his name is searched, Michael Jordan's game-winning, foul-line jumper is always associated with him.
Larry Bird embarrasses Craig Ehlo
Craig Ehlo averaged 8.6 points per game during his 14-year career. He was originally drafted by the Houston Rockets and played there for three seasons before moving on to the Cleveland Cavaliers. Ehlo was known as a strong defender as his 6-foot-6 frame as a guard created some tough matchups.
There was one game in Cleveland, Ehlo recalled, where he had shut down Boston Celtics star Larry Bird for the first half. Ehlo made the mistake of doing some light trash-talking at halftime. "He was not a nice guy," Ehlo said of Bird. "Matter of fact, there was one game in Cleveland where he was having a pretty rough first half and in the old days in Cleveland you would walk off the court the same way at halftime.
"I kinda puffed up to (Bird) and walked beside him and was like yeah, you're 1 for 10. I was like that's defense. He just kinda looked at me and said there's two halves. He came back and hit about 10 in a row on me and the last one was left-handed. He asked me if my mother was watching because he wanted to embarrass me."
Life after basketball
Craig Ehlo retired from the NBA in 1997. He went on to become a TV analyst for Gonzaga men's basketball games and also became an assistant coach at Eastern Washington University. Ehlo became addicted to painkillers after numerous back surgeries and underwent drug treatment.
Ehlo battled addiction for years before coming clean. He then went on to become an analyst at his college alma mater, Washington State University during the 2019-20 season.
"I'm thrilled to be part of the Cougar Radio Team and work with Matt Chazanow next year," Ehlo said in a school news release. "WSU gave me everything in my life today; my wife of 34 years, Jani, 14 seasons in the NBA and even my first time on a radio broadcast. Everything I have is because of WSU and I look forward to the direction that Cougar basketball is headed."