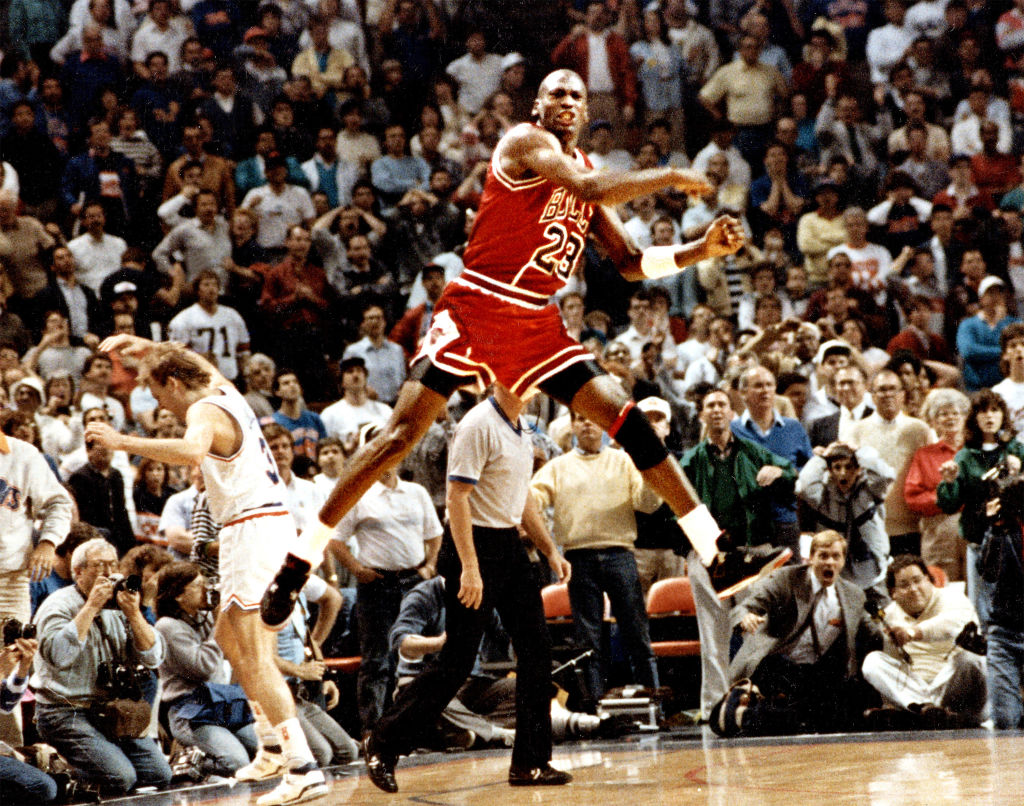 Craig Ehlo, Mark Price Don't Recall Ron Harper's Request to Guard Michael Jordan on Last-Second Shot
Craig Ehlo, Mark Price don't recall former teammate Ron Harper's request to guard Michael Jordan on last-second shot back in 1989.
Craig Ehlo has taken a lot of heat lately for a play that happened more than 30 years ago. Michael Jordan hit the game-winning jump shot over the overmatched Ehlo in the final seconds of Game 5 of the Eastern Conference Finals between Ehlo's Cleveland Cavaliers and Jordan's Chicago Bulls. During ESPN's docuseries "The Last Dance," there was a lot to be said about that final play and some of what was said might not have gone down as described.
Game 5 Eastern Conference first-round playoffs
The Cleveland Cavaliers were a few seconds from advancing to the 1989 Eastern Conference semifinals before Michael Jordan did what he normally does – take over a game. The Cavs held a 100-99 lead with three seconds remaining and the Bulls were taking the ball out of bounds, calling a timeout after Craig Ehlo gave the Cavs the lead on a layup. 
The teams came out of the break with everyone knowing Jordan was going to get the ball. Ehlo and Larry Nance were double-teaming Jordan on the inbounds play. Jordan faked right while pushing Nance to the side. He then cut left and took the pass from Brad Sellers.
Jordan then took his foul-line jumper that swished through the net and gave the Bulls the 101-100 victory. The win was considered an upset as the Bulls had dropped all six games to the Cavaliers during the regular season. The Cavaliers were the third seed in the East while the Bulls were sixth.
Ron Harper said he asked to guard Michael Jordan on the final play
On ESPN's docuseries "The Last Dance," former Cleveland Cavaliers guard Ron Harper said he told Cavs coach, Lenny Wilkens, he wanted to guard Michael Jordan on that final play. Wilkens, instead, went with Ehlo, and Harper wasn't too happy.
In Sunday's episode of "The Last Dance," Harper said, "We up by one. I said, 'Coach, I got MJ. I got MJ.' So the coach goes, 'I'm gonna put Ehlo on MJ.' And I'm like, 'Yeah, OK. Whatever. (Expletive) this bull-(expletive).'"
Jordan agreed that having Ehlo guard him was a mistake. He said that Harper had guarded him previously and had done a pretty good job.
"They had Craig Ehlo on me at the time, which, in all honesty, was a mistake," Jordan said in the docuseries. "Because the guy that played me better was Ron Harper."
Harper's request to guard MJ is questioned by former teammates
When Ron Harper said he told coach Lenny Wilkens he wanted to guard Michael Jordan on the final inbounds play in Game 5 of the Cavs/Bulls 1989 series, no former Cavs player seemed to recall that. Former Cleveland point guard Mark Price, who has been watching "The Last Dance," was asked if Harper made that request.
"That was pretty interesting," Price said in an interview with Cleveland.com. "That caught me a little off guard. I didn't know Ron had such strong feelings about that because I didn't really remember all that. Maybe it's because we were in the midst of everything or maybe that was something where Ron had talked to Lenny on the side or before. I didn't ever really recall that situation being a big deal at the time when the game was going on. I just remember Lenny kind of telling us what we were going to do and then going out and trying to do it. Obviously it's something that had bothered Ron."
Craig Ehlo, who wound up guarding Jordan on that final play, didn't remember it either. "I had been guarding him the whole quarter," Ehlo told Cleveland.com. "I just don't remember anything in the timeout where Harp said, 'I will take MJ.' He could have said it with Coach Wilkens face to face, but I had been guarding Michael previously and I think we all kind of just listened to what coach said and did. Harp could have said it, but I couldn't tell you. I know him and MJ became very good friends when he was with the Bulls and what they both said was in this time frame, not back then, and I'm not part of that club, so I don't know if they talked about it. It kind of shocked me."