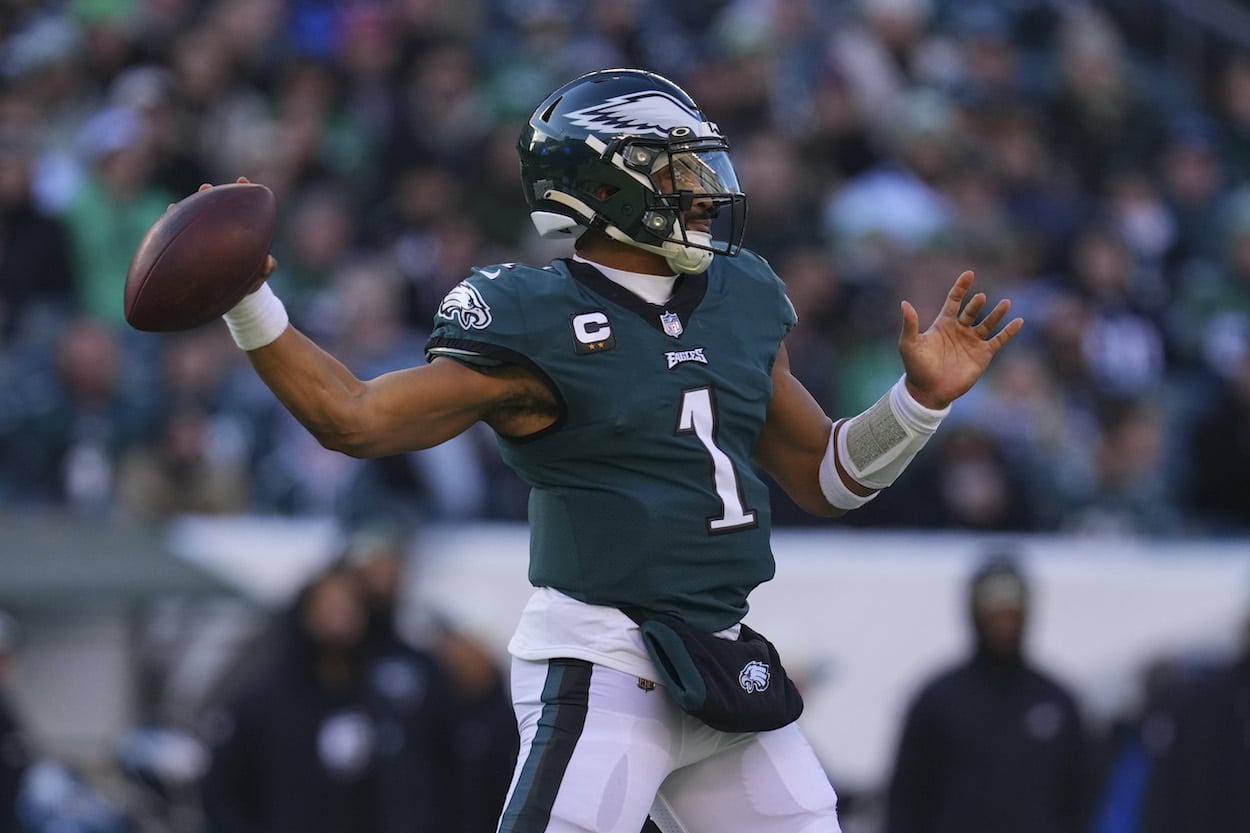 Jalen Hurts Contract: 711 NFL Players Have a Higher Salary Than the Eagles QB
Jalen Hurts is setting himself up for a monster payday once his rookie contract runs out.
Jalen Hurts has become a superstar almost overnight. The Philadelphia Eagles quarterback has been the best player on the best team in the NFL all season long, and that might just win him the MVP award at the end of the year.
It's not hyperbole to say Hurts deserves to be one of the highest-paid players in the NFL right now, but that's not exactly the case. With a base salary of only $1.08 million, Hurts' contract for the 2022-23 season is the 712th-highest in the league.
Yes, really.
Jalen Hurts is a top contender to win NFL MVP
No one expected Hurts to make a third-year jump of this magnitude. Not a single soul.
The Eagles signal-caller was nothing more than a mediocre quarterback last season in his first full year as the starter. Hurts ranked in the bottom half of the league in passing yards per game (209.6) and completion percentage (61.8%). His rushing stats were outstanding, but critics believed he didn't have the arm strength, accuracy, or decision-making skills to become an above-average passer in the NFL.
Well, so much for that.
So far this season, Hurts ranks ninth in passing yards (2,940), second in yards per attempt (8.2), fourth in completion percentage (68.1%), seventh in touchdown passes (20), and third in quarterback rating (108.3). He's only thrown three interceptions in 12 games, which is tied for the best mark in the league among every-week starters. Oh, and the 24-year-old has only led the Eagles to an NFL-best 11-1 record.
Thanks to the addition of A.J. Brown, a commitment to improving as a passer, and a cohesive and dominant offensive line keeping him protected, Hurts has gone from a flawed player still needing to prove he can be a franchise QB to the possible MVP of the league in one season.
Jalen Hurts contract: 711 NFL players have a higher salary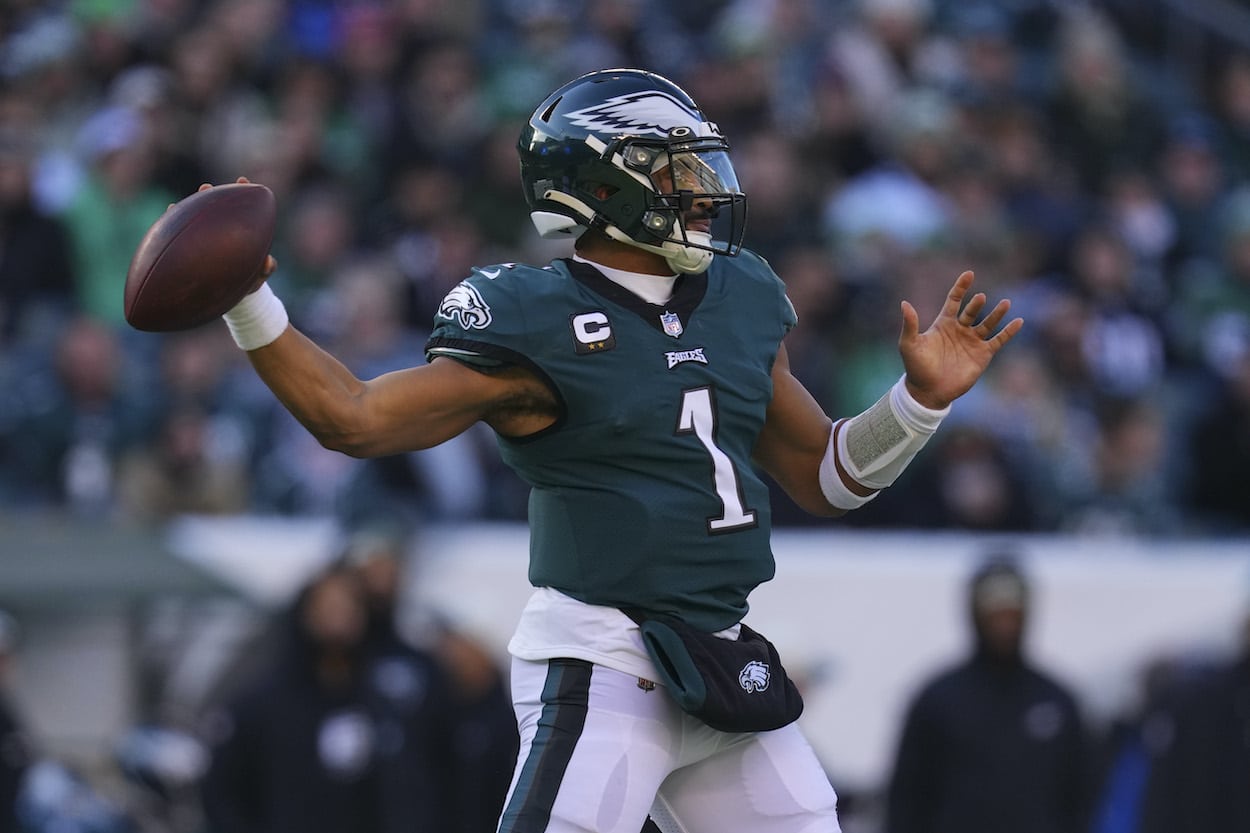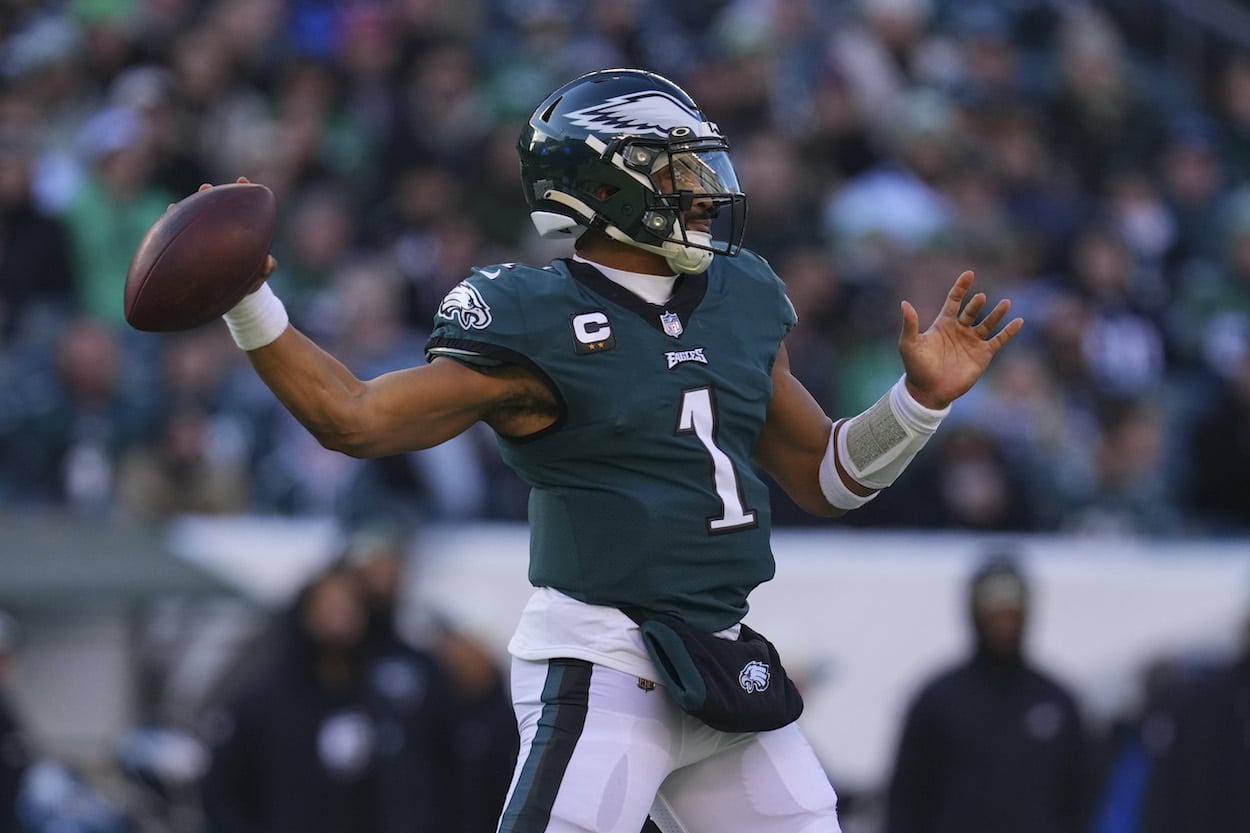 With the way Hurts has played throughout the 2022-23 season, you might think he's a top-five player in the NFL in terms of salary. The Eagles QB has been a top-five player in the league all year, so why wouldn't he be paid like it?
Well, that's not exactly how it works.
Remember, Hurts is still playing on his rookie contract as a third-year NFL player. The second-round pick in 2020 signed a four-year, $6.03 million contract with the Eagles after draft night. This season, Philadelphia is paying Hurts a base salary of just $1,082,744. Incredibly, 711 NFL players are making more money than Hurts this year, according to Spotrac. And 14 of them are long snappers!
Hurts might be the most criminally underpaid player in the NFL right now, but we see this all the time with young quarterbacks. Josh Allen, who was a top-10 pick back in 2018, is making just $4.1 million this season. His six-year, $258 million contract extension is set to kick in next year.
If Hurts continues on this trajectory, there will be a nine-digit contract offer with his name on it soon.