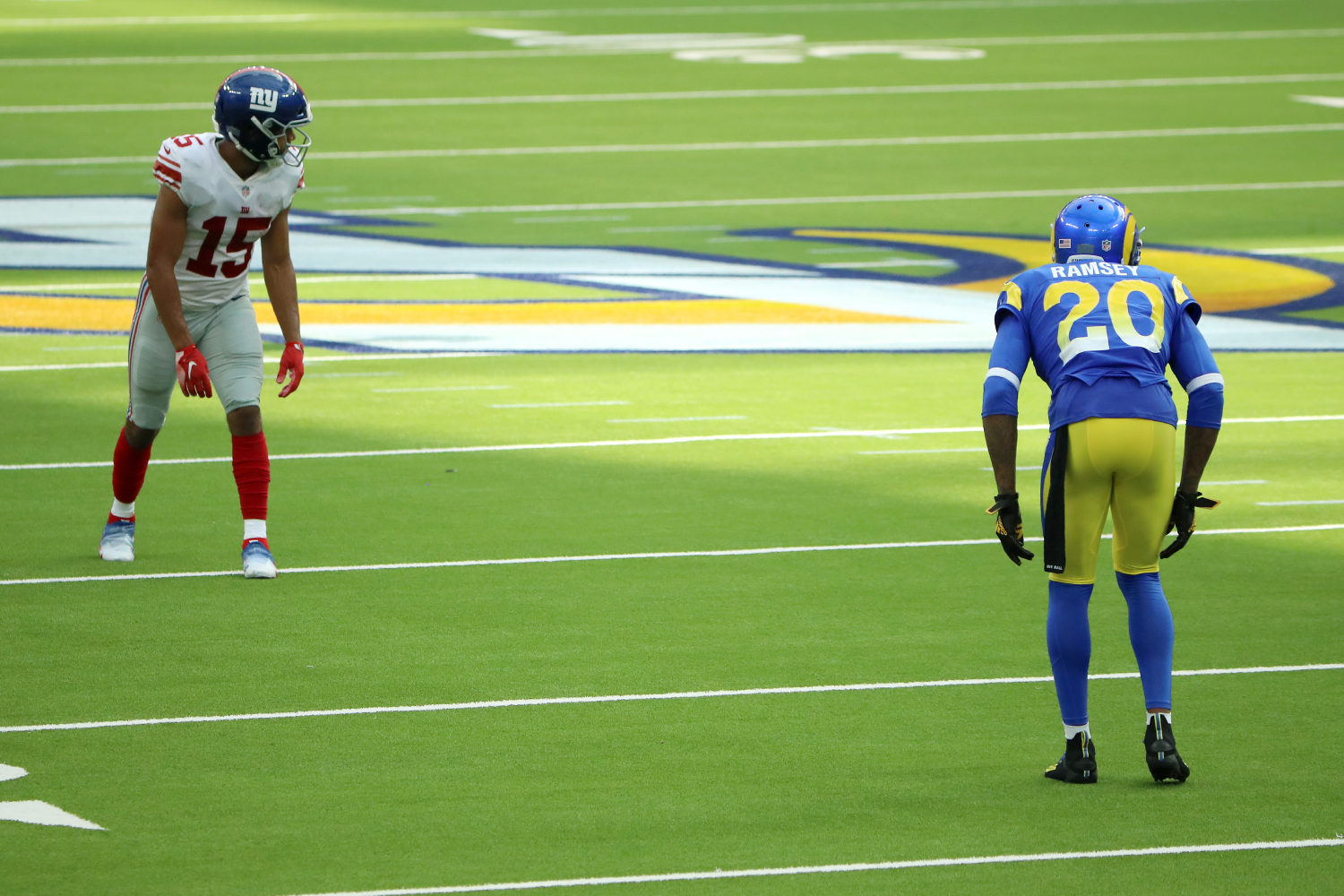 Jalen Ramsey, Golden Tate Brawl as Family Drama Hits the Football Field
Jalen Ramsey and Golden Tate engage in a fight after their game Sunday as their family drama hits the football field.
After the Los Angeles Rams defeated the New York Giants on Sunday, things got personal for two players. Giants wide receiver Golden Tate and Rams defensive back Jalen Ramsey threw punches near the 50-yard line after the Rams posted a 17-9 victory. The fight reportedly had nothing to do with the game but was based on a personal issue involving Tate's sister.
Jalen Ramsey and the Rams are off to a strong start
With Sunday's 17-9 victory over the New York Giants, the Los Angeles Rams improved to 3-1. The Rams' lone loss came last week against the Buffalo Bills (4-0) after Los Angeles rallied from a 28-3 deficit to take a 32-28 lead with 4:30 remaining. The Rams, two years removed from a Super Bowl appearance, seem to have their swagger back after last year's disappointing 9-7 season.
Quarterback Jared Goff is back to his old self when he was a Pro-Bowl quarterback back in the 2017 and 2018 seasons. This year, Goff has completed better than 72% of his passes. He's thrown six touchdown passes, including three in a 37-19 win over the Philadelphia Eagles in Week 2.
The Rams have a different look this season. Gone is running back Todd Gurley and wide receiver Brandin Cooks. Three-time Pro-Bowl cornerback Jalen Ramsey is in his first full season after being acquired during a midseason trade with the Jacksonville Jaguars last year. They are also playing in their brand-new, $5 billion SoFi Stadium this year.
The New York Giants are struggling
The New York Giants also have a new look this season, playing under first-time NFL head coach Joe Judge. The Judge era is off to a very slow start, going 0-4 to begin the 2020 campaign. The offense is a mess as the Giants haven't hit 10 points in either of their last two games.
For the season, the Giants are averaging 11.7 points per game. They suffered a severe blow during a Week 2 loss to the Chicago Bears. Running back Saquon Barkley went down with a season-ending AL injury after rushing four times for 28 yards.
The passing game has been atrocious. After throwing for 279 yards and two touchdowns in a loss to the Pittsburgh Steelers in the season opener, young quarterback Daniel Jones hasn't recorded a touchdown pass. In his last three games, he has an interception in each game and hasn't reached 200 passing yards in two of them.
Jalen Ramsey and Golden Tate go at it after Sunday's game
Things got ugly after the Los Angeles Rams defeated the visiting New York Giants 17-9 on Sunday. Rams cornerback Jalen Ramsey and Giants wide receiver Golden Tate threw punches at each other and were on the ground as coaches and teammates intervened. According to ESPN, Ramsey was later waiting for Tate to come out of the Giants locker room, but there wasn't a second fight.
"I was shaking hands and kind of got in the middle," Rams coach Sean McVay said. "Fortunately, got it broken up and nothing occurred from there." According to The New York Post, the issue stems from off-the-field issues regarding Tate's sister. Ramsey has two daughters with Tate's sister. Ramsey reportedly ended the relationship when Tate's sister was pregnant. "I'm not happy at all with the disrespect that he's shown towards my sister, and the things he's done in the past, but I don't really want to go too much into it," Tate told The Post last October.
"They've got some stuff off the field, and unfortunately it came onto the field, but I just want to go out there and play football," Rams safety John Johnson III said, according to ESPN. "I try to keep Jalen, his head in the game, and can't be too upset about it, but hopefully they can squash whatever they had and we can move forward from it."