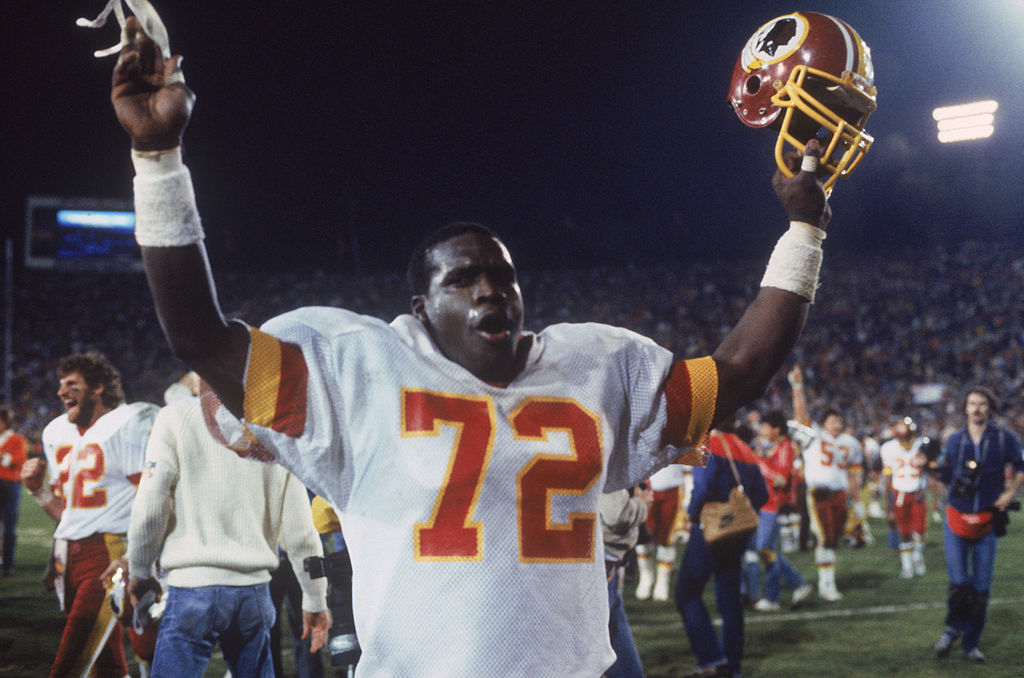 Brain Surgery Helped Turn Dexter Manley's Life in the Right Direction
Unexpected brain surgery helped turn former Washington Redskins defensive end Dexter Manley's life in the right direction.
Dexter Manley's life has been nothing but a rollercoaster. His peak was on the football field when he was a menace to opposing quarterbacks when he was playing with the Washington Redskins. His low point came off the field when he battled cocaine addiction and was left on the streets. Manley has bounced back again and gives all the credit to a 2006 surgical procedure on his brain.
Dexter Manley couldn't read until he was an adult

Dexter Manley couldn't read. He tried to hide it and did a pretty good job of doing so as he somehow remained academically eligible at Oklahoma State for four years without being able to read a book. Manley stayed that way even during his professional football career with the Washington Redskins. He was publicly humiliated by teammates who would hand him a piece of paper and ask him to read it out loud, knowing full well he couldn't. 
"I knew I couldn't read and write, but in seventh grade, you don't tell that to your friends," Manley said in 1992 after he found the courage to get some reading help at the Lab School in Washington. "By 10th grade, look at my situation. The only thing I had going was football, and that was what I wanted. If I go back and tell them I can't read, the next thing I know I'm too old to play."
Manley, who had a second-grade reading level at age 28, got by at Oklahoma State by having others take tests for him. He used Oklahoma State and the university used Manley. Manley went on to have an 11-year career in the NFL, nine of those seasons coming with the Redskins. He finished his career with the Phoenix Cardinals and the Tampa Bay Buccaneers. Manley compiled 97.5 sacks in his career, including 18.5 in 1986. He is a two-time Super Bowl champion.
Manley introduced to drugs while in the NFL
Dexter Manley was a 6-foot-3 defensive end who was a freak of an athlete. He was taken in the fifth round by the Washington Redskins in the 1981 NFL draft. To Manley, the NFL was both a blessing and a nightmare. Manley won two Super Bowls and made a fortune playing football, but the NFL is also where his downfall in life began.
Manley said he never used drugs until he entered the NFL. It didn't take long as he experienced life in the fast lane in his rookie season. "I went to a veteran teammate's house," he said. "I'm not going to name names, but he was an All-Pro cornerback. I was so impressed with him. He had big fancy cars and a big fancy house in Reston, Va. I go in his house and he has two ladies walking around there in robes. And then I see another guy come to the door in a big fancy white car and give him a brown bag. I thought, 'This guy has got to be the baddest dude ever. How do you get that?' I was just floored. I was like, 'Is this what happens in the National Football League? I wanna do that.'"
Manley began taking drugs in his second season with the team and it took off from there. He eventually failed three drug tests while in the NFL. After his retirement from the league, Manley was arrested in 1994 for trying to buy crack cocaine. In 1995, he was arrested again for cocaine possession and was sentenced to federal prison. While there, he received letters from an old classmate Lydia Lang, beginning a bond that would eventually wind up in marriage. In 2006, Manley relapsed for the final time and this one saved him.
The surgery that saved Dexter Manley's life
When Dexter Manley was found by police at 4 a.m. on the streets of Washington D.C. in 2006, they suspected he was under the influence, but also sensed a bigger problem and took him to a hospital. He was released int the care of his wife Lydia Lang, but the next day Lang received an alarming phone call from the hospital. "We made a mistake releasing him," said the voice at the other end of the line. "You have to get him to a hospital immediately."
Back in 1986, Manley had collapsed at a department store and doctors found a cyst the size of a dime on his brain. Doctors said he would eventually need surgery and Manley should be re-checked every so often. Manley never got checked. The hospital call revealed his cyst had grown significantly and he needed immediate surgery. He wound up having two surgeries, one lasting 15 hours.
When the cyst was gone, so were all of Manley's urges. The doctors have told Manley that the cyst was on the part of the brain that involves impulse control. Manley had a new outlook on life. He's been sober ever since. "I finally surrendered. I was no longer bound by addiction," he said.