James Harden Ruined Whatever Remained of His Legacy With Passive-Aggressive 'Trade Requests'
James Harden quit on two teams in a little more than a year. Daryl Morey is happy for now, but how long will The Beard be happy in his latest new home?
When James Harden enters the Naismith Memorial Basketball Hall of Fame in Springfield, Massachusetts, the display will detail his career accomplishments, awards, and other honors. It will be an impressive list. There will doubtless be mention of him being one of only two players to win both the Sixth Man of the Year and MVP awards.
Because that's how we handle great but flawed players in museums. It's why one sport refuses to acknowledge some of its greatest players, because it doesn't know how to do so without referencing the performance-enhancing drug cloud around them. So Harden's display in Springfield won't have anything on there about how, as a maximum-contract player, he quit on two franchises in 13 months.
Make no mistake, though. That will be Harden's legacy, whether his latest machinations wind up with him winning that elusive NBA championship ring or not.
James Harden didn't even want to speak the truth
It was one of the strangest bits of breaking news ever seen on the NBA beat. On the morning of Feb. 10, the day of the NBA trade deadline, Adrian Wojnarowski of ESPN reported that James Harden wanted a trade to the Philadelphia 76ers.
He didn't have the fortitude to come forward and ask Brooklyn Nets general manager Sean Marks for it. Instead, it leaked to the media.
It seems The Beard wanted out of Brooklyn. But he feared the potential backlash from fans if he requested another trade. In 2020, Harden told the Houston Rockets he wanted out. He skipped training camp and half of the preseason before sleepwalking through eight games and finally getting his wish.
This time, his request wasn't verbal. But, wow, was it a piece of the purest performance art you will ever hope to experience.
While dealing with what the team said was tightness in his left hamstring, Harden strung together a closing act with the Nets that was right out of the pages of contemporary social media.
In response to the "tell us you want a trade without telling us you want a trade" challenge, Harden shot 8-of-30 in his final two games as a Net. Yes, he dished 22 assists, but he also turned the ball over 10 times. In his four-point, 37-minute dud in an 11-point loss at Sacramento on Feb. 2, The Beard appeared to move at half-speed.
He was in street clothes for his last three games on the roster with a hamstring all but sure to be miraculously recovered for the next Philadelphia 76ers' game.
James Harden is undeniably gifted but hard to please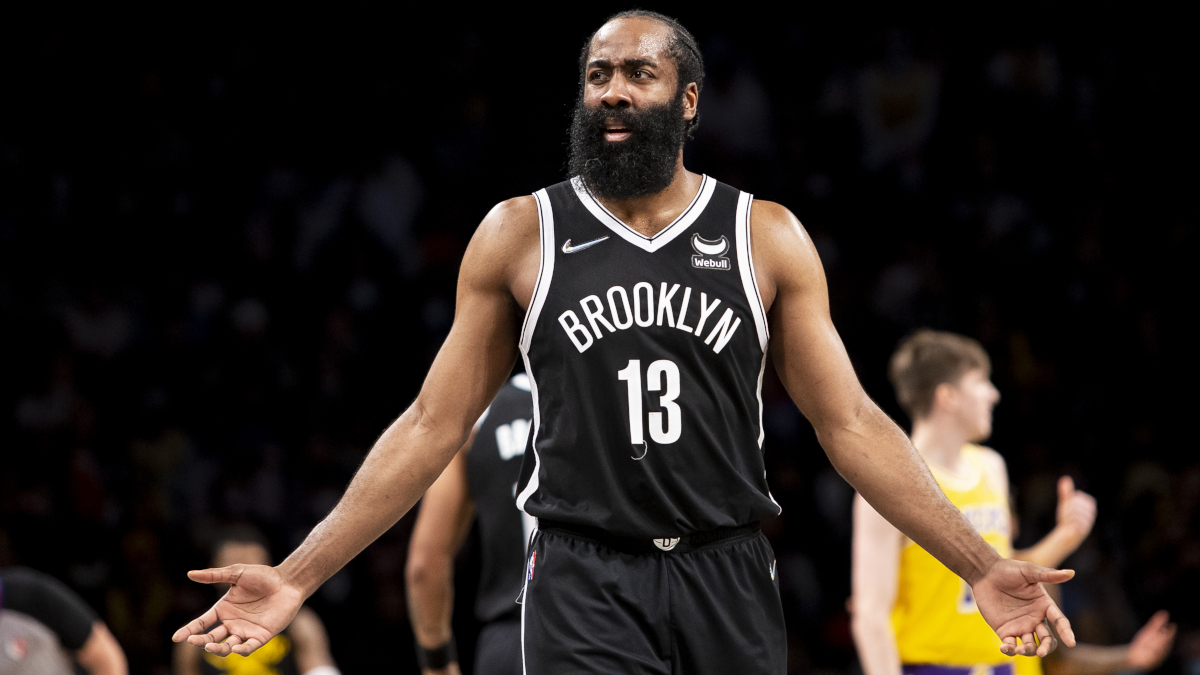 When he was the general manager of the Houston Rockets, Daryl Morey rolled the dice in 2012 on a massive trade. The Oklahoma City Thunder, already with young stars Kevin Durant and Russell Westbrook signed to big-money extensions, decided they couldn't afford to keep James Harden.
Morey swooped in, trading rookie Jeremy Lamb and veteran Kevin Martin and three draft picks, two of them first-rounders, to OKC for Harden and a trio of players who either never wore a Rockets uniform or found themselves on the move shortly after that.
But Morey's experiments with acquiring stars to pair with Harden never quite worked out. Dwight Howard came and went. Later Chris Paul and Russell Westbrook took the same path. John Wall arrived before Harden left for Brooklyn.
Nothing was ever quite enough.
In Brooklyn, Harden reunited with Durant and joined Kyrie Irving. The vaunted Big Three wound up one of the greatest "what if" groups in NBA history. The trio played only 10 regular-season and six playoff games together, going 13–3 in those contests.
The 2017–18 NBA MVP has a new star to play with in MVP favorite Joel Embiid. He's likely to get a four-year, $222.8 million extension this summer that will pay him nearly $62 million when he's 37.
It was Morey who engineered the deal to bring Harden to Philadelphia. Maybe it works out this time. History says otherwise.
The Brooklyn Nets gambled on a super team and lost
The Nets paid a steep price for 89 games and a second-round playoff exit. Putting the beginning and end of James Harden's tenure in Brooklyn together is sobering.
For those 392 days with the 10-time All-Star, the Nets surrendered:
Jarrett Allen
Caris LeVert
Taurean Prince
Rodions Kurucs
Paul Millsap
First-round picks in 2022, 2024, and 2026
Potential first-round pick swaps in 2023, 2025, and 2027 (the Rockets didn't exercise the 2021 swap)
In return, Brooklyn got:
Ben Simmons
Seth Curry
Andre Drummond
Philadelphia's 2022 first
Cleveland's 2024 second
A top-8 protected 2027 first-rounder from the 76ers
The Nets lost their 10th straight game just hours after trading Harden and Millsap. They're eighth in the Eastern Conference, 6.5 games behind the Miami Heat, trail the sixth-place Toronto Raptors by 2.5 games, and are only 3.5 games ahead of the 11th-place Washington Wizards in the play-in race.
The preseason favorites to win the NBA title are 29–26. Irving is only eligible for nine of Brooklyn's remaining 27 games. Simmons will need time to get into game shape after not playing since June.
The Nets are in disarray, though Durant should return soon from a knee injury. The Rockets are in full rebuilding mode. If James Harden were a movie character, he'd be the Stay Puft Marshmallow Man of Ghostbusters fame. And yet teams keep choosing him as their destructor.
Statistics courtesy of Basketball Reference. Contract information courtesy of Spotrac.