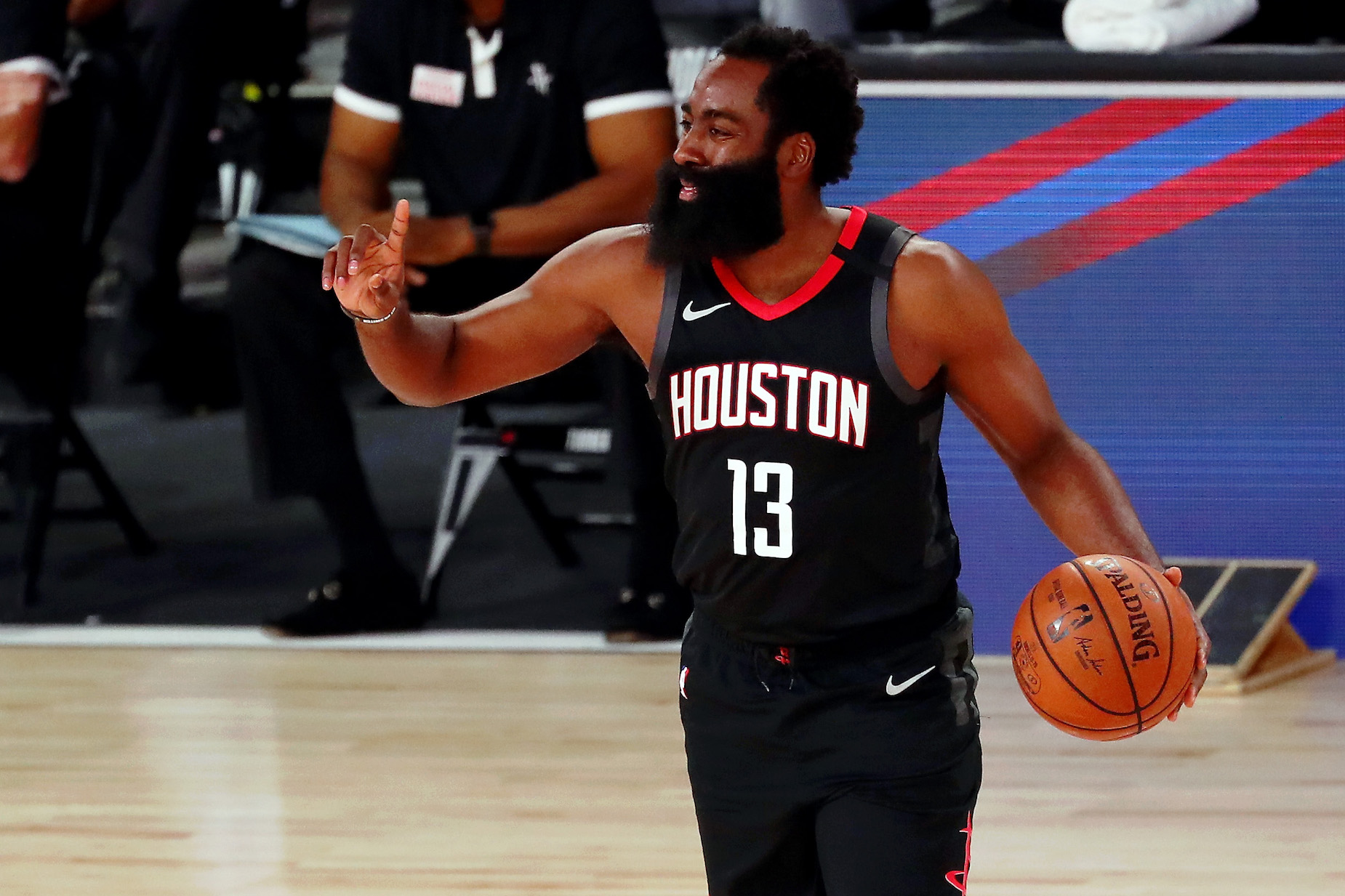 James Harden 'Almost Cried' After Being Traded To Houston but Believes It 'Was the Best Thing That Ever Happened' To Him
While being traded from Oklahoma City to Houston initially stung James Harden, he now says the move was the best thing that ever happened to him.
In the world of sports, trades are simply part of doing business. While everyone understands that reality, that doesn't always make them easier to swallow. Unfortunately for James Harden, he felt that sting firsthand in October 2012, when the Oklahoma City Thunder dealt him to the Houston Rockets.
Although it was painful at the time, James Harden came to realize that the situation had a silver lining. Since then, he's even called the trade "the best thing that ever happened" to him, and credited it with helping him become a legitimate star.
James Harden's rise to prominence
These days, it's impossible to picture James Harden other than a prolific NBA scorer with an impressive beard. The guard, however, didn't always seem destined for greatness.
As Lee Jenkins laid out in a 2015 Sports Illustrated feature, Harden arrived in high school with a very specific skillset. "I just stood in the corner," the guard remembered. "I didn't dribble. I didn't move. I didn't do anything. I was lazy, really lazy."
Thanks to a deal with his coach, however, Harden started driving to the rim and drawing fouls. He started making a name for himself, both in high school and AAU competition, became a McDonald's All-American, and took his talents to Arizona State.
During two seasons with the Sun Devils, Harden continued to prove himself as an elite scorer; he then entered into the 2009 NBA draft and landed with the Oklahoma City Thunder as the third overall pick. While the guard showed plenty of potential in the pros—his stats increased with each passing season, and he claimed 2012 Sixth Man of the Year honors—his time in OKC would come to a premature end.
A heart-breaking trade became the best thing that ever happened
On paper, the first three years of James Harden's NBA career seemed pretty perfect. While he wasn't starting, he was a contributor on a talented young team; he was also playing alongside his childhood friend Russell Westbrook and formed a bond with Kevin Durant. In October 2012, however, everything changed.
After the Thunder failed to hammer out a contract extension with the guard, they traded Harden to the Houston Rockets. Understandably, he was shaken by the news.
"I was almost in tears," Harden explained to Sean Gregory in a TIME Q+A. "Me and Russell knew each other from when we played at the Boys and Girls Club together as kids. Me and Kevin hung out like every day. We were young, we hung out, we were really, really good friends. We got better every year. My third year we made it to the Finals and lost to Miami. After that summer we all go to the Olympics together. Win a gold medal. After that, I'm like, 'this is our year.' Every year we lost to the team that won the championship."
Despite those initial emotions, though, Harden eventually realized that everything was for the best. "Looking back on that I think it was the best thing that ever happened to me," he continued. "It allowed me to grow. I sacrificed coming off the bench with that team. I don't think I would have been able to reach my full potential if I was still coming off the bench."
It's safe to say that everything worked out for James Harden
While being traded away from Oklahoma City must have been jarring at the time, James Harden's assessment seems to be pretty accurate. Since joining the Houston Rockets, the guard has taken his game to the next level.
In Texas, Harden has started virtually every game over the past eight seasons. As his workload has increased, so have his performances; the guard has grown into one of the league's best pure scorers and claimed the 2018 NBA MVP title. The Rockets even acquired Russell Westbrook, reuniting the two friends.
On the whole, James Harden has had a pretty good experience since swapping Oklahoma City for Houston. If he and the Rockets can win an NBA championship, that will just be the icing on the cake.