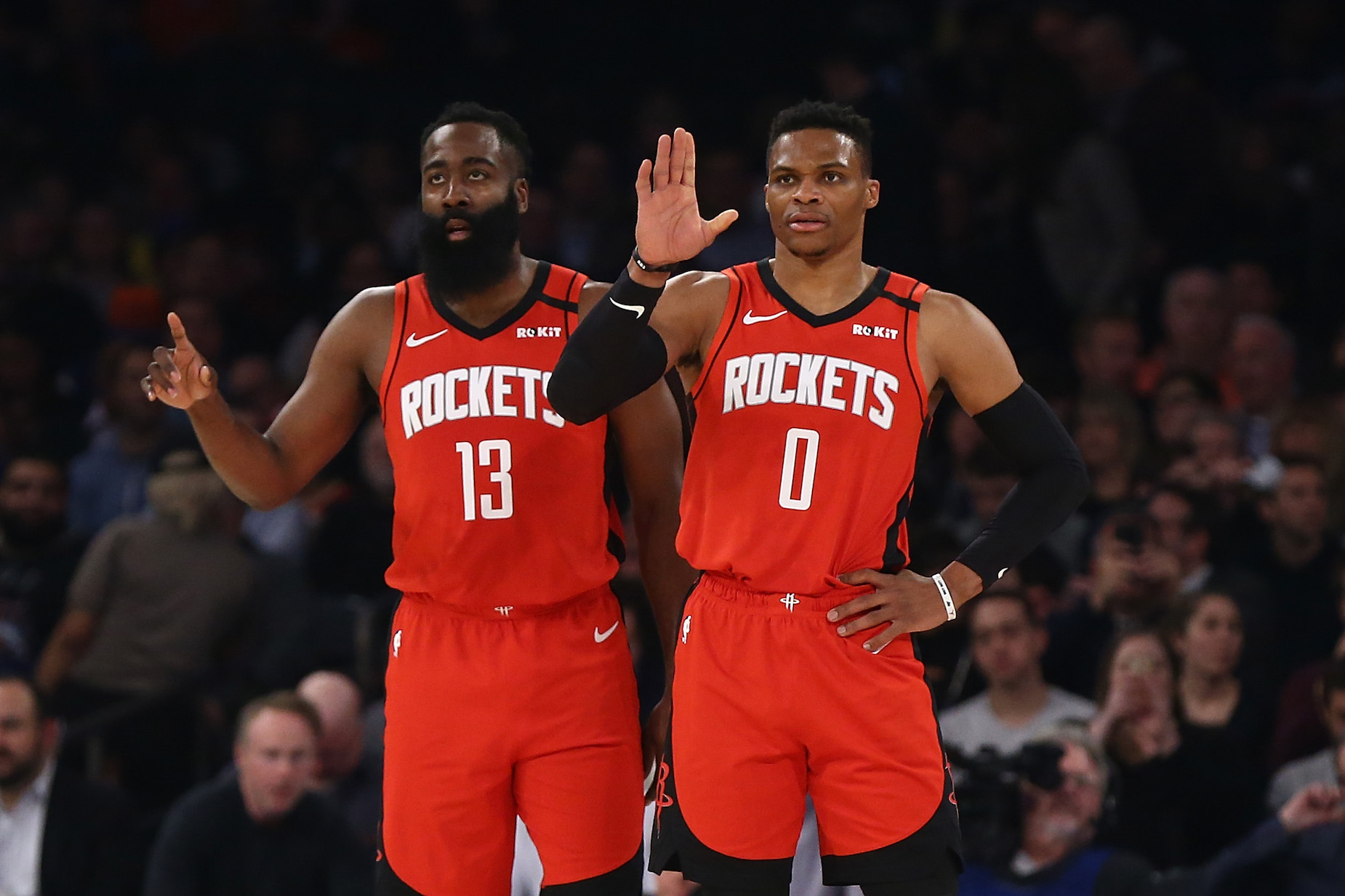 How Does James Harden's NBA Salary Compare to Russell Westbrook's?
James Harden have been friends since childhood and have played together in OKC and Houston. Which one of them has earned more salary in the NBA?
When you think of the most dynamic players in the NBA, both Russell Westbrook and James Harden sit near the top of the list. The two Houston Rockets guards aren't merely offensive dynamos, though. They're longtime friends and teammates, who played together at the youth level before teaming up on the Oklahoma City Thunder and reuniting with the Rockets.
Although both Westbrook and Harden are close, professional basketball players are nothing if not competitive. With that in mind, which star commands the higher salary?
James Harden has developed into one of the NBA's top scorers
These days, James Harden is known for both his beard and his offensive ability. Growing up, however, things were a bit different.
Other than his lack of facial hair, Harden arrived in high school as a spot-up shooter. Thanks to a bet with his coach, however, the guard started driving to the basket and drawing fouls; that skillset became the foundation of his game.
After graduation, Harden took his talents to Arizona State. As a freshman, he averaged 17.8 points, 5.3 assists, and 3.2 assists per game; the following season, he became the Pac-10 Player of the Year and a consensus First-Team All-American honors. The guard then entered into the 2009 NBA draft, landing with the Oklahoma City Thunder as the third-overall pick.
While Harden didn't make much of an impact as a rookie, he improved with each passing season. In 2011-12, he claimed the NBA's Sixth Man of the Year award; he's since become an NBA MVP and one of the best pure scorers in basketball.
Russell Westbrook followed a similar path to stardom
Similar to James Harden, Russell Westbrook didn't always seem destined for NBA stardom. In fact, he wasn't even the brightest talent in his friend group.
When he first hit in high school, Westbrook was written off as small and slow; according to Ric Bucher's in a 2012 ESPN feature, the guard's best attribute was his heart. When college recruiters came by the gym, they were looking for Khelcey Barrs, not Russell.
Unfortunately, Barrs never got a chance to take advantage of his talent; he collapsed during a pick-up game and died shortly after. The tragedy, however, inspired Westbrook to take his game to the next level.
The guard headed to UCLA, a school that had been recruiting Barrs, and joined the basketball team. While Westbrook struggled to make an impact as a freshman, he seized the starting role as a sophomore; after a solid season that included Pac-10 Defensive Player of the Year honors, he headed to the pros.
After landing with the Oklahoma City Thunder, Westbrook developed into a star capable of averaging a triple-double across an entire season. While things are a bit different in Houston—he's scoring more and assisting less—the guard is still a legitimate threat every time he takes the floor.
How does James Harden's salary compare to Russell Westbrook's?
Since they've known each other since childhood and have played together in both OKC and Houston, James Harden and Russell Westbrook have a strong relationship. They've also combined to make plenty of money in the association.
According to Spotrac's financial data, Harden has made more than $185 million during his time in the NBA. He's currently on a four-year deal with the Rockets; it carries a total salary of $171 million, which averages out to just under $43 million per season.
Thanks to his extra year in the pros, Russell Westbrook has made a bit more money than Harden; he's taken home a little over $205 million to date. His current contract is also larger than Harden's—it totals $206 million over five years—but carries a smaller average annual salary.
On the whole, though, neither James Harden nor Russell Westbrook has too much to complain about. The two men grew up together and cut their teeth in Oklahoma City; now they're both on the Houston Rockets, chasing an NBA title, and earning millions of dollars. That doesn't sound like a bad gig at all.
Stats courtesy of Sports-Reference and Basketball-Reference. Contract and salary data courtesy of Spotrac.