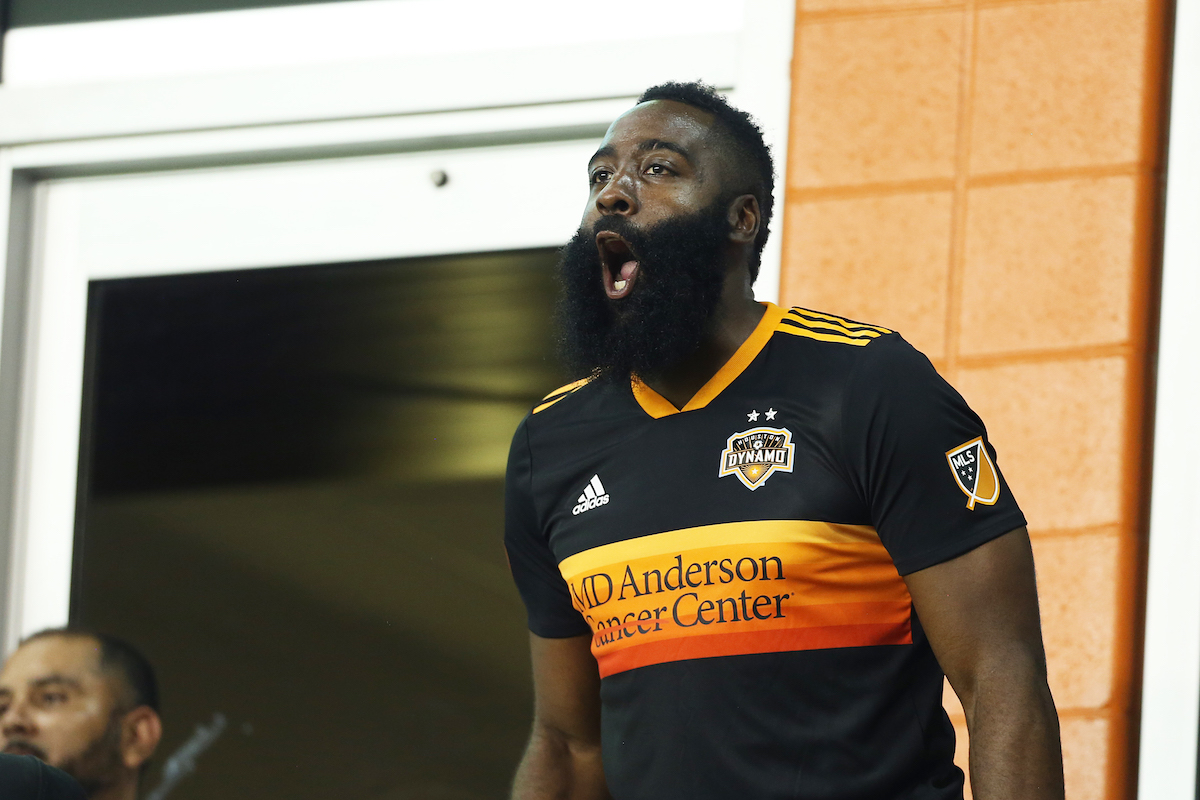 James Harden Used His Massive Wealth to Become an Owner of the Houston Dynamo
James Harden has followed the example of LeBron James and invested millions and become an owner of a professional soccer team.
Since his rookie season in 2009-10, James Harden has steadily improved becoming one of the best players in the NBA, including league MVP in 2018. Harden's success with the Houston Rockets has translated into more than $100 million in earnings. In 2019, Harden joined the likes of LeBron James and other professional athletes who have become owners of sports teams when he became an owner of the Houston Dynamo of the MLS.
James Harden's rise to the top
When the Oklahoma City Thunder selected James Harden as the No. 3 overall pick in the 2009 NBA draft, expectations were high for the point guard out of Arizona State. In Harden's first three seasons in OKC, his numbers were no where near today's levels for one simple reason—minutes. He saw limited action with the Thunder. He averaged 16.8 points per game in 2011-12, his highest average corresponding with the most minutes during his time in Oklahoma.
When the Thunder traded Harden to the Houston Rockets in 2012, it was the best thing that could have happened to him. Not only did he get increased minutes, but the Houston offense was more conducive to Harden's style. As a result, his production skyrocketed.
His first season with the Rockets he averaged 25.9 points per game, an increase of nine points from his final season in Oklahoma. Since that season, Harden's numbers have steadily improved. In 2017-18, he finally topped the 30-point plateau averaging a league-leading 30.4 points per game. He was named the MVP.
Impressively, Harden's numbers were even better in 2018-19 where he finished the season with an NBA-best 36.1 points per game average. When the 2019-20 season was halted due to the pandemic, Harden, once again, was the league's most prolific scorer averaging 34.4 points per game.
James Harden's earnings and investments
James Harden is one of the NBA's best players and gets paid accordingly. In 2017, Harden signed a four-year extension worth $171 million that runs through 2022-23 and will pay $47 million in its final year. His current salary for the 2019-20 season is $38.19 million. Harden's overall career earnings are $185 million according to Spotrac.
In addition to his earnings on the court, Harden has lucrative sponsorship deals, including a 13-year contract he signed with Adidas back in 2015 that is worth as much as $200 million. With his massive wealth, Harden has invested in numerous different companies.
Harden's investment portfolio includes the sports drink BodyArmor, Art of Sport, a body- and skin-care brand custom-made for athletes, and the sock company Stance.
James Harden becomes owner of Houston Dynamo and Dash
In 2019, James Harden added to his portfolio when he reportedly bought a $15 million stake in the Houston Dynamo of the MLS and Houston Dash of the NWSL. Harden's investment follows a recent trend of current and former athletes, who are buying into sports teams, including LeBron James, Aaron Rodgers, and Oscar De La Hoya, who is also a co-owner of the Dynamo.
"James is already at the top of the game in his sport, so it's only natural to want to take on new challenges beyond the court," De La Hoya told the Houston Chronicle. "He knows the drive and the determination it takes to be the absolute best, and I'm excited that he's going to bring that attitude to our club."
Harden said the decision to partner with the Dynamo and Dash was an easy one. In a video message to fans, Harden reaffirmed his commitment to the city of Houston. 
"It was time. I'm invested. This is my city and I'm here. I'm here to stay. I know I need to bring a championship in basketball and I will. That's coming very, very soon. I just had to show my appreciation and let you guys know that I'm a part of this city forever."
Despite having already established himself as one of the greatest Rockets ever, Harden's legacy in Houston is unfinished. If he could bring a championship to the city as a player and owner, his status would reach an entirely different level.