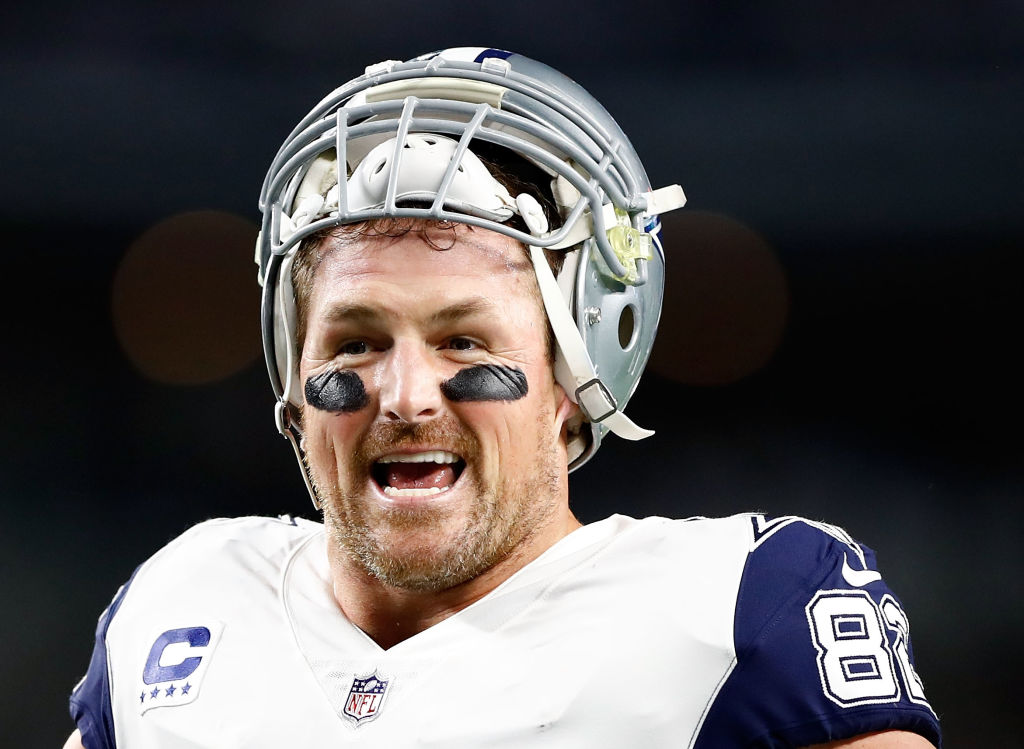 Jason Witten and 5 Other Stars Who Unretired from the NFL
Jason Witten isn't the first player who unretired from the NFL. Here are five others who walked away and then returned to the field.
Jason Witten's sudden decision to leave the Monday Night Football booth was a surprise to many fans of the show, although many will view it as good news. Witten has a Hall-of-Fame caliber career, and he unretired from the NFL in order to add to it.  He chose another year with the Cowboys — and a deal worth up to $5 million — over the intense scrutiny he would receive in his second year calling games for ESPN. Heading back to the field could help Dallas turn it around in 2019 after a lackluster season. It doesn't happen often, but Witten isn't the first player who got the itch during the offseason and unretired from the NFL.
Brett Favre (2009, officially retired in 2011)
Brett Favre never officially walked away from the game, but we still think he checks the boxes to be one of the stars who unretired from the NFL.
Favre had an emotional press conference when leaving Green Bay in 2008, but then he headed to the New York Jets. He "retired" again after a tumultuous 2009 season in New York that included scandal and poor play. He was traded to the Minnesota Vikings after the season, and he led them to an NFC Championship game before ultimately hanging up his cleats after the 2011 season.
Randall Cunningham (1995, officially retired in 2001)
Randall Cunningham was one of the most exciting players in the league during his first stint in the league. He had the ability to make all the right throws, while simultaneously beating you with his legs. He retired after the 1995 season, and it looked like he wouldn't return to the field. However, the opportunity to play with Randy Moss and Chris Carter in Minnesota in 1997 was too good to pass up.
Cunningham had his best season as a pro in 1998, throwing for 34 touchdowns and only 10 interceptions. He officially retired after the 2001 season with Baltimore.
Deion Sanders (2001-2003, officially retired in 2005)
Deion "Primetime" Sanders was one of the most athletically gifted players to ever play in the NFL. A two-time Super Bowl Champion, Sanders also made waves by playing professional baseball in the MLB for the Yankees, Braves, Reds, and Giants.
He retired from 2001-03, then he unretired from the NFL and joined Ray Lewis and the Baltimore Ravens searching for another championship. He played two seasons with Baltimore and added five more interceptions to his career total (including a pick-six). Sanders officially retired at the age of 39.
Ricky Williams (2004, officially retired in 2011)
One of the most underrated backs in the NFL over the last two decades, Ricky Williams abrupt decision to retire had many NFL fans scratching their heads. He was coming off back-to-back seasons of more than 1,300 yards rushing and double-digit total touchdowns, and he seemed to be in the prime of his career.
White sat out the entire 2004 season, returned in 2005 and put up decent numbers, but never regained his All-Pro form. He officially retired in 2011 with 10,009 career rushing yards and 66 touchdowns.
Reggie White (1999, officially retired in 2000)
You can make a case that Reggie White was the best defensive lineman in NFL history, with the ability to get to the quarterback better than anyone else until Bruce Smith broke his career record with two more sacks.
After putting together a Hall of Fame career with the Eagles and Packers, White retired in 1999 following a 16 sack season. He joined the list of players who unretired from the NFL and played one more year in Carolina. White tallied 5.5 sacks that season and finished his career with 198 sacks.