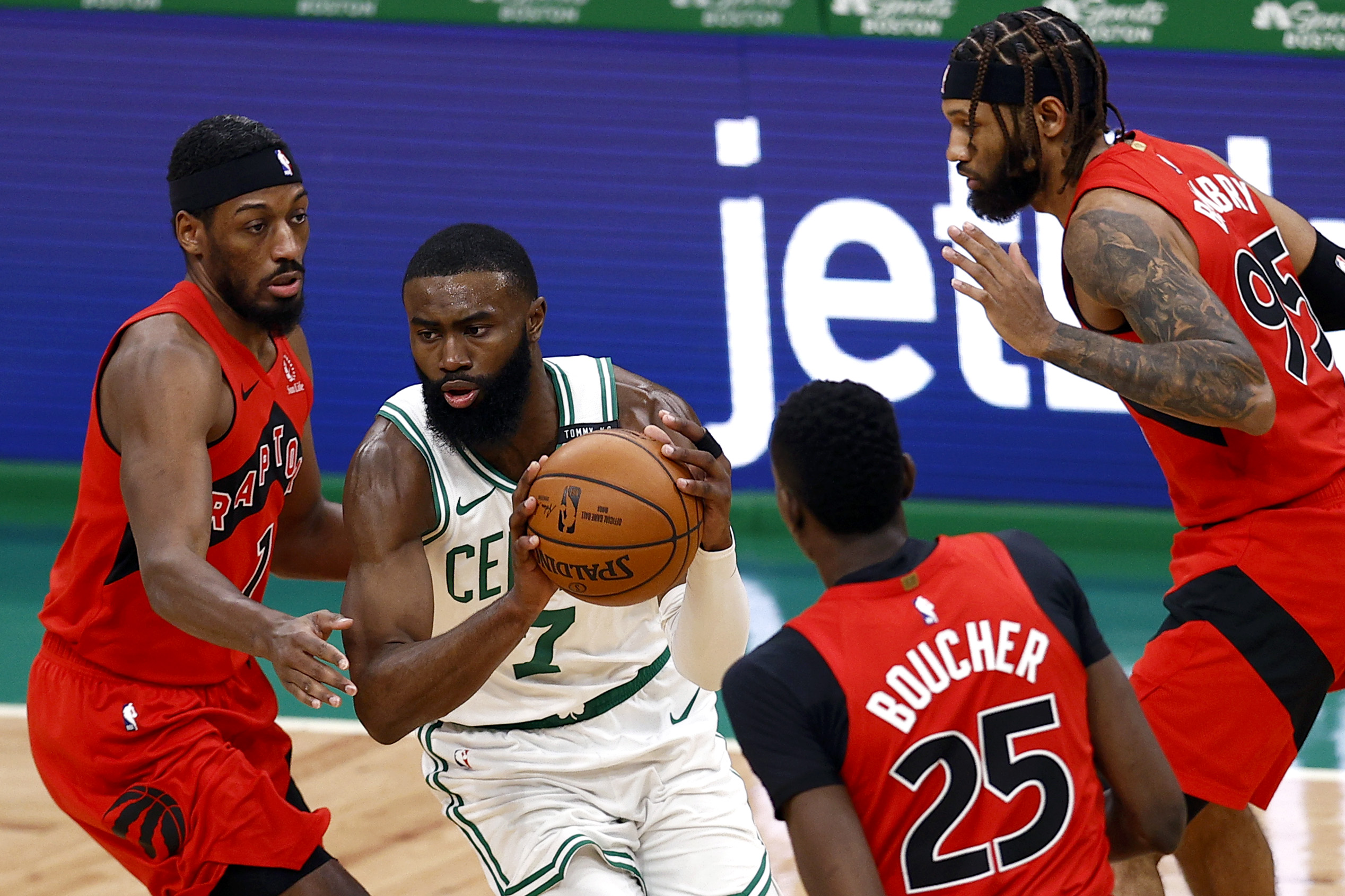 Jaylen Brown's 10 Seconds of Silence Paints Ugly Picture for the Boston Celtics
Boston Celtics young gun Jaylen Brown took 10 seconds to ponder a simple question and wound up with a "no comment."
The Boston Celtics are struggling. They're out of sync and seem to just take 3-pointer after 3-pointer with zero offensive flow to their game. Head coach Brad Stevens has been under fire, as has GM Danny Ainge. Their two stars, Jaylen Brown and Jayson Tatum, haven't shown a whole lot of leadership. Frustration is mounting and that was evident when Brown gave the media a little dose of the silent treatment this week.
It's been a rough go lately for the Boston Celtics
The Boston Celtics snapped a two-game skid Tuesday night, but it can't be considered an impressive victory. The visiting Denver Nuggets played without three starters and their sixth man, and Boston didn't pull away until the fourth quarter. The win put Boston back over the .500 mark at 14-13.
The Celtics were coming off consecutive embarrassing losses, one at home to the Detroit Pistons and the other at the Washington Wizards. Boston has struggled against the lowly Pistons this season, going 1-2. Detroit has eight wins this season and is dead last in the Eastern Conference.
The Celtics also have their injuries with Marcus Smart (calf) and Daniel Theis (wrist) out. The Celtics made it to the Eastern Conference Finals last season but were bounced by the Miami Heat. Boston is expected to contend again in the Eastern Conference, but the Celtics are 6-10 in their last 16 games.
Kemba Walker blasts the Celtics for not playing hard
The Boston Celtics hit a new low Sunday by losing to the Washington Wizards two days after falling to the Detroit Pistons. The Wizards and Pistons are the two worst teams in the Eastern Conference. After Sunday's loss, Celtics point guard Kemba Walker made a disturbing comment regarding the team's effort.
"(We) just need to play harder," Walker said in a press conference. "That's it. We're not playing hard. We're not playing as hard as we know we can. When you play hard, great things happen. And right now, it just hasn't been consistent, our play. So like I said, we're going to continue to watch film and learn from our mistakes and get better."
Not playing hard might be the worst thing for anyone to hear, especially when the team is struggling. When players aren't playing hard, it's on the coach. The Celtics are loaded with young talent and for them to not be playing hard when they are 14-13 is inexcusable.
Jaylen Brown says nothing while saying a lot
After the Celtics' ugly loss to the Wizards on Sunday, Jaylen Brown was asked a question regarding their ball movement. The Celtics are known for jacking up tons of 3-pointers. Brown was asked if he thought their ball movement was slipping away.
Brown, who is averaging 26 points and 3.4 assists per game, didn't have much to say on the topic of ball movement. In fact, he paused 10 seconds before coming up with, "no comment."
Tuesday's win over the depleted Denver Nuggets may help the mental state of the team. Between Kemba Walker's comment on not playing hard and Brown refusing to talk about the Celtics' ball movement – or lack thereof – there seems to be an underlying problem in Boston and we're only a third of the way into the season.
All stats courtesy of Basketball Reference.