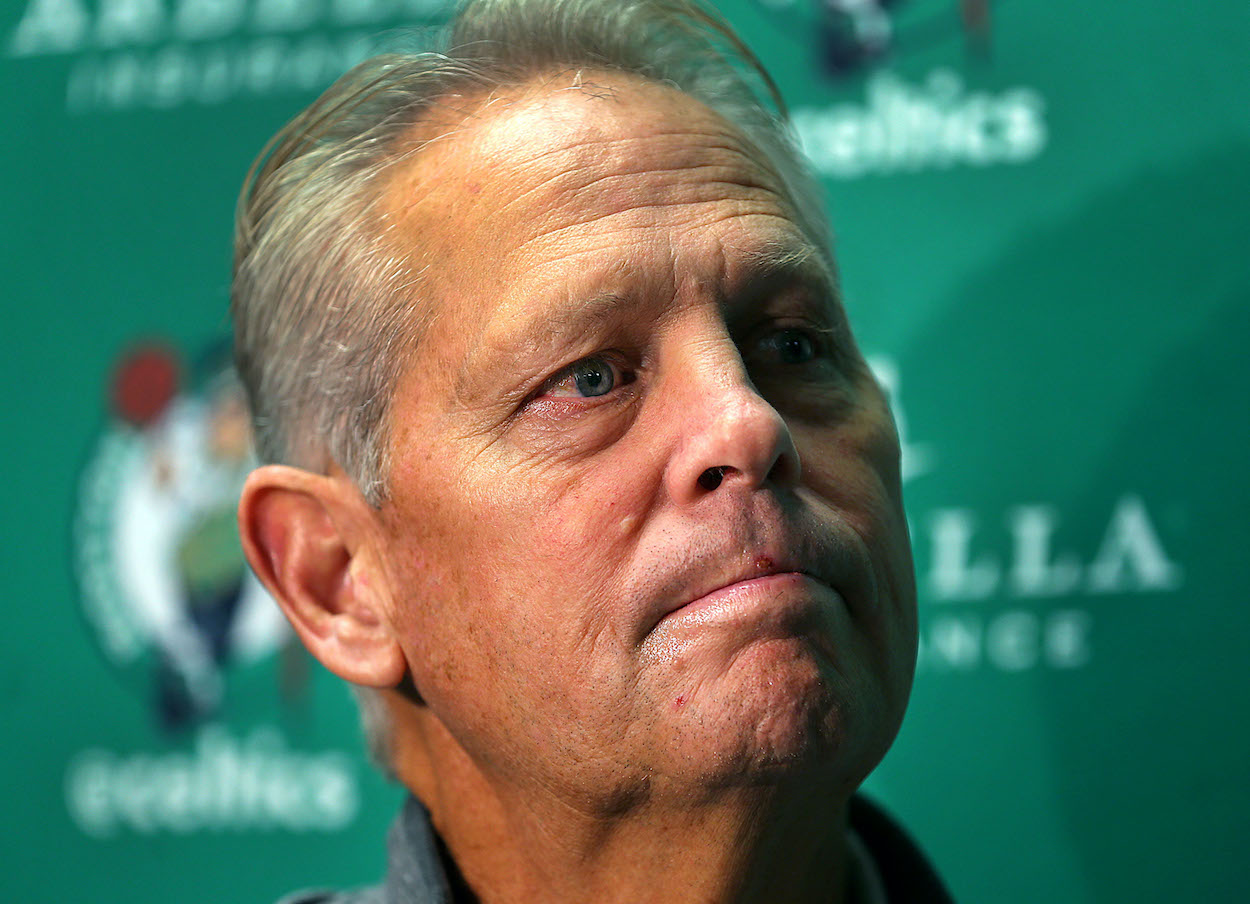 Celtics GM Danny Ainge Sends a Calming Message to Boston Fans, Takes Full Blame for Recent Struggles
Boston Celtics GM Danny Ainge is taking full responsibility for the team's recent struggles, but he says it's no time to panic just yet.
The Boston Celtics aren't very used to losing stretches. One of the winningest franchises in sports history has 17 championships to their name, and they've only missed the playoffs three times in the last 19 seasons.
But the 2021 Celtics have now lost 10 of their last 15 games, and they find themselves on the fringe of the Eastern Conference playoff race. Celtics general manager and president of basketball operations Danny Ainge sees the fan base's frustration building, and he's taking full responsibility for Boston's recent struggles while sending a calming message about the team.
The Boston Celtics are in a free fall
After reaching the Eastern Conference Finals in three of the last four seasons, the Celtics came out of the gates hot in 2020-21. Boston roared out to an 8-3 start to the year, but things haven't gone so smoothly since then.
After their hot start, the Celtics have now lost 10 of their last 15 games. The losing stretch was punctuated with a demoralizing loss to the last-place Washington Wizards on Sunday in which Boston shot 35% from the field and managed only 91 points.
Boston now finds itself in fifth place in the Eastern Conference at 13-13. The team is just two games out of the No. 9 seed. Fans are searching for someone to blame for the Celtics' struggles, and GM Danny Ainge is raising his hand high.
Danny Ainge takes full blame for the Celtics' recent struggles
Celtics GM and president of basketball operations Danny Ainge spoke to Dan Shaughnessy of the Boston Globe this week about the team's recent skid, and he's taking full responsibility for the team's disappointing play of late.
"Sure!" Ainge said when asked if fans should be pointing the finger at him. "We're not playing with the passion that we need. I think that's on the players. And the players on the team are on me.
"There are things I could have done better, but I'm not going to mention names. I'll take this responsibility. This is a team that was put together by me, and we're not playing with enough consistency and urgency, and it's my job to look to see what we can do to improve the team, but that's always much harder than improving from within."
Ainge, who is normally an aggressive player at the NBA trade deadline, didn't rule out the possibility of a deal by the end of the month.
"Just changing faces doesn't always change things," Ainge said, "but it may have to come to that."
Danny Ainge sends a calming message to Celtics fans
Despite his team's prolonged struggles over the past few weeks, Ainge says it isn't time to worry quite yet.
"It's definitely not a time to panic," Ainge told the Boston Globe. "But it's always a time to reflect. My job is to reflect after every game on where we stand and where our team is and how much better they can get. I know our team is better than how they are playing, and I'm confident they will play better."
Ainge can sense the frustration emanating from the fan base, and he wants to ensure the Boston faithful that he will turn things around.
"I like the fact that the fans aren't patient," Ainge said. "We need to have more urgency. I like when players come to the realization that our fans hold our players and all of us to high accountability.
"To wear this uniform, there's a lot goes into it. People are gunning for you because of the success you've had, and part of it is you've got to go out and perform and live up to the expectations."