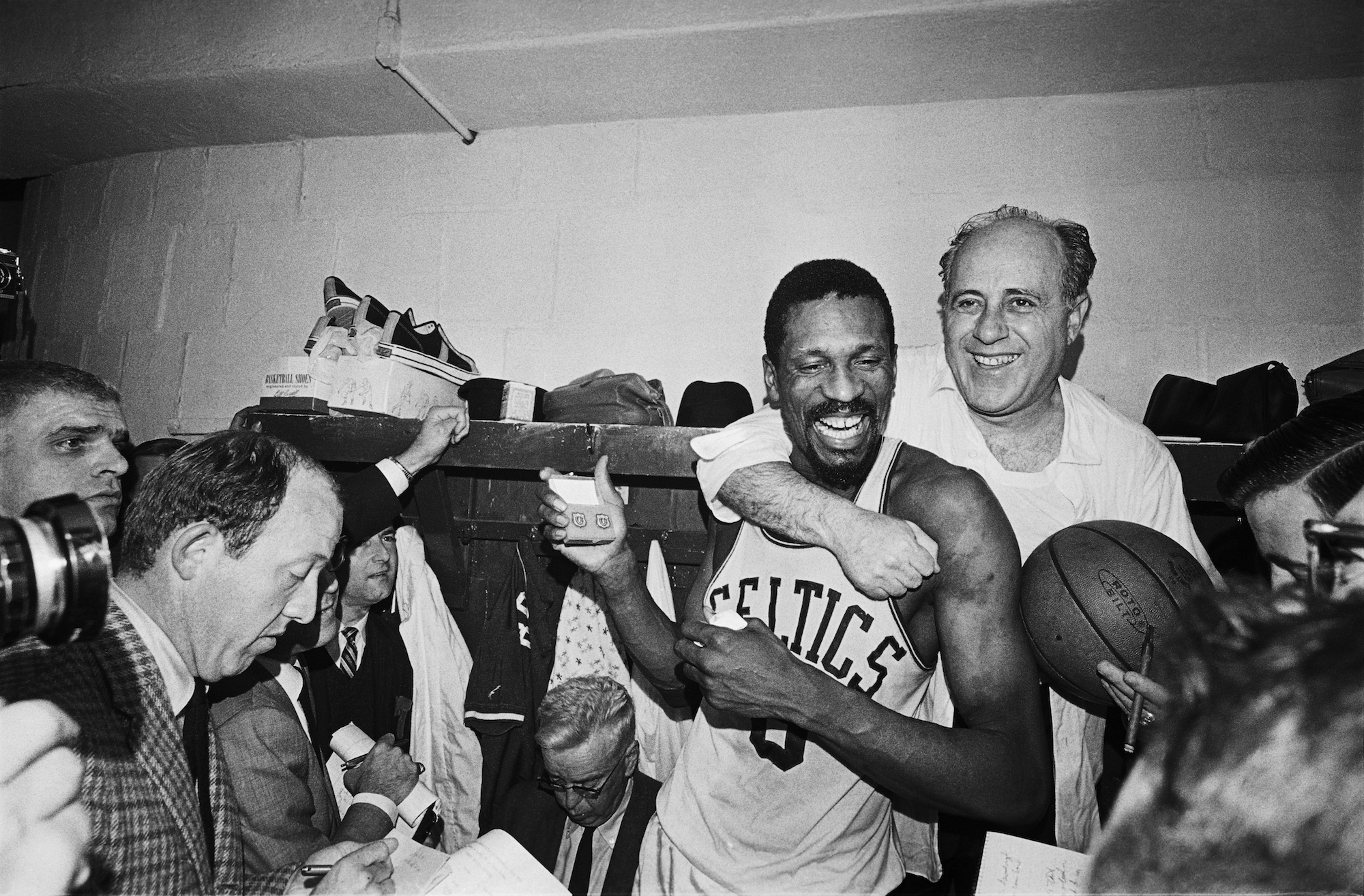 Bill Russell Became Basketball's Ultimate Winner Because a Painful Experience With Racism
During his time with the Boston Celtics, Bill Russell claimed 11 NBA titles. That legendary will to win was fueled, however, stemmed from experiences with racism.
Among sports fans, there are two popular ways to assess a player's greatness. Some prefer stats and individual accomplishments; others directly tie a star's legacy to the number of championships they won. By either metric, however, Bill Russell is near the top of the heap. Not only did the Boston Celtics legend put up impressive numbers, but he also claimed an unbelievable 11 NBA titles.
Early in his career, though, Russell made a conscious decision that changed the course of basketball history. Due to his experiences with racism, the big man vowed to become the ultimate team player and an unstoppable winner.
Bill Russell rightfully earned a place in basketball history
These days, the majority of basketball fans never saw Bill Russell suit up for the Boston Celtics and hit the hardwood. Despite that reality, he's still held in high regard by everyone who knows the game.
Russell picked up basketball relatively late but, by the time he graduated from high school, the big man had made a name for himself as quite the athlete. He then took his talents to the University of San Francisco and continued to blossom. During his three seasons on the Dons varsity squad, Russell averaged 20.7 points per game and won back-to-back national titles.
While the Harlem Globetrotters were interested in his services, Russell chose to enter into the 1956 NBA draft. Thanks to some quick thinking by Red Auerback, the Boston Celtics were able to land the young star. From there, the rest is history.
Russell went on to play 13 seasons in Boston, claiming 11 NBA titles. While the big man was an incredible defender and intimidating shot blocker, he wasn't an offensive liability by any stretch of the imagination. The center averaged 15.1 points, 22.5 rebounds, and 4.5 assists per game for his career, and earned five NBA MVP awards.
How racism inspired a legendary basketball career
For all of Bill Russell's talent, though, he wasn't immune to racism. One particular experience in college, however, ended up changing the course of the big man's career.
"At that time, it was never acceptable that a Black player was the best," Russell explained in an interview with Achievement.org. "My junior year in college, I had what I thought was the one of the best college seasons ever. We won 28 out of 29 games.  We won the National Championship.  I was the MVP at the Final Four.  I was first-team All American … averaged over 20 points and over 20 rebounds, and I was the only guy in college blocking shots.  So after the season was over, they had a Northern California banquet, and they picked another center as Player of the Year in Northern California."
While that decision stung Russell, it also inspired him to define his legacy with championships. Those, he figured, were indisputable proof of success.
"So I made a conscious decision," Russell continued "What I'll do is I will try my very best to win every game.  So when my career is finished it will be a historical fact I won these games, these championships, and there's no one's opinion how good I am or how good other guys are or comparing things.  And so as I chronicle my career playing basketball, I played organized basketball for 21 years, and I was on 18 championship teams. So that's what my standard is: playing a team game and my team winning."
Today, Bill Russell is known as even more than a winner
Thanks to his championship resume, no one can question Bill Russell's sporting greatness. The Boston Celtics big man, however, isn't just a hero for his on-court performances.
As laid out by Martenzie Johnson of The Undefeated, Russell has an impressive history of activism. He and his teammates boycotted an exhibition game after Black Celtics players were refused service in a hotel; he visited Africa, joined Muhammad Ali at the Cleveland Summit, and lent his support to the Civil Rights Act and the Voting Rights Act. Even today, the 86-year-old legend is still speaking out on social media.
"Bill Russell is the former Boston Celtics' Captain who almost single-handedly redefined the game of basketball," the official White House blog explained when the legend received the Presidential Medal of Freedom in 2010. "Russell led the Celtics to a virtually unparalleled string of eleven championships in thirteen years and was named the NBA's Most Valuable Player five times. The first African American to coach in the NBA—indeed he was the first to coach a major sport at the professional level in the United States—Bill Russell is also an impassioned advocate of human rights. He marched with Dr. Martin Luther King, Jr., and has been a consistent advocate of equality."
During college, Bill Russell vowed to become the consummate winner and team player, hoping that would solidify his legacy. It's safe to say that he succeeded.
Stats courtesy of Basketball-Reference