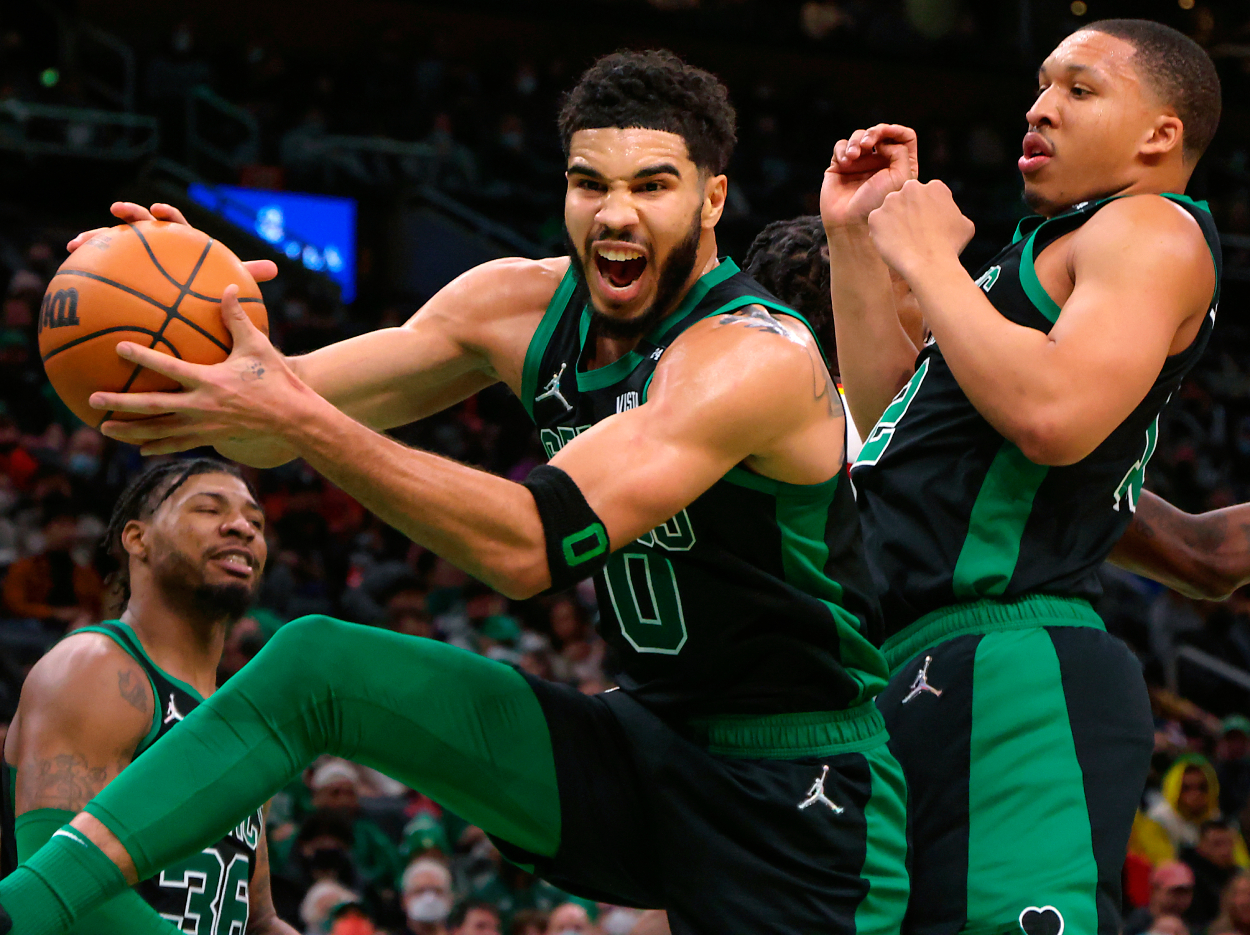 Jayson Tatum Has a Message for Boston Celtics Teammate Grant Williams: You're Grant, Not Batman
The Boston Celtics continue to be one of the hottest teams in the NBA.
The Boston Celtics made it three straight wins to begin their four-game road trip after thumping the Denver Nuggets on Sunday. The Celtics did a heck of a job containing MVP candidate Nikola Jokic, holding him to 23 points on 8-for-23 shooting. Grant Williams certainly did his part in holding down the man nicknamed "Joker."
After the game, Williams told teammate Jaylen Brown to relay to the media that he wants to be known as "Batman." Celtics star Jayson Tatum was asked if he had heard about that, and he wanted nothing to do with it, saying, Williams was "no damn Batman."
Jayson Tatum and the Boston Celtics keep on rolling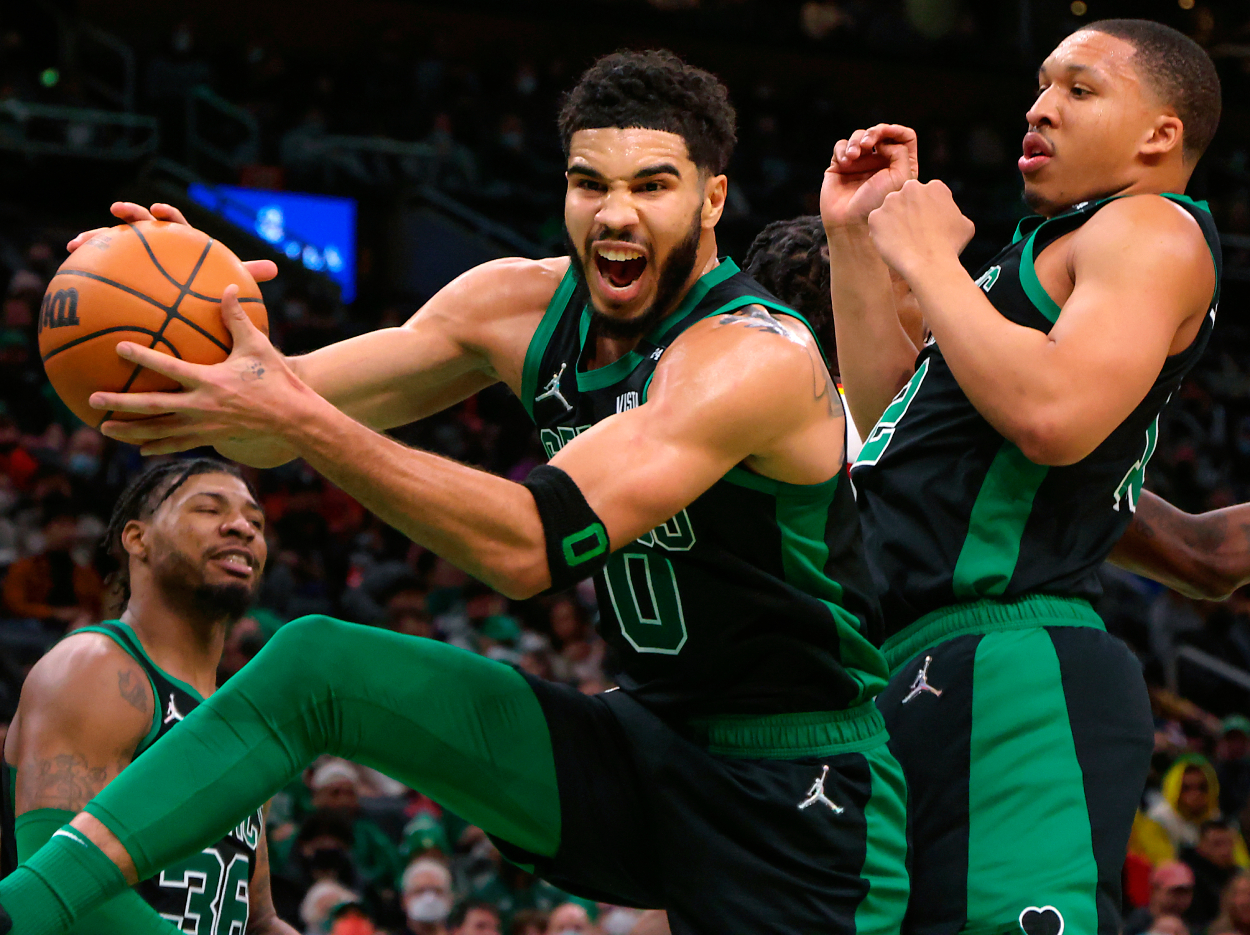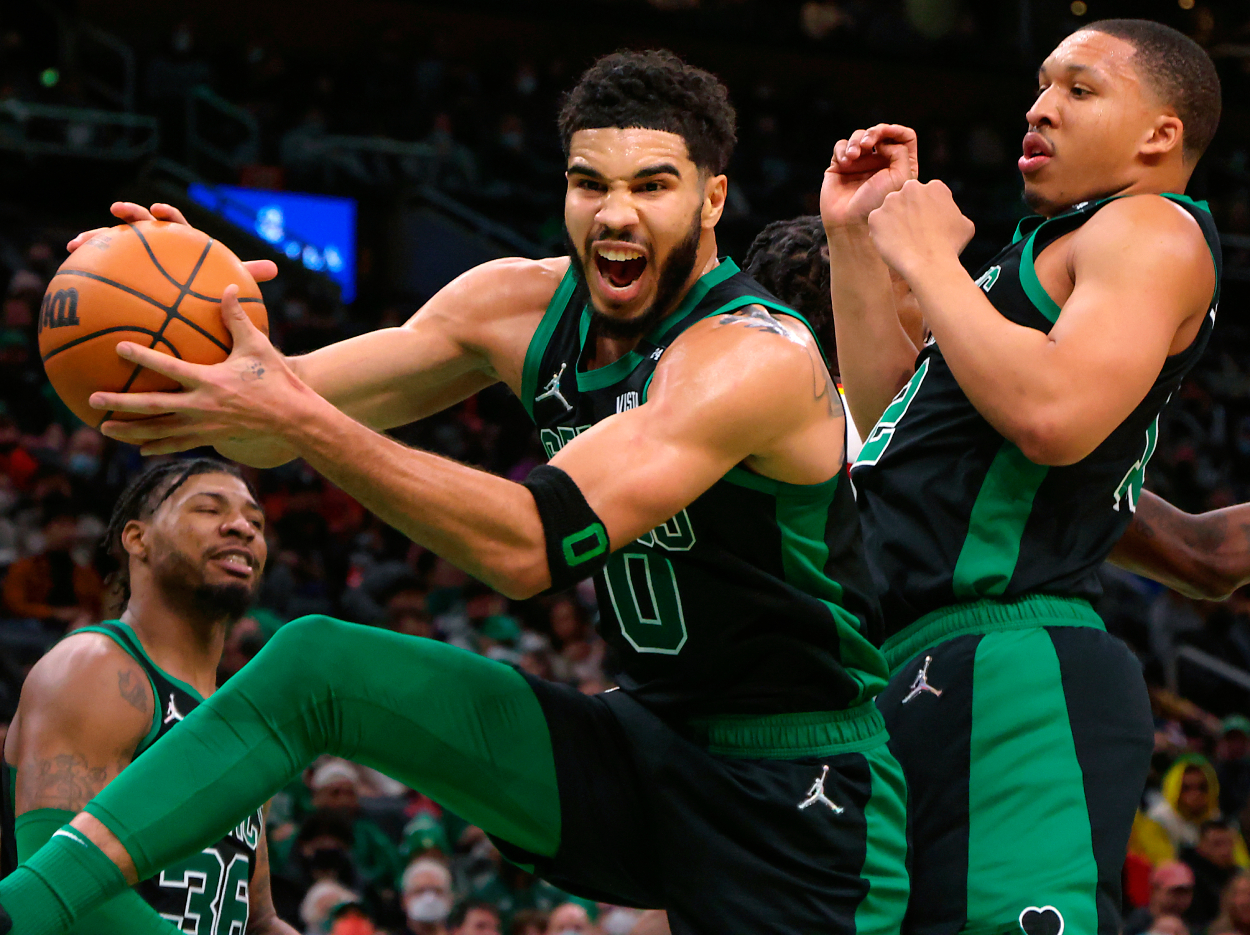 The Celtics have won eight of their last nine games, and Tatum has been the team's leading scoring in Boston's last 10 contests. This is after their nine-game win streak that took place right before All-Star Weekend.
Boston is the hottest team in the Eastern Conference and has vaulted into a tie for the No. 3 seed with the Philadelphia 76ers. The Celtics haven't just been winning recently, they've been blowing teams out.
They opened their trip with a 110-88 victory against the Golden State Warriors in a game where Tatum led Boston in both scoring (26 points) and rebounding (12). The Celtics followed that with a 126-97 thumping of the Sacramento Kings as Tatum poured in 32 points. He added a team-high seven assists to go along with his 30 points in the 124-104 win over the Nuggets.
Tatum and the Celtics have gotten so hot that there were MVP chants aimed at Tatum on the road.
"It's a great feeling," Tatum said, per ESPN. "You expect that, get that at home, but when you travel and you see all the Celtics jerseys and T-shirts and hoodies and hear them chanting for you on the road, that's an incredible feeling."
Jayson Tatum won't be granting Grant Williams his wish
Williams has been a steady performer off the bench for the Celtics. He's averaging 23.8 minutes and is putting up 7.6 points and 3.4 rebounds. At 6-foot-6, he asked to guard many bigger players.
Sunday night, he played a key role in keeping Jokic, a 6-foot-11 center, shoots 57% from the floor, but he had his struggles against the Celtics. He misfired on 15 of his 23 shots from the floor. Williams even had an emphatic block on Jokic.
After the game, Williams told Brown he wanted a new nickname.
"He wants me to tell the media that he wants his nickname to be Batman," Brown told the media, per Celtics on NBC Sports Boston. "I said I don't know about that one Grant."
When it was Tatum's turn at the podium after the game, reporters asked him what he knew about Williams' nickname request.
"I mean, I can't understand why Grant would want to be called Batman," Tatum said. "I'm sure I'm gonna ask him on the bus. Grant played great tonight, but I'm gonna call him Grant. Not calling him no damn Batman."
The Celtics look to close out a perfect road trip
The Celtics don't waste any time getting back into action as they travel to Oklahoma City to take on the lowly Thunder. Oklahoma City enters with a 20-51 record and has lost its last nine games.
Although the Celtics continue to be one of the league's hottest teams, the players aren't getting overconfident. This is a team that was .500 through the first 50 games this year.
"We just got to take it one game at a time, stay healthy, and then the sky is the limit," Brown said, per Boston.com. "Beyond this sky, to be honest. So I'm excited. We just have to take it one game at a time, that's it.
"We still got a lot of room for improvement."
Tatum said it's all about playing basketball the right way.
"There's nothing that we go into the game trying to do," he said. "It's just playing the right way, moving the ball, and taking the shots that you're supposed to take."