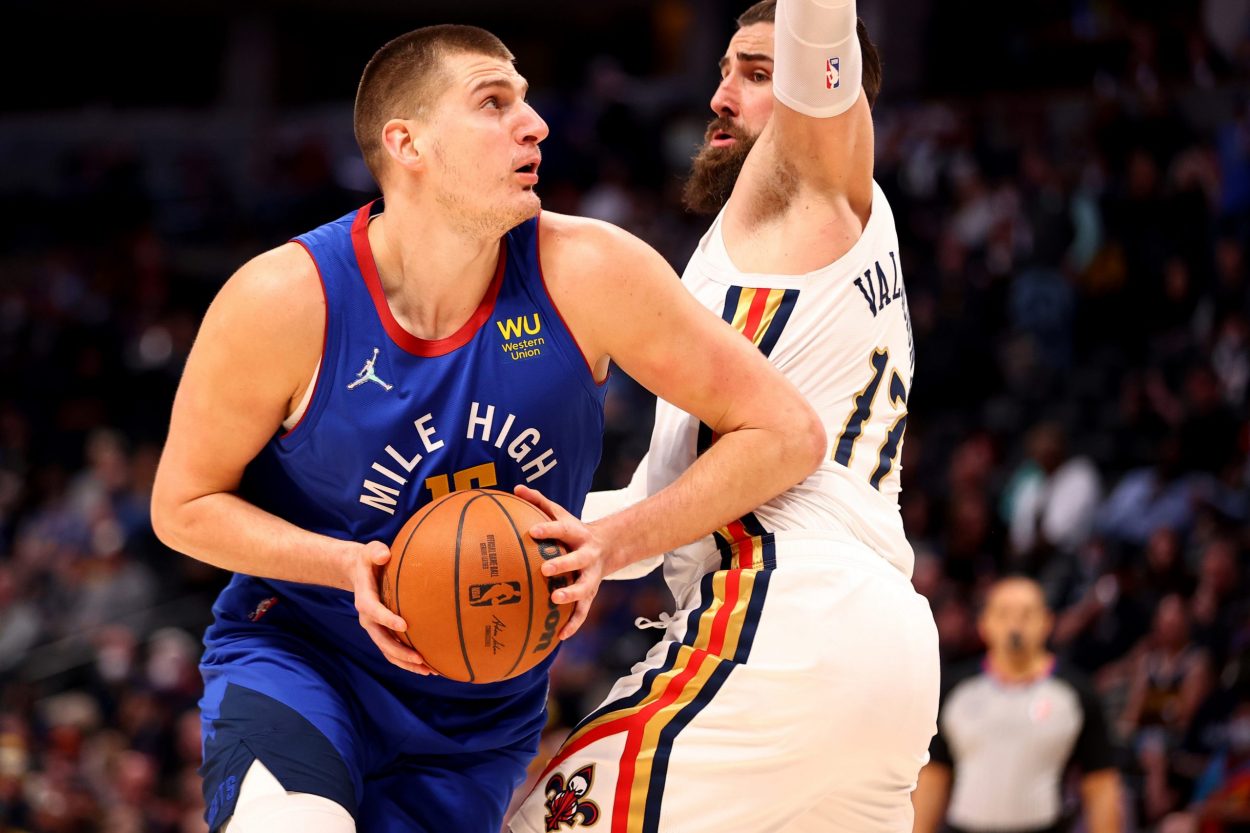 Nikola Jokic's All-Around Brilliance Makes Him Great, but Nuggets Wants Him to Be More Selfish
Denver Nuggets head coach Michael Malone demanded that Nikola Jokic look for his own shot more often.
Denver Nuggets center Nikola Jokic is arguably the greatest passing big man in NBA history. His all-around skill set prompted San Antonio Spurs head coach Gregg Popovich to compare him to Boston Celtics legend Larry Bird. It's also part of why Joker walked away with NBA MVP honors last season.
Jokic's selflessness sets the tone for the Nuggets. However, his head coach wants him to look for his own shot more often.
The Serbian center is already an elite scorer. Jokic ranks seventh in the NBA in scoring average (25.9) and sixth in true shooting percentage. That latter statistic typically benefits big men who get easy baskets around the rim. But it's more pertinent in Jokic's case because he takes 4.2 three-pointers per game.
Jokic dominates on the low block and opens up the floor with his ability to shoot from the perimeter. With Denver needing more scoring production, head coach Michael Malone wants to see his star player take that responsibility on his broad shoulders and exhibit a little more selfishness.
The Nuggets need more scoring around Nikola Jokic
On the surface, the Nuggets' offense runs like a well-oiled machine.
Denver ranks eighth in the NBA in offensive rating and third in field-goal percentage. The Nuggets also rank third in assists. But they're incredibly reliant on Jokic to make plays.
Joker leads the Nuggets at 7.9 assists per game. But he also ranks among the NBA leaders in hockey assists. As a result, Jokic ranks seventh in the league at 9.7 adjusted assists, per NBA.com.
Why is it that Denver needs Jokic to create so many offensive chances? Well, it's largely because the team lacks shot-creating guards and wings without the injured Jamal Murray (knee) and Michael Porter Jr., who remains sidelined after undergoing back surgery at the end of November. Those are two crucial absences.
Murray averaged over 21 points last season, and MPJ came in at 19.0 points per game. Denver ranked eighth in scoring at 115.1 points per contest. This season, Jokic is the only 20-point scorer. Will Barton is the only other player averaging at least 15 points. Additionally, the Nuggets' team scoring average has fallen to 109.3 points.
Thus, Denver could use more scoring. Michael Malone wants Jokic to do it himself.
Michael Malone demands that Jokic take more shots
Malone understands that Nikola Jokic generates steady offense and scores at a strong clip. Denver stands a better chance to score the ball when he shoots.
Alas, Malone has made it clear to Joker that he should look for his own shot.
The Nuggets head coach said (h/t Mike Singer of the Denver Post) Sunday that he made a point of telling Jokic to shoot the ball more often during a weekend film session. According to Malone, it's for the good of the team.
"Shoot the ball. We need you to take these shots."

–Michael Malone's message to Nikola Jokic, via the Denver Post
Opponents cannot hold Jokic in the post. The Nuggets score 1.09 points per possession for every Joker post-up, the second-best mark in the NBA (min. 25 games played and 16% frequency) behind Joel Embiid, per NBA.com. It's a set Denver should go to even more.
Jokic leverages his size and footwork to beat defenders while also facing up and knocking down fadeaway jumpers. He often looks for passes in anticipation of double-teams, but also has the quickness to spin off either shoulder and bully his way to the rim.
Additionally, Jokic shoots the ball at a strong enough clip (38.1%) to take even more three-pointers. He's one of Denver's strong shooters and opens things up for his teammates by pulling opposing bigs out of the lane.
Should Joker heed his head coach's advice, he might get more national attention and end the narrative that he's a disrespected reigning MVP. Still, Jokic is too unselfish and has too high an IQ not to make the right basketball play.
Hours after Malone's comments, the Nuggets center posted a triple-double in a blowout win over the Brooklyn Nets. He still scored 27 points, but only took 15 shots. Great efficiency, for sure, but Malone probably wants an uptick in field-goal attempts when the going gets tough.
Maybe, instead of trying to change too much about Jokic's game, the Nuggets should see if they can add a fringe scorer ahead of the Feb. 10 NBA trade deadline.
Can Denver add scoring depth at the deadline?
Financial constraints leave the Nuggets a bit hamstrung ahead of Thursday's NBA trade deadline, but they need to do whatever they can to surround Jokic with more scoring depth.
Denver already made moves on the margins by acquiring Bryn Forbes from the San Antonio Spurs last month while also signing DeMarcus Cousins for added frontcourt depth. Both men have made an impact, as Forbes is averaging 10.3 points while Boogie is averaging 16.4 points per 36 minutes, though he's doing so on poor efficiency.
The Nuggets could still use more depth on the wing. Jerami Grant is an ideal target for Denver, but it probably doesn't have the assets to swing a deal, and the Detroit Pistons might hold off on trading Grant, anyway.
Perhaps the Nuggets can take advantage of the Phoenix Suns' Jalen Smith dilemma, though the Suns could have more interest in using Smith to acquire a veteran such as Eric Gordon.
Regardless, Denver could use more offensive firepower either in trades or by exploiting the buyout market. Otherwise, Malone figures to keep demanding more of Jokic in the scoring department. Not that it's the worst thing in the world.
Stats courtesy of Basketball Reference unless otherwise noted.