The Best Trade Scenario for Jerami Grant Sends Him Back to the Nuggets
Detroit Pistons forward Jerami Grant is one of the top players to watch ahead of next month's NBA trade deadline and is sure to be a coveted asset. Where will he ultimately land?
Numerous championship contenders could make a push for Grant in the coming weeks. However, the ideal landing spot might look familiar to Grant.
The Pistons are getting plenty of calls about Jerami Grant
The Pistons have the worst record in the league. They're playing the long game in building around No. 1 overall pick Cade Cunningham who, after a slow start, is gradually building up to his potential. It makes sense to capitalize on Grant's trade value now.
James L. Edwards III of The Athletic reported that teams with "championship aspirations" are "routinely calling" Detroit to inquire about Grant. The 27-year-old, who is currently nursing a thumb injury, is almost certain to move before the NBA trade deadline.
Grant had the opportunity to take on a bigger role in the Motor City. He's thrived as a No. 1 option, averaging 21.6 points in 78 games with the Pistons. The Portland native has shown more potential as a shot-creator and ball-handler, not to mention a guy who can attack the basket and get to the free-throw line.
Plenty of squads could use Grant's versatility as a switchable forward who can space the floor and get downhill both in the half court and in transition. That includes a squad with which Grant has recent experience.
The Denver Nuggets make a lot of sense for Grant
Despite the MVP-level play of Nikola Jokic, the Denver Nuggets haven't been able to string things together this season.
With point guard Jamal Murray sidelined for the foreseeable future and Michael Porter Jr. out indefinitely following back surgery, the Nuggets are placing a heavy burden squarely on Jokic's shoulders. Denver's 18-18 record suggests The Joker needs more help. So does his absurd +22.4 on-off margin.
The Nuggets already appear to have an eye on what positions they're targeting. Mike Singer of the Denver Post reported that Denver is after wing players ahead of the NBA trade deadline. That makes sense, considering injuries to MPJ and the improving P.J. Dozier have depleted the Nuggets' depth in that area.
What about a reunion with Jerami Grant?
Grant played for the Nuggets in 2020-21, giving Denver a true floor-spacing wing capable of guarding multiple positions. But he joined the Pistons in a sign-and-trade the following season because he wanted to take on more responsibilities and expand his game.
However, Grant would get more usage in the Rockies this time around. Murray isn't on the floor and will need time to adapt whenever he does return, while MPJ is most likely sidelined for the remainder of the season. Aaron Gordon has been a revelation playing alongside Jokic, but he's less of a shot-creator than Grant.
Some might suggest Grant would prefer moving to a more successful contender like the Chicago Bulls. But he'd be, at best, the third option in Chicago. The Nuggets need a true No. 2, and Grant can fill that void. The question is whether they feel financially handicapped.
Will financial constraints prevent Denver from making a splash?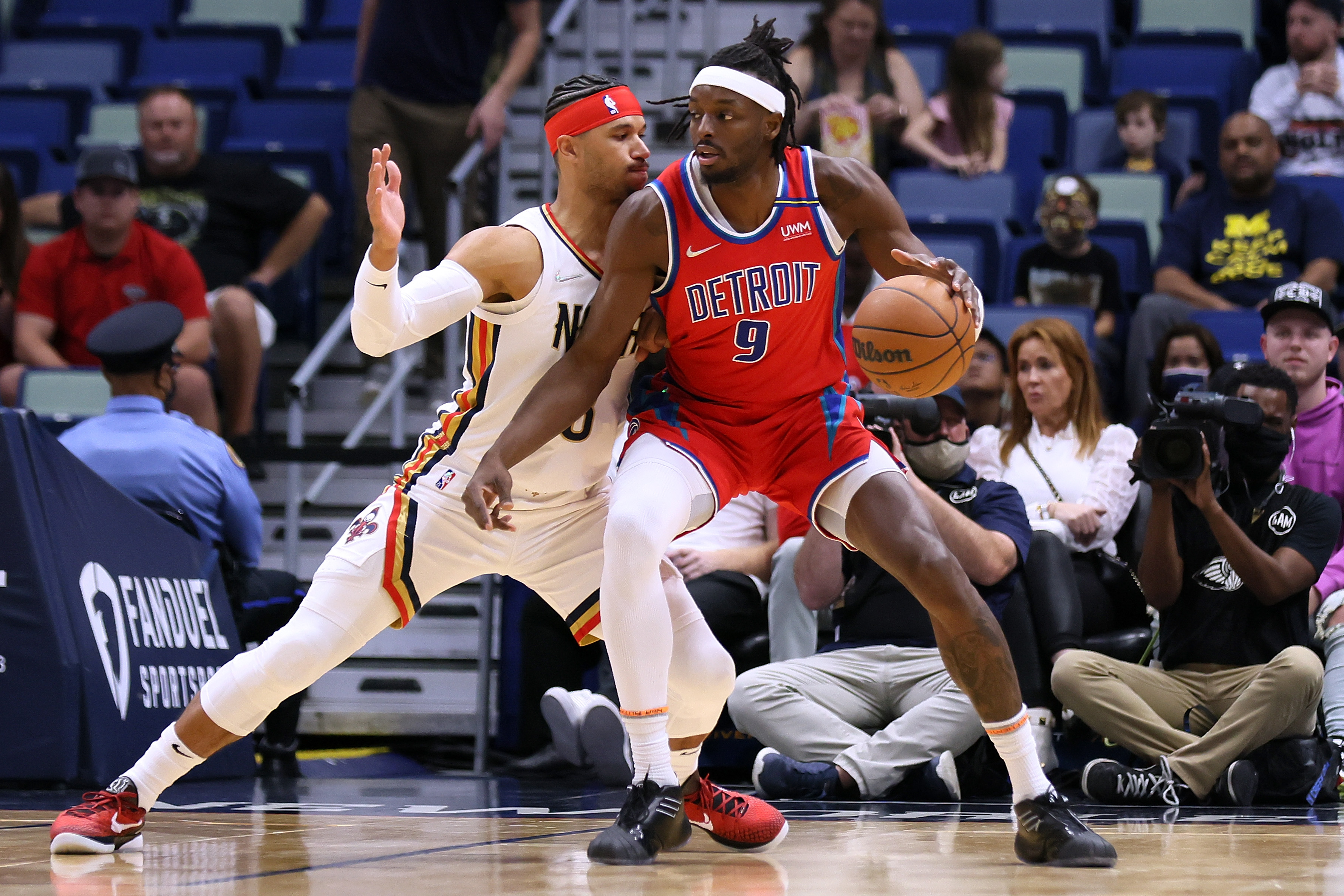 The Nuggets have the assets to acquire Grant. They could throw some combination of Will Barton, this year's first-round draft choice (unprotected), another salary filler, and more draft compensation Detroit's way.
However, Denver lacks future cap space, which could complicate matters.
Jokic will be eligible for a supermax this summer after winning MVP last season. Murray is on a big contract, and the Nuggets just signed MPJ to a rookie-scale supermax that looks all the more shaky given Porter's increasingly concerning history of back issues.
Grant is under contract through next season. But he's also extension-eligible this summer and might hope to sign a new deal. Would Denver be willing to negotiate? The MPJ contract proves the Nuggets aren't afraid to dip into the luxury tax. Will they go even deeper?
It might be worth the risk for the Nuggets. There's no telling whether MPJ can ever be the same player because of the chronic back issues. His absence leaves Denver exposed ont he wings, but not if it makes a play for a verstile wing of Grant's caliber.
The Nuggets have plenty of thinking to do ahead of the NBA trade deadline next month. That includes deciding whether to bring an old friend back to the Mile High City.
Stats courtesy of Basketball Reference.