NBA Trade Deadline Rumors: 5 Veterans Who Could Be on the Move in 2022
Sports fans typically yearn for blockbuster trades, which is especially true in the NBA come deadline season. But while Ben Simmons and a host of other stars figure to garner attention ahead of the February deadline, contending teams strapped for cash are more likely to supplement their squads by pursuing veteran upgrades at various positions.
Here are five veteran players to watch as the calendar flips to 2022, from teams sure to sell (like the Houston Rockets) to other squads looking for direction (such as the Boston Celtics). For clarity, the players included are guys with at least eight years of experience and zero All-Star selections.
G Dennis Schroder, Boston Celtics
This summer, Dennis Schroder became something of a laughingstock after settling for a one-year, $5.9 million deal in free agency. But he's developed into one of the Boston Celtics' best trade chips.
Aside from being on an expiring contract, Schroder plays a position typically in high demand during NBA trade deadline season. Teams generally are looking for added playmaking and creation in the backcourt, and the German point guard can provide both.
Schroder is averaging 16.3 points, 4.7 assists, and 3.4 rebounds. He's not making as many twos as teams might like for a guy who shoots about 33% from beyond the arc, but his speed and craftiness around the rim make him a tough cover and strong scoring option.
The Celtics (16-19) need to start thinking long and hard about how they plan to build for the future. Regardless of what that path looks like, they figure to get value back on their cheap investment.
G/F Eric Gordon, Houston Rockets
It's no secret that the Houston Rockets are only just beginning their rebuild. The worst team in the Western Conference is sure to engage teams at the trade deadline. Will Houston move Eric Gordon?
According to past reports, the Rockets could elect to retain Gordon because of his leadership and impact in the locker room. But the truth is that his value might never be higher.
Gordon is having his most efficient season ever. He's shooting close to 50% from the field and 45.1% from beyond the arc on 5.1 attempts per contest. Numerous teams could use his scoring touch, which goes beyond a sweet shooting stroke.
The 33-year-old still isn't shy about bullying on-ball defenders and getting to the rim. He still has sneaky athleticism and shiftiness despite his age. Gordon is also more than capable of can fire off the dribble whenever he gets an inch of breathing space.
Any contender needing wing scoring would love to pry Gordon away from the Rockets, especially with his non-guaranteed salary in 2022-23.
F Robert Covington, Portland Trail Blazers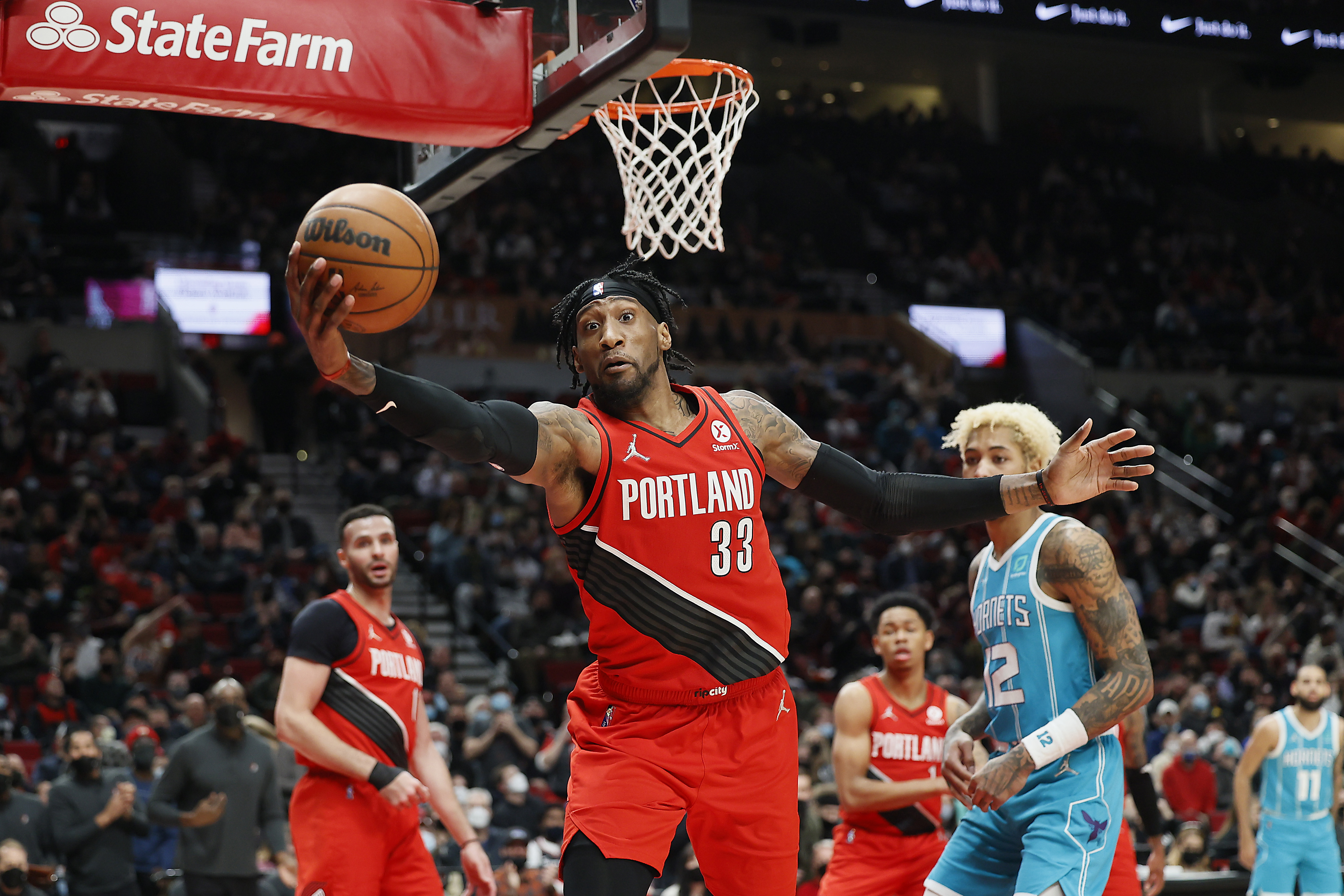 The Portland Trail Blazers (13-21) need to do something drastic to shake up the roster and change the course of the organization. That means trading a bunch from the current roster, with Robert Covington being perhaps the likeliest to leave.
Covington is the 3-and-D wing that teams salivate over this time of year. He's also on an expiring contract, so teams won't be tied to his financials in future seasons to come. That makes him one of the more tradable players in the league.
The 31-year-old's numbers don't look overly appetizing. He's shooting below 40% from the field and just 3.1% from beyond the arc. However, RoCo's value goes beyond the raw numbers.
Covington can play either forward position. He's a surprisingly good rebounder for his size. Not to mention, he's a bona fide defensive playmaker, averaging 1.2 steals and 1.2 blocks this season. The Chicago native is one of the few Blazers with a positive defensive box plus-minus value.
Nothing about RoCo's game is very flashy. But he has a skill set and defensive capabilities that can help any number of contenders at the deadline. Keep an eye on Jusuf Nurkic and Larry Nance in Portland, as well.
F Thaddeus Young, San Antonio Spurs
Thaddeus Young might be one of the most undervalued players in the NBA.
Like Covington, the veteran can play either forward spot. Additionally, Young is a terrific rebounder and terrorizes teams on the offensive glass. Bt there's a separator.
Young is a legitimate creator on the offensive end. He averaged 4.3 assists with the Chicago Bulls last season and is dishing out 6.3 dimes per 36 minutes with the San Antonio Spurs. The 33-year-old springs guards free with rub screens on dribble-handoffs. He spots baseline cutters and guys going backdoor to the bucket.
But Young can create scoring opportunities even without the ball in his hands. He's typically among the league leaders in screen assists and is unafraid of taking defenders off the dribble as a roll man. Sometimes, Young's best offense comes when he follows his own misses.
Young could be an ideal fit for a Phoenix Suns team still looking for some size. Wherever he ends up, he's sure to bring an endless motor and all-around playmaking along for the ride.
G/F Terrence Ross, Orlando Magic
The Orlando Magic are another team in the early stages of their rebuild, meaning they're all but guaranteed to capitalize on the trade value of guys like Terrence Ross.
Although Ross' scoring is down to 11.1 after averaging 15.6 last season, he's capable of filling it up in bunches. The 30-year-old is the kind of microwave bench scorer whose shot-creation is valuable in any second unit. Likewise, he has shown he can shoot the 3-ball efficiently, even if he's shooting just 29% from deep this season.
Ross leaves a lot on the table as a wing defender. His scoring efficiency is gross. But he could play the role of bench sparkplug for a team needing more scoring ahead of the NBA trade deadline.
Stats courtesy of Basketball Reference.