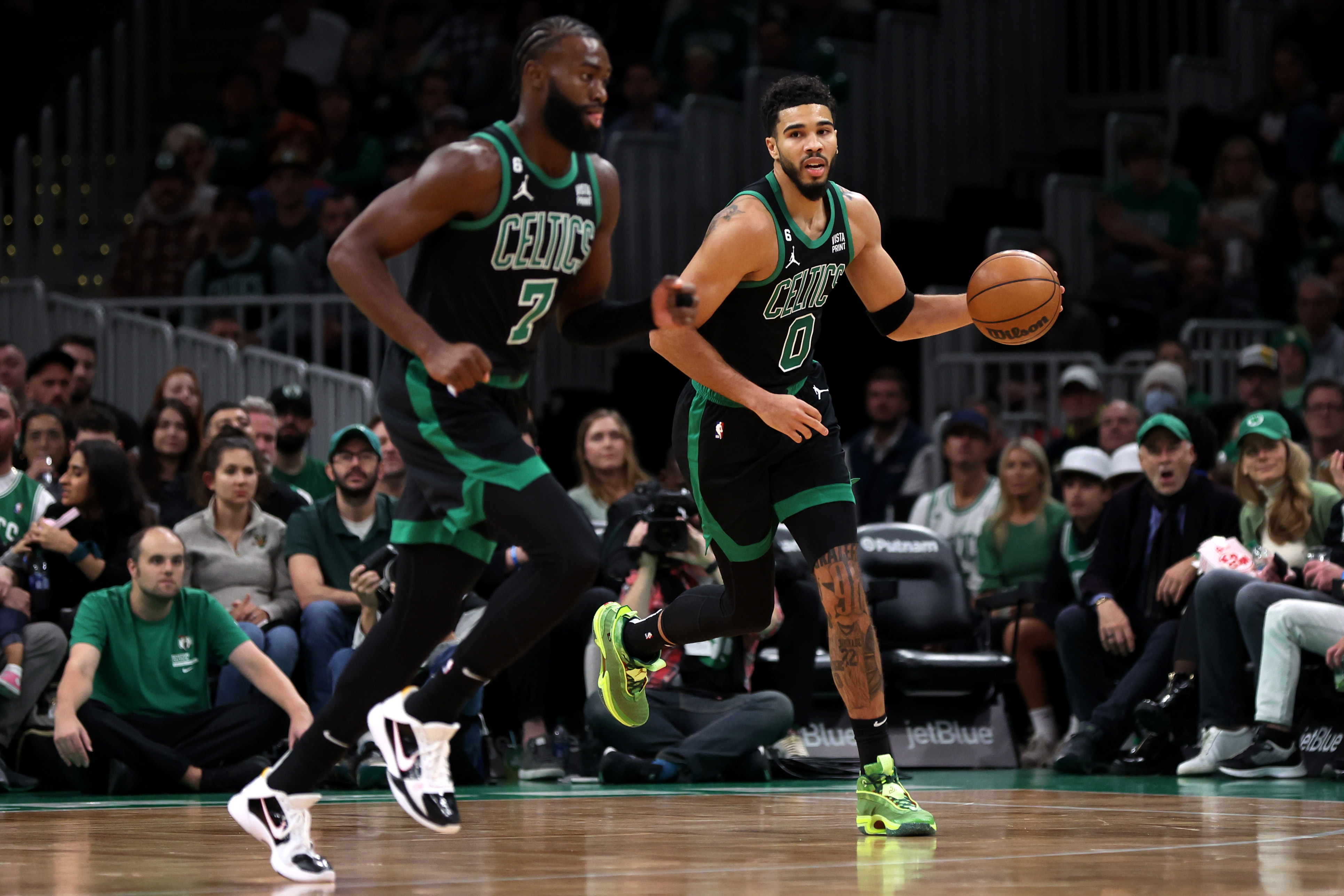 Jayson Tatum Reluctantly Answers If He and Jaylen Brown are the NBA's Best Duo
Are Boston Celtics stars Jaylen Brown and Jayson Tatum the best tandem in the NBA?
Jayson Tatum certainly is an early front-runner for the NBA's MVP. The Boston Celtics star is fresh off a 49-point performance and has guided his team to the league's best record at 18-4.
Tatum is averaging a career-best 31.6 points in the 21 games he's played this year. In Wednesday night's 134-121 win over the Miami Heat, he reached the 40-point mark for the fourth time this year. While Tatum is lighting it up, he's not the only one doing so for Boston. Jaylen Brown is quietly having his best season at 26.1 points and 6.6 rebounds per game. After Wednesday's win, Tatum was asked if he and Brown were the NBA's best duo. He reluctantly answered.
Jayson Tatum and the Boston Celtics are on a mission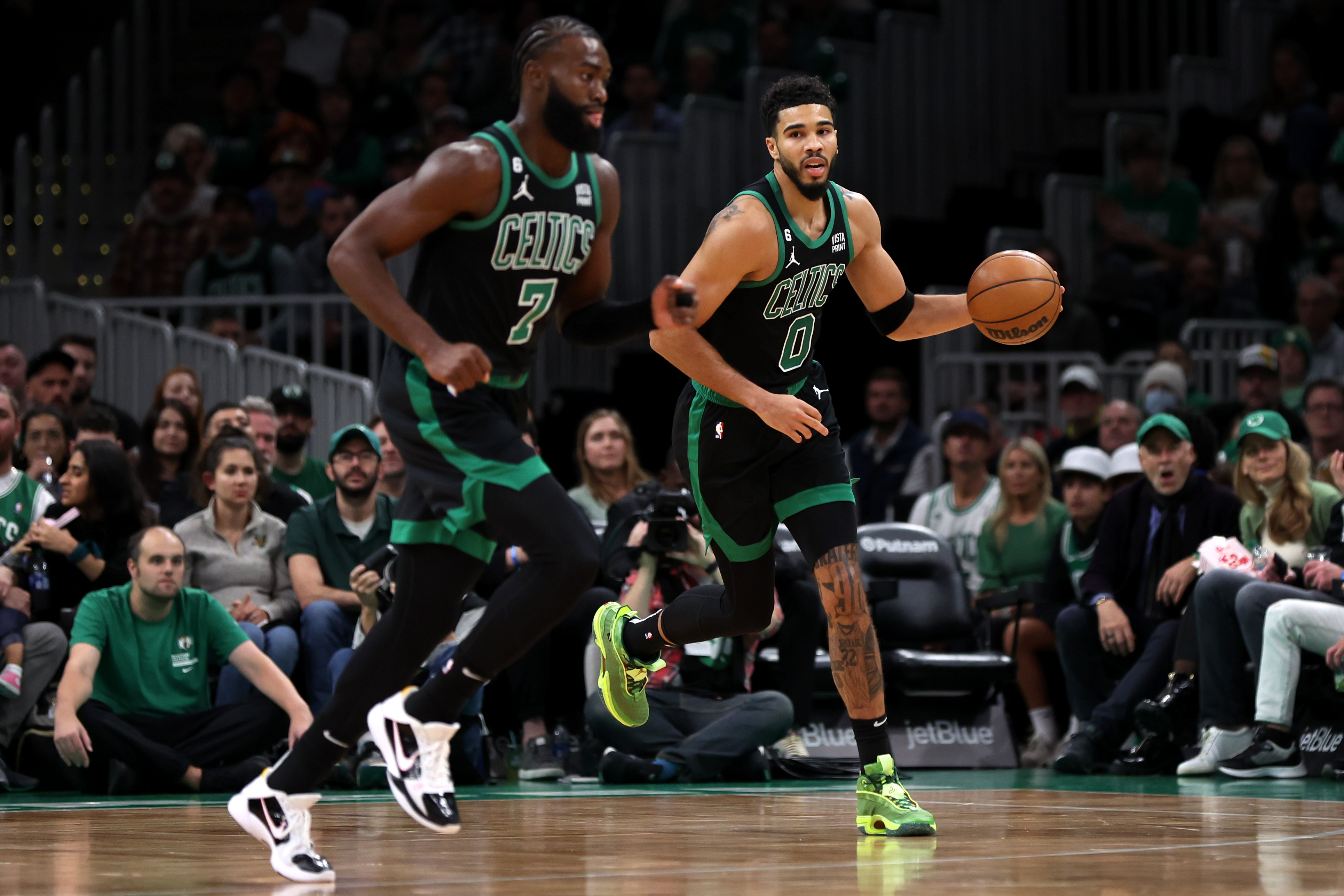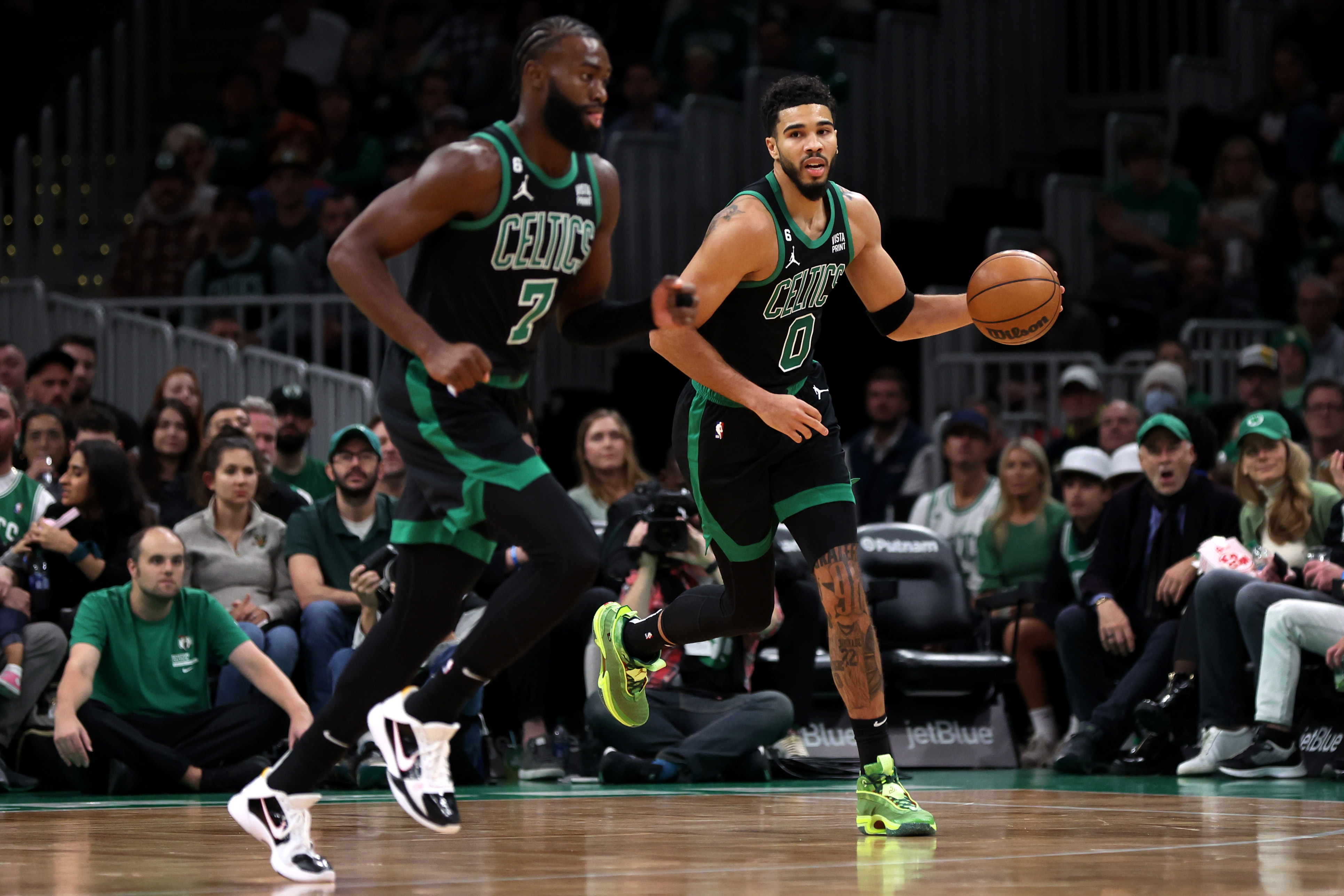 After coming up short in the NBA Finals, Tatum and the Celtics have been ultra-motivated. Watching the Golden State Warriors celebrate a championship in Boston was painful. It's a feeling Tatum never wants to experience again.
Before this season began, Tatum admitted he had a long summer. He couldn't shake the feeling of getting so close to a championship and watching the opponent celebrate on Boston's court. He couldn't wait to start playing again.
"I'm just happy to be back playing basketball after the summer," he told Abby Chin of NBC Sports Boston early this season. "After losing in the Finals, all I could think about was just get ready to play again and start a new chapter.
"Said it a million times that it was a long, miserable summer, so I just wanted to get back out here and compete. I just want to win — don't care about how many points I score. I just want to get back to that point."
While he was motivated to get back on the court, the Celtics were motivated to surround him with better players. They traded for veteran guard Malcolm Brogdon to help shore up their bench. They also signed veterans Danilo Gallinari and Blake Griffin. While Gallinari is out with an ACL tear, Brogdon and Griffin have been unselfish in their play off the bench.
Tatum reluctantly answers if he and Brown are the best duo in the NBA
Tatum and Brown combined for 75 points in the win over Miami. Brown added 26 points, seven rebounds, and five assists. During his postgame press conference, Tatum was asked if he and Brown were the best tandem in the league.
He awkwardly answered.
"Good question," he said with a smile. "I guess, yeah. Whatever that means.
"I believe in him and his ability and the things that he can do. We've obviously shown that we can play together at a high level and have great success. I guess it looks that way, but I guess that's for you guys to decide.
"We never talk about that. We want to be the best team, and we want to win a championship. If, along the way, we're the best duo, we'll take it."