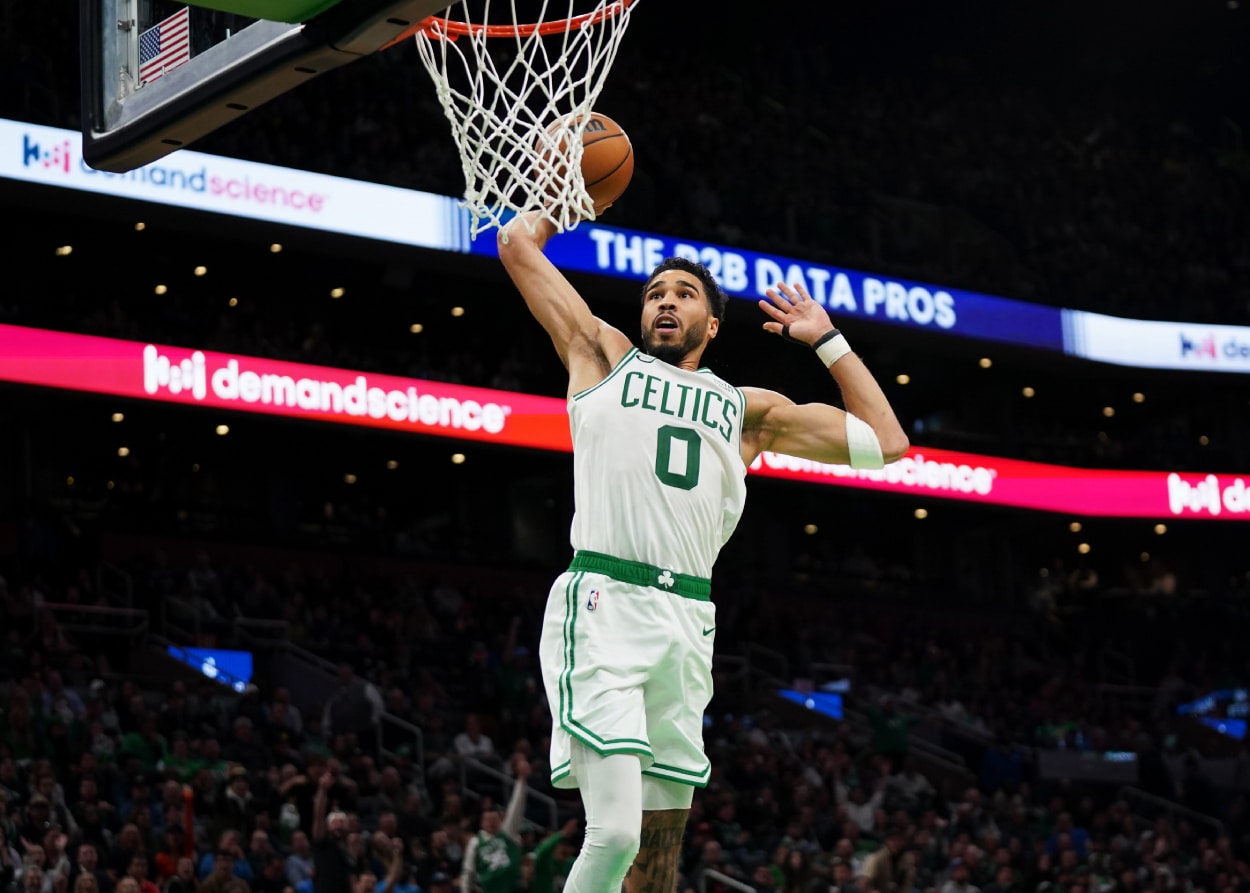 Jayson Tatum Has Kevin Garnett's Vote for MVP
Jayson Tatum and the Boston Celtics are off to a torrid start to the NBA season.
Kevin Garnett had to do a little bit of backtracking, but he admitted he'd have Boston Celtics star Jayson Tatum as his frontrunner for MVP. Garnett had a strange preseason prediction regarding the Celtics that opened the eyes of many.
The former Celtics star, who led Boston's last championship team in 2008, said he didn't believe the Celtics were a top-four team in the Eastern Conference. Not only did he backtrack from that statement, but he now believes Tatum is the early favorite to win his first MVP.
Jayson Tatum keeps building his MVP case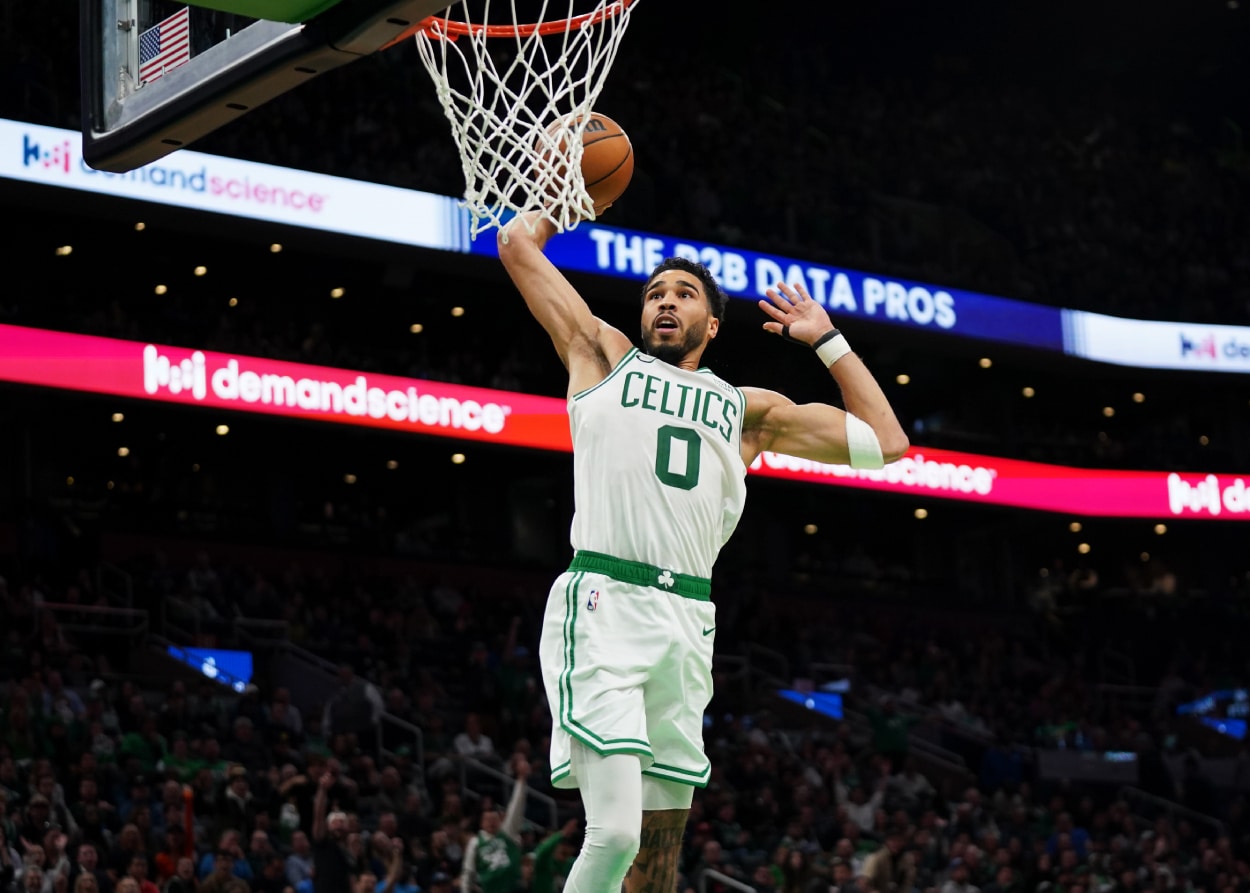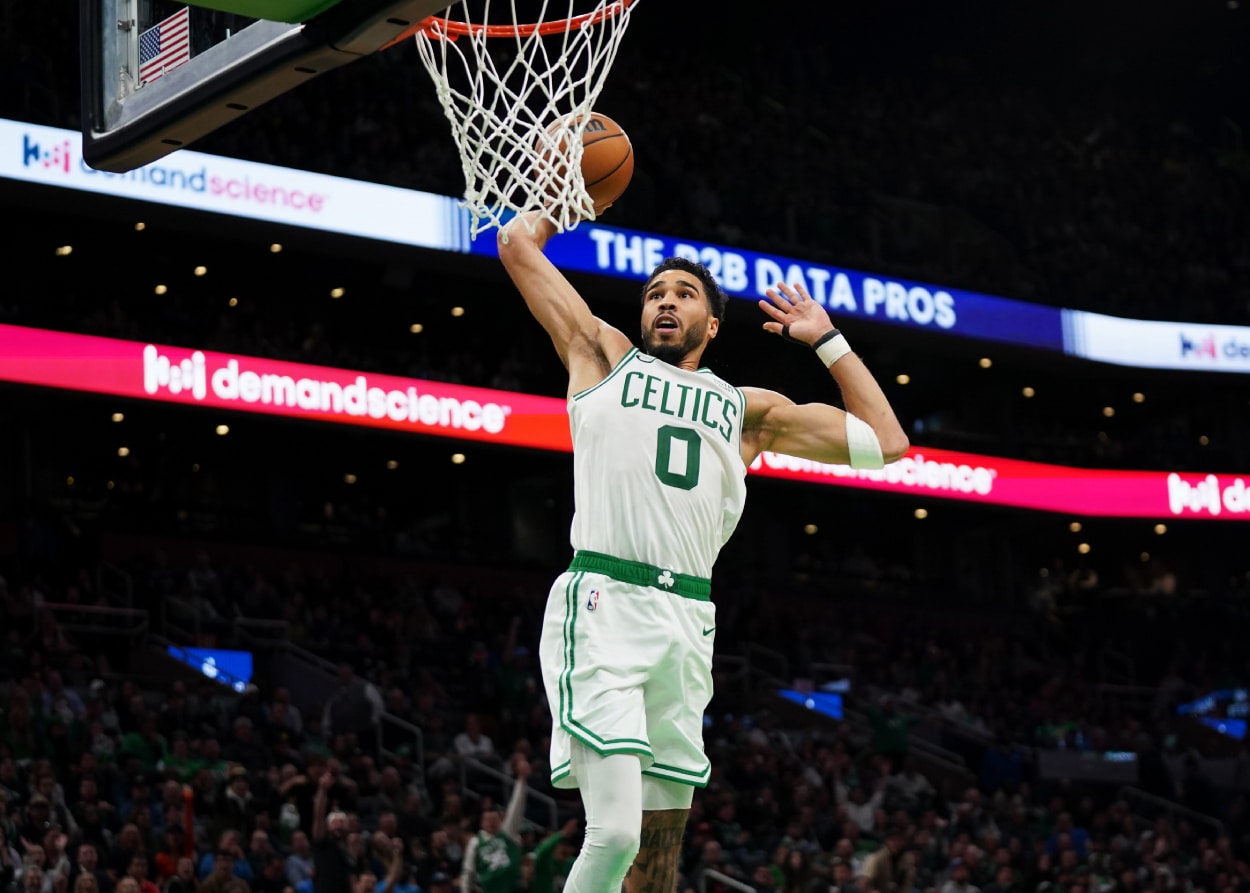 We're only 13 games into the season, but with each passing game, there is always talk about the best and worst in the league. Tatum has certainly played his way into the early MVP race as the Celtics have jumped out to a 10-3 start.
If there were any doubts about Tatum being a leader in the race for MVP, they were erased Saturday night. For the fourth straight game — all Boston wins — Tatum went for 30-plus points. This time, he went for 43 in Boston's sixth straight victory.
Playing without Jaylen Brown, Al Horford, and Malcolm Brogdon, Tatum put the Celtics on his back in Saturday's 117-108 road win over the Detroit Pistons. He made 14 of 28 shots and made seven of his 14 three-point shots. He also was the team's co-leader in rebounds with 10.
"This is the best I've ever felt to start the season," Tatum told reporters after the game, per NBC Sports Boston. "It kind of feels like the way I was playing toward the end of last season when we really went on that run going into the playoffs.
"It feels great to start a season like this. I definitely know what it feels like to be on the other side, being .500 and struggling to shoot the ball, just trying to figure it out. The way we're playing, it's fun. It feels good to win."
Kevin Garnett has Tatum as the MVP right now
Garnett had Tatum as the leader in the MVP race even before Saturday night's game. In a Twitter video, KG said the Celtics' current star has erased any doubts Garnett had.
"Jayson Tatum for MVP," said Garnett. "He's playing unbelievable. Everything I had a question mark with Boston, they've taken that and kicked it out the window."
"We knew Jayson Tatum could score with the best, but I see this year, he's taken another step. In the last four or five games, I've seen his defensive efforts to be a lot greater than what I've seen."
Garnett referred to Tatum as playing "popcorn basketball."
"He seems to be a lot more locked in on both ends, and he's playing like a top-five player," he said. "He's popcorn basketball. You pay to go see Ja (Morant), Luka (Doncic). JT is in that same category."
Garnett said the Celtics will go as far as Tatum takes them.
"He's coming into his own," Garnett said. "He's coming into his young stardom. I love everything about his play and everything he's doing right now. His growth to me is how the Boston Celtics are going to grow and grow."