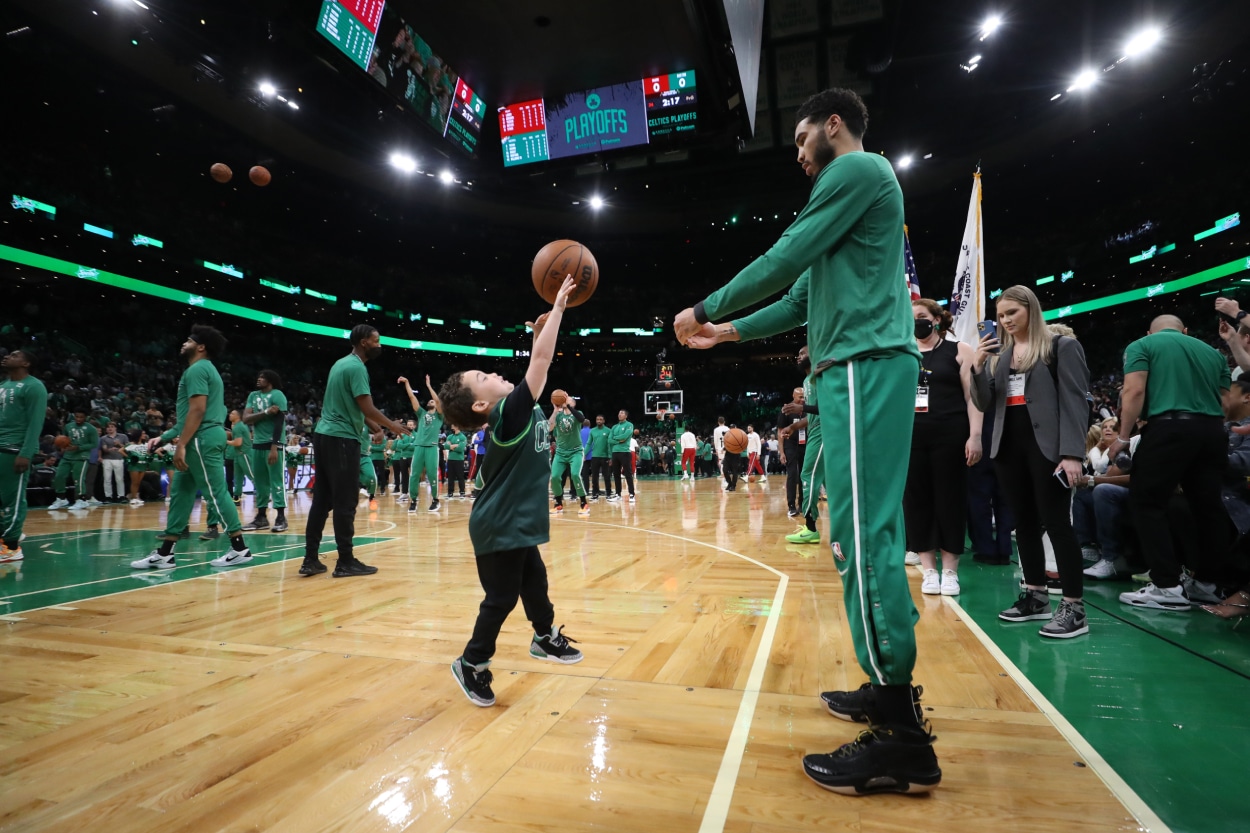 Jayson Tatum Mixes NBA Stardom, Trash-Talking, and Bringing Up His Son Deuce: 'I Was Better Than Him at 4'
Jayson Tatum has no problem talking trash to his son Deuce, 4, when they're playing basketball.
Boston Celtics All-Star forward Jayson Tatum has become one of the more popular players in the NBA, yet he might not even be the most popular Tatum in his family.
Tatum has worked his way into a top-10 player in the league, but when he brings his 4-year-old son Deuce with him, he becomes a forgotten man. Deuce steals the show during pregame warmups and at postgame press conferences. While the younger Tatum gets plenty of attention, Dad puts him in his place by saying, "I was better than him at 4."
Jayson Tatum has a lot on his plate on and off the court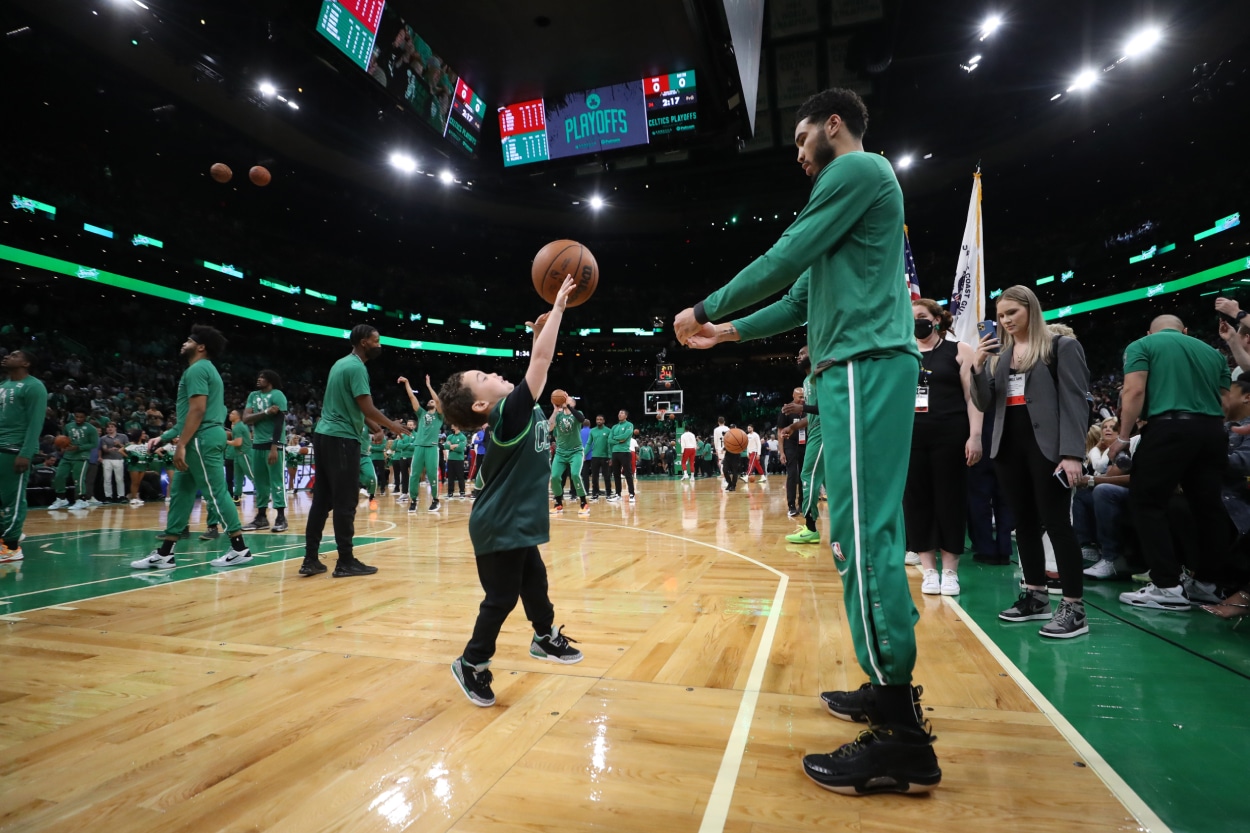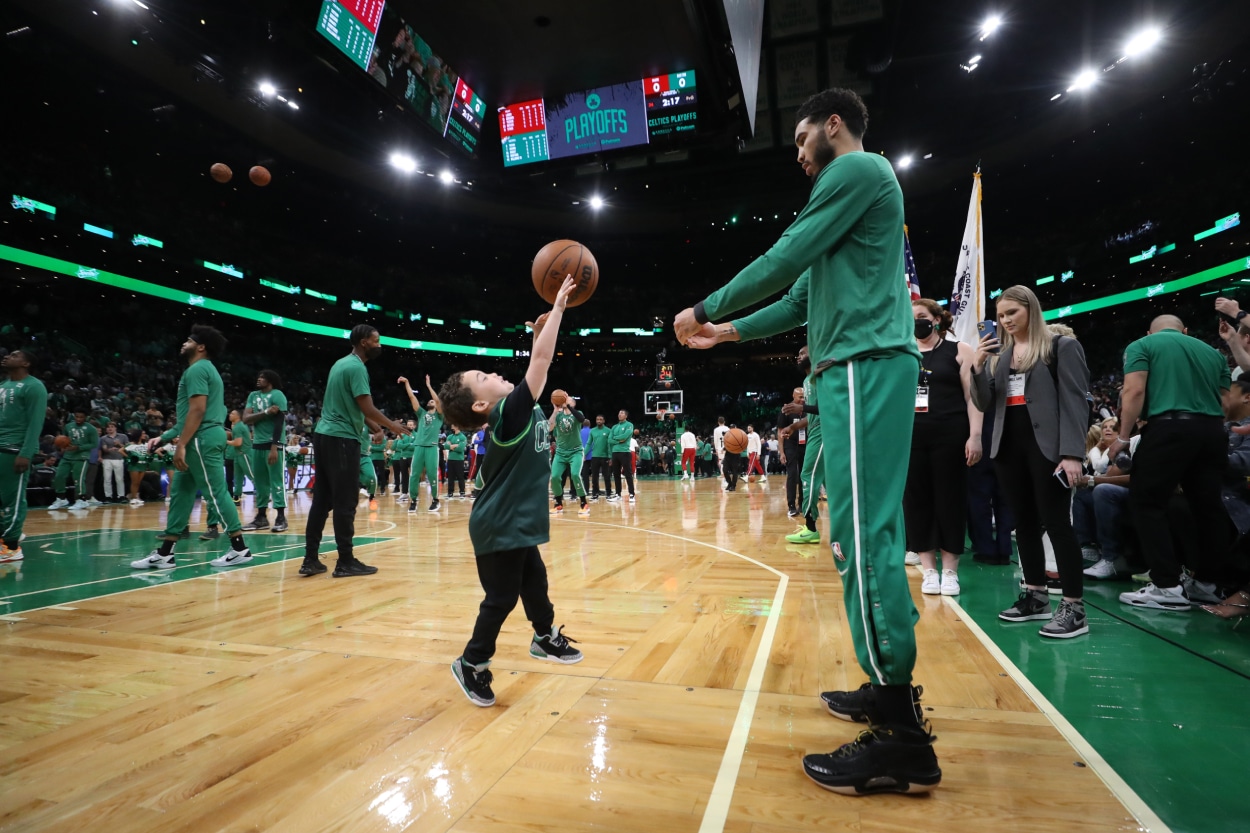 On the court, Tatum is consumed by trying to be the best basketball player in the world. He desperately wants to win a championship, especially after coming so close a year ago. He's been an All-Star the last three seasons and All-NBA the last two. Tatum is still just 24 years old, but he's the leader of a team hungry to get back to the NBA Finals.
Off the court, he wants to be a great father. He wants to have that special father-son bond with Deuce. Tatum admits he didn't have the strongest of bonds with his father when growing up. He spoke about that relationship during an emotional interview with ESPN's Sage Steele last December.
"It umm," Tatum paused to wipe away tears. "I never get emotional. It was tough because he put the ball in my hand. It was more of being around my friends and seeing their dads and the relationship that they had. Honestly, me and my dad didn't do normal dad/kid stuff. I was always basketball or… I'm sorry. It was always basketball or go to the barber shop.
"That's something I've always told myself that I'm gonna help my son (and show) how to do it differently."
These days, Tatum and Deuce are their own team. At TD Garden in Boston, Deuce can be seen running around the court or sitting with his father at the podium after the game. Tatum is making it work on and off the court.
Tatum on his son Deuce: 'I was better than him at 4'
Tatum recently sat down with Graham Bensinger to talk everything from basketball to family life. He said he'll never force Deuce to follow in his footsteps and play basketball, but he's happy Deuce wants to come out and play ball with his father.
Tatum doesn't always make things easy on his son.
"If he doesn't double-dribble, I won't block it, but if he double-dribbles, I'll block his shot," Tatum told Bensinger. "Sometimes we get into it because he don't like to listen. I tell him, 'Your dad is one of the best basketball players in the world,' and he thinks he's got it all figured out. I guess that's part of parenting.
"It's fun. He's getting to that age where, voluntarily, he wants to come out here (and play basketball). Everybody is always asking me if he's going to play basketball. I ain't going to force it on him because I play basketball, but naturally with him being at all the games, he tells me he wants to come play. That's like music to my ears.
"I joke with him all the time and tell him I was better than him at 4."
Bengisnger asked Tatum if he actually was better than Deuce at that age.
"I think so," Tatum said.
Tatum is starting him early with with some trash-talking.
"As soon as I boo him or I'm like, 'Hey, you're a bum,' he gets mad," he said. "As soon as I start talking trash to him, then he'll make five in a row."
Have thoughts on this topic? Keep the conversation rolling in our comments section below.