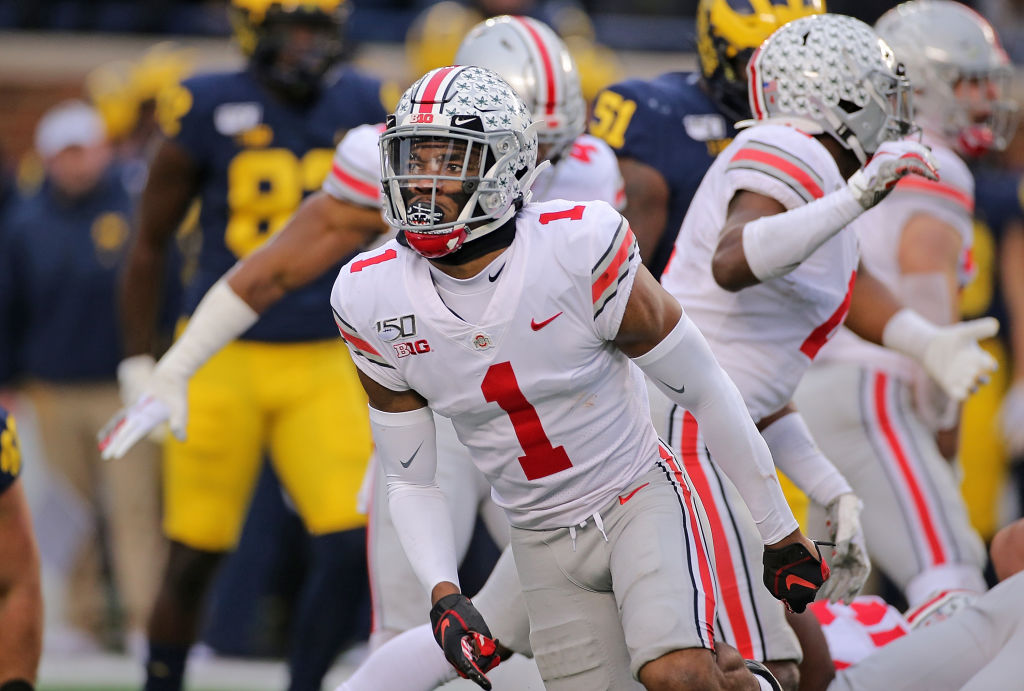 Jeff Okudah Broke the News of Declaring for the NFL Draft in Heartbreaking Letter to His Late Mom
Detroit Lions top pick Jeff Okudah broke the news about declaring for the NFL draft in a heartbreaking letter to his late mother.
Jeff Okudah made an impact from Day 1 when he was at Ohio State University. After being a USA Today High School All-American, Okudah, a 6-foot-1, 200-pound cornerback, started for the Buckeyes as a true freshman and set the tone for his three-year career at Ohio State. Speculation grew after his junior year that he might declare for the NFL draft. He didn't tell anyone about the move until he let his late mother know in a heartbreaking letter. He was selected third overall by the Detroit Lions on Thursday.
The Detroit Lions select Okudah third in the 2020 NFL draft
The pick may have stunned some, but the Detroit Lions clearly got the best defensive back in the 2020 NFL draft. The selection of Jeff Okudah came after Joe Burrow and Chase Young, the two players expected to go first and second, were drafted. There was a lot of speculation as to which player would be taken third and the Lions quickly ended that by selecting the Ohio State product.
ESPN draft analyst Mel Kiper had Okudah easily rated as the top corner in the league. "I want a lockdown corner," Kiper said on the most recent episode of the "First Draft" podcast with co-host Todd McShay. "The cornerback position is deep on paper, but there really only is one great corner in this draft. That is Jeff Okudah. Everybody else is questionable. I'm taking the guy who can do it all, hoping he's Stephon Gilmore, Tre'davious White, Patrick Peterson."
The selection of Okudah resulted in many positive draft grades. Vinnie Iyer of The Sporting News gave the Lions an 'A' grade. "Okudah is a technically sound ball hawk at 6-1, 205 pounds, allowing him to cover all receiving body types," Iyer wrote. "He is fluid and quick enough with great recovery skills and is strong enough in press man coverage to develop into a shutdown cornerback."
Okudah didn't declare until he wrote a letter to his late mother
On Jan. 1, 2020, in an article in The Players' Tribune, Jeff Okudah penned a heartbreaking letter to his late mother Marie who died of lymphoma in 2017. It was in this letter that Okudah said he was foregoing his senior year at Ohio State to enter the 2020 draft. His mother passed away days after Okudah left for Ohio State.
Okudah spoke of how coach Greg Schiano broke the news of his mother's passing and acted as a father figure to him. He spoke of how he always feels that his mother is still with him. Okudah said he knows teams will be asking him about his upbringing and he will simply tell the truth. He'll say he was raised by the best.
He ended his letter by saying it was time to take that next step in life. "Looking back, when you left….. I was just a kid," he wrote. "And now I'm ready to be a man. Now I'm ready for greatness. I'm ready to be my mother's son."
Jeff Okudah speaks of his mother after the Lions select him
Jeff Okudah was ecstatic after his name was called with the third pick in the 2020 NFL draft. He was set to become a man and embark on his professional career. Of course, he was also asked about his late mother Marie.
"She would've been in tears," Okudah said Thursday night. "Honestly, she didn't really understand football like that just being born in Nigeria, but she knew what made me happy. So I think just her seeing me smile, me being really excited, I think that it would just bring her to tears."
Okudah then said he would spend the rest of Thursday night having a long talk with his mom. "She saw all the hard work," he said. "It was a moment that I really envisioned us embracing each other in. I'm looking forward to getting to be by myself tonight and just have a talk with her, a long talk with her."