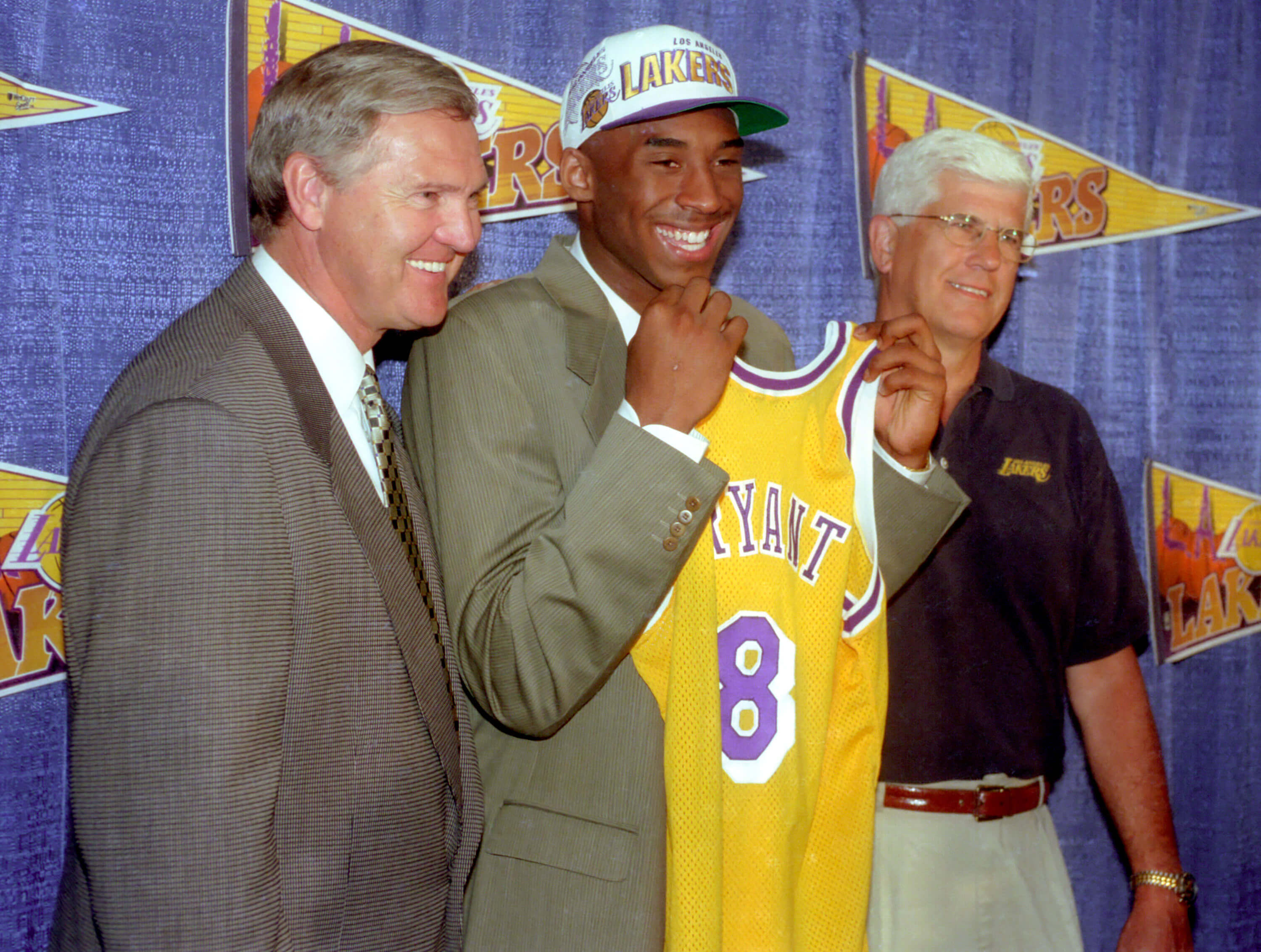 Jerry West Admits Kobe Bryant Wanted to Follow Him to the Memphis Grizzlies but Was Quickly Pushed Away
Kobe Bryant playing for the Memphis Grizzlies? According to Jerry West, Bryant wanted it to happen.
Over the years, Former Los Angeles Lakers star and general manager Jerry West developed a bond with Lakers legend Kobe Bryant that went well beyond the basketball court. West recently reflected on Bryant, who died tragically in a helicopter crash in January 2020. He revealed that Bryant told him he wanted to play for the Memphis Grizzlies after West took over as the team's GM. West quickly shut that down.
Jerry West brought Kobe Bryant to LA in one of the NBA's most lopsided trades
Jerry West clearly shined as both an NBA player and executive. As one of the league's premier guards, West was an All-Star in each of his 14 years in the NBA. He was All-NBA 12 times and won a championship in 1972. West is a member of the NBA's 75th Anniversary Team and was inducted into the Naismith Memorial Basketball Hall of Fame in 1980.
As GM of the Lakers, he won six championships and was responsible for bringing Bryant to LA after the Charlotte Hornets selected the young star with the 13th pick in the 1996 NBA Draft. West sent starting center Vlade Divac to the Hornets in exchange for Kobe Bryant.
The rest is history.
"(Vlade Divac) was a very good center and someone you want to play with," West said recently on Podcast P With Paul George. "Everyone thought there was something wrong with him."
Bryant went on to play 20 years in the NBA, 18 of them as an All-Star. He won five championships with the Lakers. He was a two-time scoring champion. Bryant averaged 35.4 points in the 2005-06 season and was named MVP of the league in 2008.
Bryant was inducted into the Hall of Fame in 2020.
West reveals Bryant wanted to join him with the Grizzlies
West retired from the Lakers as GM after the 1999-2000 season. He had the urge to return to the NBA a couple of years later and joined the Memphis Grizzlies as their general manager in 2002.
"I decided to end my retirement and join the Grizzlies for three reasons," said West in 2002, per NBA.com. "One, this opportunity gives me a challenge to do something unique. After being a part of the Lakers success for so many years, I have always wondered how it would be to build a winning franchise that has not experienced much success. I want to help make a difference.
"Two, who you work for makes a huge difference in enjoying your job, and I have been so impressed with Mike (Heisley). He wants to win so much and is committed to creating a winner for Memphis. And three, retirement is not what I thought it would be."
Recently, West revealed that Bryant wanted to join West in Memphis.
"I think the thing that made me feel like there was a real trust here with him when I was working in Memphis," West said on George's podcast. "I'd get calls, 'What am I going to do? What am I going to do?' I guess in some sense that might have been tampering. I didn't look at it as tampering because he was at my house all the time. He ate at my house all the time. I felt more like a father figure with him.
"He became a free agent, and he called me. His agent then was Rob Pelinka. I met them in Orange County in a hotel room. He said he wanted to come to Memphis and play."
West quickly shut it down.
"I said, 'Are you kidding me?' and he said no," West said. "I said, 'Kobe, no. You belong somewhere out here.' Just wanted to reassure him that don't feel like you have any obligation with me or the Grizzlies to play here. He never would've played there. It wasn't going to happen."