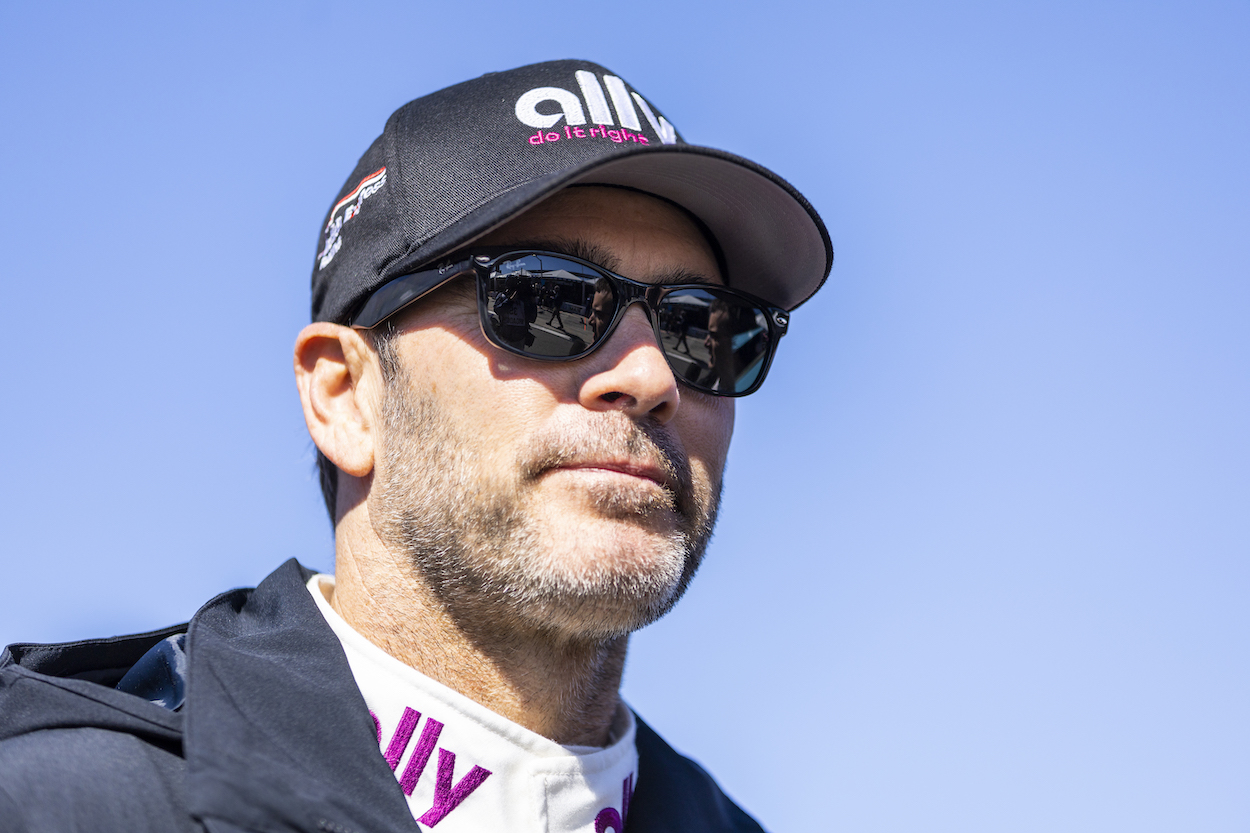 Jimmie Johnson Candidly Expresses Interest in Future Return to NASCAR: 'I'd Love to Go Back'
Jimmie Johnson is one of the greatest drivers in Cup Series history, and when asked, didn't sugarcoat his interest in returning to NASCAR in the future.
Jimmie Johnson is undeniably one of the greatest drivers in NASCAR Cup Series history with 83 wins and seven titles to his credit. He walked away from the racing style that brought him fame and fortune after the 2020 season to pursue racing with the IndyCar Series on a part-time basis. 
This year, he's racing IndyCar full-time, including his first Indianapolis 500, and will also be running in several sports car races. When recently asked about a potential return to NASCAR, the 46-year-old candidly admitted that he'd love to do it.
Jimmie Johnson moves to IndyCar in 2021
Amassing all those wins and championships, Jimmie Johnson had effectively achieved it all in NASCAR. But being the competitor that he is, he wanted to challenge himself and try something different.
Last year, he did just that, joining Chip Ganassi Racing in the IndyCar Series on a part-time basis, competing on road and street courses. Unsurprisingly, Johnson had his share of struggles in the new discipline.
In 12 races, Johnson managed five top-20 finishes, including the season opener in Alabama. However, his performance steadily improved, as evidenced by his results in the season's final four races when he finished in the top 20 each time, including a tie for his season-best finish of 17th in the final two races at Laguna Seca and Long Beach. 
Johnson told The Athletic's Jeff Gluck that he would give himself a C for his 2021 performance. 
Jimmie Johnson talks about return to NASCAR
In that same interview, Johnson discussed a variety of subjects, including his race at The 24 Hours of Daytona and other potential races he might pursue in 2022. 
Johnson said that he had received offers from NASCAR, SRX, and off-road. When Gluck asked if the driver had moved beyond his NASCAR racing days, he didn't sugarcoat his answer. 
"No, I'm open to it. I'd love to go back. But with this full-time IndyCar, full-time endurance sports car schedule, I just don't see how," Johnson admitted. He also acknowledged that he missed NASCAR and its fans the most. 
Expressed similar sentiment in 2021
While Johnson is obviously still interested in racing with NASCAR, even for just a one-off, it sounds like his schedule genuinely won't allow it. His fans, who would love to see him back in the series he once dominated, shouldn't read any more into his comments and expect him to surprisingly show up and race this season. 
He set the precedent last year when his schedule wasn't nearly as full. 
"I feel like I'm very near the cap of races that I would want to run in a year," Johnson told Fox's Bob Pockrass. "17 to 20 is that number that I've been aiming for. If a great opportunity came along, I'd definitely look hard at it and probably do it." 
It never happened. And chances are it won't happen in 2022 either. 
Like Sportscasting on Facebook. Follow us on Twitter @sportscasting19.