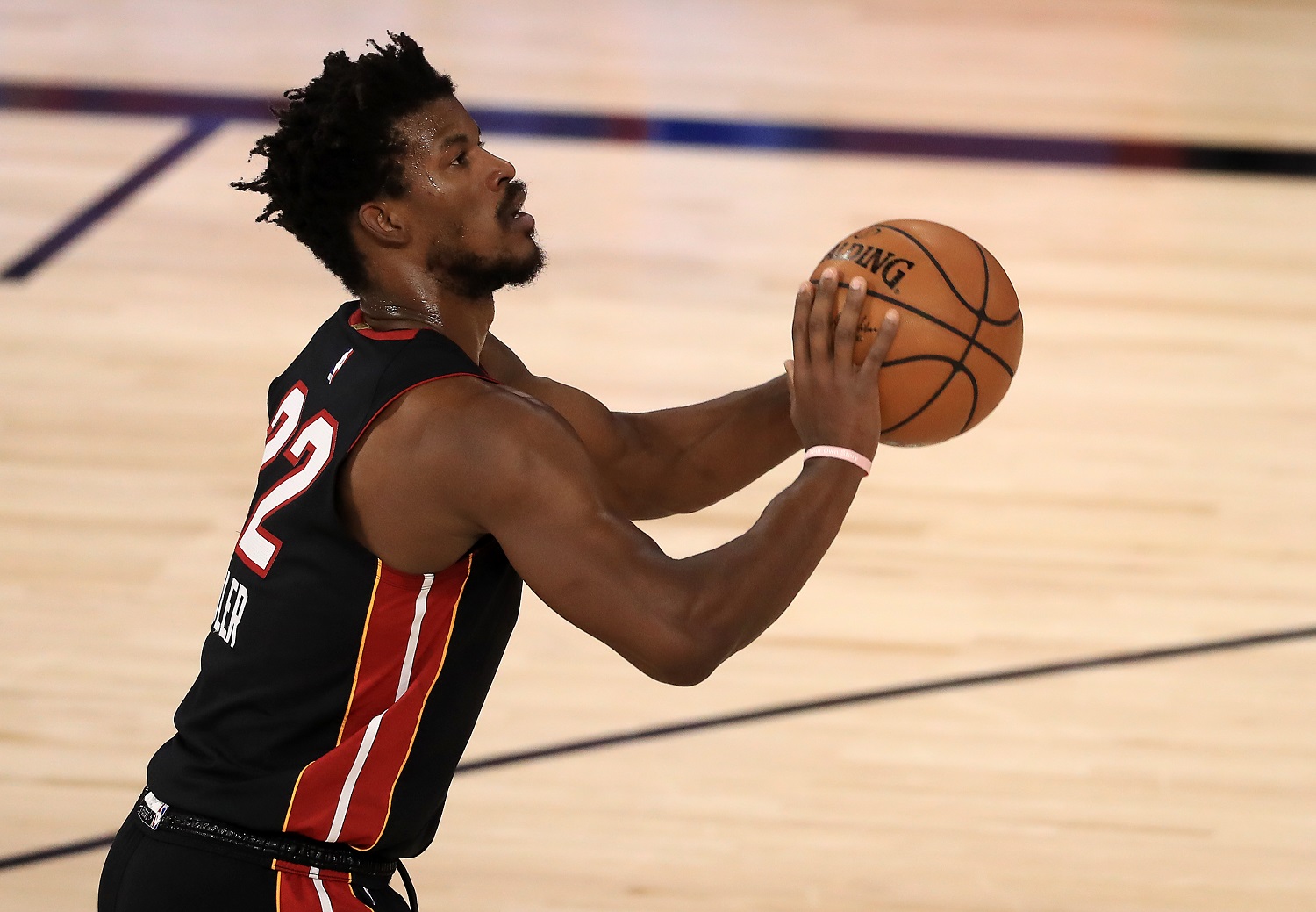 Jimmy Butler Made a Statement That Should Terrify the Rest of the NBA
Miami Heat All-Star Jimmy Butler has sent a bold message to the remaining teams in the NBA playoffs in the Orlando bubble.
Jimmy Butler has a message for the remaining teams in the NBA playoffs: he's in the Orlando bubble for business and business only.
Despite dealing with some nagging injuries in his first postseason with the Miami Heat, the five-time NBA All-Star has been fantastic and he certainly looked plenty healthy while dropping 40 points on the Milwaukee Bucks in Game 1 of the Eastern Conference semifinals. While some of his teammates have welcomed in family members to the bubble, Butler isn't having any of it as he wants his only focus to be on bringing a fourth NBA championship to Miami, a message he relayed while he was scoring a playoff career-high.
Despite some injuries, Jimmy Butler has been fantastic for the Miami Heat
Jimmy Butler has certainly had an interesting time in the NBA bubble in Orlando, hasn't he? He played in just four of the Miami Heat's eight seeding games and at one point was thought to have been the first player in the bubble to have COVID-19, which obviously turned out not to be true. He's been making extra cash on the side after legitimately setting up a little coffee shop out of his hotel room and charging his fellow players and coaches $20 per cup, justifying by saying that everyone in the bubble can afford it. Oh yeah, he's also playing phenomenal basketball despite dealing with some injuries.
A foot injury kept Jimmy Butler from playing in a few of the seeding games but when he did suit up, he played well, especially when he needed to. Then, in what was supposed to be a very competitive first-round playoff series against rival T.J. Warren and the Indiana Pacers, a healthy Butler averaged 24.3 points over the first three games, all of which were Miami Heat victories. He went down with a shoulder sprain in Game 4, playing just 23 minutes and scoring just six points, but his teammates picked him up to complete the sweep.
Proving that the shoulder wasn't an issue, Butler then went out and dropped that playoff career-high 40 points against Milwaukee on Monday night, shooting 13-for-20 from the floor and 12-for-13 from the foul line. While he's certainly had help from the likes of Goran Dragic and Tyler Herro, Butler has been Miami's best player in the postseason and is as intense as ever as he tries to lead the Heat past the NBA's best team. He truly believes Miami can win a title and he's certainly got his A-game right now.
The players can now have some family inside the bubble
A couple of weeks back, the NBA announced that once the first round of the postseason was completed, players could bring in a few family members and/or friends to the bubble. The first round obviously hasn't been completed yet due to the playoffs being delayed for a few days following the mini-strike but those family members and friends have started to arrive in Orlando to quarantine, which made for some great reunions.
Most of the members of the Miami Heat now have some visitors but Jimmy Butler is not one of those people and he's got a great reason why.
Jimmy Butler doesn't want his family around as the bubble is a 'business trip'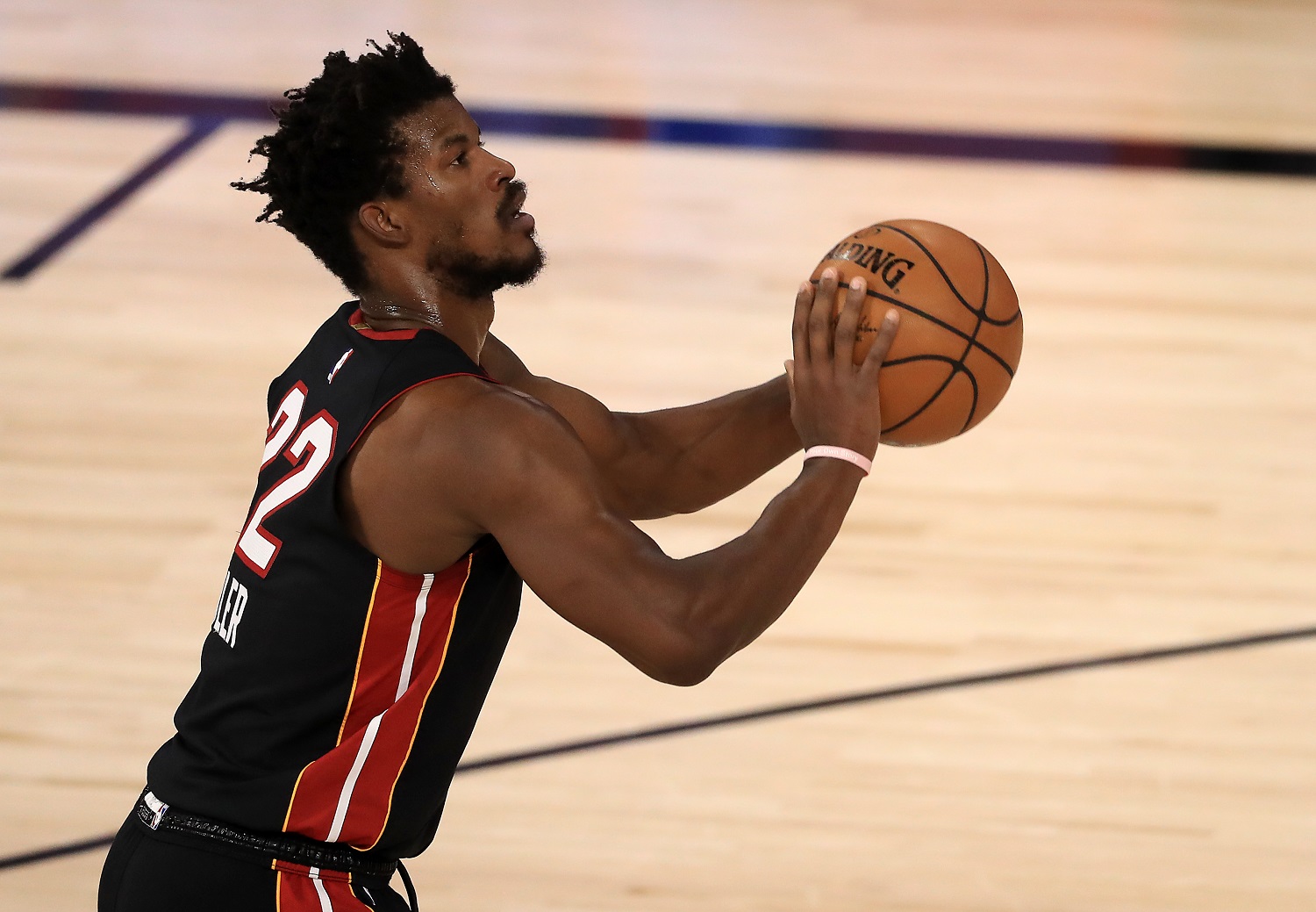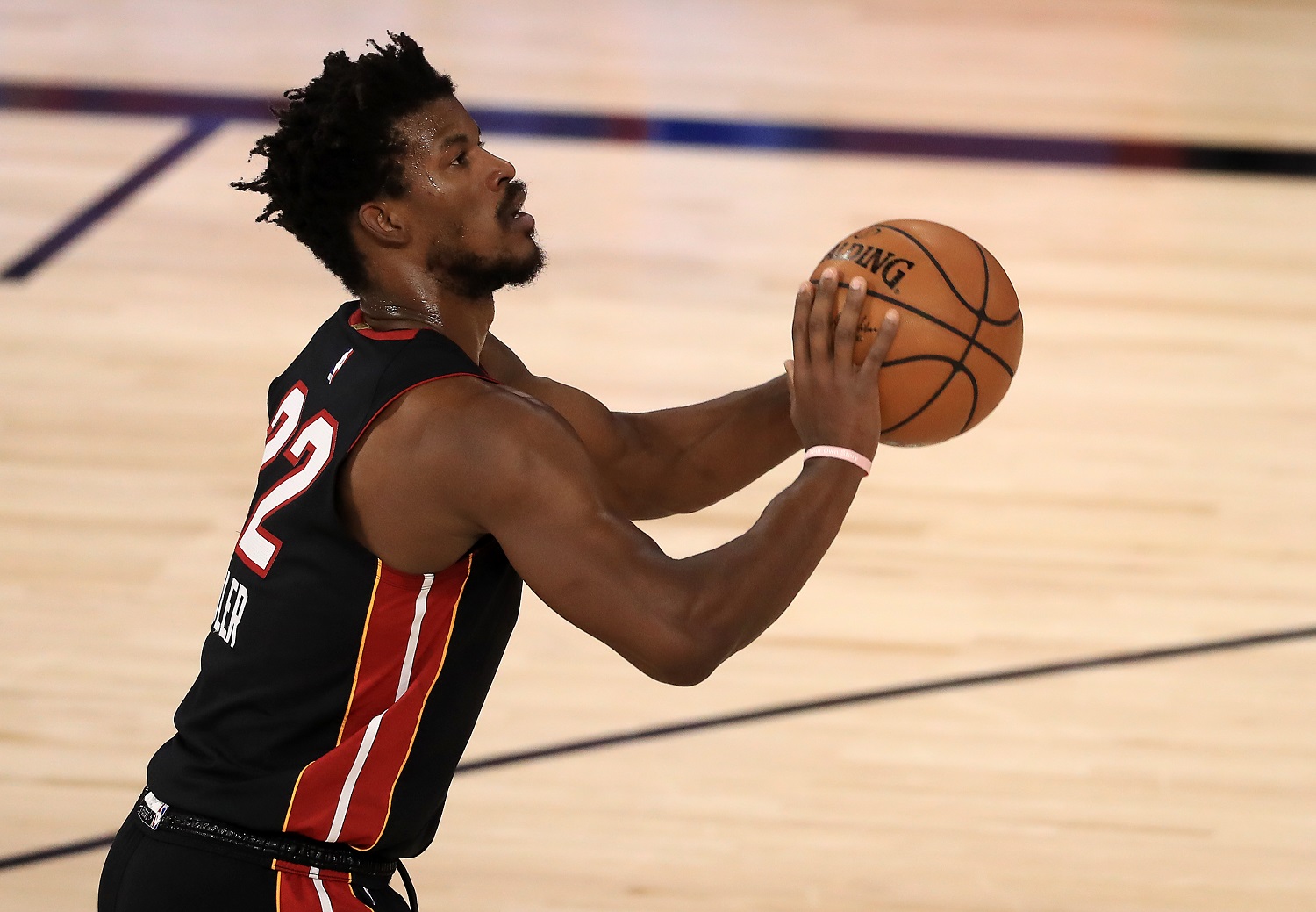 During Game 1 against the Bucks, you know, that game in which Jimmy Butler scored 40 points, the NBA on TNT's Rebecca Haarlow was commenting on some of the touching family reunions that were happening around the league but then went right into Butler's thoughts on the matter. Take a look.
If you didn't take the time to watch the video, this is the message he relayed.
"This is a business trip for me. I'm not messing around. Everyone wants to have their family, without a doubt. But we've been doing this for this long, what's another couple of months? It is an individual decision and I respect that decision that my teammates make but I'm here for business."

Jimmy Butler
For those unaware, Jimmy Butler's girlfriend gave birth to their first daughter last October and he clearly doesn't want them anywhere near his coffee shop/hotel room right now. He is focused solely on basketball and if he keeps playing the way he did on Monday night, the Milwaukee Bucks and the rest of the NBA could be in big trouble.
All stats courtesy of Basketball Reference