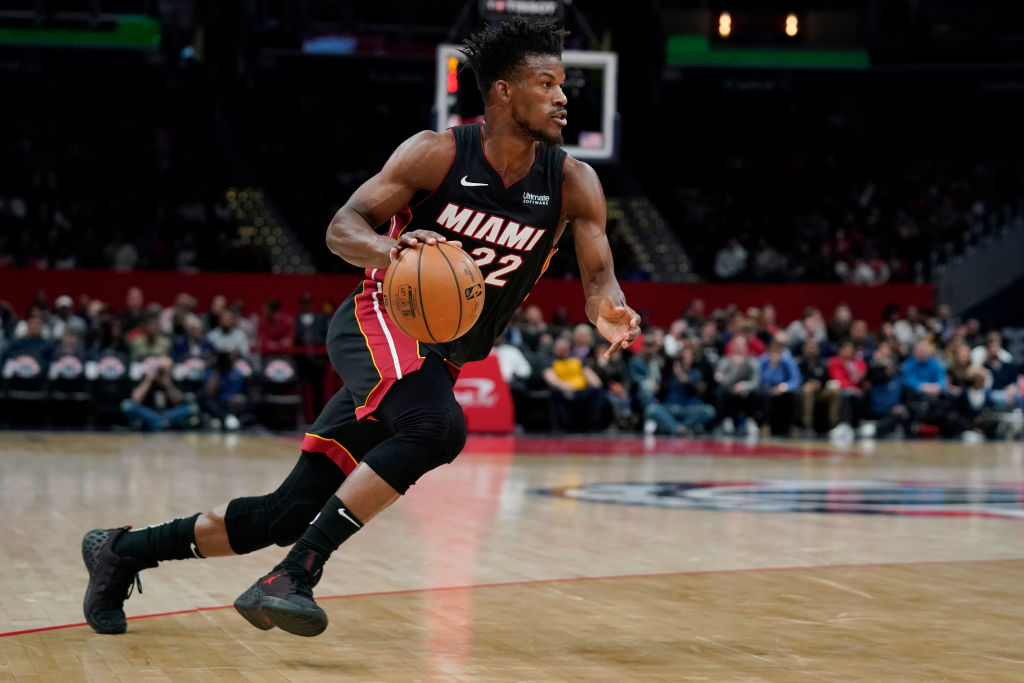 Jimmy Butler Hates Dwelling About His Past and People Feeling Sorry for Him
Miami Heat forward Jimmy Butler might have taken a tough road to the top, but don't feel sorry for him. He's a great basketball player, not a charity case.
There's nothing that sports fans love more than a good inspirational story. During March Madness, for example, everyone loves rooting for a mid-major school to pull off an emotional upset; in baseball, part of Babe Ruth's mystique is his rise from St. Mary's Industrial School to the top of the world. Few triumphs, however, can compare to Jimmy Butler's life.
The Miami Heat guard, however, doesn't like to dwell on the past. And, whatever you do, don't feel sorry for him.
Jimmy Butler's tough childhood
For most NBA players, childhood is filled with basketball and dreams of making the pros. Jimmy Butler, however, had more important things to worry about.
Butler's father left the family shortly after Jimmy was born. He then grew up with his mother outside of Houston, Texas, but, at age 13, things would get even worse. As detailed by ESPN's Chad Ford, Butler's mother kicked her son out of the house, simply saying, "I don't like the look of you. You gotta go."
Without a place to live, the teenager started relying on his friends; he would stay with them as long as he could before moving on to a new house. Eventually, he struck up a friendship with Jordan Leslie. That relationship would change the course of Butler's life.
Although Leslie's parents had seven children, they allowed Jimmy to spend a few nights as Jordan's guest. When that time was up, one of the other kids would ask if he could stay longer, this time as their guest. After repeating that cycle, Michelle Lambert and her husband relented; Butler could live with them for as long as he wanted.
That invitation, however, came with conditions. They expected Butler to do chores, improve his grades, and act as a role model for the other kids. He agreed and, in the process, changed his life forever.
Facing more challenges on the basketball court
During his teenage years, Jimmy Butler found solace in basketball. After joining his new family, however, he took his game to the next level.
Butler was his team's captain and star player as a high school senior, but no major colleges came calling. Without many options, he headed to Tyler Junior College; before long, he was leading the team in scoring. By the spring, he had offers to join several D-1 schools. Following Lambert's advice, he headed to Wisconsin and joined the Golden Eagles.
Division 1 college basketball, however, brought a new challenge. Butler couldn't just waltz into the starting lineup; he came off the bench as a sophomore, only averaging 5.6 points per game. Butler got his chance as a junior, however, and seized the opportunity. While he was able to score with ease, he emerged as a versatile player who could do anything the team needed. By the time he graduated, Butler was averaging 15.7 points, 6.1 rebounds, 2.3 assists, and 1.4 steals per game.
When the 2011 NBA draft rolled around, the Chicago Bulls selected Butler with the final pick of the first round. While he had made it to the pros, he'd have to prove himself all over again.
Focus on Jimmy Butler's game, but his past
During his first season in the NBA, Jimmy Butler only played eight and a half minutes per game; he scored a little over two points per night. With each passing year, however, he improved. In 2014-15 he made the All-Star team and was the league's Most Improved Player. The small forward now averages more than 20 points, six rebounds, and six assists per night as a key member of the resurgent Miami Heat.
That's exactly how Jimmy Butler wants to be known. While his road to the NBA was less than ideal, it doesn't define him; he's someone who worked his way top, not a charity case who was gifted a chance.
"I don't ever want that to define me," Butler told Bryan Smith of Chicago Magazine in a 2015 feature. "I hated it whenever it came up because that's all anybody ever wanted to talk about. Like, that hasn't gotten me to where I am today. I'm a great basketball player because of my work. I'm a good basketball player because of the people I have around me. And if I continue to be stuck in the past, then I won't get any better. I won't change, I'll get stuck as that kid. That's not who I am. I'm so far ahead of that. I don't hold grudges. I still talk to my family. My mom. My father. We love each other. That's never going to change."