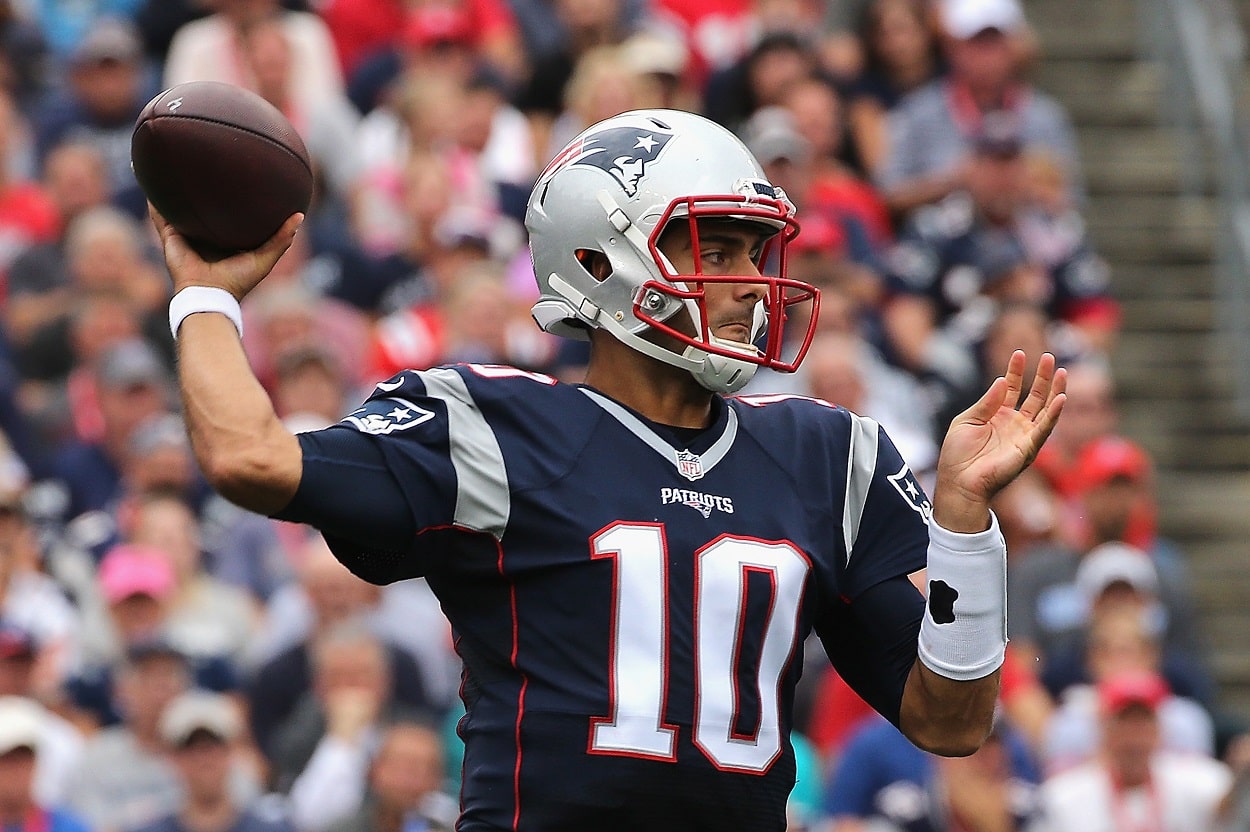 Jimmy Garoppolo Gets Torched by Former Patriots Teammates Martellus Bennett and Julian Edelman: 'You Can't Win With a B**** for a Quarterback'
Martellus Bennett and Julian Edelman slammed former Patriots teammate Jimmy Garoppolo.
Jimmy Garoppolo has missed more than a few games for the San Francisco 49ers since arriving in the Bay Area five years ago. And he's certainly taken some heat for that, especially given the amount of money he's made and is still making.
But his tenure with the Niners and his astronomical salary aren't what we're discussing here today. However, we will stay on the topic of injuries as one that occurred during his short-lived run as the starter with the New England Patriots, which was recently discussed by a couple of his teammates. Despite those rugged good looks, Jimmy G doesn't come out looking great here.
Jimmy Garoppolo played well when he stepped in for Tom Brady to start the 2016 season for the New England Patriots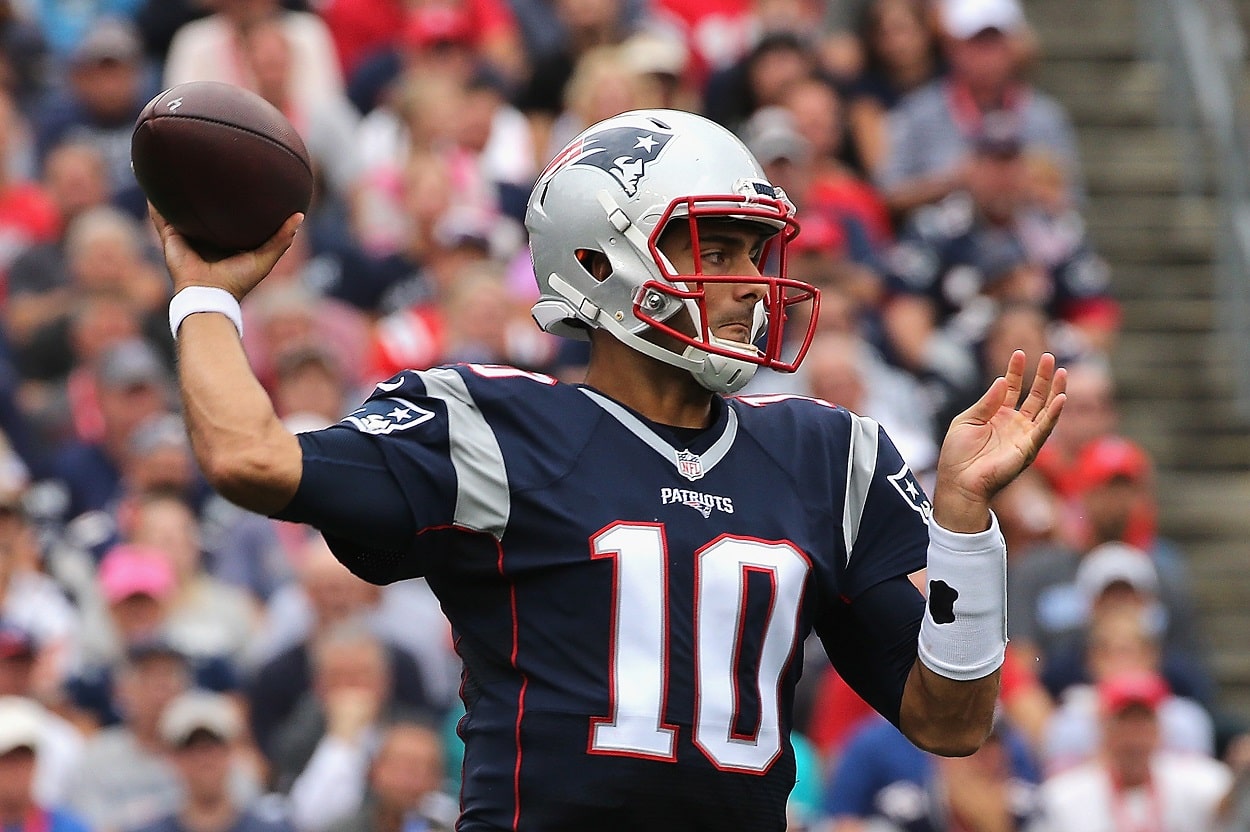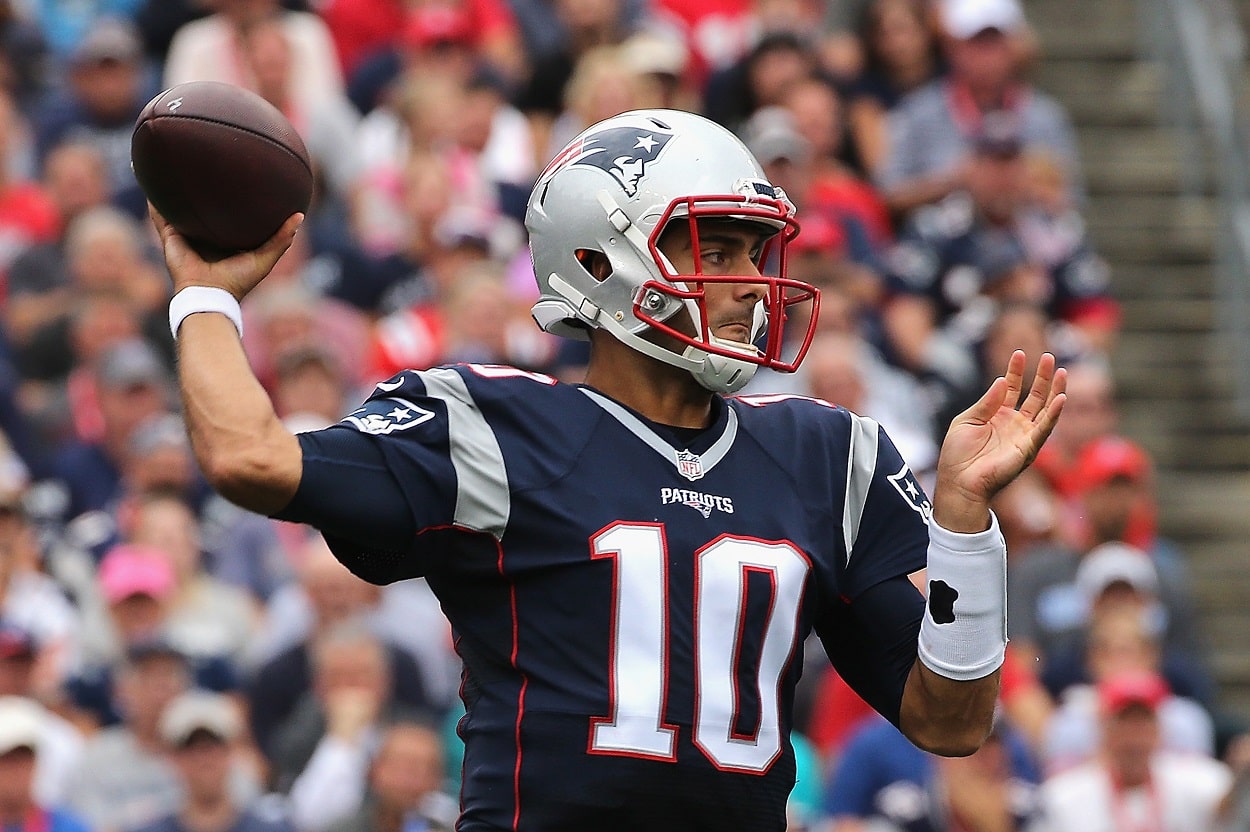 With Tom Brady suspended for the first four games of the 2016 season due to the Deflategate scandal, Garoppolo stepped in for Bill Belichick as QB1. As it was rare for TB12 to get hurt, Jimmy G hadn't gotten much playing time since being taken in the second round (62nd overall) of the 2014 NFL Draft.
But this was his chance to prove why Belichick made him the highest-drafted Patriots quarterback since Drew Bledsoe in 1993 and the heir apparent to Brady. And things got off to a nice start as Garoppolo completed 24 of 33 passes for 264 yards and a touchdown with no interceptions in a Week 1 win over the Arizona Cardinals.
The following week in the Patriots' home opener against the Miami Dolphins, the Eastern Illinois product again played well, completing 18 of 26 passes for 232 yards with three touchdowns and no picks. But Garoppolo also injured his shoulder in the seven-point win.
Then-rookie Jacoby Brissett finished off the Week 2 win and was also named the starter for New England's Week 3 matchup with the Houston Texans. Brissett didn't throw the ball particularly well, completing 11 of 19 passes for 103 yards, but did rush for 48 yards on eight carries with a touchdown as the Pats rolled, 27-0. LeGarrette Blount was the real star that day, rushing for 105 yards and two scores.
Perhaps Brissett didn't throw the ball well because he'd torn ligaments in his thumb, which is obviously not ideal for a quarterback. But it didn't seem to matter, as Garoppolo was set to return in Week 4 against the Buffalo Bills anyway. Except that he didn't.
Martellus Bennett slammed Garoppolo for how he handled his injury leading into Week 4
At the last minute, it was determined that Jimmy G wouldn't get the start, forcing Brissett to play with the injured thumb. And things didn't go well as the Pats were shut out by their AFC East rivals, 16-0. Despite the injury, Brissett's completion percentage was actually higher than the previous week as he completed 17 of 27 passes for 205 yards in an admirable effort.
It was one of just two losses on the year for the Patriots. Brady returned in Week 5, and New England won 11 of 12 to close out the regular season on the way to winning Super Bowl 51. And some still haven't forgiven Garoppolo for sitting out that loss to Buffalo.
In an appearance on the Double Coverage podcast with Devin and Jason McCourty, former Patriots tight end Martellus Bennett, who joined New England ahead of the 2016 season, had this to say about Jimmy G:
"Bro, we lost two games. One of them was because Jimmy Garoppolo was being a b*****. He decided not to play right before the game. Jacoby (Brissett) came out and played with a f***ed up thumb and played his heart out, but Jimmy was just being a b**** about it all.

"You can't win with a b**** for a quarterback."

Martellus Bennett on Jimmy Garoppolo
Bennett continued by saying Jimmy G or his agent should have made the decision not to play much earlier than he did.
Julian Edelman wasn't happy with Jimmy G either
But Bennett isn't the only one still upset about it. Using much more family-friendly language when discussing the situation, Julian Edelman, who became the emergency backup quarterback when Garoppolo decided to sit out, had this to say on the I Am Athlete podcast:
"So we go into Week 4 and Jimmy was practicing and then decided not to play. Jacoby played with no ligaments in his thumb, which you can't do that as a quarterback.

"A lot of guys got mad at it. I'm not going to lie, I got mad about it. I sacrificed my body all day long. I was taking shots for this, numbing up that, ribs, broken ribs, shoulders, Grade 3 hanging on by limbs just to play. I can understand why Marty (Bennett) thinks like that."

Julian Edelman on Jimmy Garoppolo
Garoppolo was traded to San Francisco midway through the 2017 season. And he's been a winner when he stays healthy, recording a 31-14 regular-season record as a starter with the Niners. He's also won four of six playoff appearances and led San Francisco to Super Bowl 54, where they lost to Patrick Mahomes and the Kansas City Chiefs.
Stats courtesy of Pro Football Reference
Like Sportscasting on Facebook. Follow us on Twitter @sportscasting19 and subscribe to our YouTube channel.