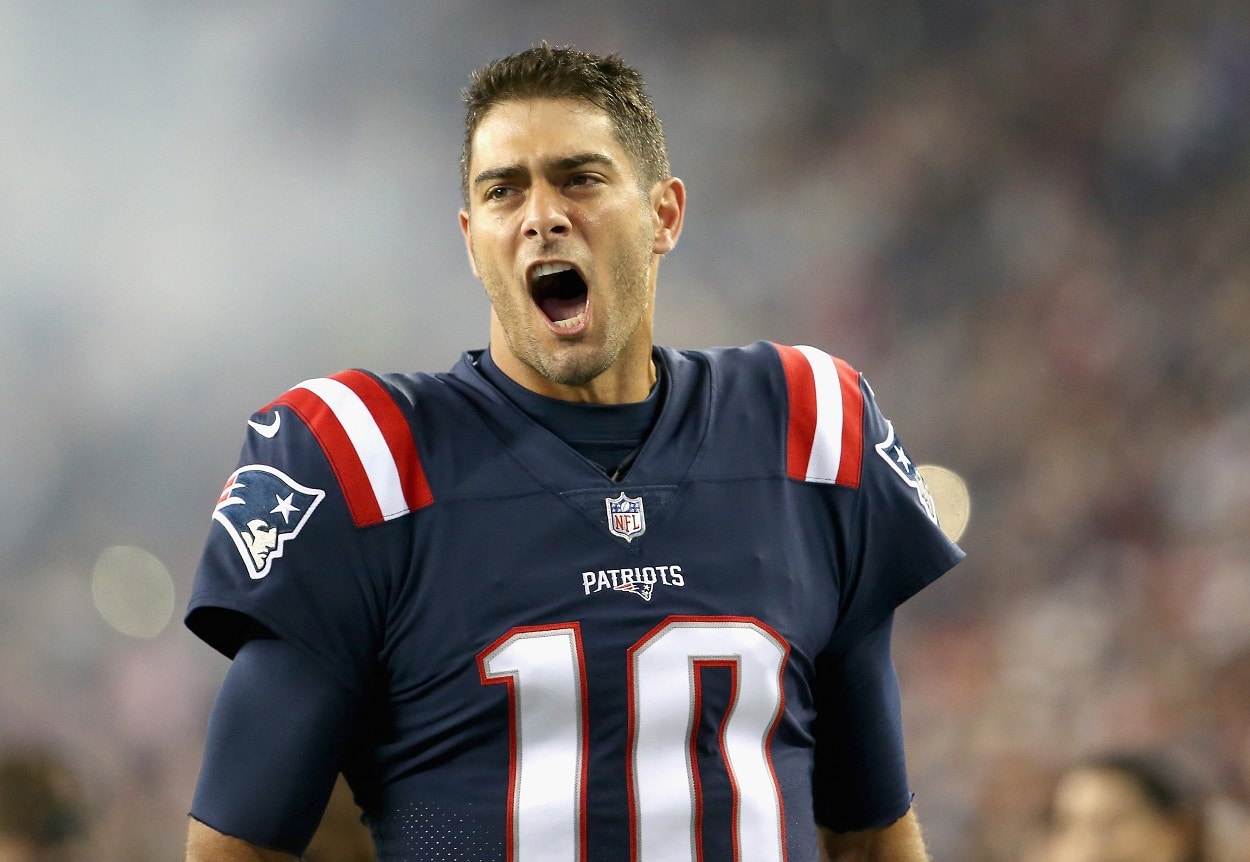 Jimmy Garoppolo Headlines the 5 Worst Trades in New England Patriots History
A look at the five worst trades in New England Patriots history.
Ideally, a trade works out for all parties. In many instances, though, one team emerges as the clear-cut winner in a deal involving an NFL player. And while the New England Patriots wouldn't have won six Super Bowl titles without some savvy personnel moves and draft-day swaps, it's also fair to criticize Bill Belichick for his failures as a general manager. 
When looking back at the long list of transactions made by the Patriots over the years, it's easy to identify some huge hits. After all, recognizable names like Corey Dillon, Randy Moss, Wes Welker, and Aqib Talib all arrived via trade. However, on the opposite end of the spectrum, these five deals stand out as the worst in team history.
5. The failed Duane Starks experiment
When Belichick took over as head coach in 2000, he inherited a Patriots roster that included several established stars. Chief among them was Ty Law—an uber-talented, confident cornerback who earned three consecutive Pro Bowl selections from 2001-03. But with the future Pro Football Hall of Famer set to make nearly $13 million in 2005, Belichick parted ways with his best defensive player. 
So, how did he replace Law? While 2003 fourth-round pick Asante Samuel ultimately developed into an adept playmaker, Belichick made a big mistake by betting on a bounceback campaign from former Baltimore Ravens standout Duane Starks.
New England sent a third-round pick to the Arizona Cardinals for the 5-foot-10, 172-pound corner. Unfortunately for the then-three-time Super Bowl champions, they received a terrible return on their investment. 
Starks appeared in just seven games before a shoulder injury ended his dismal season. He never played another down for the team. Ultimately, New England surrendered a valuable draft pick for a player who recorded zero interceptions in six starts. Needless to say, trading for Starks and expecting him to provide anything close to Law's production was a massive miscalculation by Belichick.
4. The Patriots sent the Falcons a 2020 second-round pick for the slow-footed Mohamed Sanu
As soon as this trade was announced, it seemed like the Patriots would have a tough time getting a fair return on their investment. After all, sending a top-64 selection for a receiver who averaged 570 yards across his first seven NFL seasons didn't exactly look like a wise allocation of resources.
And while Mohamed Sanu's ankle injury certainly played a role in his disappointing production, the trade was doomed from the start. 
Desperate for help at wideout, Belichick somehow determined a slow-footed possession receiver was worth a second-round selection. While the Atlanta Falcons fetched a valuable asset for a player on the decline, the Patriots burned a Day 2 pick on someone who provided a mere 26 catches for 207 yards and one touchdown in eight games.
To make matters worse, Sanu hauled in only one of his five targets in New England's Wild Card Round loss to the Tennessee Titans—Tom Brady's last game as a Patriot.
3. New England badly botched the Stephon Gilmore situation
Talk about an abject failure on multiple levels by Belichick, the GM. Stephon Gilmore never hid the fact he wanted to get paid. And based on what he did during his first three years in New England, he had every right to demand a new deal. Yet even though it became clear the Patriots would have to do something to get their No. 1 corner on board, they did just about everything wrong in terms of asset management. 
Between the team moving on from TB12 and Gilmore's value skyrocketing after winning NFL Defensive Player of the Year honors, Belichick could have sold high and scored a first-round pick that could have been used on any number of positions. Yet he didn't do that.
And after passing on the opportunity to trade Gilmore during the offseason, he didn't move him at the 2020 trade deadline, either. In a cruel twist of fate, New England's best defender suffered a season-ending injury, and with the two sides clearly not on the same page, a long-awaited divorce finally came to fruition. 
But by failing to take action with Gilmore until the 2021 trade deadline, Belichick lost all leverage. Somehow, the Carolina Panthers landed a two-time first-team All-Pro at one of the most critical positions for a measly sixth-round pick — in 2023.
2. Moving up for Chad Jackson in the 2006 NFL Draft
The NFL draft is an inexact science. Teams have to determine the best fits for their system, which is quite tricky considering that most college players don't possess pro potential. And while the Patriots landed many vital contributors and franchise icons via the draft, they epically swung and missed on a prospect who they clearly believed had the upside to become their No. 1 receiver. 

Coming out of Florida, Chad Jackson checked all the boxes regarding physical tools. Yet despite concerns about his maturity, New England traded a considerable haul to secure his services. Belichick sent the 52nd and 75th overall picks to the Green Bay Packers to move up 16 spots and land Jackson. Stunningly, the gifted wideout caught fewer passes as a Patriot (13) than the position where he was drafted (36th). 
What makes this ill-fated trade sting even more? The Packers used the 52nd overall pick on Greg Jennings, who caught 571 passes for 8,291 yards and 64 touchdowns in 143 regular-season games. Plus, the two-time Pro Bowler caught 50 passes in 10 postseason appearances, including two touchdowns in Green Bay's 31-25 victory over the Pittsburgh Steelers in Super Bowl 45.
1. The Patriots gave away Jimmy Garoppolo for pennies on the dollar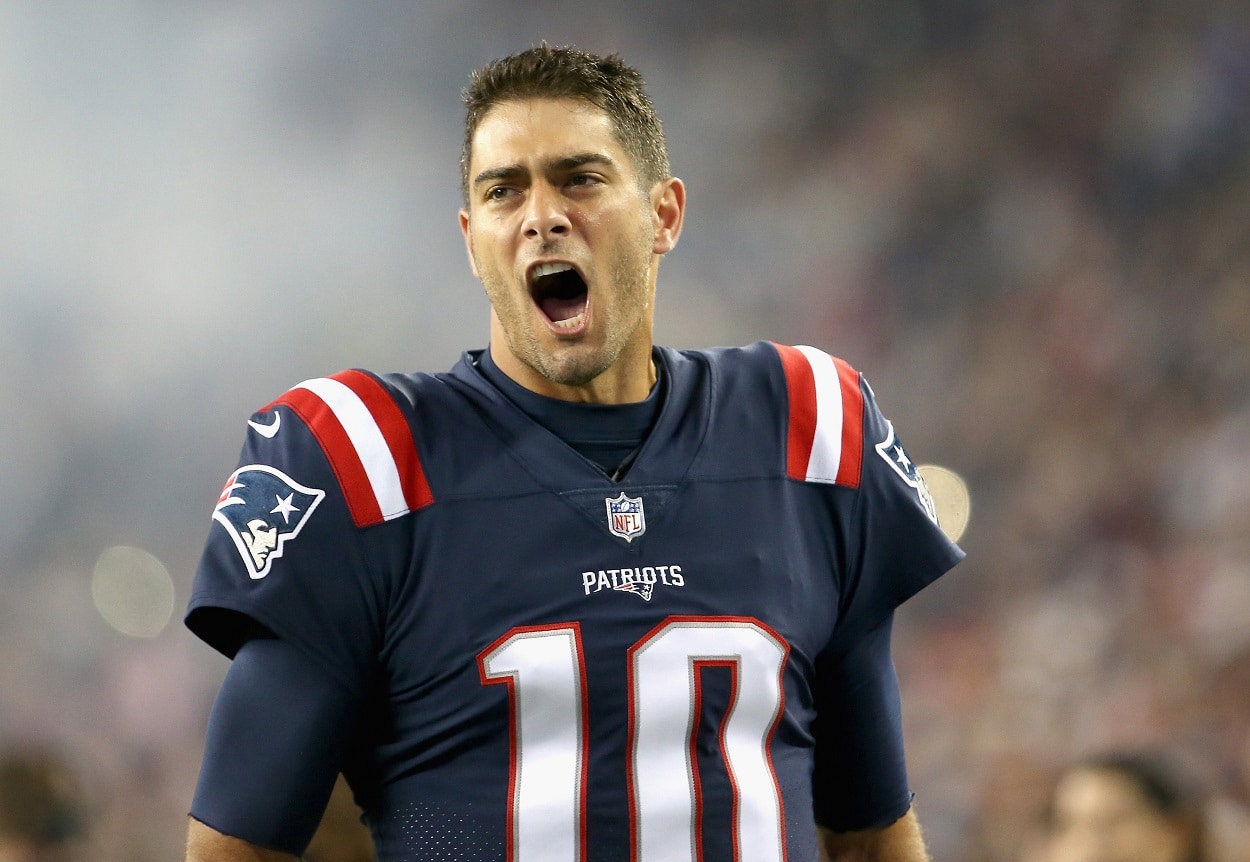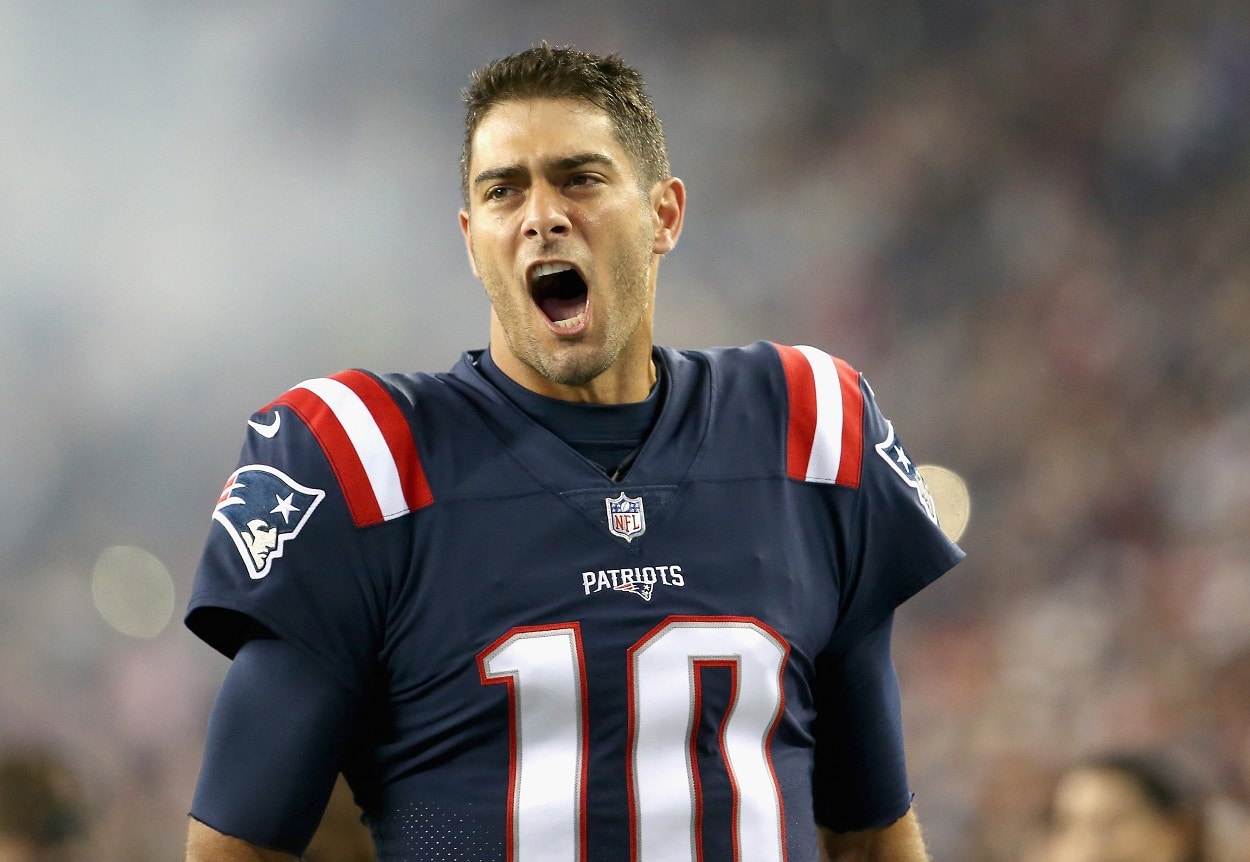 Remember when Adam Schefter said the Patriots wouldn't trade Jimmy Garoppolo for four first-round picks? While we now know Belichick's hand-picked successor to Tom Brady isn't worth anything close to that, there may not have been a more coveted commodity at the time than New England's promising backup.
Obviously, the relationship between Belichick, Brady, and Kraft reached an uncomfortable level, and the economics of the situation dictated that one of the quarterbacks had to go. 
Ultimately, the Patriots made the right call to stick with Brady. However, it's undeniable that Belichick sold incredibly low on arguably the most valuable asset in all of sports: a young, talented quarterback. Instead of fetching at least one first-round pick (and probably more), he essentially offered Jimmy G to the San Francisco 49ers for a mere second-rounder.
Considering the Patriots paid the same price for Mohamed Sanu, it's unforgivable to think they didn't get back a haul of picks that could have been used to re-tool the offense for Brady. Whether it be pride or a case of doing a favor for a player he liked, Bill Belichick made the worst trade in Patriots history by giving away Jimmy Garoppolo for pennies on the dollar.
Stats courtesy of Pro Football Reference
Like Sportscasting on Facebook. Follow us on Twitter @sportscasting19 and subscribe to our YouTube channel.