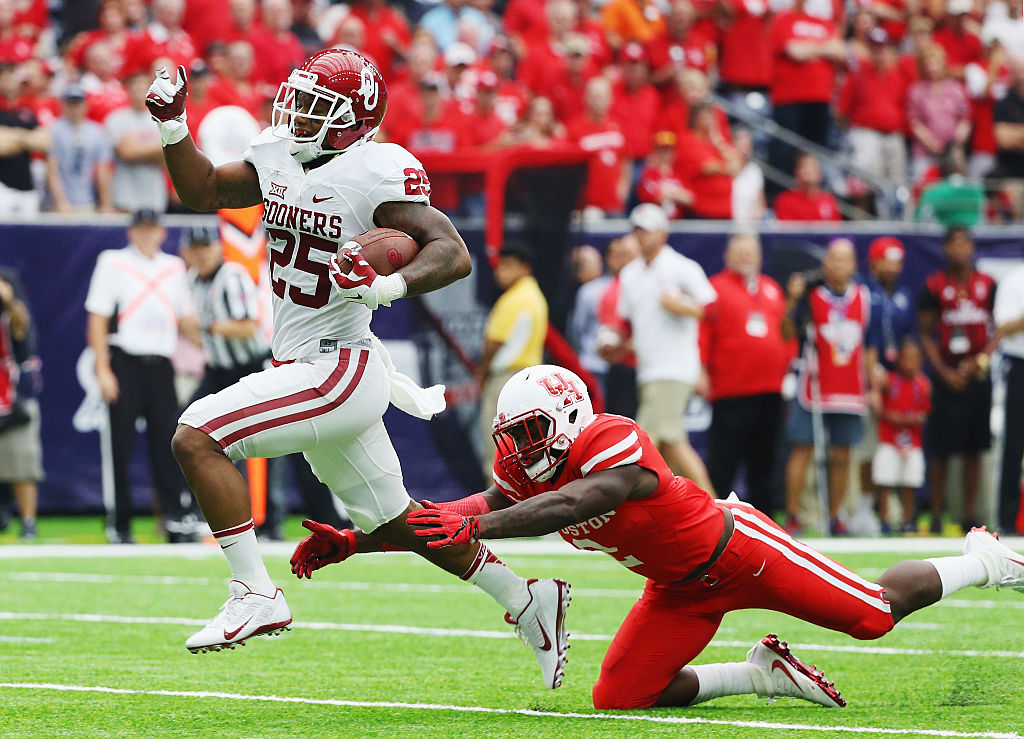 Joe Mixon Proof that One Dark Incident Can Lead to NFL Draft Plunge
Cincinnati Bengals running back Joe Mixon is proof that one dark incident can lead to NFL draft stock plunge.
In 2016, Oklahoma running back Joe Mixon, now with the Cincinnati Bengals, was considered one of the best running backs in college football. He was a dual-threat out of the backfield, rushing for better than 1,000 yards and 10 touchdowns while catching 37 passes and five TD receptions in 2016. Football-wise he was a top-10 player, but an off-the-field incident in 2014 haunted him and scared off many NFL teams when it came to the NFL draft.
Joe Mixon's college career
Mixon didn't start off on the right foot at the University of Oklahoma as he was suspended for the 2014 for a misdemeanor assault charge when he punched a woman in the face. At 6-foot-1, 220 pounds, Mixon was a big back blessed with speed. His talent was unlimited.
In 2015, Mixon averaged 6.7 yards per carry and racked up 753 rushing yards and seven touchdowns. He also caught 28 passes for 356 yards and four scores. The following season is when Mixon took off and caught the eyes of NFL scouts when he finished with 15 total touchdowns and 1,812 combined yards.
Mixon was a dream running back on the football field, but his off-the-field incident back in 2014 still haunted him. Scouts loved the talent, but were concerned about Joe Mixon the person. There was a report that only four teams were interested in selecting him on the draft.
Mixon's incident in 2014
Joe Mixon received a one-year deferred sentence and was ordered to go to counseling and perform community service for an assault that happened on July 25, 2014. Mixon was charged with punching a woman at a bar, breaking bones in her face. The woman had to undergo surgery.
The incident was caught on video and Mixon saw it and has owned up to it. Back in 2017, right before he was drafted, Mixon said it was his only off-the-field incident and he was extremely remorseful, saying it still haunts him to this day.
"I'm just gonna be totally honest with what happened," Mixon said in 2017. "I never told a lie about anything. At the end of the day, I'm gonna take full responsibility for my actions. I know it wasn't right. If I could take it back, I will. But at the same time, I can't go back. It's what you do from there and that mistake. And as long as you learn from your mistakes, they'll see improvement."
Mixon's not the only high-profile athlete to fall on draft day
Joe Mixon's incident was captured on video which is why his case received so much attention. Mixon, the fourth running back taken when he went late in the second round, isn't the only player to have his NFL draft position fall dramatically because of an off-the-field incident.
The year before Mixon was drafted, wide receiver Tyreek Hill was involved in a domestic case and saw him fall to the fifth round. Earlier in that draft, Laremy Tunsil, an offensive lineman from Ole Miss, who at one point was projected as the top overall selection, fell to No. 13 after his social media account was hacked. A video of him wearing a gas mask and smoking a bong was posted on his account, scaring off NFL teams.
After Mixon's incident, he even had the backing of his former high school coach, who said, although it was very disturbing, it was the only time he'd ever been in trouble. "He's not fake, he doesn't do PR. He's just himself," Kevin Hartwig, Mixon's high school coach, said. "He's genuine. He is not someone who's blowing smoke. Not to condone what happened, but a half-second decision — a reaction — has sort of defined him for the public. But that's not who he is."
Despite the seemingly genuine apology from Mixon and the backing of others, teams were scared off. Mixon learned his lesson and it's a lesson that will likely haunt future NFL draft picks.