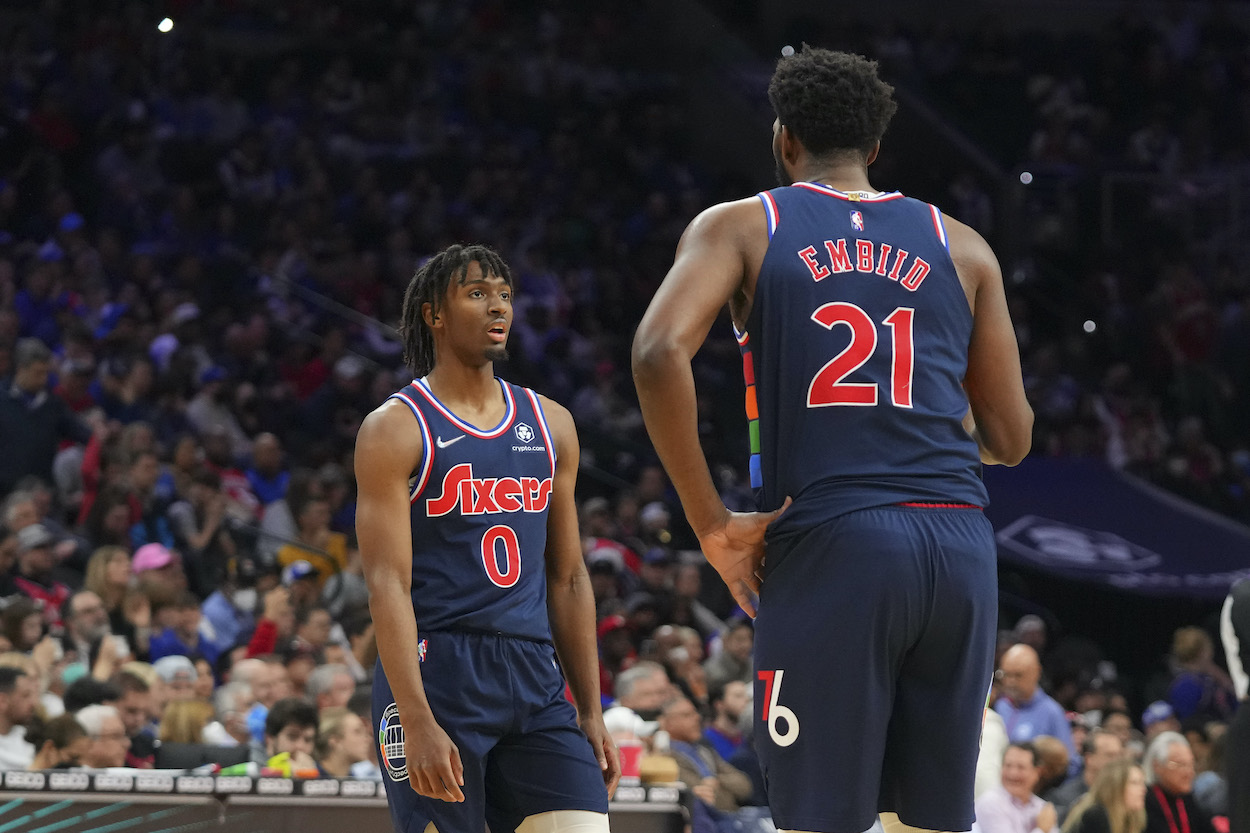 Joel Embiid Has Been so Brilliant This Season Even His Teammates Are Left Speechless
Tyrese Maxey has been stunned by Joel Embiid's play this season.
Joel Embiid has left a ton of people speechless this year with his breathtaking play. The Philadelphia 76ers big man has been the most dominant scorer in the NBA this season, and he's got a good chance to win his first MVP award.
But it's not just Embiid's opponents and the fans who have been awestruck by his play this year. Even his own teammates, and specifically Tyrese Maxey, are still at a loss for words watching Embiid dominate on a nightly basis.
Joel Embiid's brilliant season
If you've turned on just one 76ers game this season, chances are you've seen a masterful Embiid performance. The All-Star center leads the NBA in scoring this season at 30.4 points per game, and he also leads the league in 40-point games with 12.
The incredible part about Embiid's offensive explosion this year is that he's facing more double-teams than ever before. Without Ben Simmons on the court for much of the season, the Sixers didn't have the personnel to take pressure off their center on the offensive end. Still, the way he's able to beat two defenders on a consistent basis has been fun to watch.
Embiid is right in the thick of the MVP race with only a few games remaining on the schedule. The award will come down to Embiid, Nikola Jokic, and Giannis Antetokounmpo in the end, but the 76ers star has as good a case as any of them.
Embiid's dominance still leaves Tyrese Maxey speechless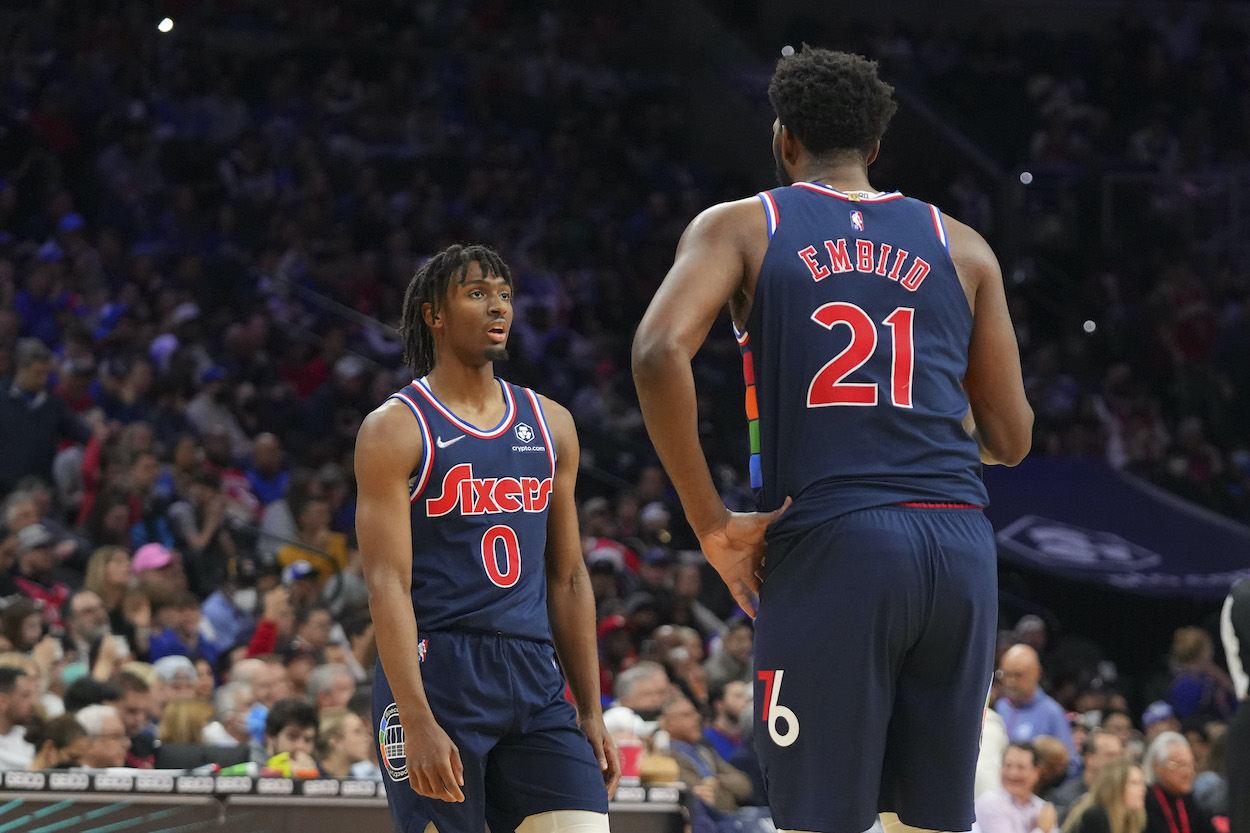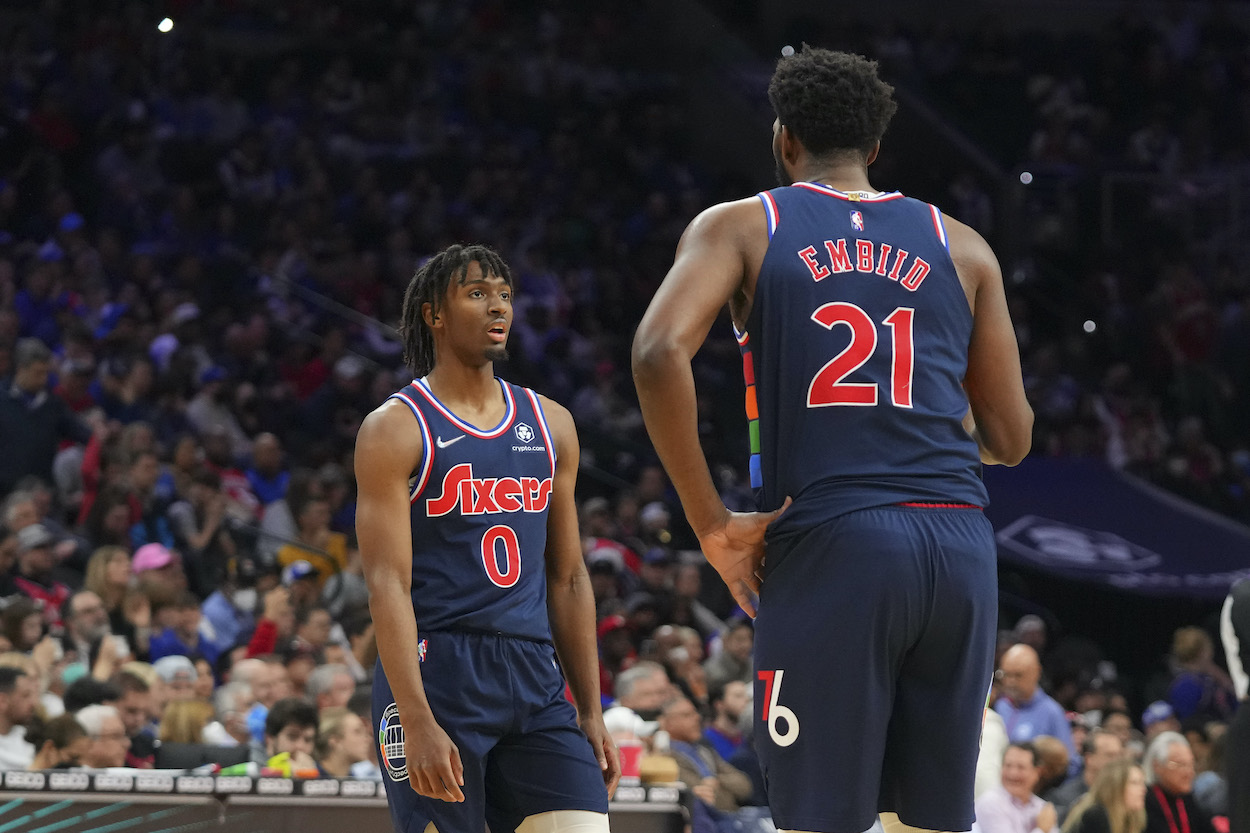 Embiid has been spectacular to watch all season long. So much so, that his own teammates are still amazed at what he's doing on the floor every night.
"I have no idea what to say," Tyrese Maxey told reporters after Embiid's 45-point performance against the Indiana Pacers this week. "He's just very good at basketball, man. I was talking to my dad the other day about that, my mom and dad, they came to the game we played Charlotte. It's like, man, he's just really, really good at basketball."
That's an eloquent way to put it, Tyrese.
"I mean, the things he does on the basketball court, I can't compare it to anybody," he continued. "He's dribbling, shooting, shooting mid-range, shooting 3s, making free throws. They got to foul him when he ducks in because he's just dominant down there, and it's crazy to see, and I always say I'm not gonna take it for granted because it's just amazing what we're watching."
Maxey has been Embiid's teammate for two full seasons, so the fact that he's still speechless watching the big man play really tells you something.
An MVP on the horizon?
It's hard to argue against any of the top three contenders to win MVP this season. Jokic has dominated the advanced metrics, Antetokounmpo has been exceptional on both ends of the floor, but Embiid's ability to carry the Sixers to a top seed in the loaded Eastern Conference with the Simmons drama hanging over their heads has been remarkable.
If Embiid is able to lock up the scoring title and lead the Sixers to a top-three seed in the East, the award should be his to lose.
Like Sportscasting on Facebook. Follow us on Twitter @sportscasting19.