Joel Embiid Kept 'The Process' Nickname as a Revenge Ploy Against the NBA
Joel Embiid had spite on his mind when he chose his "The Process" nickname.
It's the rallying cry Philadelphia 76ers fans have echoed ever since former general manager Sam Hinkie gutted the roster and sent the franchise into an unapologetic tank job nearly 10 years ago. That tank job was the reason why the Sixers were able to land Joel Embiid in the 2014 NBA Draft, and he's adopted the mantra as his now-famous nickname.
In a recent interview, Embiid explained how he stuck with "The Process" as a nickname to spite the NBA employees who forced Hinkie out of town.
Joel Embiid was always Sam Hinkie's biggest fan
76ers fans embraced the team's tanking strategy in hopes that they would win a championship when it was all over, but not everyone was a fan of The Process. During his time in Philadelphia, Hinkie was criticized for blatantly trying to lose games in order to score better draft picks every year.
The strategy worked, in a sense, considering the Sixers landed Embiid and Ben Simmons with the lottery picks they were able to acquire. But Philly still hasn't made it past the second round of the playoffs since Embiid was drafted in 2014.
In 2016, Hinkie stepped down as the 76ers' GM, but there was a widely held belief at the time that the NBA somehow forced him out of his position as punishment for his tanking crimes. Embiid wasn't happy with the decision, so he decided to adopt "The Process" as his nickname to keep Hinkie's spirit alive.
Embiid stuck with "The Process" nickname to spite NBA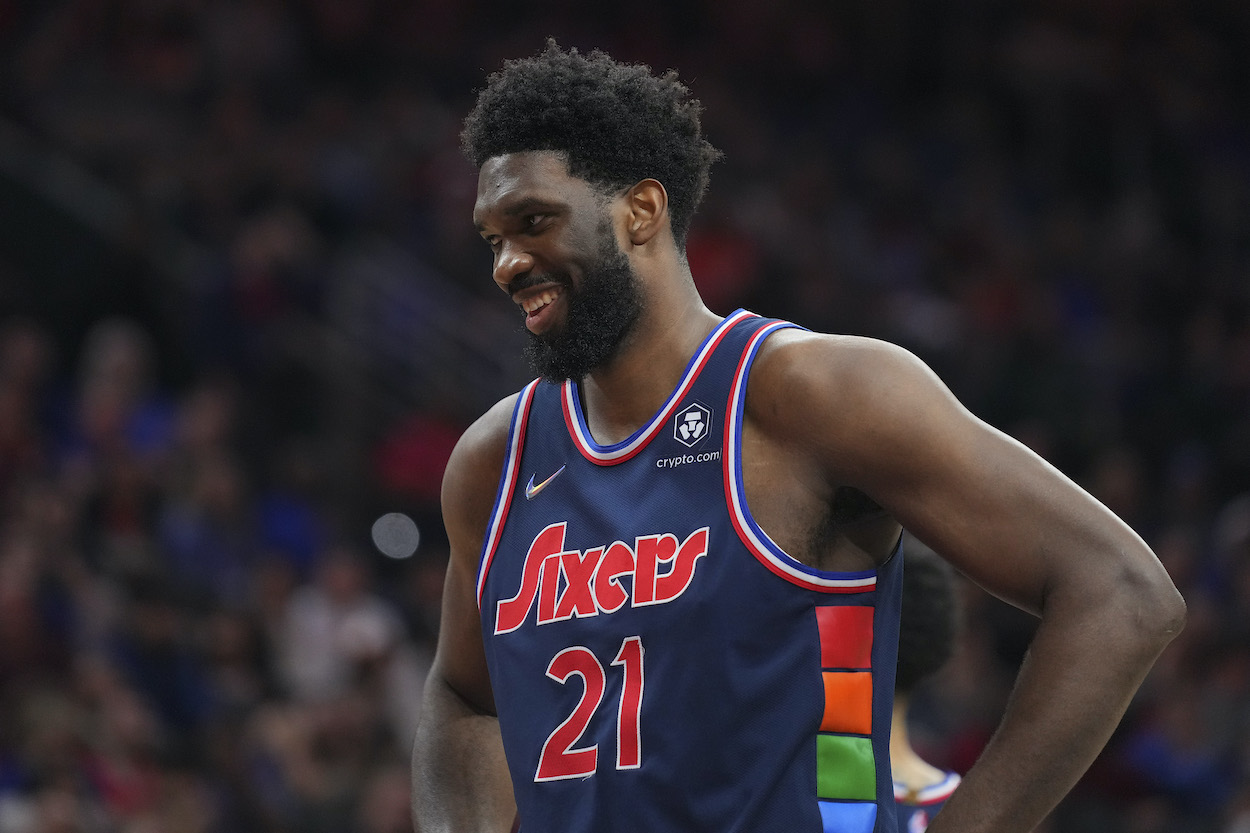 Embiid made a recent appearance on Draymond Green's podcast, The Draymond Green Show, and he spoke about The Process and his early years playing under Hinkie. During the conversation, he said he's still convinced the NBA played a part in Hinkie's departure.
"[Hinkie] was basically forced out by — I don't want to say names, but you know I'm outspoken, so I'll say it — by the NBA," Embiid said. "I always say I don't know who, but I think that's what it was. And then that pissed me off, because I felt like, yeah, sure, there was a lot of losing, which I wasn't part of because that was before I started playing. But I knew that eventually, once I started playing, it was going to change, which it did."
So why stick with "The Process" as a nickname after all that criticism? To spite the NBA, of course.
"I got pissed off because they ran Sam Hinkie out of town, and I knew that they didn't like 'The Process', all the losing stuff," he said. "Then, I was like, 'You know what? I'm going to piss some people off.' Even around the team, there was a bunch of people that didn't like that word."
There's nothing better than petty Embiid.
Joel claims the NBA told him to ditch his nickname
The more pushback Embiid got on the nickname, the more he wanted to use it.
"I won't say names, but I used to get calls about, 'Can you please tell Joel not to mention 'The Process' name? We're trying to move on from it.' I was like, 'Watch this.' So, that's why I started pushing the agenda about, you know what, I'm going to support my man, because he drafted me," Embiid said. "Coming out of college, before I got drafted, he believed in me. I was hurt, but he still believed in me. So, I was like, you know what, I'm going to support him."
Embiid embraces his nickname today more than he ever has before. He gets announced before home games as Joel "The Process" Embiid, he eggs the crowd on whenever they chant "Trust the Process," and his Twitter bio even reads, "PROCESSING………………….."
So yeah, it's not going anywhere. Sorry, NBA.
Like Sportscasting on Facebook. Follow us on Twitter @sportscasting19.