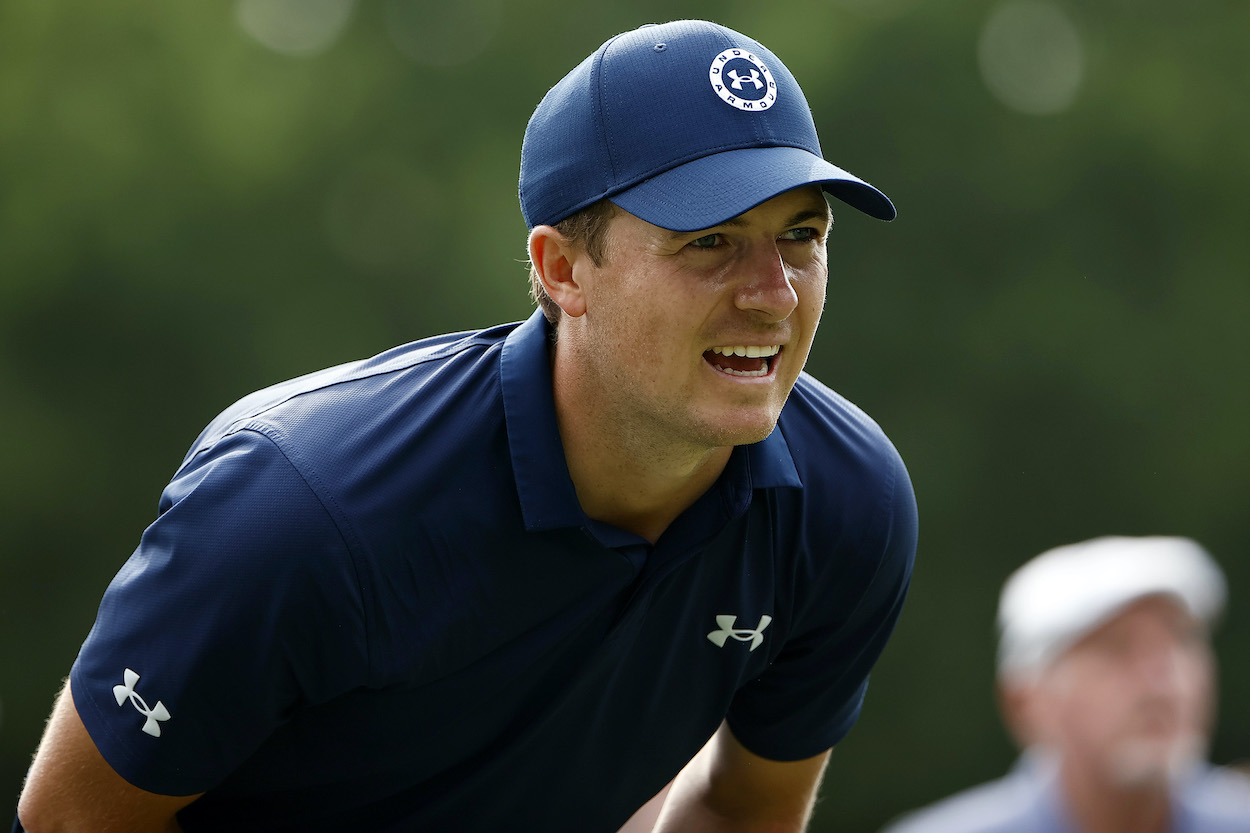 Jordan Spieth Proves He's Just Like Us in Sunday Collapse at Colonial: 'I Had No Freaking Clue Where [the Ball] Was Going to Go'
Jordan Spieth had an extremely relatable Sunday round at Colonial. He admitted afterward that he had "no freaking clue" where his ball was going on any swing.
Jordan Spieth entered the final round of the Charles Schwab Challenge at Colonial Country Club in firm control of the tournament. The 12-time PGA Tour winner held a one-stroke lead over 36-year-old Jason Kokrak, and only one other player in the field was within six strokes. It was Spieth's tournament to lose.
And that's exactly what he did.
After cruising to scores of 63, 66, and 66 in the first three rounds, Spieth shot a sloppy 3-over 73 on Sunday to essentially hand the trophy to Kokrak himself. After the frustrating round, Spieth was brutally honest about his poor performance down the stretch. His extremely relatable reaction to the collapse will make us casual golfers feel a little better about our own game.
Jordan Spieth blows 54-hole lead with frustrating final round at Colonial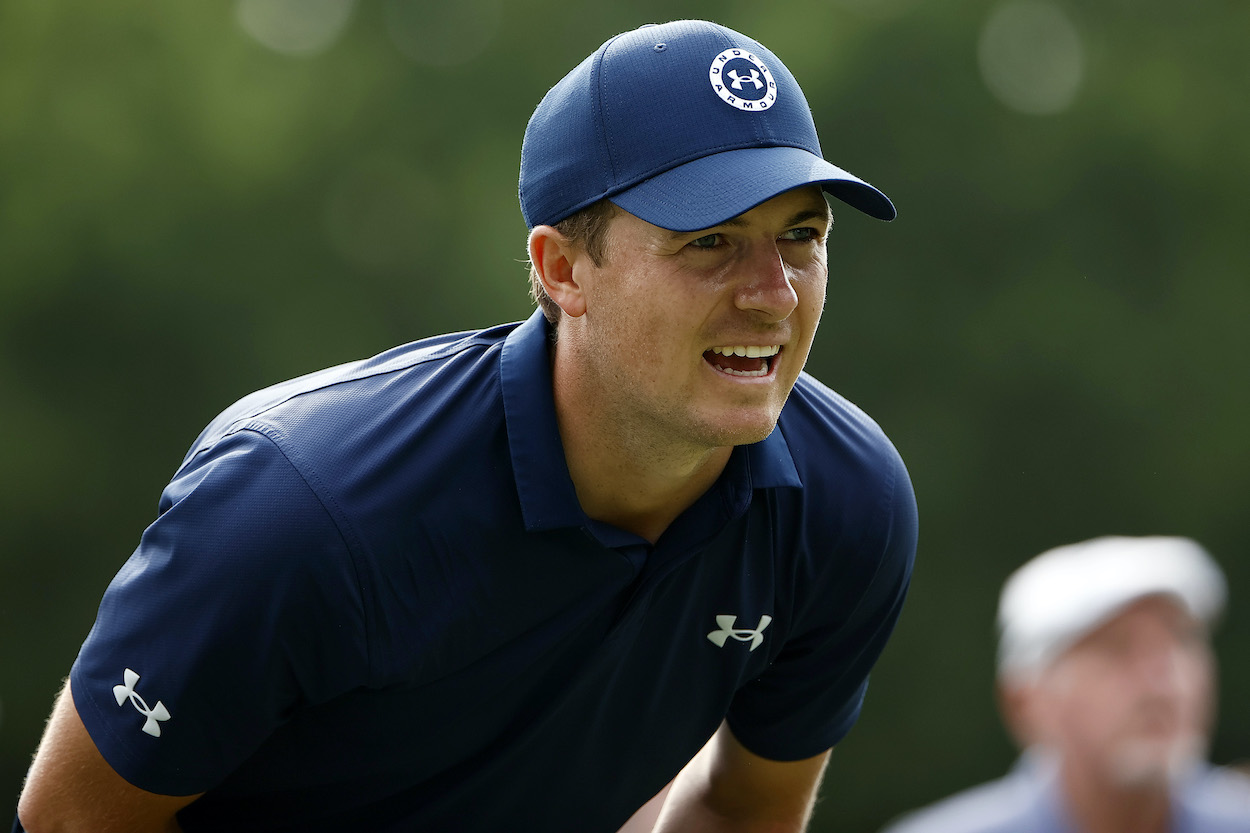 Entering Sunday's final round at Colonial, Spieth seemed to be in complete control of his golf ball. He jumped out to an early lead in the tournament with a 7-under 63 on Thursday, and he followed that up with two 4-under 66s on Friday and Saturday.
But Sunday was a different story. Spieth jumped out to a sloppy start with three bogeys in his first four holes, and he quickly gave away his one-shot lead entering the day. Trailing by one heading into the 18th hole, Spieth went from bad to worse when he dunked his approach shot into the water. He went on to bogey the hole to finish with a 3-over 73.
"It was going to jump so I needed to land in a pretty small section of the green to have a chance, and I just didn't hold the face enough and it just closed over," Spieth said after the round regarding his approach shot into 18. "And obviously when it's going to jump, it's going to fly forever. There's only one shot to hit there, whether I'm up five or down five or tied and it's a hard one."
After lapping the field through three rounds, Spieth hit just seven of 14 fairways and eight of 18 greens on Sunday. He lost 2.29 strokes to the field in his approach game alone, and of course, he lost the tournament by two.
Spieth admits he had "no freaking clue" where his ball was going
Spieth is always going to be brutally honest about his golf game when speaking to the media. Throughout his struggles over the past few years, he was the first to admit he wasn't playing up to his expectations.
After Sunday's collapse, Spieth had a blunt reaction to how he hit the ball during his final round.
"I was taking the club back and had no freaking clue where it was going to go," he said. "It's very rare that you're in the lead or close to the lead on a Sunday when that's the case, and it's not the most enjoyable feeling, but I've never been shy on grit, and really belief, in knowing that anything can happen. It was with me till the end, until the shot came off left on 18. So just really just didn't play well. That's all it was. I played a bad round of golf."
PGA Tour players can be just like us sometimes.
A minor setback for a major comeback
This isn't a position Spieth is unfamiliar with. He's blown 54-hole leads plenty of times before, and he's converted even more of them into wins over the years. Spieth knows better than anyone that golf is a game of extreme highs and extreme lows.
The low he felt Sunday will only motivate him to find the winner's circle again soon. Oh by the way, the U.S. Open is just three weeks out. Don't be surprised if Spieth finds himself atop the leaderboard again heading into the final round at Torrey Pines.
"I didn't play well at all quite simply," Spieth said. "I could have shot even par today and won the golf tournament, but from the very get-go, just a really bad start, and then tried to fight my way through it. But I was just really off with my golf swing. And then I've been striking the ball beautifully this year and I just have to hit the reset button tomorrow and get to work the next couple days."