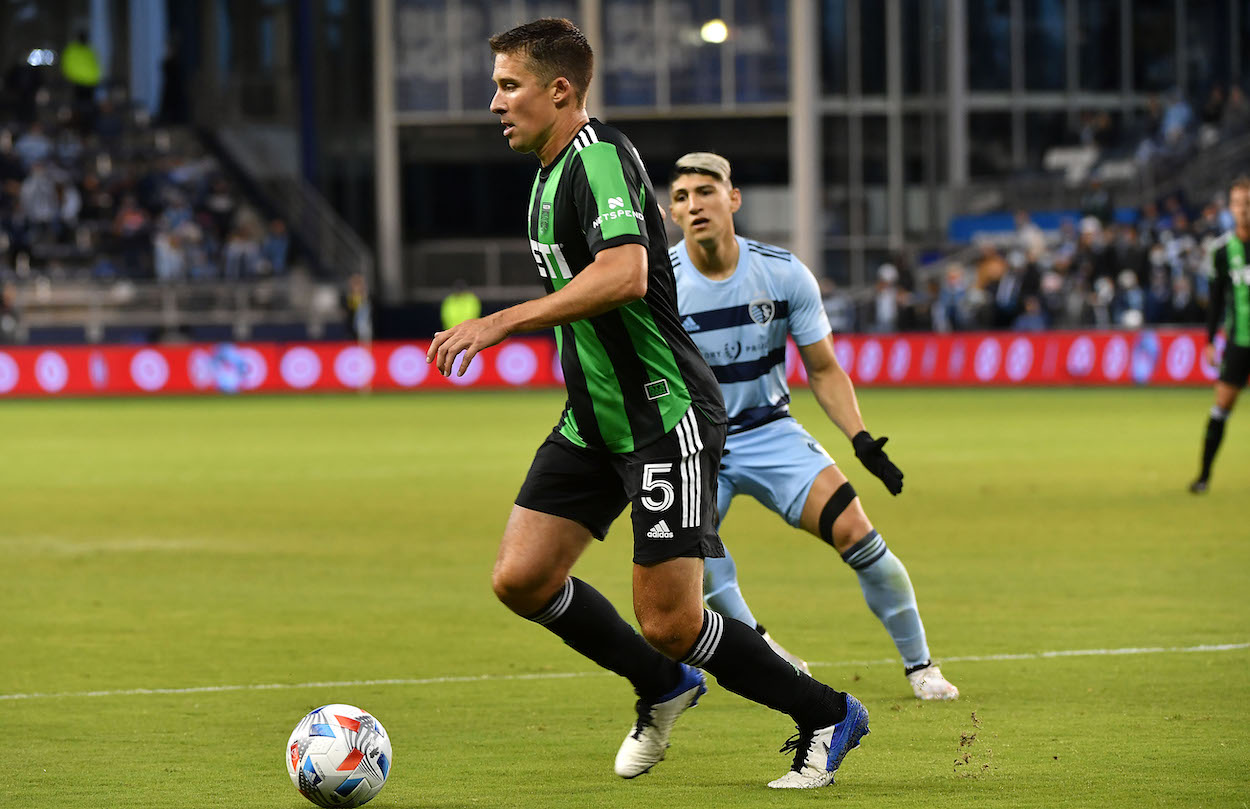 Josh Wolff Makes Surprising Admission About Austin FC's Lack of Preparation For Scenario That Played Out in Loss to Sporting KC
Austin FC head coach Josh Wolff admitted after loss to Sporting KC that team hadn't prepared for specific scenario that played out in game.
In a season of firsts, Austin FC experienced its first significant bout of adversity on Sunday night in the featured MLS matchup against Kansas City after captain Alex Ring got sent off with a red card in the 67th minute, which not surprisingly changed the dynamic of the match and resulted in a 2-1 Austin defeat. Following the contest in the postgame session with media, head coach Josh Wolff addressed his team's adjustment to playing with 10 men and made a surprising admission about the team's lack of preparation for that exact scenario. 
Austin FC started game strong against Sporting KC
Austin FC forward Jon Gallagher had not started in the first three games of the 2021 MLS season. Despite that lack of playing time, each time the Irishman stepped on the pitch, he made a noticeable difference as an extra threat in the offensive attack and was tied for the team lead for shots on goal. 
Head coach Josh Wolff rewarded Gallagher's early season performances with a start on Sunday in Kansas City, and he rewarded his coach in the seventh minute of the match with a goal after receiving a stellar cross from Jared Stroud on the right wing.
Austin carried a 1-0 lead into the half, which ended with captain Alex Ring receiving his first yellow card in the final minute of regulation time for a hard challenge on Sporting's Johnny Russell. 
Captain Alex Ring sent off after receiving second yellow 
Ring started the second half much like he ended the first. After one challenge where he tugged on the jersey of a KC player just outside of the box and didn't get called for a foul, the veteran midfielder then committed a hard foul in the 63rd minute on KC's Gianluca Busio, and yet again, dodged a booking.
Ring's good fortune ran out just a couple of minutes later when he was late on another challenge, knocking over Ilie Sanches. After Ring stayed down for several minutes, he stood up and received a booking from referee Ted Uncle for a reckless challenge and was sent off with a red card. 
After the match, Wolff questioned the call.
"Is it a red card? I'm still trying to figure it out. The ref said it was a reckless challenge and it wasn't for accumulation. I have a tough time seeing that as a reckless challenge. It was a foul and obviously it was the second yellow and it took it to red and it changed the whole dynamic of the game."
Wolff offers surprising admission about team's lack of preparation
Ring's departure dramatically affected the game as Sporting Kansas City came back and scored twice in the second half to pull off the 2-1 victory. In the postgame media session, Wolff offered a surprising response when asked how the team had practiced for the 10-man situation during the early part of the season.
"I think, um, no excuses, we haven't worked on playing with 10 men," Wolff bluntly admitted. "We're in our infancy. We work a lot on our game model, our structure, and playing, and I think that was on display today in a lot of positive ways. It's tough to replicate playing with 10 because, one, you don't have the fatigue, you don't have intensity from fans, the opponent. But we have enough experience on our team that we can manage it and deal with it… Again, it's not something we've worked on yet, but I'm sure going forward we will."
Whether or not practicing with 10 men would have made a difference in Kansas City no one knows for sure. One absolute certainty is if it happens again in the future, the players will have at least prepared for it and put themselves in a much better position for success. And that's all fans can ask.
Like Sportscasting on Facebook. Follow us on Twitter @sportscasting19.