Julian Alvarez: Man City Striker's Future is Murky When He Gets Back to Premier League
The Julian Alvarez-Man City partnership will be fascinating to watch when the striker gets back from the World Cup with Argentina.
The Argentina 2022 World Cup run is mostly billed as Lionel Messi and 10 countrymen fighting to win soccer's ultimate prize. However, several young Argentinians have stepped up in this tournament to give Messi the support he needs. One of the most crucial Argentina players is Julian Alvarez, Man City striker. The Premier League hitman has been a perfect complement to Messi in Qatar. He's scored four goals and is second on the team (to Messi's 4.7) in xG with 2.6. Once Alvarez gets back to Manchester, his future is much more uncertain.  
Julian Alvarez, Man City striker
Julian Alvarez has always been a soccer prodigy in his little corner of the world in Calchín, Córdoba, Argentina. After starting with his local club at 14, River Plate — one of the two biggest clubs in Argentina — noticed him and brought him to Buenos Aires at 16.
At River Plate, Alvarez made 122 appearances and racked up an impressive 54 goals and 32 assists. Those excellent numbers drew attention from around the globe, and teams in lower-level leagues, like MLS, seemed like the next step for the striker.
However, one of the biggest clubs in the world, Manchester City, also came calling and paid €21.4 million for the now-22-year-old forward.
At Man City, Alvarez has played well, appearing in 20 matches in all competitions and scoring seven goals with two assists.
The problem is, in the same transfer window Pep Guardiola and company brought in Alvarez, they also bought Norwegian striker Erling Haaland for €60 million, per transfermarkt.
Haaland is the best striker in the world right now, which limits Alvarez's path to first-team football. So, when the Julian Alvarez-Man City return happens — possibly with a World Cup title in the striker's hands — will fans see him on the field more?
How can Alvarez get on the field more at City?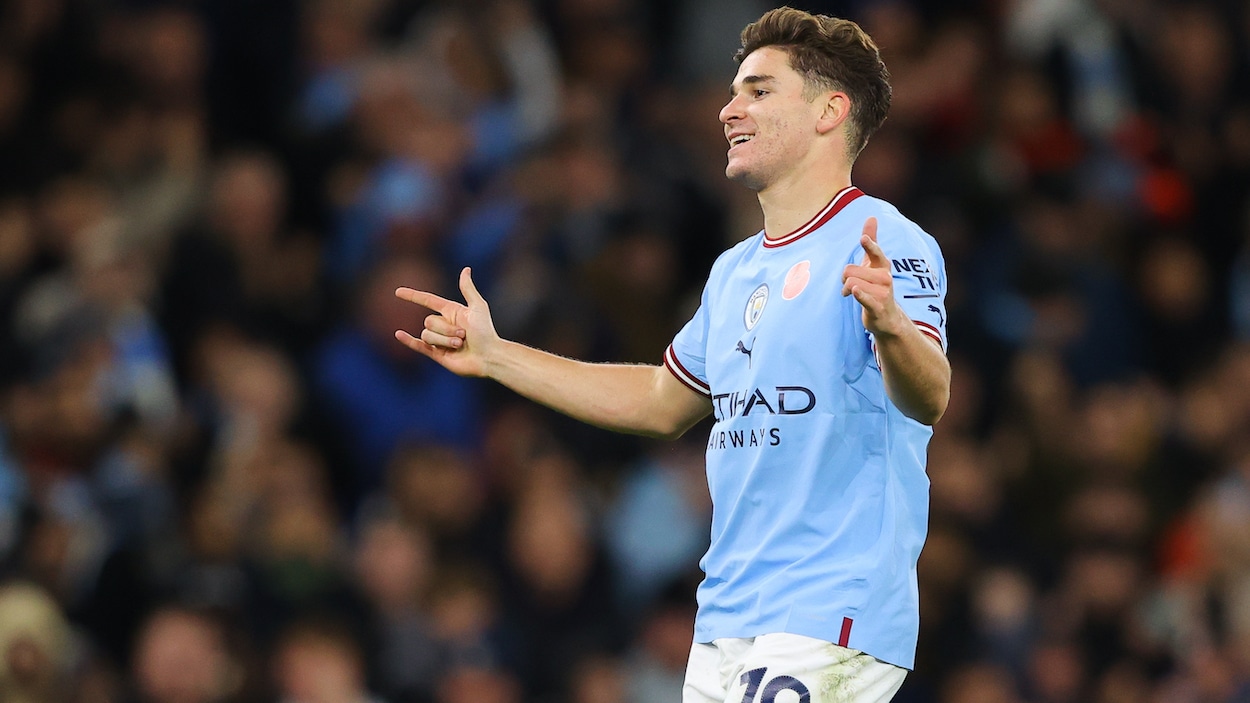 After Alvarez's stunning World Cup performance, you'd think he'd go back to his club team and be on the field all the time and possibly make a move to a bigger club.
With the Argentina striker, there are no bigger (or at least richer) professional clubs than Man City, and as good as Alvarez has been, he's not beating out Haaland to become his team's No. 1 striker.
There are ways Alvarez could get on the field more, though. Pep Guardiola plays a 4-3-3 at City, with three forwards upfront. At times during the World Cup, Alvarez has operated on the left side and could potentially play on the wing for City.
The problem here is two-fold. One issue is that City also has an incredible stockpile of wings, which Alvarez likely won't be able to beat out right now, no matter how well he is playing. Phil Foden, Bernardo Silva, Jack Grealish, and Riyad Mahrez hold down those spots.
And Guardiola has been reticent in the past to play his No. 2 striker on the wing. There were similar calls in prior seasons to use Gabriel Jesus like that, and Guardiola rarely did before selling him to Arsenal.
This all adds up to the fact that the Julian Alvarez-Man City marriage may be short-lived. If he can't get on the field regularly, the club may have to sell the promising young player. The hope for City fans is that with the number of fixtures the team plays, Guardiola will get Alvarez on the field enough in Champions League, domestic cups, and Premier League matches to keep him happy.
At worst, though, after his incredible World Cup for Argentina, the Julian Alvarez-Man City tenure will end with the club making a large profit if they are forced to sell.