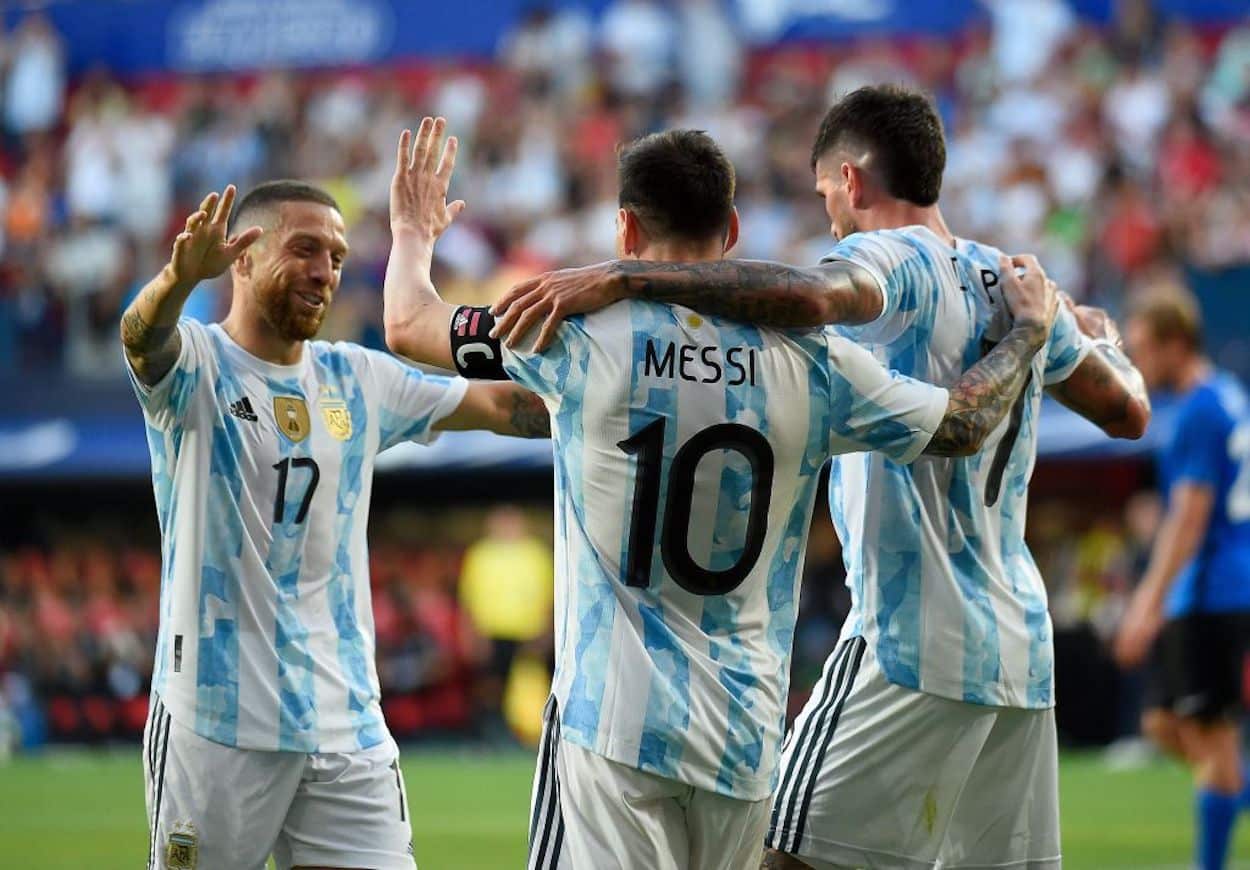 World Cup 2022: Lionel Messi Headlines a Talented Argentina World Cup Squad
Is Argentina's 2022 World Cup squad deep and talented enough to help Lionel Messi make it over the hump? Let's break it down.
For all of his soccer success, Lionel Messi is missing one key honor from his resume: a World Cup title. The 2022 edition of the tournament, however, could be an excellent opportunity to change that before riding off into the sunset. Argentina are one of the betting favorites, and a look at their squad confirms why that's the case.
With that in mind, let's break down La Albiceleste's roster and consider how everything fits together. Messi's status as the footballing GOAT could depend on it.
Argentina's 2022 World Cup squad
When we're talking about a top-tier soccer nation like Argentina, there aren't going to be too many surprises when it comes to the squad. Barring an injury, which we'll talk about later, the South Americans will land in Qatar with most of the players we assumed would be on the plane.
Goalkeepers: Franco Armani (River Plate), Emiliano Martinez (Aston Villa), Geronimo Rulli (Villarreal)
Defenders: Marcos Acuna (Sevilla), Juan Foyth (Villarreal), Lisandro Martinez (Manchester United), Nahuel Molina (Atletico Madrid), Gonzalo Montiel (Sevilla), Nicolas Otamendi (Benfica), German Pezzella (Real Betis), Cristian Romero (Tottenham), Nicolas Tagliafico (Lyon)
Midfielders: Rodrigo De Paul (Atletico Madrid), Enzo Fernandez (Benfica), Alejandro Gomez (Sevilla), Alexis Mac Allister (Brighton), Exequiel Palacios (Bayer Leverkusen), Leandro Paredes (Juventus), Guido Rodriquez (Real Betis)
Forwards: Julian Alvarez (Manchester City), Joaquin Correa (Inter Milan), Paulo Dybala (Roma), Angel Di Maria (Juventus), Nicolas Gonzalez (Fiorentina), Lautaro Martinez (Inter Milan), Lionel Messi (Paris Saint-Germain)
So, how do all those names turn into a starting 11? Let's try to piece the puzzle together.
Emi Martinez has given Argentina some stability in net
While La Albiceleste always possess a baseline level of talent, they've sometimes been lacking in the goalkeeping department. Emi Martinez, however, rose from Arsenal's bench and became the answer.
The Aston Villa man isn't the best keeper in the world, but he does possess some valuable traits. He's capable of talking trash, embracing the big moment, and saving penalties, as he proved during the 2021 Copa America, and is good at controlling his area. That will give Argentina some collective security to play their game without having to worry about protecting a weak netminder.
It is worth noting, however, that Martinez hasn't been setting the world on fire domestically during the past year. We'll have to see if that form carries over in Qatar or if he'll embrace the spotlight and step up.
Premier League fans should know some names from Argentina's defense
These days, Lionel Messi is the name on everyone's lips when you think of Argentina. Premier League fans, however, will also be familiar with much of La Albiceleste's backline.
The center-back pairing will probably consist of Christian Romero, currently of Tottenham Hotspur, and Nicolas Otamendi, who spent some time at Manchester City. They should form a natural partnership — Romero loves a tackle, while Otamendi is comfortable in possession — but both men do have their weaknesses. The former defender can commit rash challenges and be a bit too firey at times, and Otamendi, even in his younger days, was never the quickest player around.
Manchester United's Lisandro Martinez is in the squad, but he probably won't start as either a center-back or a left-back. Nicolas Tagliafico seems to have the left-sided job on lock, and Nahuel Molina should start on the right.
Giovani Lo Celso's injury changes the Argentine midfield
While he never quite clicked in England, Giovani Lo Celso looked like he was going to be a key part of Argentina's World Cup challenge. A hamstring injury, however, has knocked the midfielder out of the action, leaving manager Lionel Scaloni to reshuffle his pack.
At this point, it seems safe to assume that Leandro Paredes and Rodrigo De Paul will retain their roles in the metaphorical engine room. They're both capable passers and shouldn't have any problem keeping possession of the ball. Without Lo Celso, though, their defensive frailties could be exposed.
Through that lens, Scaloni could lean on Guido Rodriguez, who profiles more as a defensive midfielder. If previous engagements are an indication, there's also a chance that Papu Gómez could slot into the starting lineup. His role — he's more of an attacking midfielder, if not a second striker — would require some further tweaks. Paredes and De Paul would probably have to sit deeper in a holding two, which wouldn't necessarily make the best use of their talents.
Lionel Messi headlines the attack, but it isn't a one-man show
At the risk of disrespecting everyone else in the squad, Argentina is Lionel Messi's team. He'll headline the attack, presumably from the left-hand side of a front three, and garner most of the attention from opponents and fans alike.
That doesn't mean La Albiceleste's other forwards are just along for the ride, though. Lautauro Martinez can sometimes be overlooked in Serie A, but he's a legitimate do-it-all striker. He's more than capable of finding the back of the net, but can also provide something of a creative spark. Don't be surprised to see Messi playing off of the Inter Milan man, especially around the penalty area.
Angel Di Maria is still around, and he should start on the right. At this point, we know what the winger does: cut in on his left foot and curl balls into the penalty area. While that might seem less than useful when you have Messi at the back post, the Juventus man is more than capable of producing a moment of magic on the big stage.
It's also worth considering Paulo Dybala, although he probably won't start. The forward has been struggling with an injury and does usually occupy a similar role to Messi but he's an attacker who knows how to score and create chances. Don't be surprised to see him enter the fray as long as he's fit to do so. Julian Alvarez of Manchester City should also see the pitch, albeit as a rotation option.
What will Argentina's lineup look like in Qatar?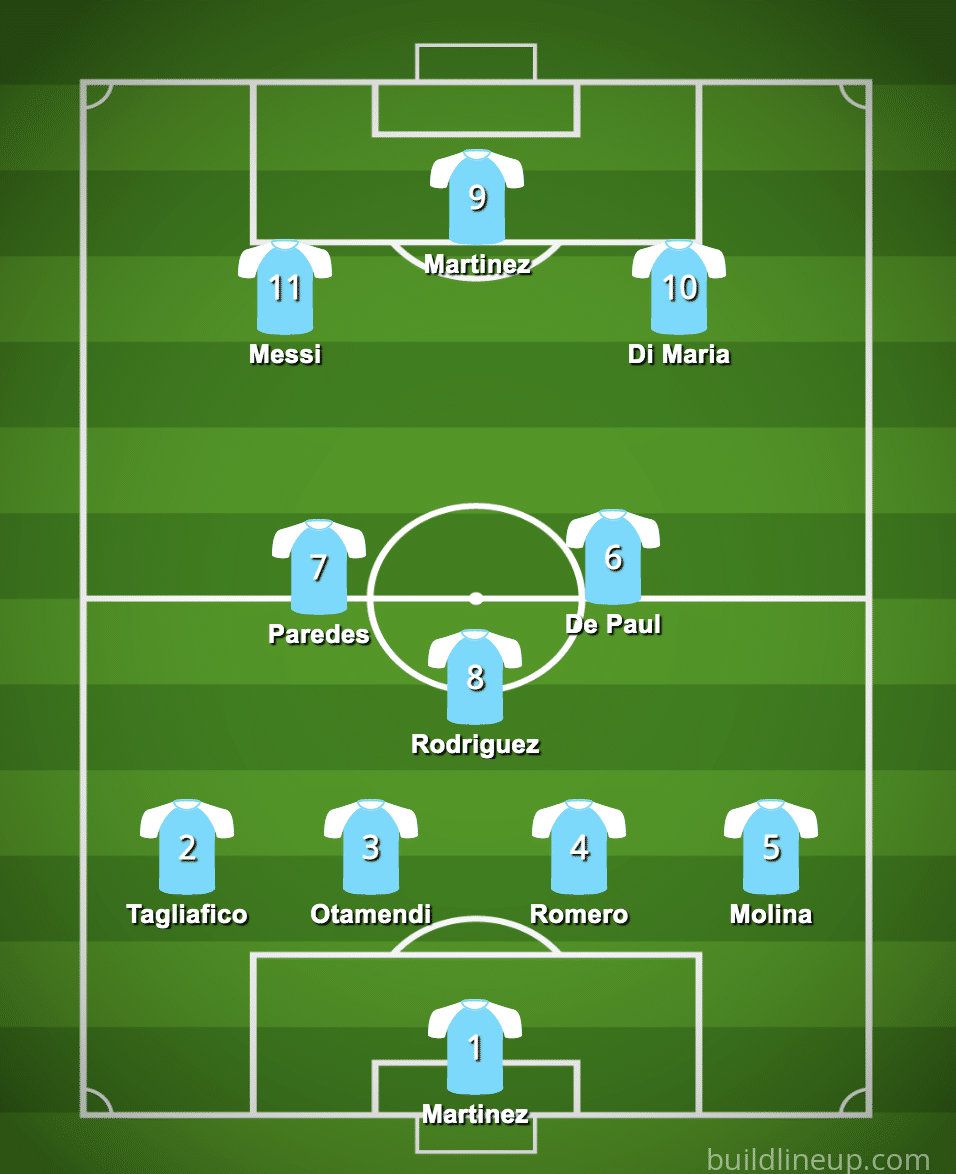 Now that we've parsed through the candidates for the starting 11, how will everyone slot into formation? I think La Albiceleste will look something like this. There are a few things to keep in mind, though:
As we've discussed, the midfield is the biggest question mark. I picked Guido Rodriguez because I believe he brings stability to the group and allows Argentina's other players a bit more freedom, but it's possible there won't be a one-size-fits-all approach. Against Saudi Arabia, for example, you can probably afford to start without a holding player in the center of the park.
In the midfield, I'd also keep an eye on Alexis Mac Allister of Brighton. He's not going to suddenly turn into a world-beater, but the Seagulls' man has shown some potential in the Premier League and earned a place on the plane to Qatar. I'm curious to see 1) if he gets playing time and 2) how he performs on the massive stage.
Up front, I put Messi on the left to accommodate Angel Di Maria's left foot. Argentina's talisman can play virtually anywhere in the attacking third, though, so there's room to pivot. Perhaps Scaloni wants to play Messi more centrally behind two forwards? Or maybe we'll see Messi on the right with someone like Julian Alvarez on the left. There are, for better or worse, plenty of ways to skin that cat.
While it's a bad idea to ever underestimate Lionel Messi, this will probably be his final trip to the World Cup. Is this Argentine squad good enough to help him reach the sport's summit once and for all? At this point, only time will tell.