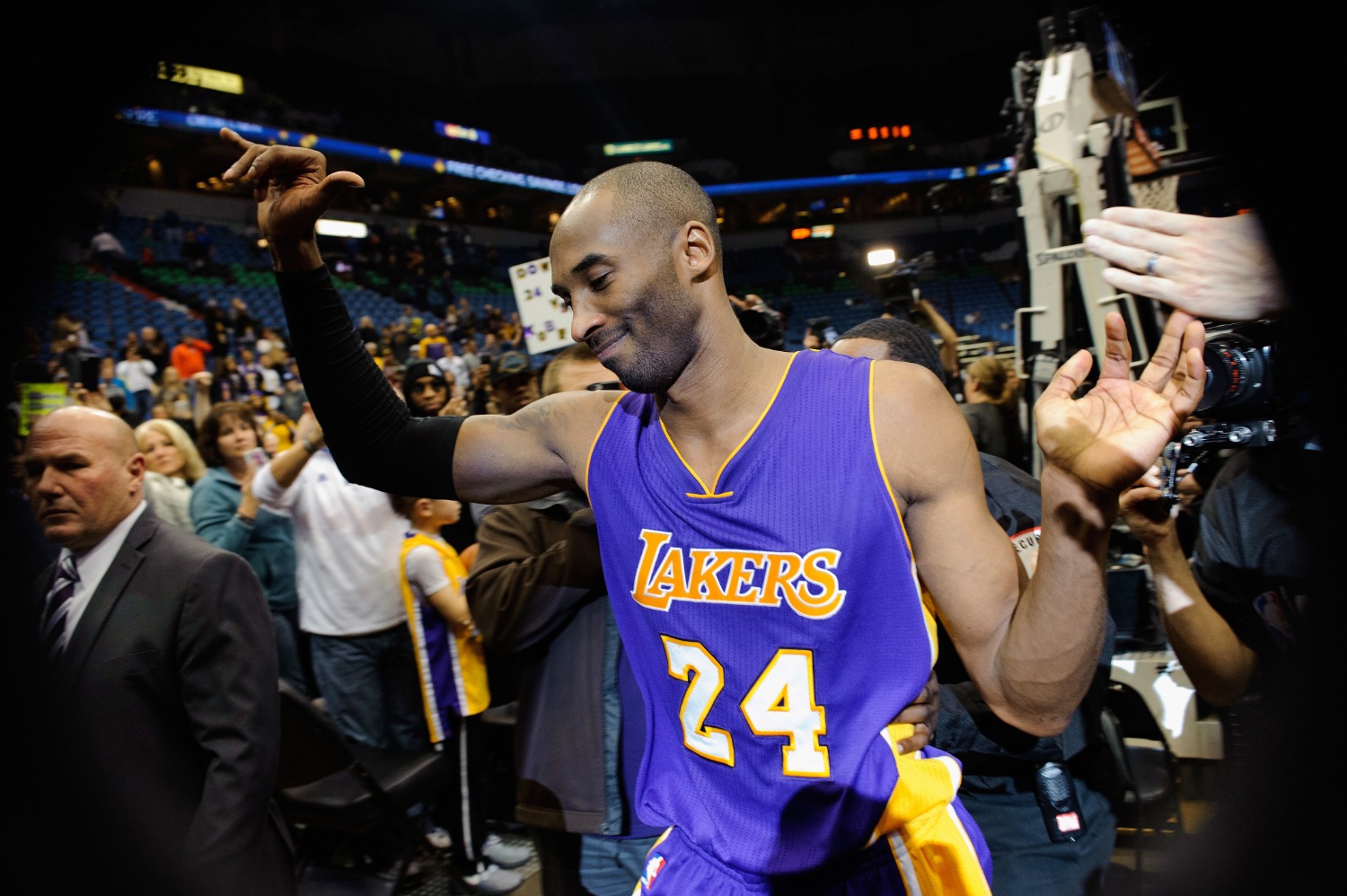 Nike Just Revealed Their Special Plan to Honor Kobe Bryant
Nike just announced the launch of Mamba Week, which will honor Los Angeles Lakers legend Kobe Bryant, who tragically died in January.
When Kobe Bryant tragically died in January, it rocked not just the basketball community but also the world at large. A former teammate reflected on a life-changing conversation with the NBA legend. Former opponents praised Bryant for his tireless work ethic and competitiveness. It became abundantly clear that the LA Lakers legend made a tremendous impact away from the basketball court, too.
In the wake of Bryant's untimely death, athletes around the world paid tribute to the fallen legend in various ways. And with his birthday approaching, Nike just gave Kobe Bryant fans an incredible gift that will honor a man who achieved unparalleled success as a basketball player, a father, and a human being.
Kobe Bryant's incredible legacy
Kobe Bryant may not have lived to see his 42nd birthday, but he made every day count before his tragic death. He became an NBA legend not solely because of his natural ability. Rather, Bryant established a reputation as the most fierce competitor in the NBA. His "Mamba Mentality" mantra became a signature part of his persona.
His tireless work ethic and obsession with winning led to incredible success on the court. A lifelong Laker, the 6-foot-6 shooting guard achieved everything possible in his pro basketball career. The Pennsylvania native captured five NBA championships. He took home NBA MVP honors in 2008. The 18-time NBA All-Star also earned 11 All-NBA First Team selections.
Of course, Kobe's legacy included much more than throwing down dunks and hoisting championship trophies. The devoted father of four daughters spent much of his post-retirement career working toward giving back to others.
He and his wife, Vanessa, established the Kobe and Vanessa Bryant Family Foundation. The Lakers legend also became a huge advocate for women's basketball. His daughter, Gianna, looked like a future WNBA star before she also died in the helicopter crash that claimed her father's life.
Nike will honor the Lakers legend with "Mamba Week"
For years, Kobe Bryant and Nike enjoyed a fruitful partnership. The athletic apparel giant launched 11 signature shoe models during the Lakers legend's playing career. So with Bryant's birthday right around the corner, Nike decided to pay homage to No. 24 in an incredible way.
According to ESPN, the company will launch "Mamba Week" beginning on Sunday, Aug. 23. Bryant would have turned 42 on that day.
So what exactly does "Mamba Week" entail? On one hand, the week-long campaign represents the first time Nike will release Bryant's signature shoes or jerseys since he died unexpectedly in January. However, the company will also donate a substantial sum to an important cause.
"As a part of championing Kobe's legacy, the Nike Foundation will make a $1 million donation to the Mamba & Mambacita Sports Foundation in memory of Kobe and Gianna," the company said in a statement. "The foundation, whose mission is to make a positive impact through sports, will use these funds to further Kobe's goal of keeping kids active and putting them on a path to success in life."
The company will also help continue funding and operating the Mamba League. Bryant started the youth basketball league just three years ago along with The Boys & Girls Clubs of Los Angeles.
For the most dedicated Kobe Bryant fans, Nike's "Mamba Week" also gives them a chance to score some rare memorabilia.
Kobe fans can purchase rare shoes and jerseys
"Mamba Week" may focus on the mentality that drove Kobe Bryant to greatness, but it also give Nike a chance to make a lot of money. While uncertainty existed about how to proceed with Bryant's sneak series after his untimely passing, Nike ultimately decided to move forward with new product releases.
The company will release several iterations of the Kobe 5 Protro—the signature shoe Bryant donned when he captured his final NBA title. Nike even designed a gold-accented model that will feature graphics from the shoes he wore during that championship run.
Plus, the company will release unique Lakers jerseys that pay homage to the two numbers Bryant wore during his NBA career. The jerseys will feature No. 8 on the front and No. 24 on the back. The fourth-leading scorer in league history wore No. 8 until the 2006-07 season.
Ultimately, no matter what number he wore, Kobe Bryant always gave fans everything he had.
That's the Mamba Mentality.